6 Tips for Finding the Right Email Marketing Software
Email marketing is one of the best ways to connect with leads and provide them with the information they need to purchase. This is because these leads voluntarily join your email list to learn more about your business. If you don't have the right software, it's easy for your business to lose conversions.
When you invest in email marketing, it is important that you choose the right email marketing software to run your campaign. Email marketing software helps your campaign run more smoothly, which produces better results.
So, how do you find the right email marketing software for your business?
On this page, we'll discuss five tips to help you choose the right email marketing software. If you need help finding the right software for your campaign, call us today at 888-601-5359 to speak with a strategist about our email marketing software, EmailMarketingFX.
1. Look for software that allows you to integrate contacts
When you look at email marketing software, you want a software program that works with a Customer Relationship Management (CRM) system. This software that enables you to integrate your contacts and will help you create the best campaign possible.
You don't want to waste precious time logging contact information manually, as this is a time-consuming effort. Instead, use an email marketing software that lets you integrate your contact information to create a better campaign.
When your email blast software enables you to integrate contact information, you will generate target mailing lists. You can import all your interested leads and segment them into targeted mailing lists that are based off their interests.
Additionally, you can also segment your audience into customer categories. This will enable you to group different types of customers to deliver them better content.
When it comes to your email marketing campaign, avoid manual work to save your company time. This allows you to dedicate your time to creating effective emails that help your leads convert.
2. Look for options to preview emails
Your audience uses various types of devices, like computers, tablets, and mobile phones, to open email. In fact, 66% of emails are opened on a mobile device or tablet. Finding the best software that allows for email previews will help you to ensure your users have a positive experience reading your messages.
Ensure you choose a software that enables you to preview your emails on various devices. This is a crucial feature because it helps you see if your emails are properly formatted on different devices.
Having a preview option in your software allows you to make changes to produce the best emails for your campaign.
3. Look for the ability to monitor results
When you run an email marketing campaign, you need to know that your emails are effective for your audience. When you choose an email marketing software, choose one that will show you results throughout your campaign.
For instance, the analytics element of your digital marketing campaign will help you see which aspects work and which areas need to be changed. This will help you improve your campaign and see better results.
Elements such as your email open rate, click-through rate (CTR), and conversion rate are some of the most important analytics your software should track. If your software allows you to see your campaign's performance results, you will have a greater chance of lead generation and conversion.
At WebFX, our team of over 150+ email marketing experts is dedicated to helping you see great campaign results. If you have any questions about your campaign, don't hesitate to call us for more information.
4. Look for a response handling feature
Many users will try to contact your business with questions or concerns. To produce a great campaign for your business, be sure the software you choose has the tools for replying to these inquiries.
If you have a small business, you may not need a response handling feature. You may be able to handle answering emails manually. At the most, you can use a very basic system to reply to emails.
However, the issue arises when you have a larger company. If you get dozens of emails a day, it is difficult to keep up with it and generate a response to each email. You can easily get overwhelmed and end up neglecting to respond to some users.
Choose an email software that enables you to send automated response emails. You want to be able to acknowledge that you received their email and will address their issues. This will help you handle a larger scale of email inquiries.
Another thing you can look for is if your email marketing software allows you to create an automated ticket system. These messages give users a ticket number, so you can address the issues one at a time. It is a clean and simple way to respond to your audience and ensure that you will answer their questions or address their concerns.
These effective messaging services will help build a positive reputation with your audience. In addition, consumers will feel more confident in your business and feel more comfortable contacting you.
5. Look for an all-in-one software
There are many moving parts in an email campaign, and it is crucial that you keep things organized. You must create emails for your audience, segment your audience, send the emails, monitor the results, and make changes. With an all-in-one email marketing software, you can do all these tasks without the hassle of having multiple email programs.
When you use all-in-one software, like EmailMarketingFX, you can create, send, and monitor your campaign in one place. This enables you to make changes as you need and improve your email campaign. It is a crucial aspect if you want to improve your campaign's results.
Our team knows how to use email software efficiently, too. To date, we've driven over $1 billion in sales for our clients. Take a look at our portfolio, or check out our client testimonials to see the results we've produced!
6. Ask around
If you aren't sure which email marketing software is right for you, ask around! There are numerous companies that run email marketing campaigns and use software to do it. You can ask these companies about their experience with certain email marketing software and what features they recommend for your specific campaign.
Once you know what email features you need, you can ask around and get suggestions from experts. If a certain type of email marketing software has everything you need, it can be a viable option for your business. This helps your business hone in on email marketing software programs that you know will work well for your business.
Asking for recommendations is a great opportunity for you to get a first-hand account of different types of email software. These insights can help you figure out if a certain type of email software works for your business.
Time to Level Up Your Sales
Our long list of services helps you grow every aspect of your business with marketing strategies that are proven to increase bottom-line metrics like revenue and conversions.
In the past 5 years, we've managed more than 12.9 MILLION transactions across our client base.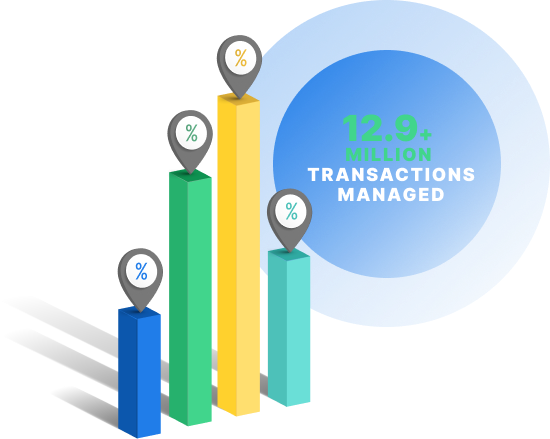 WebFX is a top email marketing company
Choosing the right email marketing software is crucial for a successful campaign. You want to make sure you decide on a software that will help drive in leads and grow your business. At WebFX, we have the tools and the team to help you create a successful email marketing campaign.
We're a full-service digital marketing company that specializes in email marketing. We have a team of 500+ experts that will bring their knowledge and expertise to your campaign. Our award-winning team will set you up with our EmailMarketingFX software, which enables you to create, send, and track your emails all in one place.
We are dedicated to driving results for your business. To date, we've driven over $3 billion in sales and over 7.8 million leads for our clients. We take the time to create impactful campaigns that drive results for our clients.
Our clients love the work we do, too. In fact, we have over 1020 client testimonials from a variety of industries. Check them out to see what it's like to partner with a top email marketing company like WebFX!
Get started today!
If you're ready to start using email marketing software that helps you create more impactful email marketing campaigns, contact us online or call us today at 888-601-5359 to speak with a strategist.
We look forward to helping your business grow!
We Can Help You Find the Perfect Email Marketing Software!