5 Ways to Optimize PPC for Car Dealerships
As an auto dealer, there's no question that you know how to drive a car. But do you know how to drive a successful online marketing campaign?
If you've already begun your foray into the digital marketing world, you may have worked with strategies like search engine optimization (SEO) and web design. But one of the most critical elements of any online advertising campaign is pay-per-click (PPC) advertising.
PPC for car dealers can help you harness Google search results by using paid ads, drawing in users before they even reach the organic rankings. But that's only the case if you know what you're doing. So, what if you're not sure how to make the most of your PPC?
No worries — we've got you covered! Here are five ways to optimize your automotive PPC strategy and propel lead generation.
If you want even more help with your campaign, our team of over 200 digital marketing experts would love to partner with you! Just call us at 888-601-5359 or contact us online to get started!
Attract more clients with car dealership PPC.
1. Know your audience
Before you can start crafting your dealer PPC ads, you have to possess a full understanding of who you're even advertising to. Who are your customers? What are they looking for? Where do they live?
It's not all about demographics, either. The most important thing to know about your audience is their search intent.
After all, PPC ads most commonly appear at the top of Google search results. To get people to click on them, you need to make sure you're targeting people who will actually have an interest in them.
This all serves the purpose of keeping your ads relevant.
If your audience mainly consists of rural men over forty, don't write ads that try to appeal to urban women under thirty. And if you're targeting searches for cheap, used cars, don't use ads that promote expensive, new cars.
When you work on your PPC with WebFX, you'll also have the opportunity to use Google's customer match feature, which targets your ads to Google users that fit your desired demographic.
For that to work, it's essential to know what that demographic is.
2. Pick the right keywords
Once you know who you're trying to reach, you have to figure out which keywords will best allow you to reach them. PPC relies on targeting specific keywords through Google, and if you don't pick the right ones, you could end up missing your audience.
The first thing to consider goes back to relevance.
Do your chosen keywords fit with the ads you've created for them? Will someone searching for those keywords find your ads helpful?
But you also have to consider your competition.
For any given keyword, there will most likely be other dealerships bidding as well. Depending on how many competing bids there are for a given keyword, and how high those bids go, some keywords may not be worth your resources.
To determine which ones will work for you, consider your budget. Know ahead of time how much you're willing to bid on a given keyword, and don't target keywords that require more money than that.
Also, aim for long-tail keywords that don't have too much competition. That means you'll probably want to avoid keywords like "car," which are so short that they have too much competition to beat.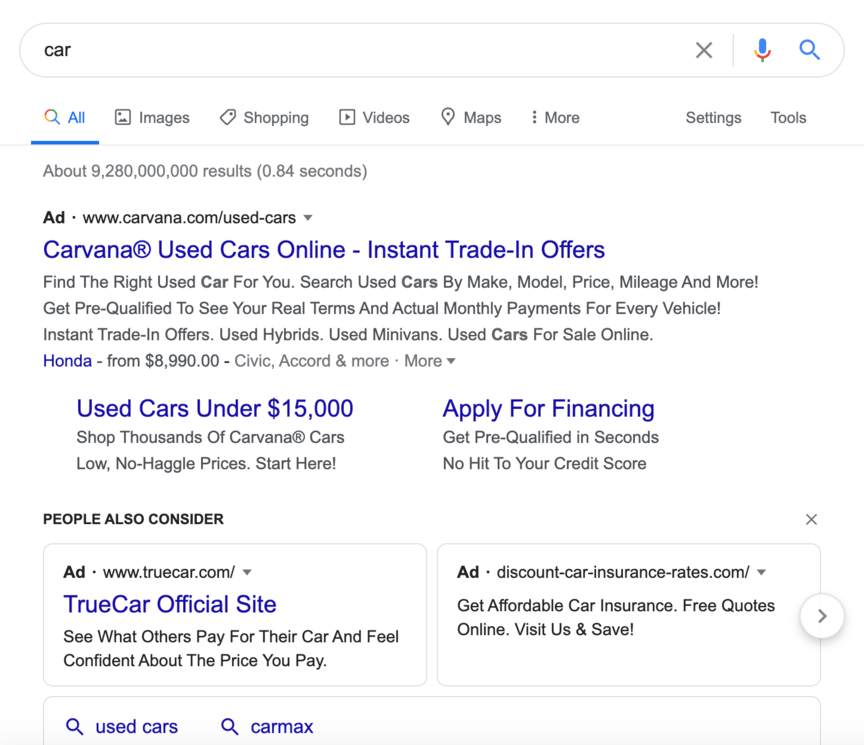 3. Create negative keywords
Knowing which keywords to target is essential to any business's campaign structure, and PPC for car dealers is no exception. But it's just as important to know which keywords you don't want to target.
Let's say you sell a lot of trucks, so many of your keywords include the word "truck." For a search like "low price pickup truck," you definitely want your ads to appear. But what you don't want is for your ads to appear in a search for "semi truck."
So how do you keep that from happening? Easy.
In Google Ads, you can add negative keywords, which are keywords you specifically want to prevent your ads from appearing for. That way, you don't end up wasting your budget on searches that don't matter to you.
The more negative keywords you have, the freer you are to focus your resources on the keywords you want to target. When you work with WebFX, that can add up to quite a lot — with our Market Leader plan, you can target as many as 10,000 keywords!
4. Monitor and test your ads
One of the worst mistakes you can make for your dealer PPC is to let your campaign go untouched after the first draft.
The thing about PPC is that it's incredibly malleable.
Even once you've created your ads and made your bids, none of it is set in stone. If you want to go in and change one of your ads or pause your bids on specific keywords, you can do that whenever you like.
That creates a tremendous opportunity for you to optimize your automotive PPC strategy. Once you've started your campaign, begin monitoring it closely. Look at which ads are driving clicks and conversions, and focus your resources on those.
Additionally, test out different options.
Try out new ad formats and new keywords regularly to see what works best for you. As you go, retire the options that aren't working, and promote the ones that are.
For you to get the best look at what's driving results, Google Analytics integration is a must. When you partner with WebFX to work on your dealer PPC, you'll be able to use Google Analytics' goal tracking to see exactly where you can improve your campaign performance.
5. Spy on your competitors
PPC for car dealers is competitive.
You're not the only dealer in your area, and you can bet your competitors will be vying for many of the same keywords as you. For your campaign to be a success, you not only have to outbid them — you have to outwit them.
The best way to make this happen is to have full knowledge of what they're doing. You'll want to know how effective their campaign is, which keywords they're targeting, and where their ads miss the mark.
Enter MarketingCloudFX. Designed and run by WebFX, this digital marketing platform allows you to get insights into your competitors' PPC strategy.
As you find your competitors' weak points, you can craft your campaign to be strong in those areas. Then, when you launch your ads, you'll be sure to outperform them.
Boost your PPC for car dealers with WebFX
Ready to put your automotive PPC strategy on full throttle and outpace the competition? WebFX is too, and we'd love to get you started! We've been helping clients optimize their PPC for over 25 years, and we'll gladly do the same for you.
To start your partnership with us, call us at 888-601-5359 or contact us online today!
Find out how WebFX can help you create an effective car dealership PPC strategy.
Call 888-601-5359 or contact us online today for a free evaluation.