7 Tips on Running Social Media for Car Dealerships
With 74% of people now using social media to help them make purchase decisions, it's become clearer than ever that platforms like Facebook and Twitter are essential marketing tools for any modern business — and car dealers are no exception.
A good social media campaign can help you harness the attention and engagement of online users like never before. It's a fantastic outlet for generating new leads. But how do you successfully run social media for car dealers?
Below, we'll cover seven tips for how to effectively market on social media in the auto industry by using automotive social media content. Read on to learn more, and then get in touch with us to partner with our team of over 200 digital marketing experts!
Attract more clients with car dealership social media.
1. Use multiple platforms
It can be tempting to keep things simple by confining your social media to a single platform where you can manage everything in one place. But this tactic will limit the scope of your marketing campaign.
One of the earliest ways you can spice up your marketing is to create accounts on different platforms. Each network offers a unique format for you to play with, allowing you to create different kinds of content.
From targeted ads on Facebook to car maintenance tutorial videos on YouTube, you can use the multi-platform approach to develop all sorts of original materials. Using more than one network will also help you reach different audiences.
2. Interact with users
The whole concept of social media — for car dealers or anyone else — centers around the idea of interaction between people.
As such, you don't want to treat it like a billboard, where all communication is one-way. Take advantage of the opportunities you have on social media to engage your audience.
When you put out content, people will most likely leave comments. And when someone has a question about your business, they might opt to tag you on Twitter instead of phoning your customer service hotline.
Be ready to respond to these comments and questions.
Something as simple as letting your users see that you're listening to them and taking the time to respond to them can go a long way. When you make people feel heard, you make them more likely to trust your brand.
3. Share fresh web content
Social media may be one of the best car dealership marketing strategies, but it's not the only one. It's most effective when used in tandem with other tactics.
One such tactic is content marketing.
Content marketing involves putting out informational content, like blog posts, on your dealership's website. This content can handle various topics, like what to look for in a new car or the latest car manufacturing trends.
The idea of content marketing is to draw users to your website. While it's most commonly directed to users through search engine results, car dealer social media can play a big role too.
You can use automotive social media marketing to promote new content from your website. Whenever you put out a new article, post a link to it on your social media accounts. This will prompt users to click on it and visit your site.
4. Promote sales and contests
Another fantastic use of car dealer social media posts is to run contests and promotions from time to time. When you offer users a chance to win something, be it a generic goody basket or an actual car product, they tend to pay attention.
Sales and other temporary deals can accomplish the same function. Promoting special offers and lowered prices can draw the interest of users who might not otherwise have taken the time to engage with your brand.
These promotions can come in different forms.
For many contests, the whole thing takes place on social media, so users don't have to do anything outside the platform. Other events are held in person at your physical location, encouraging users to come out and visit you.
5. Encourage and respond to reviews
You can talk all day about how great your business is, but self-promotion will never be quite as valuable as a raving customer review. That's why testimonials are one of the greatest car dealership marketing strategies out there.
Thankfully, social media is a great place to produce those testimonials. To start with, you can collect positive reviews through your website and display them on your social media pages.
But you can also acquire new reviews directly through social media.
This goes back to user interaction — since users can converse directly with you on social media, they can tell you exactly how they feel about their experiences buying from you.
On the one hand, this gives you a great way to generate new testimonials that promote your brand. But it also allows you to address any complaints voiced by unhappy customers quickly.
When someone posts a less-than-stellar review, you have a chance to respond to them and ask how you can fix their problem. With any luck, this will turn most of your bad reviews into good ones.
6. Engage with the community
As a car dealership, your primary customer base is most likely limited to a particular geographical region. That means that wherever you might be located, your business is part of a specific community.
That community is one of the greatest marketing resources you have. People tend to identify with their home communities, so when you play to that identity in your advertising, you do a lot to make them trust you.
Throughout your other car social media posts, find room for some content that focuses more on things happening in the community. If a local concert or carnival is coming up, put out a post about it.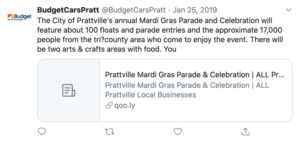 To tie your campaign together, you can combine this strategy with some of the others on this list, like sales and promotions. For example, you could offer a sale on a specific model of car you sell as part of a seasonal festival happening in your county.
7. Create compelling videos
One of the best ways to draw users' attention is to use video. While someone might scroll past a text-based post without giving it a second glance, the moving visuals of a video promotion are more likely to give them pause.
You can use videos for direct advertising, like a short ad promoting a new sale. But you can also employ a bit of content marketing strategy, creating videos that give users helpful or interesting information.
For example, you could post a video on Facebook or YouTube that gives users a behind-the-scenes look at your dealership or introduces them to some of your employees. This will give your content an authentic feel and help make customers feel more familiar with you.
See how we can help you GROW YOUR BUSINESS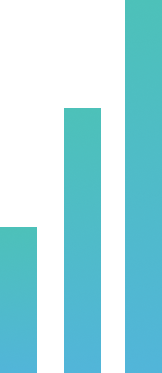 Give your automotive social media content a boost with WebFX
Now that you know how to effectively market on social media in the auto industry, you may well be ready to launch your car dealer social media campaign.
But are you still unsure about how to make the most of your automotive social media marketing? WebFX can help! We've been optimizing social media for car dealers and many other businesses for over 20 years, and we'd love to do the same for you.
To get started with us, give us a call at 888-601-5359 or contact us online today!