Drive Your Marketing Campaign With Professional Web Design for Car Dealers
As a car dealer, you rely on people being able to find you when they search for a place to get a new car. In today's digital world, that means having an accessible website that will appear in Google search results.
But it's not enough to just have a website. If you want it to rank well in Google and keep users engaged, you have to make sure it's well-designed.
So, how do you do that? What can you do to boost auto dealer web design and increase your lead-generating potential online?
Here are four things you can do to optimize your independent car dealer website, and how we can make each of them happen for you.
With over 500 client testimonials, WebFX is the best in the business when it comes to car dealer website design, and we'd love for you to partner with us today!
Attract more clients with car dealership web design.
1. Create a clear structure and navigation
When you visit a website, you aren't visiting a disconnected assortment of pages. Nearly all the pages on a website are laced together in a specific structure, and you can navigate them by clicking through links and navigation bars.
But not all sites are easy to navigate. Without a firm hierarchical structure and clear navigational layout, a website can quickly become a confusing mess.
That's why one of the best things you can do for your car dealership website is to give it a clear structure from the outset. Essentially, you need to make the user's browsing experience as easy as possible for them.
In this way, Austin Infiniti's website is an excellent example of good web design for car dealers.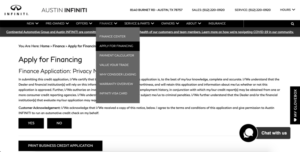 From any page on their website, you can access the navigation bar at the top. When you hover over one of the tabs, it displays a drop-down menu with all the pages under that tab. Furthermore, the site uses breadcrumb navigation to show you where you are on the site.
How can WebFX help?
When you partner with WebFX, we'll first work with you to establish what your goals are for your website. Then, if you don't have a website, we'll design the full structure of your site from scratch!
Alternatively, we can work with whatever content you already have to create a stellar navigation layout that will keep users on your website when they visit.
2. Customize your branding
One of the goals of any automotive website is to create awareness of your brand among car buyers in your area. For that to work, though, you have to have a website that sticks in people's minds.
That's where branding comes in. What you don't want to do is create a cookie-cutter website that looks exactly like a thousand others. You need to make your site your own.
When you create your website, make sure to go beyond the bare minimum. Don't make three changes to a Wix template and call it a day. Put in the effort to craft your own image formats, your own color schemes, your own interactive elements.
One instance of an automotive dealership web design that does a great job with this strategy is Volvo Cars Manhattan.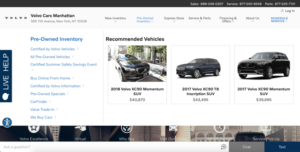 Everything on their website is modeled in the sleek, largely monochromatic style of Volvo's brand. Even their drop-down navigation menu is customized to display images and prices of the cars they sell, which is likely to stick in users' minds.
How can WebFX help?
At WebFX, branding is one of our chief concerns. We'll talk to you about your branding preferences right from the get-go, and then we'll set to work making your site stand out from the competition.
You'll even have a designated account representative who will work closely with you throughout the design process to make sure everything meets your specifications!

We measure our success by how much we WOW our clients.
Bill Craig
Webfx president
3. Drive more leads with responsive design
With over half of all Internet traffic happening on phones, websites need to optimize for mobile formats just as much as for desktop ones. More so, in fact, since Google ranks content based on how it appears on mobile devices!
This is the idea behind responsive design, which involves designing websites to work on either desktop or mobile devices. Given how Google prioritizes mobile, you can't afford for your website not to implement this feature.
Regency Vancouver Toyota gets this right.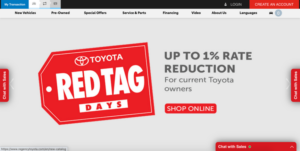 Right at the top of their homepage, they display a series of graphics in a hero slideshow. These graphics have to be designed in a specific shape to fit the screen, which on desktop means they form a horizontal rectangle.
On mobile, however, the format of the graphic changes.
The shape reorients to a vertical rectangle, with the text and the image rearranged. This shows how the site optimizes for both formats, depending on the device you're using to view it.
How can WebFX help?
WebFX can help you make responsive design a core feature of your website from the moment we set to work designing it. In fact, responsive sites are the only kind of site we design!
We won't craft a desktop site and then hastily throw together a weak mobile counterpart. Everything we create will be designed to work for every device, so you don't miss out on any online traffic.
4. Craft original and informative content
You might create the perfect independent car dealer website, but it won't do you any good if no one visits it. After all, no one's going to show up just to watch a hero slideshow on the homepage.
When people visit your website, they're usually there looking for the answer to a specific query. Whether they want to learn about your pricing options or find out how to perform a simple auto maintenance task, the thing that will draw them in is web content.
Written content should make up the bulk of your website. This content is what will draw users in, so make sure you craft it to be informative and answer common search queries.
Land Rover Tampa demonstrates this with some of their "Service Tips and Tricks" articles.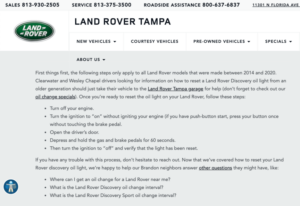 One article they have is about how to reset the oil light on a Land Rover Discovery. This is something that plenty of potential rover buyers might want to know, and when they search for it online, there's a good chance they'll get directed to Land Rover Tampa's website.
How can WebFX help?
When it comes to web content, WebFX has you covered. Our top-notch copywriting team will write whatever articles or blog posts you need, with all the necessary research going into it to make it as trustworthy as possible for readers.
And not only can we create your content, but we will also market that content to readers through search engine optimization (SEO)!
Partner with WebFX to give your car dealer web design a boost
Ready to drive your car dealership website design to new heights? WebFX would love to help! As the experts in web design for car dealers, we've already designed over 1000 sites and help them perfect their digital marketing, and we can't wait to do the same for you.
To get started with us, just give us a call at 888-601-5359 or contact us online today!
Find out how WebFX can help you create an effective car dealership web design strategy.
Call 888-601-5359 or contact us online today for a free evaluation.