Email marketing is one of the most powerful tools in a university's digital marketing arsenal. It requires a little expertise and some trial and error to create a winning email campaign, but once you do, you'll wonder why you didn't get started sooner.
If you're looking for help from an email marketing company, don't hesitate to contact us! We'd love to help create a winning email campaign for your college or university. Give us a call at 888-601-5359 today to get started!
Even if you have an existing email newsletter – most universities do – there's always room for improvement. Let's take a look at why email marketing is so important for universities, along with some specific strategies you can put into practice with your campaigns.
Email marketing is perfect for universities
Universities face a unique challenge with all aspects of marketing and communication. Instead of focusing on one specific audience, you need to maintain frequent contact with several groups at once: Students, parents, alumni, faculty, donors, prospective students, and more.
Email marketing is a must-have for universities because it suits this task perfectly.Segmenting email lists into demographic groups is par for the course when it comes to email marketing. There's really no easier way to control your communication lines with varying groups of people at once than email.
Here are some specific cases where email can make a huge difference for universities:
Boosting admissions
As a university, attracting applicants is one of your most important marketing goals. This is probably the number one reason email marketing is so beneficial for universities.
The process for prospective students vetting and applying to a handful of colleges is long and often intense. Students and parents don't make the decision lightly, as it essentially involves committing four years (and thousands of dollars) to a specific institution and location.
Having a stellar email marketing campaign in place can greatly set you apart from other universities by increasing communication, trust, and ultimately the number of applicants to your school.
The real strength of email marketing for prospective students lies in the ability to easily segment your email list. When you get applications or requests for information from prospective students, you instantly have access to a wealth of information about each one. You can use this info to segment your email list accordingly, by geographic area, by interest, by standardized test score…the list goes on.
The fact is that prospective students respond much better to more tailored emails than to a generic, one-size-fits-all marketing template. If you can nail down proper email marketing segments, you'll be rewarded with more applicants and ultimately better admission rates.
As another example, every school should set up an email segment dedicated to students that were admitted but haven't committed to attending yet. Personalized emails at this stage of the decision making process are sometimes all it takes to convince students that your university is the best choice.
Alumni communication
Email is the easiest way to stay in contact with those who have graduated from your university. Many people stay very interested in the happenings of their alma mater and will be more than happy to stay subscribed to an email newsletter that provides that information.
As long as you don't come across as spammy, you can use this alumni email list to direct alums towards specific goals. If you want to bolster your social media channels, for example, you can encourage all subscribers to follow your accounts across Facebook, Twitter, and more.
Drive alumni donations
Have a dedicated email campaign set up for your alumni is also the single best way of increasing your donations and fundraising efforts.
Again, you have to avoid coming across as spammy and salesy here – "please give us money" will simply not do. That being said, there are many ways you can creatively encourage donations. Weave your donation requests into an overarching story about campus, show alumni directly where their money will go, and ask them to remember how much their time at school could have been enhanced by a few generous alum donations.
Student and parent communication
This one's a given. Your students (and their parents) need information on a daily basis coming directly from the university, whether it's class cancellations, program announcements, extracurricular information, emergency issues, or anything else.
Email is the best possible avenue of distribution for this information. It's important not to abuse this with mass emails, however, because that often results in students simply ignoring emails from the school even when they're important!
As for parents, email is the perfect way to keep them in the loop while still allowing students to learn and grow as independent people.
Increased "brand" and community visibility
If your university offers services, programs, or resources that benefit the surrounding community (beyond just your students) email marketing is a great way to spread awareness about what's happening on campus.
Maybe your biology department is flying in a renowned speaker, or maybe you offer some sort of discounted services. Setting up an email campaign or newsletter to lend these types of things more visibility is a great way of boosting your reputation and prominence within a community. That, in turn, can lead to increased applications, state grants, funding, and more.
Time to Level Up Your Sales
Our long list of services helps you grow every aspect of your business with marketing strategies that are proven to increase bottom-line metrics like revenue and conversions.
In the past 5 years, we've managed more than 12.9 MILLION transactions across our client base.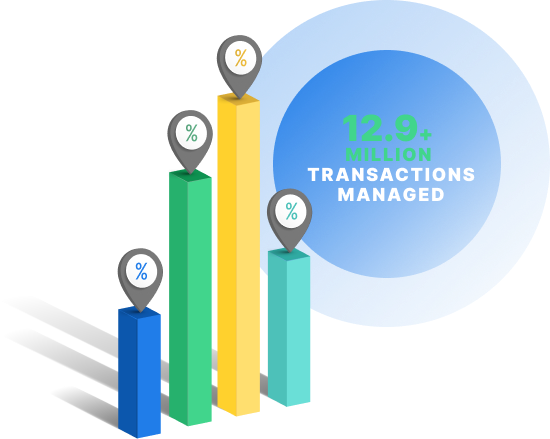 Hear What It's Like to Work With WebFX!

"Our account manager is professional, skilled, and wonderful to work with. She takes the time to get us up to speed on best practices and adjustments she recommends so that we can get the most out of our monthly investment."
University
Optimize your college's email marketing strategy today
Email marketing truly is a necessity for most universities in this day and age. A high quality email campaign can net you great results for years to come.
If you're looking for a professional touch when it comes to your email marketing, we'd love to help! WebFX is a full service digital marketing agency with years of experience helping colleges and universities across the country to boost their admissions, spread awareness, and grow.
Earn a 20% greater ROI with WebFX