At your university, your foremost focus is on your students — you want to help people get an education that will allow them to succeed in their careers.
Although you may not think of your university as a business, you must market it as such. At the end of the day, your university depends on a steady stream of revenue just like companies do. And to obtain that revenue, you have to run a successful marketing campaign.
A critical part of any good marketing campaign is lead generation. But what exactly is lead generation for universities, and why do you need it? Beyond that, how do you make it work? Below, we'll discuss the answers to all three of those questions.
Read on to learn more, and then consider partnering with WebFX — the digital marketing agency with over 1020 client testimonials — to get even more help driving your lead generation forward. Call us at 888-601-5359 or contact us online to get started today!
37% of marketers say that generating high-quality leads was one of their biggest challenges.
We want to decrease that percentage.
WebFX can help you generate high-quality leads with a customized marketing strategy.
Learn More About Lead Generation Services
What is lead generation for higher education?
To start out, what exactly is lead generation for universities? Before we get into the details of higher education lead nurturing, we first have to discuss the idea behind the marketing funnel, as well as the definition of the word lead.
What is the marketing funnel?
The marketing funnel is a metaphor for what you could term the "buyer's journey." It describes the chain of events that leads to someone making a purchase from a business or university.
Picture a physical funnel with water moving through it. At the top, there's quite a bit of water, and it moves down slowly. By the time it reaches the bottom, there's much less of it.
Marketing works the same way. Many people will visit your university's website, but only a select few will make it all the way to the point of attending your school.
What is a lead?
A lead is a potential customer that you have an established means of contact with. Someone in the marketing funnel becomes a lead somewhere in the middle of the funnel, not too far from the bottom.
When someone first visits your website, they're anonymous. If you note their visit at all, you don't know them as anything more than a random user. But once you acquire their name and contact information, they become a specific individual you're marketing to.
That's a lead. A lead isn't a conversion, but it removes the veil of anonymity from your prospective students.
What is lead generation?
Lead generation for higher education is simply the process of turning people into leads.
In other words, when you generate leads, you're drawing people deeper into the marketing funnel. You're turning people from anonymous, largely untraceable Internet users into specific, named individuals who have a vested interest in your university.
Hear What It's Like to Work With WebFX!

"Our account manager is professional, skilled, and wonderful to work with. She takes the time to get us up to speed on best practices and adjustments she recommends so that we can get the most out of our monthly investment."
University
Why do you need lead generation for universities?
Now you know the definition of lead generation, but how can it help your university thrive?
There are many possible answers to that, but here are three of the biggest reasons you need lead generation for schools.
1. To bring in revenue
The first and most obvious reason you need to generate leads is that it contributes to your flow of revenue. Leads are a necessary step in the marketing funnel to help you earn conversions.
Your stream of revenue primarily depends on people committing to an education from your university. The more students you have paying tuition, the higher your revenue will be.
And to get students to come to your university, you first need them to become leads.
2. To earn qualified conversions
Another thing that makes lead generation valuable is that it makes your marketing more efficient. When you market to a broad, anonymous audience, it can be hard to know how many of those people are actually interested in getting an education from you.
But when you market to leads, you know you're talking to people who are genuinely interested in what you have to offer. The lead generation process essentially thins out the crowd, narrowing your audience to people with an active interest in your school.
In other words, when you market to leads, you know you're marketing to a qualified audience. Lead generation helps make you confident that you're not wasting your marketing resources on people who aren't interested.
3. To get to know your audience
One of the great things about lead generation is that it can provide you with valuable information about your audience.
Including lead generation for schools as a step in your marketing ensures that you get to know information about all of your prospective students, from demographics to geographic location. This, in turn, helps you better understand just who your target audience is.
When you have a better conception of who has an interest in your school, you can design your marketing materials to fit that group. Doing so will make your marketing campaign more efficient down the line.
Our digital marketing campaigns impact the metrics that improve your bottom line.
See More Results

WebFX has driven the following results for clients:

$3 billion
In client revenue

7.8 million
Leads for our clients

5.2 million
Client phone calls
How can you generate leads for your university?
There's no question that lead generation for schools is important, but how can you make it happen? Here are three quick tips for generating new leads for your college.
1. Use email capture forms
The best time to turn anonymous users into leads is when they visit your website. Since the key to generating leads is establishing a point of contact, make that your focus.
Include email capture forms in popups and other places on your website where you encourage people to sign up for emails from you. Once you have their email, you can use it to market to them on a more individual level.
2. Create written web content
You don't have to rely solely on popups for your higher education lead nurturing. You can also generate leads through written web content. Prospective students will want to read up on your university before deciding to attend it, so you'll have plenty of opportunities.
If your content is engaging enough, your prospective students will not only learn about your university — they'll feel confident that they'll receive a similarly comprehensive learning experience if they attend your school.
3. Include clear calls to action
For each piece of written content on your website, include a clear call to action (CTA) encouraging readers to learn more about your university or get in touch with a representative.
A CTA typically includes a button with encouraging text like:
Sign up for our newsletter!
Learn more about our available courses
Talk to a mentor
Get more info on financial aid
Talk to a career counselor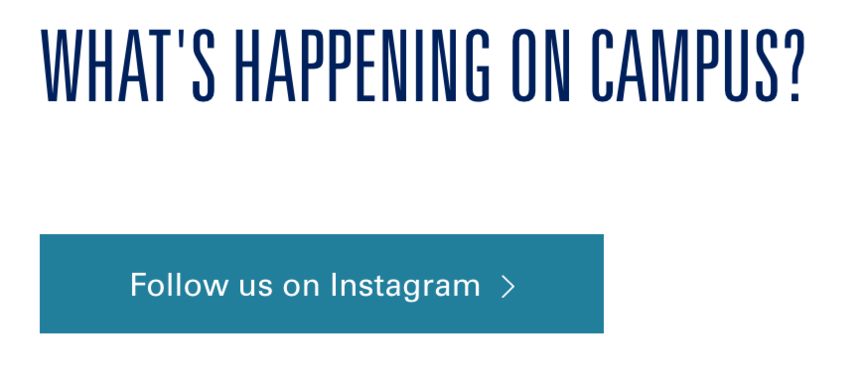 CTAs are extremely valuable to your university's website since they help guide interested students (and parents) through the marketing funnel.
4. Offer free learning materials
You can also get people's contact information in return for a product or service, particularly a learning-based one. Students are coming to your university to learn, so no doubt many of them will be happy to experience a sample of what that will be like.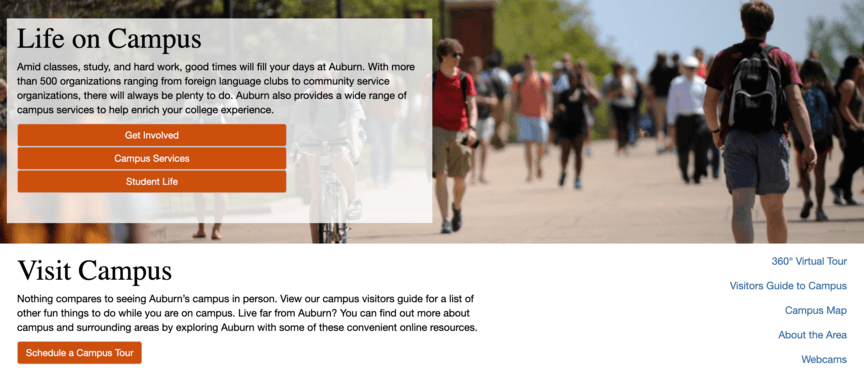 When you offer a free webinar, or possibly a campus tour, emphasize that all you need is users' email address. Once the transaction is completed, they'll have some free learning materials, and you'll have a new lead — everyone wins!
Time to Level Up Your Sales
Our long list of services helps you grow every aspect of your business with marketing strategies that are proven to increase bottom-line metrics like revenue and conversions.
In the past 5 years, we've managed more than 12.9 MILLION transactions across our client base.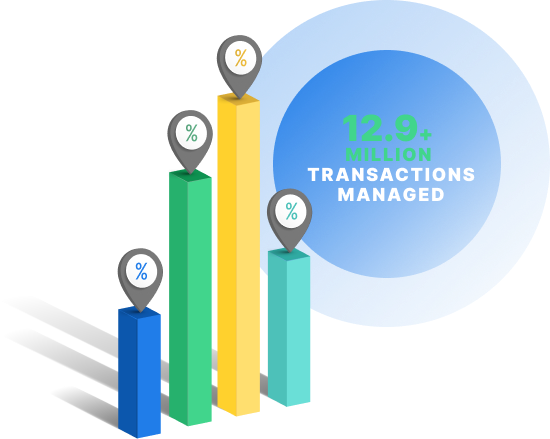 Get help with lead generation for universities from WebFX
Now you know the importance of lead generation for higher education, but how can you make the most of it? If you're still not sure how to generate leads for your university, don't worry — WebFX is here to help.
We've been generating leads for businesses and universities alike for over 25 years, and we'd love to do the same for you. We can help you optimize your web design, search engine optimization (SEO), and more to drive new leads.
To get started with us, just give us a call at 888-601-5359 or contact us online today!