Social media showcases what makes your daycare different from the competition. You can show off your facilities, activities, and staff to help people get to know you.
Effective social media management brings new parents to your daycare. 74% of people use social media to make purchase decisions, so showing your daycare on social media might nudge more parents to choose you.
Keep reading to learn more about social media and how to use it for your daycare, or call us at 888-601-5359 to learn more.
74% of people use social media when making a purchasing decision.
Make their decision easy with a stellar social media presence. See how your brand can level up by requesting a no-obligation proposal today.
One of our experts will be in touch within 24 hours!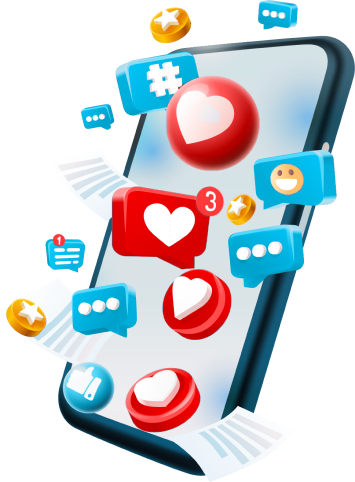 What is social media marketing for daycares?
Social media marketing is a digital marketing strategy to promote your business online using social platforms. For your daycare, you might use channels like Facebook, Instagram, or Twitter.
Using social media, you connect and engage with your audience, especially current parents. Prospective parents can also use social media to learn more about your business, from its looks to how it operates.
Social media marketing differs from other marketing campaigns because followers can respond to your promotions, share content that interests them, and more. Given the significant power consumers have, sharing a message they are interested in is vital.
Why is social media essential for daycares?
Parents want to trust the daycare where they send their children and social media is the first step toward building that trust. You can demonstrate that you have a clean and safe facility, tell parents about weekly learning, and help them learn about your staff through social media.
Social media is known for its ability to build community. When parents look for daycare, they seek out that community. They want to feel connected to your staff and other parents, and social media is an effective way to build these connections.
When you have an active online presence, parents will use your social media to connect. They will form friendships online with other parents. They will also get to know your personality as a business. An online presence will also help you connect with other daycares to share childcare strategies and learn from one another.
Tips for social media for daycares
If you are considering creating a social media account for your daycare—or revamping an existing account—you should adapt your social media strategy based on your programs and facility and the specifics of your customer base and target audience. You should begin by understanding your daycare. Then you can use the following tips to refine your strategy.
1. Start with Facebook
In the U.S., 69% of adults use Facebook. This social media platform also has a broad demographic, making it ideal for those starting in social media marketing.
If you're wondering how to advertise your business on Facebook, you should create a business suite account to begin sharing content about your daycare. You might post about fun events at your facility, shine a spotlight on your incredible staff, and show what your space looks like inside.
You can also respond to comments and messages your business receives. Parents will appreciate your responsiveness to their questions and provide personal service.
After working with Facebook for a while, you might move to other social media platforms. Instagram is a great way to show off your brand visually, while Twitter lets you share short messages with your followers. The platform you choose may depend on your customer base and their interests.
2. Create a clear social media policy
Social media often relies on photos, but many parents don't want you to share their children online without permission in a childcare setting. If you plan to share pictures of children on your social media, establish a clear policy and inform parents about it before they enroll their children.
Parents may ask that you not share their children on social media. If you respect this wish, you will retain loyal customers by building trust in your client base.
If you post pictures of children on social media, you should also ensure that you don't share any identifying information with the photographs.
3. Encourage engagement with your audience
A large part of social media for a daycare involves creating relationships with the community you serve. One of the best ways you do this is by encouraging current and prospective parents at your daycare to converse with you online.
You may promote engagement in several ways, including:
Replying to comments:

When users comment on your posts, try responding to as many as possible.

Holding polls:

Ask parents about activities or additions to the curriculum to allow them to participate in the daily life of your daycare facility.

Respond to direct messages:

When parents or prospective customers message you privately, respond quickly to their concerns or questions to demonstrate your reliability.
Growing your social presence with WebFX is a walk in the park.
"WebFX allows growing your social media platforms to be stress-free! They are knowledgeable and adapt to your company needs!"
Learn More About Our Social Media Services

Get social media help from WebFX
WebFX is a digital marketing company focused on driving results for our clients. If you need social media help, we will help you develop ideas for social media content, consistent upload schedules, and more.
We offer organic social media marketing services to help you grow your online presence and attract interested people to your business.
Get in touch with us online or call 888-601-5359 to learn more about our services or to request social media help for your daycare.
Increase your leads, sales, and revenue with digital marketing
Find Us Driving Revenue Nationwide