That's why digital marketing for higher education is extremely important.
When done right, your higher education's marketing strategy will build a solid base of enduring fans of your institution, driving people from prospective students to long-time alumni and investors who are proud of their alma mater.
Make your life easier by partnering with WebFX as your higher education marketing firm. We'll do all the heavy lifting in marketing for you so you can focus on wowing prospective students.
Check out all our digital marketing services that will boost marketing for higher education to new heights! Keep reading to learn more about these digital marketing services for higher education or call us today at 888-601-5359 to speak with a strategist about our digital marketing packages.
What you'll get by partnering with a higher education marketing agency
So, what can your institution expect with digital marketing services from an expert like WebFX? As a full-service marketing company, you'll get everything you need to prosper online, including the following services.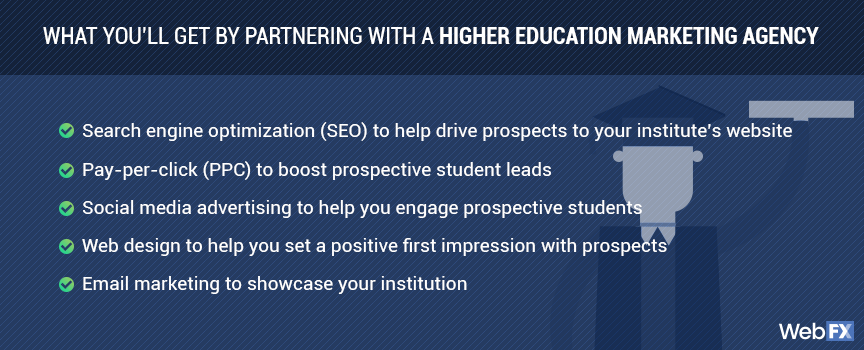 Search engine optimization (SEO) to help drive prospects to your institute's website
Search engine optimization (SEO) is one of the best ways to drive interested students to your site. Start earning more qualified search traffic with a higher education SEO marketing company.
When you partner with WebFX, we tailor your SEO campaign to the specific needs of your institution to make your brand stand out from your competitors. We'll work directly with you to leverage all the best SEO techniques like:
Keyword research: We'll help you research and optimize for relevant keywords that help you reach prospective students. Our team of experts will assist you in finding long-tail keywords, which contain three or more words, to help you reach more qualified prospects.
Content marketing: We'll help you create relevant content on topics your prospective students search. From topics covering financial aid to information about your campus, we'll help you create content that informs your audience and makes them feel confident about your institution.
Competitor and data analysis: We'll walk you through analyzing your competitors and campaign metrics. Our team will use that data to help you optimize your higher education marketing strategy.
Local SEO: We'll help you optimize your local SEO strategy so you can reach local prospects interested in your school. We'll help you optimize your strategy for local keywords to reach more prospects.
SEO is a great marketing tool because it helps higher education institutions reach prospective students. By optimizing your pages for search engines, you'll appear in more appear propsective students' searches and pulls those students into becoming your higher education institution's new applicants.
Pay-per-click (PPC) to boost prospective student leads
Marketing for higher education is always better with a solid paid advertising strategy, so your ad appears at the top of search results.
When you need an extra boost in traffic to your website, rely on WebFX to help you build the perfect pay-per-click (PPC) campaign. Our PPC management services will help you target your important keywords with PPC ads so you can gain an edge over your competitors.
With PPC ads, you can easily reach people who are doing searches for specific programs, types of schools, and more.
Additionally, we'll help you optimize your bid so you can get the most out of your advertising budget.
We'll even help you craft the most engaging landing pages to help you appeal to prospective students and make the conversion process as painless as possible.
Social media advertising to help you engage prospective students
When looking for a good higher education digital marketing agency, social media advertising is a must.
Social media advertising allows higher education institutions to reach more prospective students. With 90% of young adults aged 18-29 on social media, these platforms are one of the best places to find your target audience.
Social media advertisements allow you to target prospective students who are looking for higher education institutions. These ads will help you reach prospects that haven't discovered your institution yet. You'll also build brand awareness and drive leads.
Social media agencies like WebFX know exactly how to target students through social media ads. From Facebook to Pinterest, WebFX can help you reach prospective students wherever they spend their time.
Partner with a social media agency to help your higher education institution:
Boost brand awareness: Social media ads allow you to build easily brand awareness. You can target recent high school graduates and people interested in higher education in your location or across the globe.
Increase prospective student engagement: With social media ads, you can invite your prospective students to follow your institution. You can then use the content you produce on social media to encourage your prospective students to engage and build a relationship with your brand.
Showcase your programs: You can use social media ads to showcase the unique events, activities, and programs that your institution offers. These types of ads can help you pique the interest of your prospective students and push them to choose your institution over another.
Drive applicants: Best of all, social media ads also help you earn more applicants at your school. Social media ads increase the number of prospective students who become aware and interested in your brand, which in turn boosts the number of enrollments you'll receive from your social media advertising campaign.
Web design to help you set a positive first impression with prospects
Websites are a crucial element of marketing for higher education because it's the primary resource for students to learn about your institution. Websites with good web design lead to more applicants.
As a full-service digital marketing agency, WebFX also offers web design services. We offer in-depth website analysis and management services, so your site will always be in tip-top shape.
We'll help you smooth out all the kinks in your website, from mobile responsiveness to page speed optimization and security analysis, and help you give your students the experience they need to choose your institution.
Need a full website redesign? Our redesign services will help you build a new website that helps you obtain more prospects.
We also offer rapid web design services with our RainmakerFX package. Using customizable templates, we'll build you an enrollment-driving website in just 30 days.
Email marketing to showcase your institution
Email marketing for higher education is a great strategy to help you nurture prospects towards conversion. It's a great way to reach students and provide them with valuable information. Emails are 76% of students' preferred mode of communication for mobile.

As an email marketing agency, WebFX can help automate your email marketing campaign so you're always delivering personalized emails with the information your prospective students need. You can remind them of application deadlines, send them more information about their program of interest, and more!
With our proprietary marketing platform, MarketingCloudFX, you'll never have to worry about your email campaigns again. You'll gain access to our email managing program, MyEmailFX, where you can craft emails perfect for your prospective students and automate your email strategy.
MyEmailFX also comes with real time data and statistics so you can always keep track of the number of prospective students who read and respond to your email marketing campaign.
Want to make the most impact with your prospective students? Sign up for our email newsletter design services!

We measure our success by how much we WOW our clients.
Bill Craig
Webfx president
Hear What It's Like to Work With WebFX!

"Our account manager is professional, skilled, and wonderful to work with. She takes the time to get us up to speed on best practices and adjustments she recommends so that we can get the most out of our monthly investment."
University
Why choose WebFX for your higher education digital marketing?
With so many higher education digital marketing agencies to choose from, you'll want to feel confident in your choice.
WebFX is a full-service digital marketing agency. We offer a wide range of marketing services — from social media advertising, local SEO campaign management, and marketing automation services — that you can use to create the best marketing strategy to pull in students.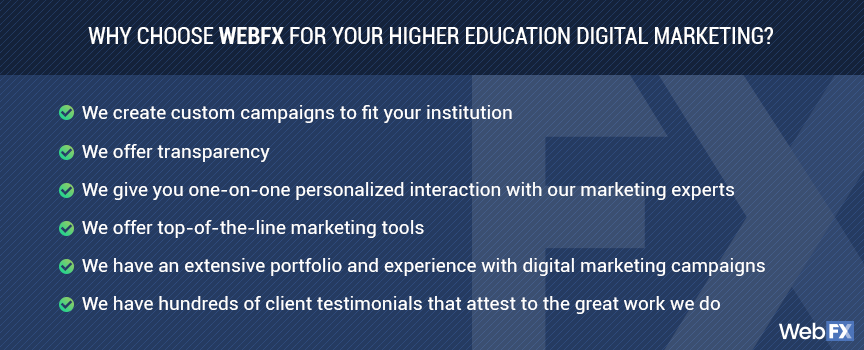 So, why choose WebFX as your higher education marketing agency?
We create custom campaigns to fit your institution
No matter what it is you want to accomplish with your higher education digital marketing, we can make that happen.
We focus on giving you the ability to perfectly mix and match each of our digital marketing services to create the best higher education digital marketing strategy.
All of the digital marketing packages we offer are customizable to fit your institution's unique marketing needs and goals.
Contact our team online to hash out the perfect custom digital marketing package for your institution!
We offer transparency
At WebFX, we believe in giving you complete transparency in our communication, pricing, and service packages.
We'll never hide anything from you or dodge around your questions. We'll address all your concerns with complete honesty and fidelity to help you come to the most comfortable and effective solution.
We provide also all of our prices, services, and information on our service packages upfront, so you'll never feel in the dark about where your money is going.
Each of our marketing services comes with a pricing table so you can get an idea of the prices of different plan types we offer and the services included within. And if you want to mix and match our services to create a custom plan, we can do that too!
We'll help you create a custom marketing package that perfectly fits your higher education digital marketing needs.
We give you one-on-one personalized interaction with our marketing experts
WebFX is a digital marketing agency with over 20 years of experience, and our award-winning team of over 200 talented digital marketing experts specializes in every area of digital marketing.
We'd love to be your higher education digital marketing agency! When you partner with us, you'll get direct access to experts who know all the ins and outs of digital marketing. They're committed to helping you build and launch a winning digital marketing campaign.
With each of our digital marketing plans, you'll work closely with a dedicated digital marketing consultant that will keep you in the know with in-depth reporting on your higher education marketing campaigns.
We offer top-of-the-line marketing tools
At WebFX, our data-driven proprietary marketing platform, MarketingCloudFX, is powered by IBM's artificial intelligence software, Watson.
The platform includes a wide variety of in-house tools to help you track, manage, and direct your campaign, making it simple and easy to keep tabs on your higher education marketing efforts.
When you partner with WebFX, you'll get access to tools like:
LeadNurtureFX: Track website leads and phone calls to understand and manage your leads.
CallTrackerFX: Track the source of your phone calls, see real-time data, view call transcriptions, and more.
MyEmailFX: Create, segment, and monitor your email marketing campaigns.
ContentGeniusFX: Measure and predict how well your content is performing.
RainmakerFX: Receive a lead-driving website in 30 days.
We have an extensive portfolio and experience with digital marketing campaigns
Here at WebFX, we've worked with clients from all over the world from industries ranging from education and environmental to retail and real estate.
We're a Google Premier Partner and a Meta Business Partner, and we have an extensive portfolio showcasing our expertise with top web designs and case studies.
We've built well over 1000 quality websites for our clients, and our case studies showcase the results we can bring to your higher education marketing campaign.
We have hundreds of client testimonials that attest to the great work we do
WebFX has over 500 testimonials from satisfied clients who have partnered with us.
Our commitment to our clients' successes has resulted in a 91% client retention rate and a client recommendation score 488% higher than the national average.
Not to mention, we've won several awards, including Top Digital Marketing Agency by Good Firms last year and #1 SEO Agency in the World awarded by Clutch in 2021. We're also proud of our extensive web design trophy cabinet, which contains more than 50 web design awards!
Partner with a higher education marketing agency like WebFX
Keep ahead in the race for student enrollments this year by working with WebFX.
When you choose WebFX as your higher education marketing firm, you'll get in-depth, actionable advice and help with implementing and managing solid marketing strategies from design to branding. We're dedicated to bringing you marketing campaigns that drive results.
With expert consultations on how to implement your marketing for higher education and detailed walkthroughs of the analytics that matter most to your campaigns, you'll know what happens every step of the way.
Ready to start your next higher education marketing campaign with WebFX?
Contact us online or call us at 888-601-5359 to speak with a strategist about our digital marketing packages for higher education!
Earn a 20% greater ROI with WebFX