Your website is often the first impression students get of your school. They immediately decide if it looks like a place they want to consider, and if your programs match their interests. This first impression is lasting and can influence whether they choose to apply or enroll.
The design of your website plays a crucial role in making that impact. If your website is unappealing, it could turn away potential students. But if it's fresh, modern, and updated, it could encourage them to learn more about what you have to offer.
It can be challenging to design an effective site and determine what kinds of elements will help you stand out to potential applicants. That's why, at WebFX, we offer custom web design and redesign services. Our talented team of designers and developers will work with you to create a site that's tailored to your needs and goals.
Call us at 888-601-5359 to speak with a strategist, or keep reading for five web design tips for online education.
We'll help you create a website that stands out.
"WebFX has been instrumental in helping us develop a new website, allowing us to be a leader in our industry."
Learn More About Our Web Design Services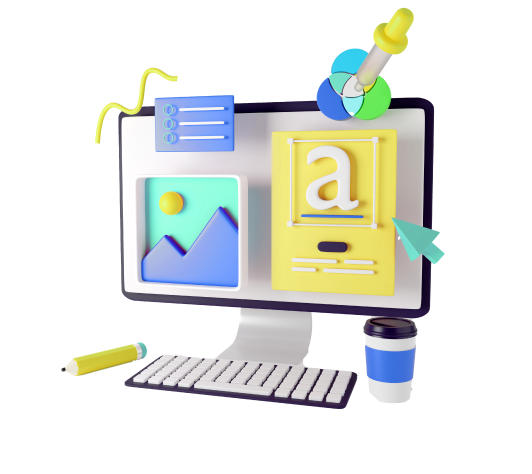 1. Create a site that's as unique as your programs
Unique design can go a long way in showing prospective students what sets your school apart. Visitors don't want to see a website that is outdated or old, and a bland, cookie-cutter site can discourage them from learning more about your programs.
Your design should be modern, but remain true to your school's identity and branding. Highlight what sets you apart, and you'll be much more effective in making a positive first impression.

Hear What It's Like to Work With WebFX!

"WebFX has a full team of competent people that work diligently and quickly on our marketing and SEO needs."
Christian School In Pa
2. Include attention-grabbing images and graphics
Visual content is the most effective way to grab your visitors' attention, so it's an important aspect of any website. Images and graphics can help prospective students get a better idea of what you have to offer, and also add visual interest to your pages.
Pictures of campus & students
If your online program is attached to a physical campus, you can use photos of it on your website. Prospective students want to know what your campus has to offer, and if they haven't visited, adding photos to your site is a great way to show them.

Take photos of different campus buildings, and incorporate them on relevant pages for each of your degree programs. Although many online students may not spend much time in these buildings, photos can give them a better idea of what your school is like.
You can also add photos of students on campus, attending events, or participating in sports and other activities. These are all great opportunities to show what life is like on campus.
If you don't have a physical campus, avoid using stock photos of other colleges and universities. This doesn't help prospective students get an accurate idea of your programs — but you still have options for adding visual content to your site.
Photos coinciding with degrees
You don't need photos of a campus to make your page interesting. Instead, you can get creative by incorporating images that relate to the different programs and degrees you offer.
If you offer MBA programs, for example, you can incorporate photos of the professors who teach your courses, or images of graduates working in their field. You can use images that are labeled for reuse or create your own graphics.
Infographics
You probably have a ton of information you want to tell your students, like statistics about your student body or job placement, and the careers students have pursued after graduating from your programs. This is important information to them, too — so how do you make sure they don't miss it?
This is where infographics are extremely helpful. Infographics break up the monotony of text, add visual interest to your pages, and break down important information in a way that's easy to understand.
For example, you could create a graphic summarizing the achievements of your professors and staff, as well as what your graduates have accomplished after completing a certain program.
Infographics are also very easy to share. You can post links on your social media accounts and encourage your followers to visit your site and learn more about the topic. This gives you the chance to attract prospective students' attention as they're scrolling through their newsfeeds, and bring them to your site to learn more about your programs.
3. Include interactive elements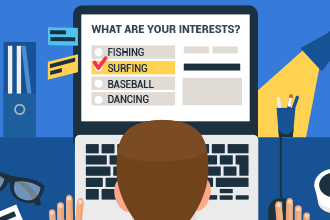 Interactive tools can help students explore their options and find the programs that are best suited to their interests and goals.
One of the best types of interactives you can add is a filtering tool that lets students select their interests, scheduling preferences, and other options, and helps them determine which programs meet their needs. You can also use tools for scheduling classes, and any other tasks your students may wish to accomplish on your site.
These kinds of elements are effective for engaging visitors, and can keep prospective and current students on your site for longer. Interactives are much more interesting than text alone, and can encourage visitors to learn more about your programs.
4. Design for conversions
Attracting traffic is an important first step, but the ultimate goal is to get that traffic to convert. Conversions can include actions like signing up for an email list, requesting information, or applying for one of your programs.
These actions are what help you earn new students — but to accomplish them, your site needs to be designed for conversions. You'll want to structure your site in a way that guides visitors through your sales funnel and encourages them to take action.
Your layout should be logical, and each page on your site should be designed with a clear goal in mind. Each visitor should naturally progress towards converting, and have many opportunities to do so on your pages.
The more effectively you guide prospective students through the sales funnel, the more successful you'll be at reaching your marketing goals. You'll be able to generate more conversions and higher enrollment — the metrics that have the biggest impact on your programs.
5. Create a user-friendly experience
Students are going to be searching your website for information, so you want it to be as user-friendly as possible. Your goal should be to make it easy for them to find the information they are seeking within a few clicks.
When you design your site, keep your visitors in mind. Think about information they're looking for when they visit. Is it details about your degree programs? Information about financial aid? Assistance with the application process?
Organize the most important information on your website in a way that's easy for visitors to access. Make sure all of your most important pages are accessible from your main navigation, and that the rest of your pages are organized in a way that makes sense.
In this step of the process, it can be extremely helpful to have a third party tester attempt to find specific information on your site. If they can't do so within a few clicks, you may need to re-think your navigation setup.
User-friendliness is vital to your visitors because it can make or break their decision to apply to or enroll in your programs. As an online student, they'll be spending lots of time on your site — and if it's difficult to navigate or use, they'll likely seek a program that provides a better experience.
Web design services from WebFX
Prospective students will often get their first impression of your school from your website, and it's essential that you're able to make a good one. You need to have a user-friendly, unique, and modern site — and if you're in need of a redesign, WebFX can help.
Our focus is on driving revenue for our clients. To date, we've driven over $3 billion in sales and over 7.8 million leads for clients, and we want to help you reach your marketing goals, too.
When you partner with WebFX, you'll get a team of experts working to create your ideal website. We'll take the time to get to know your needs and goals, then create a website that is unique to your programs.
Our clients love the work we do. In fact, we have over 1020 testimonials — the most of any agency in the US! You can also check out our portfolio for examples of our work and the impact it's had for our clients.
Ready to build your dream website?
WebFX is a full-service digital marketing agency, and our team can help you achieve the online presence you want for your online education programs. We'll work with you to build a website that will attract prospective students and help you reach your marketing goals.
Contact us online or give us a call at 888-601-5359 for more information!
Earn a 20% greater ROI with WebFX