Considering how often people turn to the Internet for everyday tasks, the increase in popularity of online banking services should come as no surprise. Many people use it to manage their finances on a daily basis, and some use it as their primary method for budgeting and managing expenses.
However, some people are still reluctant to use online tools to handle their financial matters. Some people still prefer in person banking, either because they're worried about the security of online services, they're unsure of how to use them, or they just don't see the point. Others may not know the services are even available.
But if your bank has invested time and money into creating online banking tools, you want as many of your customers as possible to take advantage of them. The following strategies will help you do just that.
37% of marketers say that generating high-quality leads was one of their biggest challenges.
We want to decrease that percentage.
WebFX can help you generate high-quality leads with a customized marketing strategy.
Learn More About Lead Generation Services
Promote your services on multiple channels
The first goal of any marketing plan is to raise awareness of the product or service. This can sometimes be more difficult than you first expect.
Since your audience uses a variety of channels online, it can be tough to find the right ones to promote your new service. That's why you need a multichannel approach to increase awareness and eventual adoption of your range of banking services.
Use a combination of SEO, PPC, social media, email marketing, and content marketing to reach as many customers as possible. Direct the users from all of these channels to a landing page on your site that provides all the information they need to sign up.

Hear What It's Like to Work With WebFX!

"WebFX's collaboration and success of working on a complete re-design with our website vendor and our Bank to ensure the absolute best site and SEO out of the gate has been such a positive experience."
Bank
Provide easy-to-follow instructions
Even the most tech-savvy among us need guidance on how to use new platforms. Some of your customers may be slow to adopt online services because they look confusing, or they're not sure how to get started.
Show them clearly written instructions before, during, and after the initial setup process and make them feel confident about using new services to manage their finances.
Design the installation and registration pages to map out what needs to be done at each step. You can put all the steps on one screen or break them up into multiple pages—test both options to see which works better. Don't make the process too long.
Only ask for the information that's required for you to deliver the services. When the process is done, send an email acknowledging their registration, including a number that new users can call for assistance.
Ensure security
Many people hesitate to use online banking services because of security concerns. Shoppers were skeptical about providing credit card information when online shopping first became an option, and many customers feel the same about online banking.
This will keep some people from using your online banking services, so emphasize the security of these tools and assure them that their accounts are safe.
Start by taking all the security precautions that are available to your business. Put virus blockers and firewalls in place that keep accounts safe. Offer instant alerts and notifications in case a breach occurs.
Once your protections are in place, list them on your site to show how, exactly, you protect their information and finances. To prove your expertise, offer content that show customers how to protect themselves from hackers and other online threats.
Explain the benefits
What's the big deal about online banking? What will customers get from online services they can't get from traditional banking? The features of your services might be innovative and unique, but they have to fill a need among customers, or they'll go unused.
When promoting new online banking services, talk as much about the benefits as you do the features of the service. Focus on the ways that online banking can help customers, such as convenience and ease of use.
Talk about how your solutions will save them time, help them avoid trips to the bank, or make it easier to maintain their financial records. Describing what your services do is a start, but you'll pique more customer interest when you focus more on what the services can do for each individual customer.
Customize your services
Your online services may be of great use to most of your customers, but they're not necessarily going to use it in the same way. Some may lean towards using one tool, while others may only feel the need to see one type of data.
Since personalization is a big priority for businesses and for consumers, make your services customizable to how customers want to use it.
Allow customers to design their own display screens, so they can view as much or as little data as they want. Enable them to get the notifications they want, either every day or only when there's a problem. Let them decide to move money around manually or set up automatic payments and transfers.
Online banking services are meant to make life more convenient for customers. Letting them customize the experience will make the service even more convenient—and more likely to be utilized.
Time to Level Up Your Sales
Our long list of services helps you grow every aspect of your business with marketing strategies that are proven to increase bottom-line metrics like revenue and conversions.
In the past 5 years, we've managed more than 12.9 MILLION transactions across our client base.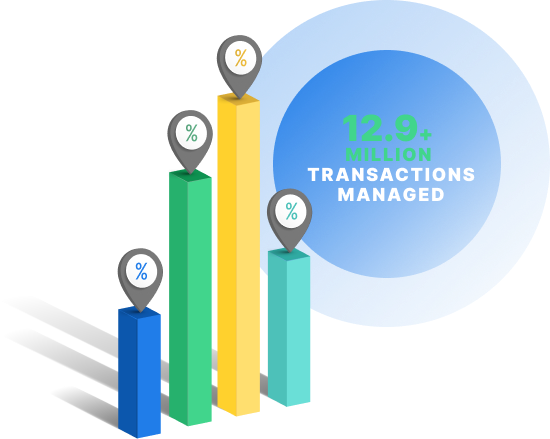 Want to increase usage of your online banking service?
Investment in online banking tools is a smart strategy. In a few years, their usage will likely be a given. That doesn't mean all of your customers will jump on the bandwagon immediately, though, so you may need to give them a nudge in that direction.
If you'd like to increase the usage of your bank's online services, WebFX can help. Contact us today to speak with a strategist!
Earn a 20% greater ROI with WebFX