Business offering credit services depend on a loyal audience. That means you'll want to invest in a digital marketing strategy that helps you gain more leads and conversions. The right techniques will help you reach customers online and improve your brand awareness and recognition so more people will be ready to sign on for your services.
Learn more about how to approach digital marketing for your credit services business. If you want to get started right away, give one of our strategists a call at 888-601-5359.
Our digital marketing campaigns impact the metrics that improve your bottom line.
See More Results

WebFX has driven the following results for clients:

$3 billion
In client revenue

7.8 million
Leads for our clients

5.2 million
Client phone calls
Producing the right content
Content is one of the core tenants of any digital marketing strategy. Effective content will help you stand out from the crowd, get leads, and make conversions. As a credit service provider, you can tailor your content with the goal of improving brand authority and trust with new or existing customers.
Some types of content you can share include:
Informational videos.

Blog posts.

Ebooks.

Case studies.

How-to guides.

Podcasts.

Educational pamphlets or packets.
It's best to post a variety of content to reach as many people as possible. While some people might enjoy a podcast on financial decisions, others might want a how-to guide about building credit — particularly the younger end of your audience who might not know where to start. No matter what you post, ensure it's valuable to your audience.
Using photos and videos
Content in the form of photos and videos can be especially valuable. Many users prefer pictures and videos to text or at least appreciate the greater context both can provide.
Informational, how-to, and explainer videos are just a few ways to use visual elements in your content. Infographics offer an engaging way to share statistics or crucial financial information you want to ensure your audience pays attention to.
Images are also helpful in terms of breaking up text and making it easier for your audience to skim. Pictures can represent particular services you offer or provide information about upcoming updates at your company.
Engaging on social media
People use social media often, both to connect with friends and to inform their decision-making when looking for new services to invest in. Your team can engage with your audience on social media in numerous ways, including:
Posting links to the latest blogs on your website.

Hosting live streams and Q&As.

Replying to questions.

Reposting user-generated content.

Performing customer service through direct messaging.

Highlighting infographics and company updates.

Sharing behind-the-scenes videos.
Many social media platforms exist, so it's crucial to determine the ones most popular with your target audience. For credit services, these often include Instagram, Facebook, and Twitter. Other options include LinkedIn, TikTok, and Pinterest.
Make sure customers know you are who you say you are. Use a profile picture that contains your company's logo and choose a page name that resembles the name of your business. Describe your services in your bio and include contact information, location, and hours of operation.
Creating a user-friendly website
The website for your credit services business should be easy to use. Many elements play a role in designing a user-friendly website, ranging from layout to font, colors, and content readability.
Remember to implement easy navigation. No matter how someone arrives at your website, the goal is to get them to stay and explore other pages. Including a straightforward navigation bar is the best way to ensure users can do that.
Responsive design is another critical idea to take into account. People searching for credit services could be on their smartphones, tablets, laptops, or desktops. You need to make sure they can view your website correctly on any device. Responsive web design helps ensure your website loads quickly and appropriately for users at home and on the go.
Optimizing your website for search engines
Search engine optimization (SEO) makes it easier for users to find your website. A strategic SEO approach covers many facets, including web design and content marketing. It also prioritizes:
Keyword optimization.

Meta descriptions.

Title tags.

Page speed.

Backlinks.

Local and technical SEO.

Internal linking.
When you use SEO best practices to guide your approach, search engine crawlers will notice. Google and other platforms will consider these factors when ranking your website on their search engine results pages (SERPs). You can improve your lead generation by ranking higher for search queries your target audience is already looking up.
Starting pay-per-click (PPC) advertising
PPC advertising is another popular method used in digital marketing. With PPC, you bid on keywords and only pay when someone clicks on your ad.
Your ad will show up near the top of the SERPs, often in one of the first few slots. This process can help you reach searchers before you've improved your organic rankings or for highly competitive keywords.
Consider using negative keywords as well. These are the ones you don't want your ad to pop up on searches for. For example, if you only offer certain credit services, eliminate keywords focusing on the ones you don't have.
Sending the right emails
Email is another crucial part of a digital marketing strategy. Create a submission form that allows users to sign up for product updates, newsletters, and anything else you plan to offer via email.
Newsletters are an excellent way to keep leads and existing customers up to date on your services and happenings at your company. You can use these emails to talk about product or service launches, recent blog posts, and promotions — like referral bonuses.
In some cases, it might make sense to send out time-based emails triggered by an action your audience takes. For example, if someone enters their email address on your website for the first time, that action can automatically send a welcome email.
Otherwise, you can automate when to send promotional emails or newsletters. Try to stick to a consistent schedule so people know what to expect.
Meet WebFX:
Your world-class, tech-enabled marketing agency with over 1.6 million hours of combined expertise.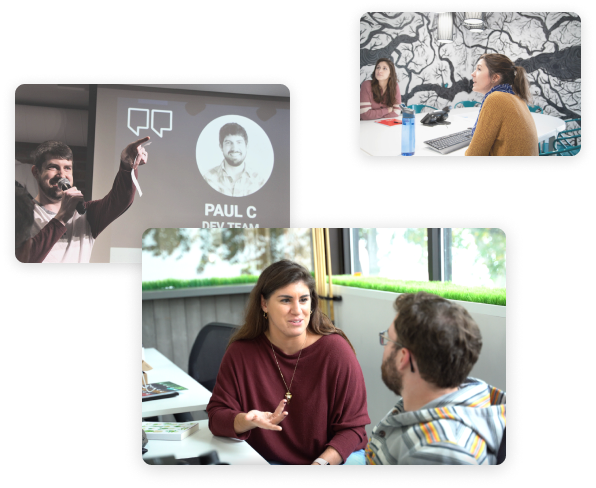 Let WebFX boost your digital marketing efforts
Are you ready to improve your digital marketing strategy for your credit services company? WebFX is prepared to help. We are a digital marketing agency that offers numerous services for businesses like yours, ranging from SEO to social media management, email marketing, and copywriting.
Call 888-601-5359 or contact us online or to speak with a strategist!
Earn a 20% greater ROI with WebFX