As a finance company, you routinely provide loans and financial help to people and businesses. But what about your finances? If you want to continue gaining more clients and earning more revenue, it's crucial that you market your company online.
But a finance marketing strategy takes time and effort to execute, and you may already be occupied with helping your clients. So, what can you do to improve your marketing? Simple — you can hire an agency like WebFX for our finance digital marketing services.
Read on to learn more about our digital marketing services for finance companies. Then partner with us to start driving results for your campaigns. Just call 888-601-5359 or contact us online today to get started!
Our digital marketing campaigns impact the metrics that improve your bottom line.
See More Results

WebFX has driven the following results for clients:

$3 billion
In client revenue

7.8 million
Leads for our clients

5.2 million
Client phone calls
6 finance digital marketing services from WebFX
At WebFX, we offer a variety of digital marketing services for finance companies. Here's an overview of the services we offer!
1. Search engine optimization (SEO)
One of the most effective marketing strategies you can use is search engine optimization (SEO). SEO is the practice of optimizing your web content to rank higher in relevant search results.
When you rank higher in Google, it makes it easier for your audience to find your website and become familiar with you. To that end, WebFX will help you implement various strategies to boost your SEO and improve your rankings.
Some things we'll do include:
2. Pay-per-click (PPC) advertising
Another way we can improve your finance marketing strategy is by helping you launch a pay-per-click (PPC) advertising campaign. PPC advertising involves displaying paid ads online for users to find.

Some paid ads appear as display ads in the margins of third-party websites. Others show up at the top of Google search results, looking like organic listings. WebFX can help you create and optimize both types of ads.
In addition, we'll help you bid on the right keywords in Google Ads to ensure you're reaching the most relevant audience possible. Ultimately, we'll use PPC to significantly expand your audience and drive conversions!
3. Social media marketing and advertising
Social media is one of the best places to find people online, which is why WebFX makes social media marketing one of our top services. We'll start by helping you set up an account for your business on the platform(s) of your choice.
From there, we can work with you to develop engaging content you can post to draw users in. Some of your content can be informational and some can be salesy, but all of it should serve to push users toward visiting your website.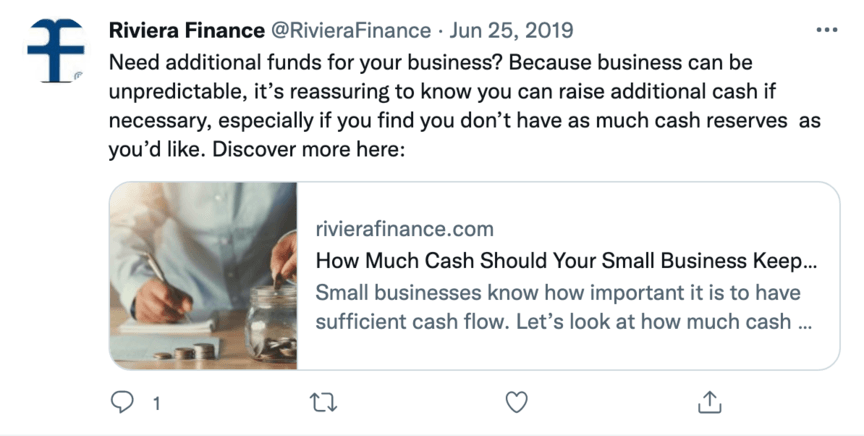 We'll also help you set up social media advertising campaigns. You can display your ads right in users' social media feeds, and you can target people based on demographics like age and location.
VIEW OUR SOCIAL MEDIA SERVICES
4. Web design and development
A professional, user-friendly website is crucial for engaging your audience, and web design is an essential element of digital marketing services for finance companies. When people arrive at your site, you want them to stick around — and for that to happen, your site must be attractive and easily navigable.
Some ways WebFX can optimize your site include:
Ultimately, our web design services will help you draw in more users and keep them engaged on your website.
5. Content marketing
SEO might be how you put your website in front of people, but it's content that draws them in. When you partner with WebFX for our content marketing services, we can help you craft compelling content on your website that will attract users.
We can create different types of content for your business, from blog posts to videos. All of it will help inform users about your business and industry. People will visit your website to learn more, and many of them will end up staying to convert.
VIEW OUR CONTENT MARKETING SERVICES
6. Email marketing
The final major finance digital marketing service we offer is email marketing, which — as you might guess — involves sending emails to users. However, you shouldn't just send out emails to people at random. On the contrary, you should let people sign up for your emails voluntarily.
When you partner with WebFX, we'll help you set up email forms on your website where people can subscribe. As you build out a list of email addresses, we'll create email copy for you to send out to those addresses. We'll even help you personalize those emails to individual users.
VIEW OUR EMAIL MARKETING SERVICES
Why partner with WebFX for our finance digital marketing services?
You might be wondering what you stand to gain from partnering with WebFX rather than having someone else handle your marketing. Here are three benefits to partnering with us on your finance marketing strategy:
1. WebFX has decades of experience
The first major benefit of partnering with WebFX is the amount of experience we bring to the table. We've been driving marketing results since 1996, meaning we have over 25 years of experience.
The reason that's so beneficial is that by partnering with us, you'll gain access to all that experience. We can take what we've learned in the last few decades and apply it to your campaigns to ensure that they drive maximum results!
2. WebFX is a full-service marketing agency
Another benefit we offer is that we're a full-service marketing agency. That means we provide a wide range of digital marketing services, as you saw from the list above.
Why is this significant? The answer is that many agencies only specialize in one or two services. So, you'd have to go to one agency for PPC, another for SEO, and so on. But when you partner with us, you get to centralize all your marketing in one place.
That keeps things more organized, ensures your strategies work well together, and helps you cut down on costs!
3. WebFX has a history of driving results
Finally, WebFX is well-known for the incredible results we've driven for our clients. In the past five years alone, we've generated over 7.8 million leads and $3 billion in revenue.
With numbers like that, it's no surprise that we've earned over 1020 testimonials from our clients. We can reliably drive amazing results for all the businesses that partner with us, and that includes yours!
Time to Level Up Your Sales
Our long list of services helps you grow every aspect of your business with marketing strategies that are proven to increase bottom-line metrics like revenue and conversions.

In the past 5 years, we've managed more than 12.9 MILLION transactions across our client base.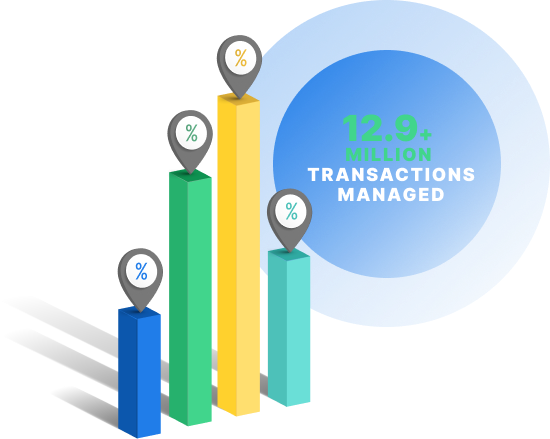 Let WebFX help you optimize your finance marketing strategy
As soon as you're ready to start upping your marketing game, you know who to call — WebFX! Our team of over 500 experts can't wait to start optimizing your campaigns and show you what we can do to help you grow.
When you partner with us, not only will you gain access to all the digital marketing services listed above, but you'll also receive a dedicated account representative to keep you updated about everything we do for your company.
To get started with us, just call 888-601-5359 or contact us online today!
Earn a 20% greater ROI with WebFX