One of the most important parts of owning a business is creating an audience. As a bakery owner, you're likely looking for ways to market your tasty treats so that you can find leads. Leads describe people who have shown interest in a company, its products, or its services in one way or another, whether by following a social media account, requesting a demo, signing up for email newsletters, or filling out a contact form. Lead generation, then, is a marketing strategy that describes the actions you take to encourage these interactions.
Lead generation ticks many boxes for business owners — increasing website traffic, gaining more emails for their databases, attracting more social media followers, and more. Unlike other marketing efforts, such as cold calling, lead generation focuses on reaching the people actively looking for a specific product or service. In other words, lead generation is one way to reach your target audience.
For example, if you're a bakery owner focused on healthy versions of the most popular sweet treats, your target audience might be young professionals in their mid-20s to early-30s. If your focus is homemade delicacies rooted in nostalgia, your target audience might be adults 40 and over who want to pass on their favorite desserts from childhood to their children or grandchildren. Lead generation strategies help you reach those audiences and encourage them to interact with your company before ultimately making a purchase.
When you want to engage with potential customers or help them learn more about what makes your bakery special, lead generation is the way to go.
37% of marketers say that generating high-quality leads was one of their biggest challenges.
We want to decrease that percentage.
WebFX can help you generate high-quality leads with a customized marketing strategy.
Learn More About Lead Generation Services
7 lead generation strategies for bakeries
When choosing the lead generation strategies you want to try, remember where your target audience is and what type of content they enjoy. Consider your budget and goals, as well, and don't be afraid to double up on strategies. You can always conduct tests to determine which ones are working and which need some developing.
These seven strategies encourage potential customers to turn their casual interest in your bakery into something more tangible:
1. Active social media presence
Most business owners know the importance of getting their companies on social media. In fact, 92% of businesses with over 100 employees are expected to use social media as a marketing tool in 2022. There are several factors to consider before opening accounts across all the channels you can think of, however.
First, you'll want to consider which social media will be most effective in reaching your target audience. Research shows that American adults under 30 are likely to use Instagram, TikTok, and Snapchat, while Facebook and YouTube are the most widely used by older audiences. You'll want to focus your efforts on the platforms where your target audience already exists.
Lead generation efforts on social media can include aiming to gain followers, likes, and tags. To make the most of your social media presence, engage with your followers, use hashtags, stay consistent with posting, and stay up to date with the latest trends.
2. Engaging calls to action (CTAs)
Calls to action are common at the end of blog posts, as a means of concluding YouTube videos, on service pages on your website, and more. They're short paragraphs or links that encourage a reader or listener to take further action, whether it's downloading a guide, subscribing to a channel, or signing up for newsletters.
For your bakery, you may consider CTAs like "Click here for our seasonal cookie selection" or "Contact us online for more information about party catering."
3. Appealing discounts and coupons
Another excellent way to encourage interest in your bakery is by offering discounts and coupons. For example, you may offer a 20% off code for those who sign up to join your email list or promise exclusive sales and offers to those who follow you on Instagram within a certain timeframe.
You can generate more leads when people sign up to receive emails, but remember to keep the content engaging so that they don't unsubscribe later. Give recipes, coupons, healthy hacks, and expert tips a try!
4. Exciting events
On a similar note, hosting business-related events can generate leads for your bakery. Consider having a booth at local events with sample treats and business cards that feature contact information and social media profiles. Attending and hosting events creates buzz for your bakery that can quickly translate into interest, which can turn into people popping by your store for a taste of more.
5. Positive word-of-mouth
Word-of-mouth is a metric that's largely out of your control when it's in reference to recommendations you receive from a friend or family member. Still, certain strategies can give you a headstart in gaining that positive traction. You can build your word-of-mouth strategy by:
Finding what makes you unique.

Leveraging reviews.

Building mystery.

Creating a notable brand voice.

Partnering with influencers.
When people hear positive stories or experiences from your bakery, they may feel compelled to check it out themselves, and then you have more leads.
6. Quality blog posts
One of the greatest ways to answer questions about your brand is through blog posts. As a bakery, you can write articles like "Best Cookies to Bake During the Fall," "Benefits of a Stand Mixer," "Semi-Sweet vs. Dark Chocolate Chips," and "Baking Trends This Summer" to engage your readers. At the end of these posts, include a related CTA directing them to your products or encouraging them to visit during open hours, generating leads.
Your blog gives you the perfect place to build your brand voice and show potential customers you're trustworthy. They may feel more comfortable contacting you after reading a blog post that answers the question they had.
7. Effective search engine optimization (SEO)
With SEO, you edit and alter parts of your website to help it show up in relevant search results. You can build leads when people click on the search results. The information available about SEO is limitless, but a good place to start is using keywords and earning authoritative links.
When people search online, they use keywords to find what they're looking for. You can choose short- or long-tail keywords for pages on your website in anticipation of the searches people might make. For example, you might use a keyword like "summer desserts" on a page dedicated to seasonal treats. Then, when someone Googles the keyword, your site is more likely to pop up.
Earning links, on the other hand, is a bit more challenging. When other sites link to your site, your site is seen as more credible in the eyes of search engines, which can be very helpful for SEO. While you can't necessarily control how other sites link to your content, you can start by creating quality content worthy of linking to. Share your content online, and encourage other users to share it, too.
Strong SEO is an excellent way to generate leads.
Meet WebFX:
Your world-class, tech-enabled marketing agency with over 1.6 million hours of combined expertise.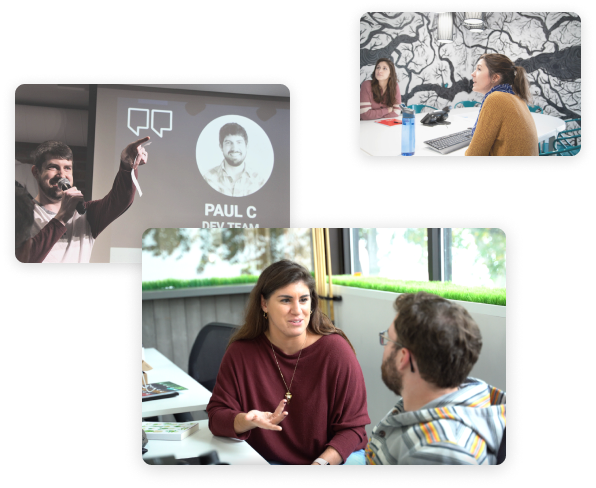 WebFX is an SEO and lead generation expert
WebFX is an SEO expert, and we know lead generation, too. Read more than 1020 client testimonials that show what it's like to work with WebFX on your digital marketing campaign, and contact us online for more information!
Increase your leads, sales, and revenue with digital marketing
Find Us Driving Revenue Nationwide