Whether your company has just come out with a new, inexpensive beer or the latest fine wine, you need a way to market it to your potential customers. And in today's world, the best place to do that is online, in the form of digital marketing.
Most people today spend large chunks of time online, both during work hours and in their personal time. The Internet offers the perfect place to reach large audiences and to hone your advertising toward the people most likely to respond positively to it.
But digital marketing for alcohol is made up of many strategies, and if you're unfamiliar with them, it can be hard to know where to start. Below, we'll cover five of the best alcohol marketing strategies for your business.
Read on to learn more, and then partner with WebFX — the agency with over 1020 client testimonials — for our digital marketing services. Just call us at 888-601-5359 or contact us online today to get started!
Our digital marketing campaigns impact the metrics that improve your bottom line.
See More Results

WebFX has driven the following results for clients:

$3 billion
In client revenue

7.8 million
Leads for our clients

5.2 million
Client phone calls
What is alcohol marketing?
Alcohol marketing is the process of promoting alcohol products via online and offline channels. Marketing channels for alcohol include print, paid ads, partnerships and sponsorships, online search, and more.
5 strategies to boost digital marketing for alcohol companies
The great thing about selling alcoholic beverages is that it isn't usually too hard to find people willing to buy them. Instead, the real challenge is making those people aware that your brand exists and persuading them that it's better than the competition.
Fortunately, you can use numerous alcohol marketing strategies to advertise your products, each with its own set of advantages. Here's an overview of the five most effective strategies for marketing your alcohol products!
1. Search engine optimization (SEO)
One of the best online alcohol marketing strategies to pursue is search engine optimization (SEO), which involves optimizing your web content to rank in Google search results. In fact, 93% of all online experiences begin with a search engine, so it's a highly effective strategy.
SEO starts with keywords. By incorporating specific, alcohol-related keywords into your written web content, you signal to Google that your content is relevant to those searches and increase its chances of ranking for them.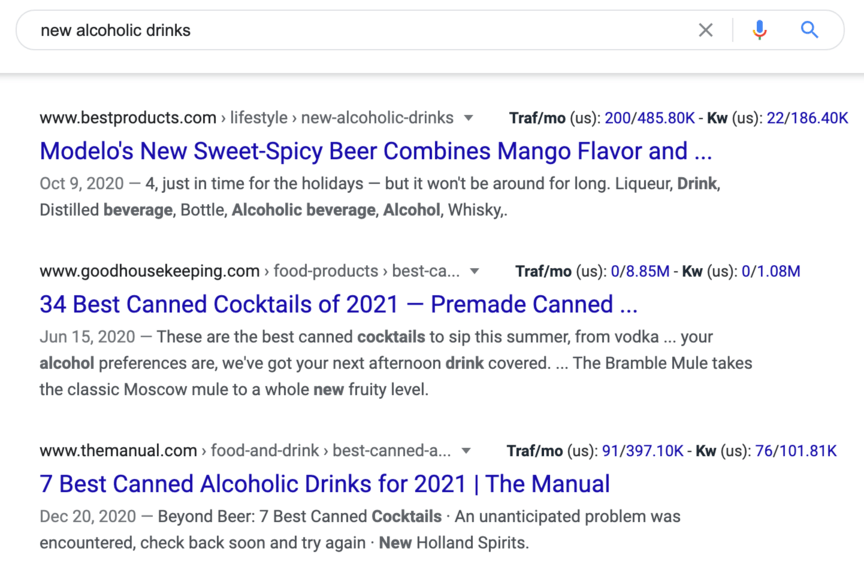 Keywords are just the start, though. There are a variety of other SEO tactics you can pursue, including:
Earning backlinks from third-party websites
Improving your page load speeds
Using responsive design to keep your site mobile-friendly
Optimizing the user experience with things like white space
Using HTTPS
And more!
When you get your content ranking organically in Google, you're putting it right where users can find it. Best of all, you're reaching users who are already searching for things related to alcohol, making them the prime targets for your marketing.
2. Pay-per-click (PPC) advertising
SEO isn't the only way you can reach users in Google search results. As effective as it is, it takes time to put into motion. For faster results that will put you right at the top of search results, you can try pay-per-click (PPC) advertising.
PPC ads are paid ads that you can display above organic Google results. Typically launched through Google Ads, they look like regular search results but have an "Ad" label in the top corner.

Again, like SEO, PPC ads target specific keywords to reach the right audience. With PPC, though, you bid on the keywords you want to target. When someone searches for a keyword, Google will display ads based on which bidders have the highest bids and Quality Score.
Each ad takes users to a specific landing page where they're encouraged to buy your product.
These ads go up as soon as you launch them in Google Ads. The best part is that you only pay when someone clicks on your ad, making PPC very cost-effective when done well.
3. Social media marketing
While most online experiences start with a search engine, most users don't stay there for long. If you want to reach users where they spend a lot of time, there's no better spot than social media, which accounts for 28% of the average user's Internet time.
On social media, you can run your account for your business and use it to interact directly with your audience. Your posts should be a mixture of salesy and informational content, giving users a reason to engage with you.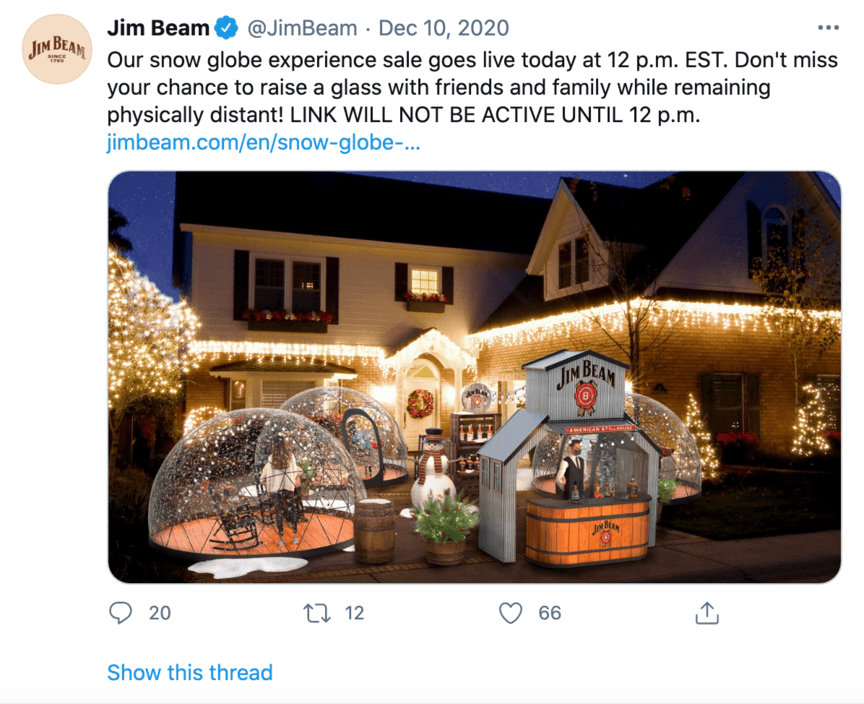 On top of using your account to earn new followers, you can reach interested leads more directly with paid social media ads. Like with PPC, you can pay to display ads in different spots on social media platforms for users to encounter. The best type is in-feed ads, which appear right in users' social media feeds.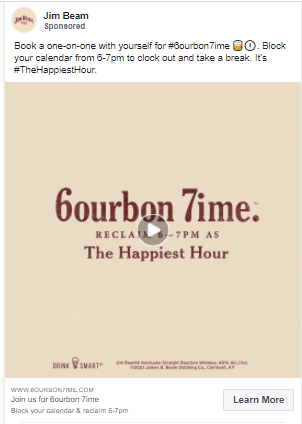 You can also use paid social media ads to directly target groups of users based on demographics like age and location, helping you ensure that you're reaching the most relevant possible audience.
4. Content marketing
Not everyone will immediately respond to advertisements. Many of your potential customers won't necessarily be looking to buy right from the start, so you'll have to draw them in with more informational content. That's where content marketing comes into play.
Content marketing involves crafting pieces of informational content on your website. This content most often takes the form of blog posts and other written pieces, but can also include other mediums like video. Whatever its form, it's designed to attract users to your site.
As you might expect, content marketing is closely intertwined with SEO. SEO is the practice of getting your content to rank in Google, but the content itself is what attracts users and keeps them on your website.
Your content can talk about any topic in your industry, but it's a good idea to build pieces of content around specific target keywords. After engaging with some of your content marketing, many users will become predisposed to buy your products.
5. Email marketing
A final online alcohol marketing strategy worth pursuing is email marketing. The idea behind email marketing is relatively straightforward — you send advertising emails to potential customers, encouraging them to buy your products.
Of course, there's a specific way to go about it. You don't want to start sending out emails to random people, or you'll quickly find yourself getting marked as spam. Instead, you want to persuade users to give you their email addresses voluntarily.
The way to do this is to set up email calls to action (CTAs) on your website. These CTAs can be pop-ups, appear alongside your content, or somewhere else. Regardless, they should encourage users to sign up for your emails to receive something — special discounts or newsletters, for example.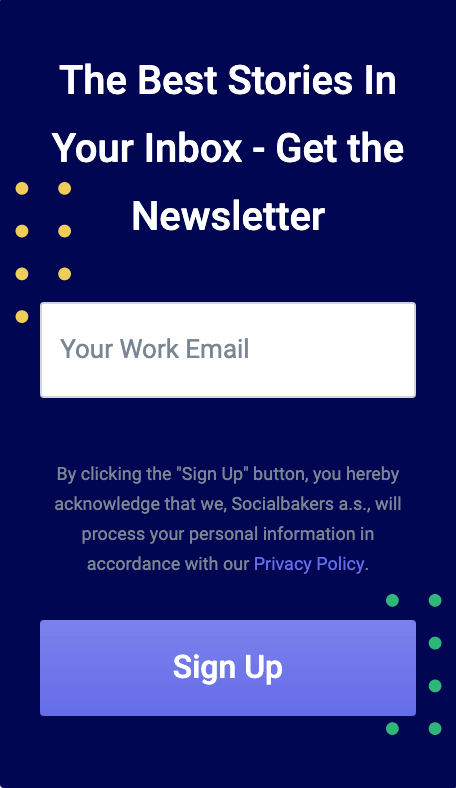 From there, you can send emails to the people who sign up for them. The emails should deliver whatever the users were promised, but you can use them to push users toward buying your products. You can also segment users so that different groups get emails for different interests.
Finally, you may want to consider using an email management tool like EmailMarketingFX to make your email marketing easier!
Ready to speak with a strategist now? We're happy to chat! Give us a ring at:
888-601-5359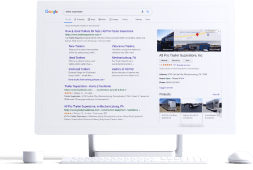 Hear What It's Like to Work With WebFX!

"I recommend WebFX to everyone. They have been the best team to work with out of the 10 years I've been doing online advertising. They are knowledgeable, provide fantastic results for costs that are a fraction of other companies, and what I have enjoyed the most is they reach out when they see a problem or a change is needed. They are second to none."
Liquor Provider
Drive up your online alcohol marketing with WebFX
Want to drive up revenue through your alcohol sales? WebFX would love to help! With over 20 years of experience, we know all the ins and outs of digital marketing for alcohol, and we can't wait to apply that knowledge to your business.
With our digital marketing services, you can get help setting up every one of the strategies listed above. You'll also receive a dedicated account representative to keep you informed and involved in everything we do for your marketing.
Just call us at 888-601-5359 or contact us online to get started today!
Earn a 20% greater ROI with WebFX