The food and beverage industry contributes significantly to manufacturing in the United States. Many food and beverage manufacturers produce products sold in supermarkets, drugstores, restaurants, hospitals, and institutions.
Given the vast array of manufacturing companies in the United States, each must endure some competition with other manufacturers. Evolving distribution outlets like ecommerce and home delivery services also change the industry.
If you struggle to gain leads for your food and beverage company or want to grow your business beyond your current client base, read on to learn some top strategies. If you want some expert help, turn to WebFX by calling 888-601-5359. We offer various digital marketing strategies.
37% of marketers say that generating high-quality leads was one of their biggest challenges.
We want to decrease that percentage.
WebFX can help you generate high-quality leads with a customized marketing strategy.
Learn More About Lead Generation Services
What is a lead in food and beverage manufacturing?
A lead is anyone who displays an interest in your product or brand. These groups change for each industry. A lead in food and beverage manufacturing might include a grocery store or restaurant.
Leads show interest in several ways. They might reach out to you by visiting your website or following your company on social media. Your business might also reach out to leads through methods like cold calling, but reaching out for leads often brings limited success.
Lead generation aims to find those interested in your company and convert them into prospects who might one day turn into loyal customers.
Why is lead generation important?
In the food and beverage manufacturing industry, consolidation has made companies larger and more formidable. As these large forces dominate the industry, your manufacturing company might struggle to stand out, even as a big player.
Lead generation strategies help your manufacturing business remain more competitive, even in heavy competition, by bringing your company to the forefront of prospects' minds. Here are a few other reasons to hone your lead generation strategy:
Boost your revenue by gaining new prospects.

Generate business opportunities to grow your business.

Improve lead quality so more leads convert.

Eliminate

outdated outbound techniques

like cold calling.
3 lead generation approaches for food and beverage manufacturing
The primary means that business-to-business (B2B) companies use to bring in leads today is digital marketing. Almost 90% of B2B companies use their website to communicate with leads or customers. If your food and beverage company struggles to find qualified leads, here are some digital marketing strategies to try.
1. Paid advertising
Online paid advertising often utilizes pay-per-click (PPC) ads. With this ad type, you pay each time someone clicks on your ad and visits your landing page.
Paid ads appear in several places, including searches, social media, and websites, but search ads remain the most popular. These ads appear like regular results from a Google search but with an included "ad" tag.
When a business or individual searches for a term related to your industry, like "meat processing manufacturers," your result may appear before the organic results on the page. This placement increases your chances of bringing in qualified leads.
If you're wondering how to create a PPC strategy, focus on factors like finding the best industry-related keywords, writing eye-catching headlines and calls to action, and incorporating ad extensions like customer reviews or a company phone number.
2. Social media marketing
As an industry primarily focused on selling to businesses rather than consumers, you may wonder whether social media marketing effectively draws in food and beverage manufacturing leads.
While individuals use social media, those individuals work for businesses that might buy your products. A well-planned B2B social media marketing campaign will bring in leads for your business.
To start your social media campaign, begin by choosing a social media platform to suit your needs. B2B marketers often see success on LinkedIn, but other popular platforms like Facebook and Twitter may work well too.
Once you decide which platform to use, you will achieve the best success through consistency. Post varied content regularly, and maintain conversations with your audience and other businesses in your field. These strategies bring your business to the front of people's minds and capture new leads.
3. Content marketing
Content marketing may come in many forms, from blog posts to informational articles, infographics, and online guides. With 88% of B2B marketers using content marketing, you should consider adding this to your lead generation strategy.
If you wonder what to write about to draw in leads, think about changes happening in your industry. Write about industry trends or new technologies that might impact food and beverage manufacturing.
When you provide informational content like this on your blog or social media accounts, businesses searching for this information will find your company.
Though the content may not turn businesses into customers immediately, it establishes your business as an expert. This content also encourages customers to contact your business, subscribe to a newsletter, and browse your services.
4 steps in the food and beverage manufacturing lead generation process
Lead generation may seem like a difficult task. You focus on casting a wide net for leads and hope to see those leads convert to customers. While lead generation refers to various strategies, it includes four primary steps:
Research your target market:

Learn more about the customers you currently serve and those you hope to attract to create marketing materials that appeal to them.

Develop lead generation techniques:

To put your manufacturing businesses in front of leads, use your target research to select and hone your lead generation strategies, whether paid advertising, social media, or content marketing.

Collect lead information:

Use lead generation techniques to encourage leads to call your business or fill out a form expressing interest in your company.

Nurture your leads:

Once leads reach out to you, focus on building a relationship with them that may one day lead them to become customers.
Meet WebFX:
Your world-class, tech-enabled marketing agency with over 1.6 million hours of combined expertise.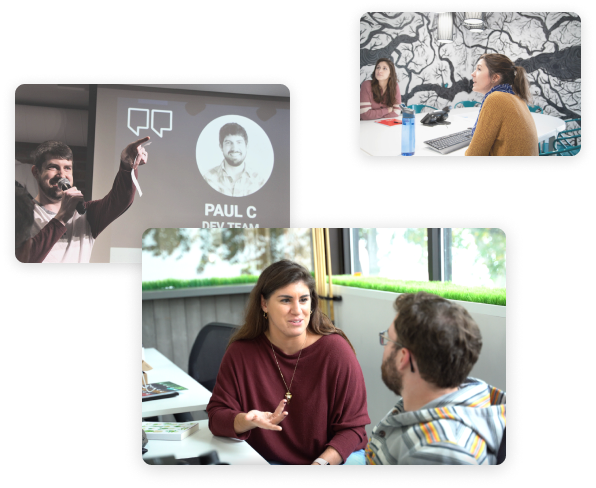 WebFX lead generation services for your food and beverage manufacturing
Lead generation will help your business increase revenue and gain a more extensive, loyal customer portfolio. If you own a food and beverage manufacturing business, WebFX offers PPC management, social media marketing, and search engine optimization (SEO) services, including content creation.
Since 1996, we have driven results for our clients with digital marketing strategies. In the last 5 years, we have brought nearly 7.8 million leads for our clients. If you need help with lead generation for food and beverage manufacturing, reach out to us online or call 888-601-5359.
Increase your leads, sales, and revenue with digital marketing
Find Us Driving Revenue Nationwide