When you choose the digital marketing methods that are best for your Fortune 1000 company, you want to pick methods that will generate leads for your business. Using lead generation methods is important because you will earn more valuable leads that turn into conversions.
There are numerous digital marketing methods you can use to generate valuable leads for your business. So, how do you find the ones that are right for your Fortune 1000 company?
On this page, we'll discuss the top three lead generation methods for your company. If you want to create your own customized lead generation plan, call us today at 888-601-5359 to speak with a strategist.
Good agencies have more than 50 testimonials.
Great agencies have more than 100 testimonials.
WebFX has over 1000+ glowing client testimonials.
See What Makes Us Stand out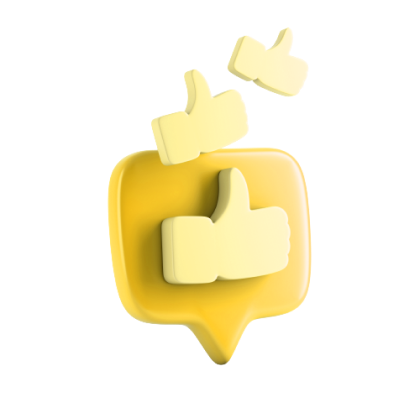 1. Social media marketing
Social media marketing is a great way to attract and engage with your followers. The social media platforms you choose to use will help you to nurture a relationship with your audience. This will help your Fortune 1000 company earn leads that eventually convert into clients.
There are numerous social media platforms you can use, including Facebook, Instagram, Twitter, LinkedIn, and Pinterest.
You'll need to research your target audience to see which platforms they use the most. You want to encourage engagement, so it is best to use platforms where most of your target audience spends their time.
Once you figure out your platforms, you can start posting content for your audience. You'll want to create content that is easily shareable. When you create shareable content, your followers can share it on their own timelines and encourage their friends and family to check out your business.
You can post a variety of content on social media, including posts, links, photos, videos, polls, and other elements. You'll need to gauge your followers to see which types of content interests them.
These social media platforms also offer paid advertising opportunities. You can use these advertising services to reach more people in your target audience. It's a great opportunity to attract new leads and get them to check out your social media page.
Social media is a great opportunity for your Fortune 1000 company to draw in new leads and build a relationship with them. By doing this, you can nudge them towards conversion.

Hear What It's Like to Work With WebFX!

"WebFX did amazing work creating a new website for us on a tight schedule. They have taken the time to learn about our business and give us ideas of how to make our digital marketing better. We still have work to do with WebFX but overall very pleased."
Professional Service
2. Pay-per-click (PPC) advertising
Pay-per-click (PPC) advertising is an effective method for drawing in more credible leads. PPC ads are paid advertisements that appear at the top of the search results. They are tagged with the word "ad."
PPC is a great option for your Fortune 1000 company because it gives you complete control over your campaign. You decide how your ad looks, when it appears, and how long it runs.
Another great feature is that you only pay when someone clicks on your ad. You don't pay for impressions. This ensures that you are putting your money towards leads that are the most interested in your business.
In addition, you have complete control over your budget. You set the amount you want to spend on your campaign. This makes it a great option for your business because you can make it work with your Fortune 1000 company's budget.
PPC ads operate on keywords, so you'll need to conduct keyword research to get the right keywords for your campaign. You can use numerous keyword research tools to help you figure out the most important keywords for your company.
As you conduct keyword research, focus on long tail keywords. These are keywords that contain three or more words. These keywords are a better option than short-tail keywords, which only contain one or two words.
Long-tail keywords are a great element for your PPC plan because they drive in better leads for your business. These keywords also cost less, so you can gain more clicks in your campaign. With long, specific phrases, you'll attract qualified leads that are interested in your Fortune 1000 company.
Once you have your keywords selected, you'll bid for your placement. You'll need to set your maximum bid, which is the amount you are willing to pay each time someone clicks on your ad. This amount is flexible and can be changed at any time.
After you set your maximum bid, your bid and quality score will determine your ads placement. Once you have your placement, your campaign will go live.
If you want a great lead generation method that draws in valuable leads, PPC is a great option for your business.
Our team has over 500+ experts who help execute results-oriented PPC campaigns, and we have the research to help guide you alone the way. Take a look at more of our blog posts to find out more about PPC campaigning in Pennsylvania.
3. Content marketing
Content marketing is a great digital marketing method for driving in leads. This kind of marketing helps you reach leads you might not reach with other promotional methods.
When you think of content marketing, you may think it only consists of blogging. That's not the case. There are numerous types of content you can create to engage your audience.
The content you share can be blogs, videos, infographics, eBooks, downloadable content, and more. The point of content is to not only engage your audience, but to provide them with helpful information they are seeking.
Your audience is constantly seeking out helpful information. They have questions that need answers and turn to search engines like Google to find them.
You can create various types of content. Many businesses will create how-to posts, advice pieces, or information guides. You'll need to see what your audience likes best to understand what content appeals to them.
Content creation is a great opportunity to share your knowledge and expertise in your industry. You can also showcase your business as an authority in your field.
Offering your audience quality content is a chance to provide helpful information while validating that your company is knowledgeable and professional. Since these people seek out information related to your business, you can provide that content for them and attract them to your website.
They may not convert right away, but they will remember your business. When it comes time to make a purchase, they will remember the helpful information your Fortune 1000 company provided. They will choose your company over the competition.
If you want to draw in more leads, you need to invest in content marketing. It is a great opportunity for your business to draw in valuable leads that turn into conversions.
At WebFX, we have compiled a list of helpful content marketing resources we've found to be helpful when first creating a content marketing plan. Take a look at some of the best tools for beginners on our website.
37% of marketers say that generating high-quality leads was one of their biggest challenges.
We want to decrease that percentage.
WebFX can help you generate high-quality leads with a customized marketing strategy.
Learn More About Lead Generation Services
WebFX is a top lead generation company
Lead generation is an important part of your digital marketing plan. You want to drive in new leads to help your Fortune 1000 company earn more conversions and grow. At WebFX, we know how to create customized lead generation plans for your business.
We're a full-service digital marketing company that specializes in lead generation strategies that drive results. Our award-winning team will bring their knowledge and expertise to help you drive in leads for your Fortune 1000 company.
If you're looking for results, we know how to drive them. To date, we've driven over $3 billion in sales and over 7.8 million leads for our clients. We focus on putting our clients' success before anything else.
Our clients love the work we do, too. In fact, we have over 1020 client testimonials from a variety of industries. Check them out to see what it's like to partner with a top lead generation company like WebFX.
Learn more about lead generation for Fortune 1000 companies
If you want to learn more about how you can get a customized lead generation plan, contact us online or call us today at 888-601-5359 to speak with a strategist.
We look forward to hearing from you!
Earn a 20% greater ROI with WebFX