As your business continues to grow, you're constantly looking for innovative marketing ideas that will help your local business reach more valuable leads.
If you haven't set foot into the world of digital marketing for your business yet, it's time to take the leap. Digital marketing strategies are extremely beneficial for helping your local business earn more qualified leads and revenue.
On this page, we'll provide you with four local marketing ideas that will help you grow your business. If you need help implementing these strategies into your campaign, call us today at 888-601-5359 to speak with a strategist.
Let's get started!
Our digital marketing campaigns impact the metrics that improve your bottom line.
See More Results

WebFX has driven the following results for clients:

$3 billion
In client revenue

7.8 million
Leads for our clients

5.2 million
Client phone calls
1. Claim your Google Business Profile listing
As a local business, one of the first things you should do is claim your Google Business Profile listing. This is a vital piece of local marketing because Google produces these listings every time someone conducts a local search. Local searches are usually triggered when people search with phrases such as "near me," "nearby," or "in [city]."
When users conduct a local search, Google displays a list of relevant businesses underneath a map. It's typically a list of three businesses, also known as the local SEO 3-pack.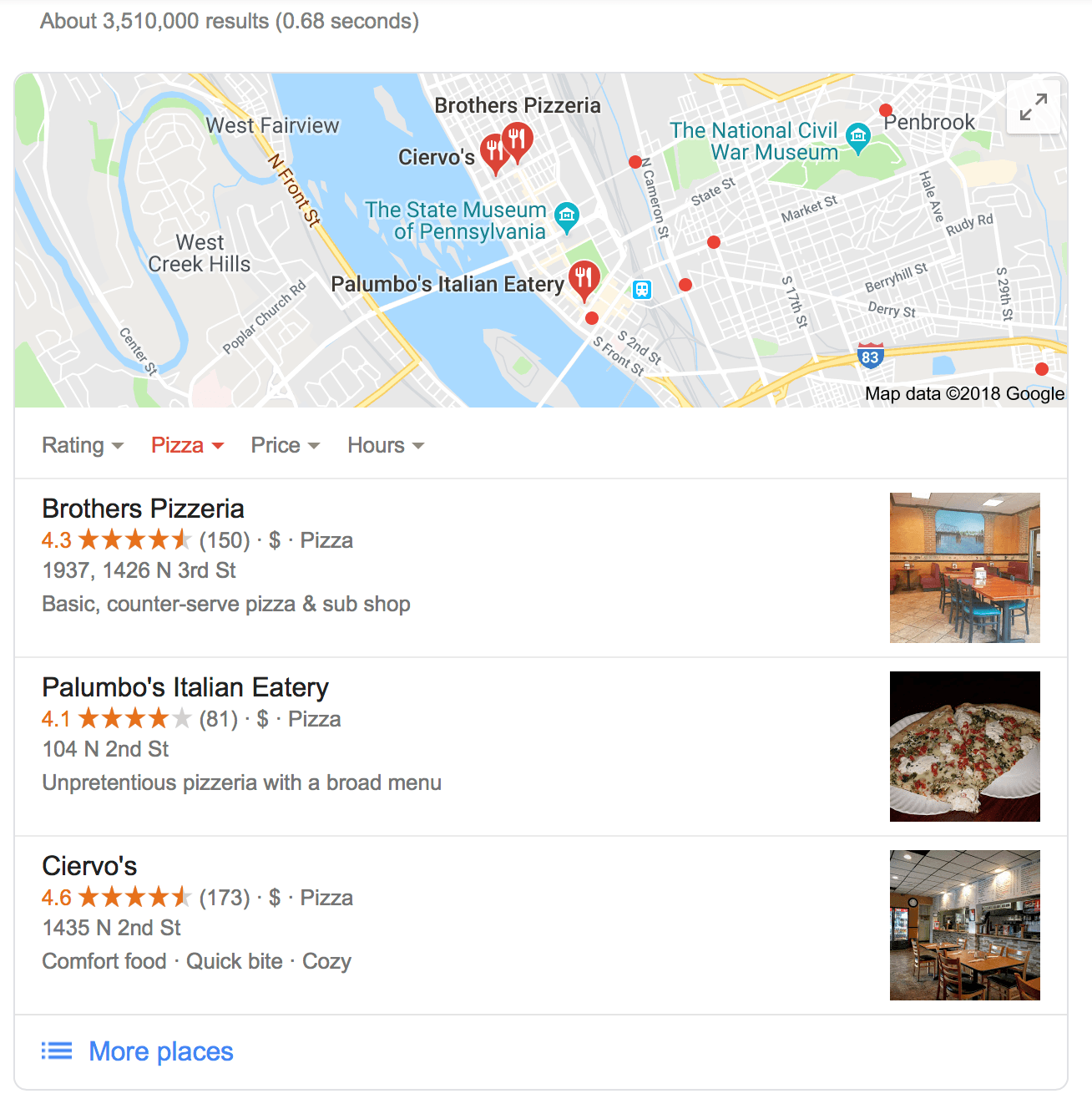 If you want to appear in these searches, you must claim your Google Business Profile listing. Once you claim your listing, it's important that you fill out all the information on your business page. Your audience should feel informed about your business when they're conducting quick local searches.
Fill out your contact information, hours of operation, and add photos to your listing. Verify that your name and address are correct. Your listing needs to be as accurate as possible to ensure that your audience gets the right information.
In addition, keep track of reviews on your listing. Reviews can make or break your business. It is sometimes the deciding factor whether someone chooses your business or a competitor's business.
Monitor these reviews to ensure that you solve any issues that come up. You can create a better experience for your audience and get them to change their review. People don't expect perfect ratings, but they do expect that you will address their issues and concerns.
Your Google Business Profile listing is an essential piece of local marketing. These listings drive people to visit your store, contact your store, or check out your website. It's valuable for driving traffic to your site.

Hear What It's Like to Work With WebFX!

"Local and transparent in the work they do. There are so many companies out there that offer the same services, we are grateful to have hit it off the way we did with WebFX. Couldn't be happier!"
Waste Management Services
2. Harness the power of social media
Social media is a great tool that allows you to implement creative marketing campaign ideas. These platforms are relatively flexible and allow you to engage with people who are interested in your local business.
To start using social media, you must decide on the right platforms for your business. Some popular platforms include Facebook, Twitter, Instagram, Pinterest, and LinkedIn. Choose the ones your audience engages with the most by determining which demographics populate each social site.
Once you have your platform selected, you can start posting content to engage your followers. You'll want to post interesting content that gets them to engage with your page. Depending upon your platform, you can post information such as links to content, photos, videos, or polls.
If you're looking to gain more leads, you can use social media ads to help people find your page. Each social platform has their own advertising program that allows you to capture more leads for your business. It's a great way to help more interested leads find your local business and check it out.
Social media is essential for local marketing. If you want to reach your leads, local campaigns are the best option. They help you connect with leads that are more likely to visit or purchase from your business.
3. Drive more leads with pay-per-click (PPC) ads
Pay-per-click (PPC) advertising is one of the most effective lead generation methods for businesses looking to earn leads that convert. PPC ads are paid ads that appear at the top of the search results, above the organic listings. These ads are effective for driving conversions.
People who click on PPC ads know what they want. In fact, 65 percent of all high-intent searches result in someone clicking on a PPC ad. These leads are looking for the right business to fulfill their needs.
When you create a PPC campaign, you capture leads that are ready to convert. These ads drive leads to your store or to contact your business.
They're cost-effective, too, because you only pay when people click on your ad. This means you're only paying to obtain leads that are interested in your local business.
To make the most of your PPC campaign, you'll want to create customized landing pages for each campaign you run. This provides your audience with a unique experience and keeps them focused on the reason why they clicked on your ad.
By investing in PPC, you're investing in obtaining valuable leads interested in your local business. It's a great local marketing strategy that will help your business grow.
At WebFX, our team has the experience and knowledge to drive more leads for your business using PPC. In fact, we've generated over 7.8 million leads and over $3 billion in sales for our clients to date. If you need help producing results using PPC marketing, contact our dedicated team of over 500 experts today.
4. Nurture leads with email marketing
Email marketing is a valuable tool to help you nudge leads towards conversion. It's one of the few methods where you connect directly with your audience.
To obtain local customers interested in hearing from your business, start by adding an email sign-up bar to your page. This is the best way to obtain subscribers that are interested in hearing from your business.
Many businesses are tempted to buy email lists to gain subscribers quickly. The truth, however, is that these lists rarely produce credible leads for your local business. In most cases, your emails will get deleted or blocked.
By obtaining subscribers organically, you'll get people you know are interested in your business. Once you have this list of subscribers, you can start sending them relevant information about your business.
Email marketing allows you to segment your audience. This means you can provide a more tailored experience for different subscribers. Segmenting allows you to deliver an experience that suits each audience member in the best way possible.
You can send your audience promotions, content, or sales. By keeping in contact with these leads and putting your business at the forefront of their minds, you help your local business nurture these leads towards converting.
WebFX will help your local business create digital marketing campaigns that drive results
An effective digital marketing plan starts with great local marketing ideas for your business. You'll be able to reach more leads interested in your local business and get them to convert. At WebFX, we have over 25 years of experience creating marketing campaigns that help our clients grow their business.
We're a full-service digital marketing company that specializes in creating customized digital marketing campaigns. Our team of over 500 experts will bring their knowledge and expertise to your campaign. You can count on us to deliver a local marketing campaign that is effective for your business.
If you're looking for a company that drives results, look no further than WebFX. We've driven over $3 billion in sales and over 7.8 million leads for our clients. Our passion is helping your business earn more leads and revenue online.
Don't just take our word for it! Check out our 1020+ client testimonials to see what it's like to partner with a top digital marketing company like WebFX!
Time to Level Up Your Sales
Our long list of services helps you grow every aspect of your business with marketing strategies that are proven to increase bottom-line metrics like revenue and conversions.
In the past 5 years, we've managed more than 12.9 MILLION transactions across our client base.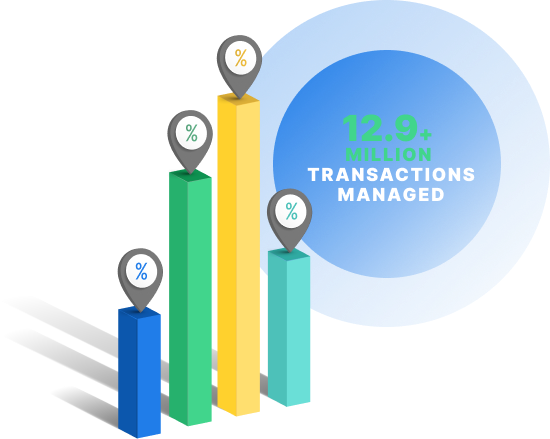 Start using local marketing today
If you're ready to start reaching more local customers for your business, contact us online or call us today at 888-601-5359 to speak with a strategist.
We look forward to hearing from you!
Earn a 20% greater ROI with WebFX