Your main goal as a dance school is to attract as many new students as possible for your upcoming year. But how do you entice more applicants than your competition in an industry worth over $3 billion?
Lead generation is one of the best ways to target, interest, and delight potential students and their guardians. The strategy itself is made up of many other sub-strategies that help increase the number of students that enroll in your studio.
On this page, we'll talk about the different lead generation strategies that will help your studio stand out and how WebFX can help.
If you want to learn more about lead generation for your dance school, feel free to give us a call at 888-601-5359 to speak with a specialist. To determine whether lead generation is the right strategy for your dance school, keep reading!
37% of marketers say that generating high-quality leads was one of their biggest challenges.
We want to decrease that percentage.
WebFX can help you generate high-quality leads with a customized marketing strategy.
Learn More About Lead Generation Services
Why does my studio need lead generation?
If you're still not sure if lead generation is a good strategy for your dance studio, consider this — there are nearly 70,000 dance studios in the United States alone. Though they aren't all direct competitors, the dance industry is certainly competitive— and every studio wants new students.
In order to stand out from the pack, lead generation is absolutely crucial. Lead generation is a marketing strategy that allows you to attract potential students with your content, direct them to your website, interest them in your classes, and eventually, enroll them as a student.
This won't happen overnight, though. Lead generation is a process, and it requires a lot of work and patience. Keep reading to learn how your dance studio can generate more leads.

Hear What It's Like to Work With WebFX!

"WebFX gets it done! They've done a great job working with our changing vision and goals, and their turnaround times are wonderful. All staff are professional, timely, and friendly."
Healthcare
4 lead generation strategies for dance studios
Lead generation is comprised of numerous smaller strategies that make it work like a well-oiled machine. Here are a few of the top lead generation strategies for dance schools.
1. Post on social media
Posting on social media is one of the best and most effective lead generation strategies. You may not think that posting facts about the style of ballet that you teach, or how to create the perfect ballet bun is a form of lead generation, but it most definitely works in your favor.
Word travels fast on social media. That means you don't even have to be friends with potential students or their guardians to get noticed. For example, on Facebook, if one of your friends likes one of your posts, their friends will also see that post. That means that your reach extends far beyond your own friend list.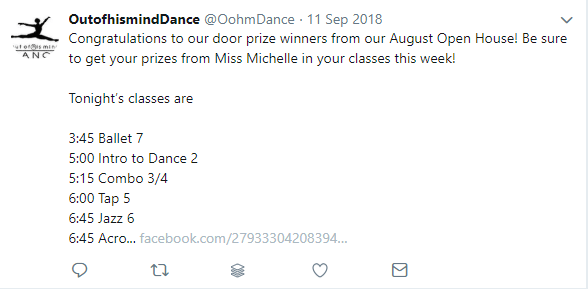 Not to mention, even if someone isn't looking for a dance school when they see your post, it will help to keep your studio top of mind for when they are looking for one.
2. Create a gorgeous website
Your dance studio's website is essentially a lead-generating machine in more ways than one.
First and foremost, the cycle begins with seeing your gorgeous website. Your website acts as a visual business card. Often, it's the first impression potential students and their guardians will have of your studio. That means it should exude the style and personality of your studio so that site visitors feel like they know you after their first visit.
After designing an attractive website, you should optimize your site's content. This is because the next thing your leads will do is read about your brand and the information you provide for your audience. If your content is high-quality, it'll hold their attention long enough for them to stay on your site to learn more.
The next lead generation tactic to use is implementing contact forms around your site. That's when users will fill out your contact forms, which gives you permission to contact them in the future.
Optimizing your website is one of the best strategies you can use to attract and retain your leads. To learn more about web design, our team is here to help. With over 200 experts dedicated to helping you reach more leads using your website, you'll be well on your way to increasing your class sizes.
If you want to learn more about lead generation for your dance school, give us a call at 888-601-5359 to speak with a specialist!
3. Opt for an email drip campaign
Now that you have potential students' contact information, you have the opportunity to contact them via email. This is a huge opportunity for lead generation.
There are a few different strategies for email, and for a lead generation strategy, an email drip campaign is a great option. A drip campaign allows you to appeal to potential students at every point in their studio search.
For example, you can send more general emails to those who just filled out a contact form, and you can send more detailed, studio-oriented emails to those who are already paying students.
When you're able to send out email newsletters, it opens the door to interest and delight potential students even more. Your newsletter can include whatever you like, but here are some suggestions that can help turn potential students into loyal students.
More info about your studio:When a site visitor fills out a contact form, it's typically because they're interested in learning more about your studio, so your first email should cater to that. Send an introductory email to tell potential students more about your studio, the teachers, the available classes, and how much the classes cost.
Links to your blog:If you recently posted an informative blog post that tells all about a recent show in your area, your recent holiday party, or a professional workshop you have coming up, feel free to include that in an email! Linking to your blog will kill two birds with one stone – it'll get potential students back to your website, and also teach them a little something about your studio.
Images and multimedia:If you want to ensure that recipients get the whole way through your email, be sure to add images and videos. This will keep them engaged with the email content, and also help to illustrate your information.
4. Create an effective content plan
Lead generation also takes place in search engines. When students on the search for a dance studio type a search into Google such as "studio that offers pointe classes," one of the best ways to appeal to them is by appearing in the search results for the terms they're searching.
That means you have to create an effective content plan that targets the keywords that potential students search in Google.
Here are a few important steps in creating a fantastic content plan for your dance studio:
Keyword research:Keyword research is crucial to creating content that produces leads. To do keyword research, you'll want to use a tool like Keywords Everywhere, which allows you to see important information about the keywords that your target audience is searching. It allows you to see information like the search volume of the keyword, the cost per click, and even the level of competition. This information can help you decide what keywords to target with your campaign.
Decide what kind of content to create:There are all different kinds of content that you could potentially post on your website, and they're all beneficial in their own way. For example, there is long-form content, which is 2000 words or more. Long-form articles show users (and Google) that you really know what you're talking about when it comes to that topic. This content also tends to rank highly in search results. There is also blog content, which Google also loves because it's a steady influx of new information posted to your website. No matter what kind of content you create, you want to be sure that it targets the keywords that you chose after doing your keyword research.
Post content often:Google wants to see that your website is full of fresh content. Not only should you post content often, but you should post a lot of it. The more content you create and post, the more chances you have to rank in Google. The more real estate you take up in Google, the more clicks you'll receive. You can look at every click to your website as a successful first step in lead generation.
Our digital marketing campaigns impact the metrics that improve your bottom line.
See More Results

WebFX has driven the following results for clients:

$3 billion
In client revenue

7.8 million
Leads for our clients

5.2 million
Client phone calls
Need help with lead generation for your dance school?
If you want the results that lead generation can bring your dance school, but aren't sure how to get started, WebFX can help.
We're a full-service Internet marketing agency, which means we offer everything from lead generation strategies to web design to video creation, and everything in between. We can successfully create a lead generation campaign for your dance studio using all the techniques we talked about above.
If your dance studio is interested in reaping the benefits of a lead generation campaign, feel free to, or give us a call at 888-601-5359! We can't wait to hear from you!