As an ear, nose, and throat (ENT) doctor, you're used to peering into people's sinuses to diagnose the problems they're having there. What you may be having more trouble with, however, is diagnosing the problems with your marketing.
If you're looking for new ways to advertise your practice online, few strategies are better than pay-per-click (PPC) advertising. Whether you need help launching a PPC campaign or optimizing one you've already launched, WebFX is the agency for you.
We know PPC for ear, nose, and throat doctors, and we'd love to help you kick your PPC strategy into gear today. Read on to learn more about our ENT PPC services, and partner with us to get a boost from the agency with over 1020 client testimonials.
Just call 888-601-5359 or contact us online today to get started!
What is PPC for ear, nose, and throat doctors?
PPC for ear, nose, and throat doctors is a digital marketing strategy that involves paying to display ads for your ENT practice at the top of Google search results. As the name suggests, you only have to pay for your ads when they get clicked on, often making PPC highly cost-effective.

Within a platform like Google Ads, you can bid on specific keywords you want to target with your ads. The keywords you target should be relevant to your business, such as "nasal doctor in [city]."
Any time a keyword is searched, Google will display ads from amongst the bidders based on two factors:
Bid amount
Quality score (Google's assessment of an ad campaign's overall quality)
By launching a PPC campaign, you can start advertising your ENT practice to the people who need your services. In doing so, you can significantly increase your number of patients.
Hear What It's Like to Work With WebFX!

"WebFX has completely transformed my practice. With their support, I have expanded my practice significantly and grown exponentially. I could not have expanded to this degree, nor this quickly had it not been for the incredible efforts provided by WebFX and my team."
Healthcare
6 features of WebFX's ENT PPC services
If you're new to ENT paid advertising — and maybe even if you're not — you could be finding it difficult to master. Don't worry, though — WebFX can help relieve the pressure on you. With our ENT PPC services, you'll get help optimizing every facet of your campaign.
Here are just six of the ways we can help you get the most from your PPC!
1. Keyword research services
One of the most critical parts of any PPC campaign is to draw up a list of keywords to target with your ads. But you don't just want to come up with some arbitrary keywords. Certain keywords are more advantageous than others, and we can help you find them.
WebFX has access to tools like Ahrefs that will allow us to determine which keywords will drive the most traffic for your ads, and we have the experience to know which ads will gain you the most relevant audience.
In addition to standard keyword lists, we can help you develop lists of negative keywords — that is, keywords you specifically want to keep your ads from appearing for to reach the most relevant possible audience.
2. Competitor analysis services
The world of PPC is filled with competition. To display your ads in Google, you have to outperform your rival bidders in both bid amount and quality score. Everything you do is about being the best in the game.
To have the best shot at outperforming the competition, you have to possess some knowledge of what they're doing. What's their bidding strategy? What keywords are they targeting that you aren't? When you partner with WebFX, we can help you learn all of those things.
Our competitor analysis services will provide you with valuable insight into your competitors' PPC movements, allowing you to counter and one-up them wherever necessary.
3. Audience targeting services
Targeting select keywords helps you hone in on a specific base of users you want to advertise to, but it can only do so much to help you reach the right people. Sometimes you want a more direct way to target a particular audience, and WebFX can help you achieve that.
Within Google Ads, you can create custom audiences by selecting specific sets of traits from categories like:
Age
Gender
Occupation
Location
WebFX can help you select just the right traits to perfectly reflect the buyer personas you're targeting. If you don't yet have any buyer personas to work with, we'll help you develop some.
4. Ad and landing page design services
Once you know what keywords you're targeting, the next step for your otolaryngology PPC is to design the ads themselves, along with the landing pages they link to. This isn't a step to be taken lightly, which is why WebFX will take the time to help you get it right.
Our ad and landing page design services are exactly what you need to draw in new users. We can help you craft ads that are compelling and useful. Then we can set to work designing landing pages that will combine simplicity and usefulness with appealing visual design.
With ads crafted specifically for the keywords they're meant to target, you can earn plenty of clicks and push users toward converting into new patients.
5. Remarketing services
One of the best things about working through Google Ads is that it allows you to harness the power of remarketing. Remarketing is where you market to users who have visited your website in the past.
WebFX can help you employ remarketing in your PPC campaigns. Google Ads remarkets to users by tracking who visits particular pages on your website, so we can help you select which pages to track. Then we can help you craft your ads to recapture those users' interest.
Remarketing is so valuable because users who have already visited your site have expressed an interest in your practice and are, therefore, the most likely people to click on your ads. Visiting your site indicates that they could benefit from seeing you, so you can appeal to that need.
6. Ad testing services
Once you have your keywords picked and your ads designed, you might think you're done — but in truth, the process has only just started. The bulk of running a PPC campaign comes down to monitoring your ads and optimizing them to perform better.
But as important as it is to monitor your ads, you don't have time to spend all day looking at how well your PPC campaigns are doing. You have patients to see, after all. That's why you can benefit from getting help from WebFX.
We'll keep a close eye on the progress of your PPC campaigns, reoptimizing ads that aren't doing so well and helping you increase the budget on those that are driving results.
WebFX is a partner businesses trust.
Hear from HydroWorx, who saw a 236% increase in organic sessions with WebFX services.
Watch the Video Testimonial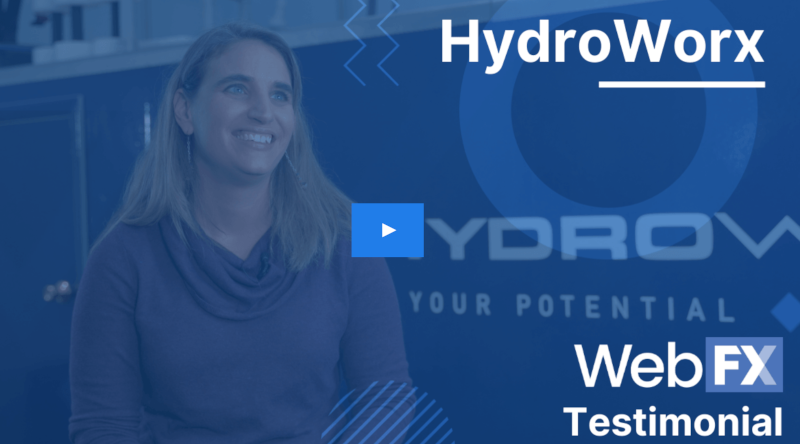 Get help optimizing your ENT paid advertising from WebFX
Ready to start bringing in new patients through paid advertising? We'd love to give you a hand! We've been driving results for our clients for over 25 years, and we've got no plans of stopping anytime soon.
With our PPC services, you'll get a boost on every step of the PPC process, from picking out keywords to optimizing your bids. Not only that, but you'll also receive a dedicated account representative to keep you informed on everything we do for your campaign.
To get started with us, just give us a call at 888-601-5359 or contact us online today!