When someone needs an ear, nose, and throat doctor, where do you think they go to find one?
If you said a search engine, you're correct!
Over one billion people use Google every month to search for information, including information about ear, nose, and throat doctors. So, if you're not optimizing your practice's site to rank in search results, you're missing out on valuable patients for your practice.
On this page, we've got four tips to help you optimize your site to rank in search results. Keep reading to learn more!
And if you need help optimizing your site for search results, our award-winning team of over 500+ marketing experts is ready to help. Give us a call at 888-601-5359 (or contact us online) to speak with a strategist about our SEO services!
1. Use a keyword research tool to find relevant terms
One of the most critical components of ear, nose, and throat SEO is finding keywords for your site. When users search for your practice, they'll only find it if you optimize your content for relevant keywords. So, to find applicable terms, you need to use a keyword research tool to help you find them.
For example, you can use a tool like KeywordsFX to help you find relevant terms. You can input your topic and find related terms to integrate into your page.
For example, let's say your practice is in Los Angeles, and you want to help local patients find your ENT practice. So, you could plug in "Los Angeles otolaryngologies" into your keyword tool and get a list of relevant terms that users also search for to implement in your site content.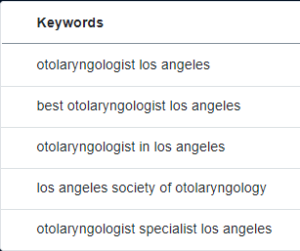 As you'll notice from the example, you typically want to focus on keywords that are three or more words, known as long-tail keywords. Since these keywords are more specific, it's easier to understand the user's search intent. It means that you'll attract more qualified traffic that you know is looking for your practice.
When you integrate your long-tail keywords into your site, be sure you don't overuse them. If you use your keywords too often, it leads to keyword stuffing, which negatively impacts your site's ranking in search results.

Hear What It's Like to Work With WebFX!

"WebFX has completely transformed my practice. With their support, I have expanded my practice significantly and grown exponentially. I could not have expanded to this degree, nor this quickly had it not been for the incredible efforts provided by WebFX and my team."
Healthcare
2. Analyze site load time to improve page speed
When your patients come to see you, they want answers fast. They visit you hoping that you can give them a diagnosis quickly to have answers to explain the symptoms they're experiencing.
Just like a diagnosis, your potential patients expect your site to be fast, too. They want to access information quickly. So, if your site loads too slow, they'll leave your site and visit a competitor's practice instead.
Not to mention, Google knows how critical fast-loading sites are to the user's experience, so your site won't rank highly if it's too slow.
To check your site's current load time, use Google PageSpeed Insights. This tool helps you see your site's current load time, as well as how you can improve page speed.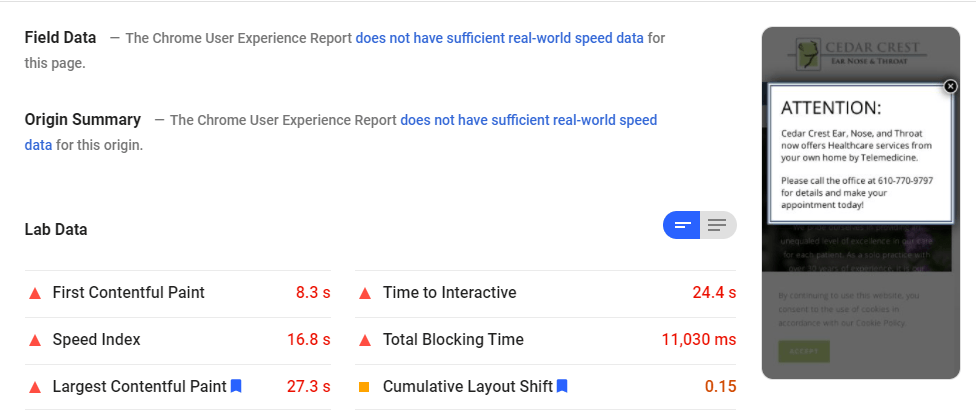 Google will provide suggestions on how to improve site load time, including:
Removing unused CSS
Utilizing browser caching
Reducing redirects
Optimizing image file sizes
If you find yourself unsure or overwhelmed with trying to optimize your site's backend, you can invest in page speed services to get help with improving site load time.
3. Integrate responsive design to create a mobile-friendly site
With SEO for ENTs, one of the most critical components is having a mobile-friendly site. Since Google moved to a mobile-first index, your site's mobile version holds more weight than ever. If your site doesn't provide a great experience on smartphones and tablets, you won't rank well in search results.
When you consider that 70% of Internet time is spent on mobile and 52% of people are less likely to engage with a company due to a poor mobile experience, you can't afford to skip this step.
So, if your site doesn't look good on mobile, what's the solution? Responsive design, of course!
Responsive design enables your site to adapt to whatever device a user uses. Your site will scale and adjust to fit the user's screen, so they can seamlessly browse your site and learn about your business.

4. Create content to build yourself as an authority in your field
When you do SEO for ear, nose and throat doctors, you'll also want to do content marketing with it. Content marketing is valuable in helping you drive patients to your site and discover your practice. SEO and content marketing work hand-in-hand to help you rank in search results.
Your content gives you something to rank in search results, but for your content to rank in search, it needs optimization to rank through SEO.
So, how do you start creating content that helps your ear, nose, and throat SEO?
Think about common questions you get from your patients. Here are some common questions you might get in your office:
How does septoplasty work?
How is sinusitis different from a cold or allergies?
How is sinusitis treated?
What do I need to know before my first ENT appointment?
What is tonsillitis?
You can take these common questions and turn them into content on your site. It's an excellent way for you to provide this helpful information to current and future patients who have the same or similar questions.
When you have your content ideas, you can choose how to deliver your content. You can choose from numerous content formats, including:
Ebooks
Guides
You'll want to use various content formats to ensure you're appealing to every potential patient. Some people prefer to watch videos, while others may prefer blog posts.
After you choose the format, make sure you check the search intent for the topic. You can check the search intent by plugging your topic into Google and seeing what comes up in the search results.
For example, if you Google, "what do I need to know before my first ENT appointment," you can see multiple search results indicating what users hope to find when searching this term.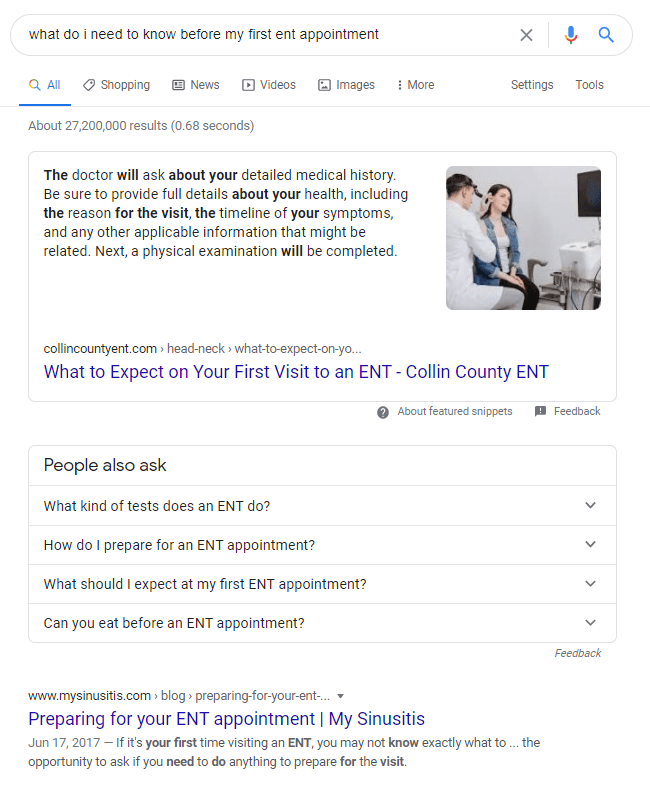 Once you know the search intent, you can start crafting your content! Make sure you follow best practices for SEO for ear, nose, and throat doctors, like integrating keywords and ensuring your pages load quickly!
Get started with SEO for ear, nose, and throat doctors today
Now that you know a little more about SEO for otolaryngologists, you're ready to start optimizing your site! Not sure where to start? Check out our free SEO checker tool and get a report in a minute to see where you need to improve your site's SEO!
If you start optimizing your site and suddenly find yourself feeling overwhelmed, you can turn to the experts at WebFX to give you a hand.
We have a team of over 500+ SEO experts that can help you craft an SEO campaign that drives results. With over 25 years of experience, you can feel confident that we can deliver an ear, nose, and throat SEO plan that drives the results you desire.
Give us a call at 888-601-5359 or contact us online to speak with a strategist about our SEO services!
Earn a 20% greater ROI with WebFX