When you shape your digital marketing plan, there are numerous methods you can use to reach valuable leads. It is important that you choose the right methods to drive results for your fertility clinic. Search engine optimization (SEO) is a great option to help your clinic earn more website traffic, leads, and revenue.
SEO is the process of boosting your website's ranking in the search results so that more leads can find and contact you. With 93% of all online experiences starting with a search engine, it's crucial that you invest in SEO to help more leads find your website.
On this page, we'll discuss three tips to help you nail your SEO plan. If you need help implementing SEO into your digital marketing plan, call us today at 888-601-5359 to speak with a strategist.
Independent research from Clutch has named WebFX the
top SEO company

in the United States.

Clutch has personally interviewed more than 250 WebFX clients to discuss their experience partnering with us.

Read More Clutch Reviews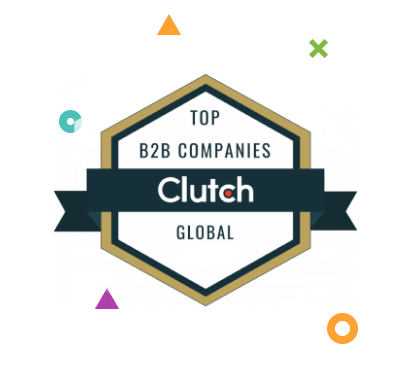 1. Conduct keyword research
A successful SEO campaign starts with the right keywords. When users conduct searches, they use keywords to generate results that best fit their query. It is important that you choose keywords that your audience is using, so you can connect with the right leads.
The best way to do this is to conduct keyword research. Keyword research helps you find the keywords that work best for your campaign. There are numerous keyword research tools you can use to help you figure out your keywords.
When you conduct keyword research, it is important that you focus on long-tail keywords. These are keywords that contain three or more words. Unlike short-tail keywords, which only contain one or two words, long-tail keywords are better for your campaign because they drive in more credible traffic. If someone searches a long-tail keyword like "fertility clinics in Harrisburg, PA," you know exactly what they are seeking. On the other hand, if they use a short-tail keyword like "fertility," they may be seeking the definition, information about fertility, or looking for a clinic.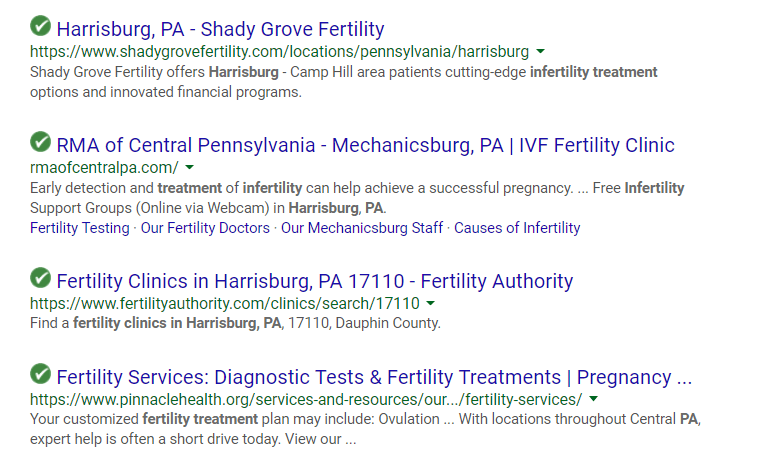 When you focus on the right keywords, you drive better results for your campaign. You'll attract leads that are more interested in your clinic. This will lead to more clients down the line for your fertility clinic.

Hear What It's Like to Work With WebFX!

"WebFX has completely transformed my practice. With their support, I have expanded my practice significantly and grown exponentially. I could not have expanded to this degree, nor this quickly had it not been for the incredible efforts provided by WebFX and my team."
Healthcare
2. Integrate keywords into your site
Once you select your keywords, it is important that you integrate them into your site. When Google search bots crawl your pages, they look for keywords to understand the context of content. You need to integrate your keywords, so Google can rank your page in the right results.
There are numerous places you can integrate your keywords. These places include the headings, title tags, meta descriptions, and body text of your pages. When you integrate your keywords into these places, you'll help your pages rank higher in search results.
As you integrate keywords, it's important that you don't overuse them. This leads to keyword stuffing, which negatively impacts your ranking. When you use your keyword too many times, Google will think you are trying to finagle your way to the top of the rankings, and your pages will rank lower as a result.
When you integrate keywords, use them as they flow naturally. This will prevent you from using your keywords too often.
3. Build links
If you want to improve your SEO, link building is essential. There are two types of links you'll want to focus on to help boost your fertility clinic's SEO ranking.
Backlinks
Backlinks play a crucial role in helping improve your SEO ranking. These are links from authority sites back to your page. You want to earn backlinks to help improve your site's authority.
These links help your fertility clinic earn credibility. When authority sites link to your page, it sends positive signals to Google that your site is knowledgeable and trustworthy, and your site will rank higher in search results.
The best way to earn backlinks is through content creation. You can create infographics, blogs, and videos to appeal to authority sites. It is crucial that you keep your content industry-specific, so you attract the right leads to your page.
It's a great opportunity for you to invite authority sites to check out your content. If they like what they see, they may share your content and link to your site. This will drive traffic to your site and boost your authority.
You can build relationships with authority sites and earn more backlinks in the future. As you earn more backlinks, you will continue to boost your fertility clinic's rankings in search results.
Internal links
Along with backlinks, you'll want to build up internal links on your page. When leads visit your page, you want to keep them engaged on your site. It is important that they remain on your page and continue to learn about your clinic.
Internal links keep leads on your page. You can link to numerous other pages on your site, including pricing pages or informational pages on services. Your audience can explore additional information on your site through these internal links.
When leads spend more time on your site, Google sees it as a good sign. When search engines believe you have valuable information on your site, they will rank your site higher to help more people find your helpful information. When you garner more traffic to your site, you obtain more credible leads that you can convert.
Internal linking can help you guide users down the purchase funnel, too. The purchase funnel consists of various stages in a buyer's purchase journey. These stages include: awareness, interest, decision, and action.
You want to guide users towards the "action" part of the funnel because that is where they convert. By using internal links, you can guide your audience towards making a purchase. You can take them from a blog post, to an informational page on a service, to a pricing page, to a contact page.
Internal linking will help your fertility clinic keep leads engaged on your page, which will lead to more conversions down the line.
WebFX is a top SEO company
SEO is a great method to help your fertility clinic reach more valuable leads. When you boost your website's ranking, you will reach leads that are more interested in your clinic. At WebFX, we know how to use advanced SEO techniques to create plans that drive in better traffic for your business.
We're a full-service digital marketing company that specializes in customized SEO plans. We have a team of 500+ experts that will bring their knowledge and expertise to your campaign. Our award-winning team will help you create a plan that works for your fertility clinic.
If you're looking for an SEO company that drives results, look no further. To date, we've driven over $3 billion in sales and over 7.8 million leads for our clients. We focus on driving success for our clients first.
Our clients love the work we do, too. In fact, we have over 1020 client testimonials from a variety of industries. Check them out to see what it's like to partner with a top SEO company like WebFX!
Get started today
If you're ready to start creating an SEO plan that drives in more valuable traffic for your clinic, contact us online or call us today at 888-601-5359 to speak with a strategist.
Earn a 20% greater ROI with WebFX