When it comes to healthcare, everyone wants to know that they and their loved ones are getting the best quality of care possible.
Many people will need to find hospice care for a loved one at some point, and they need to be able to find a trustworthy, caring provider. If you provide hospice care, you need to make it easy for them to find you.
So how do people find this information? By searching online.
When people need medical services, they research their options on search engines like Google. According to Pew Research Center, 72% of Internet users have searched for information about health-related issues.
Given that many people need your hospice care services, if you're not promoting your services online, you aren't making the most of your opportunity to reach new patients.
With pay-per-click (PPC) advertising, you can reach new patients and increase awareness of the services you offer. PPC ads display in search engine results based on the specific keywords and phrases users search. These ads are set apart from regular results with a green "Ad" tag, as shown below.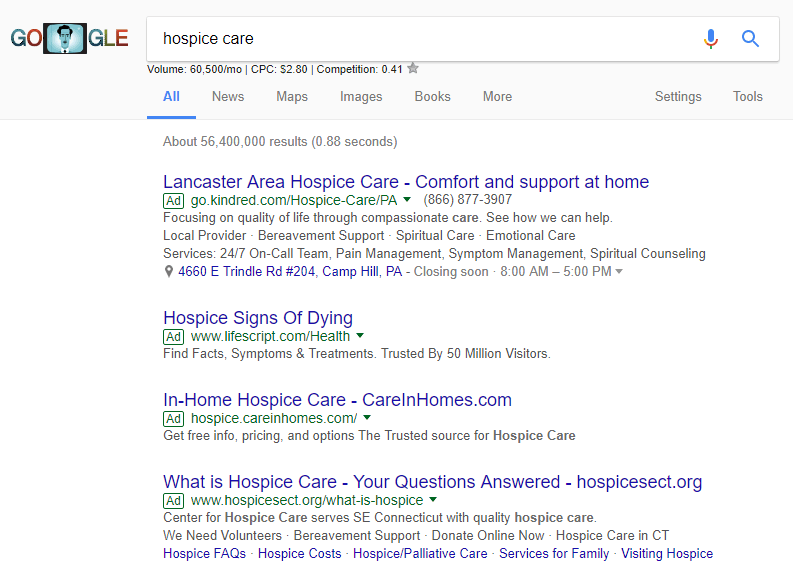 At WebFX, we have years of experience creating effective PPC ad campaigns, and we've used them to increase our clients' website traffic by 95% and conversion rates by 37%.
We want to help make sure that those who need your services able to find your organization, and we know how to create campaigns that will help you reach this goal. Contact us today to speak with a strategist about how PPC campaign management from WebFX can make your hospice care services stand out online and reach new patients.
Traffic attracted through PPC advertising yields 50% more conversions than organic advertising.
Are you leveraging PPC in your marketing efforts? Let's get started.
View the Guide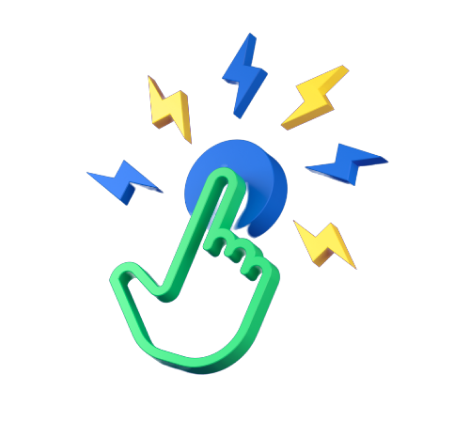 Why does PPC matter to hospice care?
PPC is one of the most cost-effective advertising strategies because you can determine up front how much you're willing to spend for each click to your site, and you only pay that amount when someone clicks on an ad.
Unlike traditional adverting channels, like direct mail and radio ads, where you pay the same amount whether people are responding to your ads or not, you only pay when people interact with your campaign.
A PPC ad campaign also gives you the ability to track how many people click each ad, the number of leads your campaign generates, and which keywords and phrases produce the best results. Using PPC ads will give you quick feedback on your performance, which is important for making the most of your marketing budget.
Plus, when you create PPC campaigns, they can start attracting traffic and leads as soon as you launch them. This means that if you want to reach new patients quickly, PPC is one of the best ways to do so.
When it comes to hospice care, people don't have a lot of time to spend on research. They want to find a trustworthy and knowledgeable provider that can start providing care to their loved one as soon as possible. Using PPC ads gives you the ability to reach these people as they're actively searching, and help give them the care they need.
WebFX knows how to successfully create and manage PPC ads. Contact us today to learn more about how the top PPC specialists in the industry can create a custom strategy for your hospice care services.

Hear What It's Like to Work With WebFX!

"WebFX gets it done! They've done a great job working with our changing vision and goals, and their turnaround times are wonderful. All staff are professional, timely, and friendly."
Healthcare
PPC tips for hospice care
PPC ad strategies differ among industries because each audience is different. When it comes to PPC ads, there is no "one size fits all." That's why we've created tips specific PPC tips for hospice care and how they can work well for your organization.
1. Research your keywords
Your PPC ads will be placed in search results for specific keywords – but how do you know which keywords to target?
Through the first step in any PPC campaign: Keyword research.
Keyword research involves finding out what your target audience is typing into the search bar when they need hospice care. Most people search for hospice care in their area, so they use keywords like "hospice care Harrisburg, PA." You can create ads for these keywords, so that when users search for them, your services show up at the top of the page.
The more relevant your keywords are to the audience you want to reach, the higher your click-through rates will be.
That being said, you'll also need to consider how many other hospice care providers are trying to advertise for each potential keyword. PPC ads operate on a bidding system, where you place "bids" for how much you're willing to pay for each click.
If your bid is among the highest, you'll display in search results. But the more competition you have for any given keyword, the more you'll have to pay for each click. Using keyword research tools can help you determine the cost-per-click for each keyword, and determine which ones are the best use of your budget.
2. Optimize landing pages
When someone clicks on your PPC ad for hospice care, they'll be sent to a landing page of your choice. This page needs to be directly related to the ad copy, and help them take the next step towards contacting you.
For example, when people click on an ad about the services you offer, a great landing page might list those services, briefly explain what they are, and tell them how to get in touch with someone for more information.
You also need to include compelling calls to action, or CTAs, on each of these landing pages. Your CTA should tell the person who clicked on your ad what they need to do next. An example of this might be, "Call [your number] for more information." This makes it clear that if they want to learn more, they'll need to call you.
Your landing pages should be simple, but images are a great way to enhance them since 90% of information transmitted to the brain is visual and visuals are processed 60,000X faster than text in the brain. Adding images also breaks up the text on your landing pages and makes them more visually interesting.
3. Include your phone number
Convenience is important to Internet users, and adding your phone number to PPC ads is a great way to make it as easy as possible for them to get in touch. Below, you can see an example of two organizations that include their phone number in their PPC ads.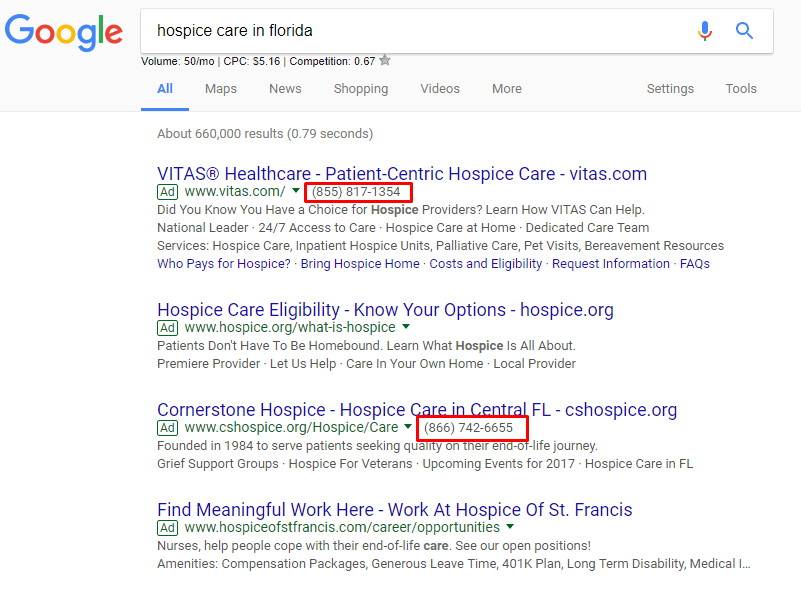 Rather than scrolling through the landing page and searching for desired information, some people may prefer to call and speak with someone right from the start.
This feature isn't just convenient for possible customers, though – it also lets you determine when you want your phone number to be displayed. You can remove the phone number outside operating hours, so you don't have to worry about spending your advertising budget on calls that go straight to voicemail.
Plus, when someone decides to call you instead of clicking on your ad, you pay the same amount. There's no additional charge, and you're giving people multiple ways to learn more about your hospice care.
Ready to create an effective PPC campaign for your hospice services?
The care and services you provide are meaningful and impactful on many lives. That's why we're passionate about making sure people can find you when they need you.
WebFX has all the tools and resources necessary to help you create an effective PPC ad strategy. With over 1020 client testimonials from various industries, we have a proven track record, and we know what it takes to generate results online.
Contact us today to speak with one of our experts about how you can start using PPC ads for your hospice care services.
Earn a 20% greater ROI with WebFX