As a hospice care provider, your patients and their loved ones depend on you for your compassion, expertise, and quality of care. They put their trust in you during a very difficult time in their lives.
But in order for you to help the people who need your services, you need to make sure that they can find you. And today, most of them are looking online.
Traditional marketing methods are not as effective as they once were. Sending direct mail, placing ads in local newspapers, and broadcasting radio and TV ads are no longer the best ways to reach your target audience.
We live in a world where a wealth of information is only a click away, and many people take advantage of this to find everything they need. And as a hospice provider, you need an effective SEO strategy to show up at the top of search engine results and help people find you when they need your services.
Independent research from Clutch has named WebFX the
top SEO company

in the United States.

Clutch has personally interviewed more than 250 WebFX clients to discuss their experience partnering with us.

Read More Clutch Reviews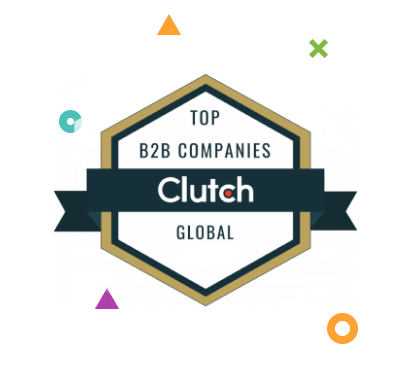 What is SEO?
Search engine optimization (SEO) involves improving your website so that search engines like Google can determine what your pages are about and rank them in search results for relevant keywords and phrases. It also involves improving the user experience your site provides, so that search engines will see it as worthy of sending searchers to.
With the right SEO strategy, you can improve your hospice's rankings in search engine results for the keywords and phrases your target audience searches. The higher your website ranks, the more likely they'll be to find you and choose you for their hospice care needs.

Hear What It's Like to Work With WebFX!

"WebFX gets it done! They've done a great job working with our changing vision and goals, and their turnaround times are wonderful. All staff are professional, timely, and friendly."
Healthcare
Why SEO is important for hospice care
When people search for hospice care, they are looking for an organization that is trustworthy and respectable. With SEO, you can convey these qualities, while improving your visibility in search engine results.
Plus, SEO leads have a 14.6% close rate, while traditional methods have only a 1.7% close rate. That means using SEO for your organization makes it 7x more likely for you to close a lead.
SEO helps you with several marketing goals, including:
Promoting your hospice services
Connecting with people in nearby areas
Reaching new patients and their loved ones
Providing hospice care to new patients
How to create an SEO strategy for hospice care
SEO gives you the ability to improve your rankings in search results, reach a larger audience, and generate more leads. But how can you reach these goals?
The following SEO tips will help you get started.
1. Target the right keywords
Short, broad keywords may seem like a good starting point for your SEO strategy, but there is much more competition to rank for these keywords because they could be relevant to any number of websites.
Choosing longer, more specific keywords is a better strategy because they indicate a clearer search intent.
For example, if someone searches a short keyword like "hospice care," they could simply be looking for general information about what hospice care is – but not currently in need of your services.
But if someone searches "hospice care [your city]" there is a much higher chance that they are searching for a specific provider. Plus, there will be fewer other sites trying to rank for these narrow keywords, meaning that it will be easier for your site to earn a spot at the top of the results.
You can see the comparison between the two search results below.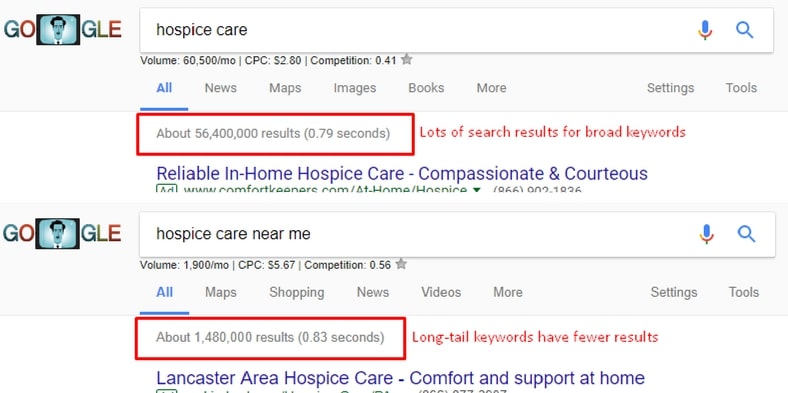 As a result, specific keywords, also known as "long-tail keywords," are more likely to generate leads. The more specific the search, the more likely it is that the user is ready to contact a provider.
When a person needs hospice care for a loved one, they will use specific words and phrases, particularly when it comes to location. Keep this in mind when choosing your keywords, you'll be more successful in finding the right ones for your website.
2. Create beneficial content
Search engines like Google crawl your website and review your content to determine what keywords each of your pages should rank for.
Google favors original, engaging, and informative content because this is the content that's most likely to help their users. This is why it's important to create content that's beneficial to your target audience.
If you don't yet have a strategy for creating new content, one of the easiest ways you can get started is by writing blog posts. Blog posts let you provide the information that your audience wants, and help them learn more about topics related to hospice care.
Your blog posts could, for example, provide tips for choosing the right hospice care provider, or more information about programs you offer, like grief support. Anything that is relevant to your target audience is beneficial.
You can also create infographics and videos that provide more information about your services or offer advice and support. Many users prefer visual content, and will find this kind of information helpful.
3. Build links to your website
When other websites link to your content, this tells search engines that you have valuable information, and that people find your website useful and credible. The more links you acquire, the higher you'll be able to rank in search rankings.
You can build links by encouraging your visitors to link to and share your content. You can also reach out to bloggers, editors, and other online publications and let them know when you've published something that might be relevant to their audience. If they decide to share it on their site and link to your page as the source, this can have an impact on your entire site's ability to rank well.
You can also build internal links to pages on your website to make it easier for search engines to locate new pages and rank them more quickly. These additional links will help search engines when they crawl your website.
Ready to start using SEO to reach more patients?
At WebFX, we understand the significance of what hospice workers do every day. When people contact you, it is less about working with a business and more about finding someone they trust.
We can help you stand out among other providers and help you reach more of the people that need your services. We have a team of 500+ digital marketing experts, and we'll use a variety of strategies to help you improve your online presence.
If you're interested in learning more about how SEO can help you reach more patients, contact us today to speak with a strategist.
Earn a 20% greater ROI with WebFX