You know the importance of quality, secure laboratory services, and equipment. But how can your customers — and prospects — enjoy your benefits if they can't find your company?
Search engine optimization (SEO) will promote your laboratory or equipment company as users search for related services. With SEO for laboratories and lab equipment suppliers, you can encourage more conversions and promote your services.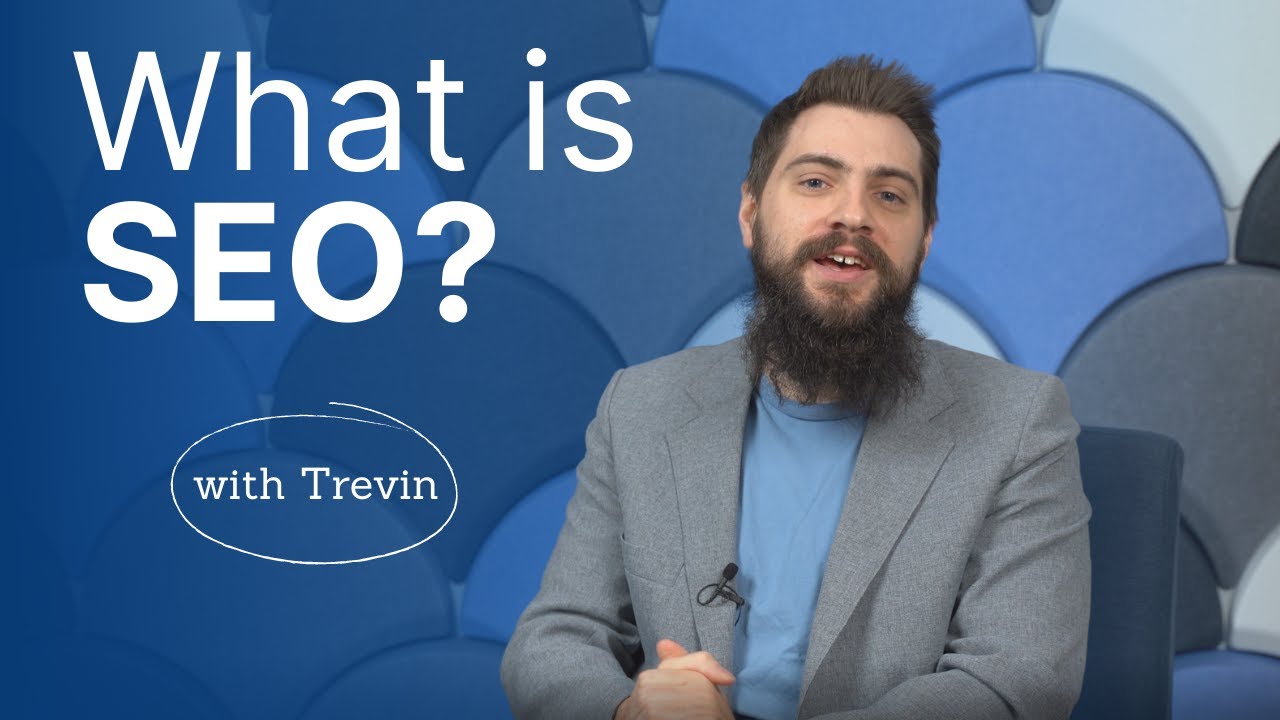 We will review SEO examples and terms below and cover how SEO can benefit laboratories and equipment suppliers. If you want to get started on your SEO plan today, request a free quote for our services!
Independent research from Clutch has named WebFX the
top SEO company

in the United States.

Clutch has personally interviewed more than 250 WebFX clients to discuss their experience partnering with us.

Read More Clutch Reviews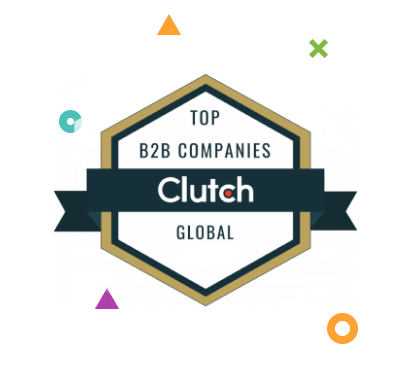 What is SEO for lab equipment suppliers and laboratories?
SEO is the process of improving your website online so that it can appear higher in search results. Your SEO plan aims to get your website in the first few results, so more users will see and click on your services.
Optimizing your website also means highlighting your strong suits and unique selling points (USP). SEO for lab equipment suppliers and laboratories emphasizes your product and service quality. Healthcare industry patients will be more trusting and ready to buy.
How can SEO help laboratory services and suppliers?
Improving your online presence can help your business. Investing in SEO will:
Increase conversions: As more people come to your website, your chances of earning sales increase. You can also target qualified leads with SEO so that only people who need your service click on your page.
Boost engagement: SEO encourages people to linger on your site and engage with your company. Whether they fill out a contact form for your services or order laboratory equipment directly, you can expect more customer communications.
Establish your knowledge: Building your website includes outlining product specifications and industry experience. You can use SEO tactics to highlight your expertise and gain more trust from clients and prospects.
With SEO, you can target your company goals and experience extra growth in bonus areas. Regardless of your goals, SEO promotes long-term growth for companies.
WebFX can help you achieve these benefits hands-free. We offer SEO services for laboratories and equipment suppliers that account for your industry specifications and personal preferences.
Types of SEO
While all SEO focuses on creating content and websites for search engines and users, there are four types of SEO.
On-page SEO
On-page SEO uses changes on your website to improve your rankings. You are in total control of your on-page SEO factors, and you can update your website frequently to keep up with algorithm changes.
Some on-page factors include:
Focusing your efforts on on-page SEO can help get your site off the ground and turn it into a powerhouse.
Off-page SEO
Off-page SEO relies on factors outside your website to improve rankings. These factors are often out of your control, and you must work with outside sources to accomplish off-page SEO goals.
Some off-page SEO factors include:
Off-page SEO tells search engines that you are relevant to other websites and users. Say you publish an article on the importance of quality control for samples. If people cite your page and link to you, Google will recognize those links and boost your page in the search engine results pages (SERPs).
Technical SEO
Technical SEO includes backend website and server operations that affect your ranking. This type of SEO makes it easier for web crawlers to access your site, index it, and place it higher in the SERPs.
Some features of technical SEO include:
Image size and resolution
HTML code
Embedded features
Linking
All of these features are under your control, and they impact user experience (UX). If you can create a fast, smooth site, people will be more likely to linger once they arrive and browse your services.
Local SEO
Local SEO focuses on optimizing your site for a local audience. If your laboratory only serves people in a particular area, local SEO is critical for attracting nearby prospects.
When you search for a particular city in Google, a map and list of local options appear. Here, I searched for laboratory services near our office in Harrisburg: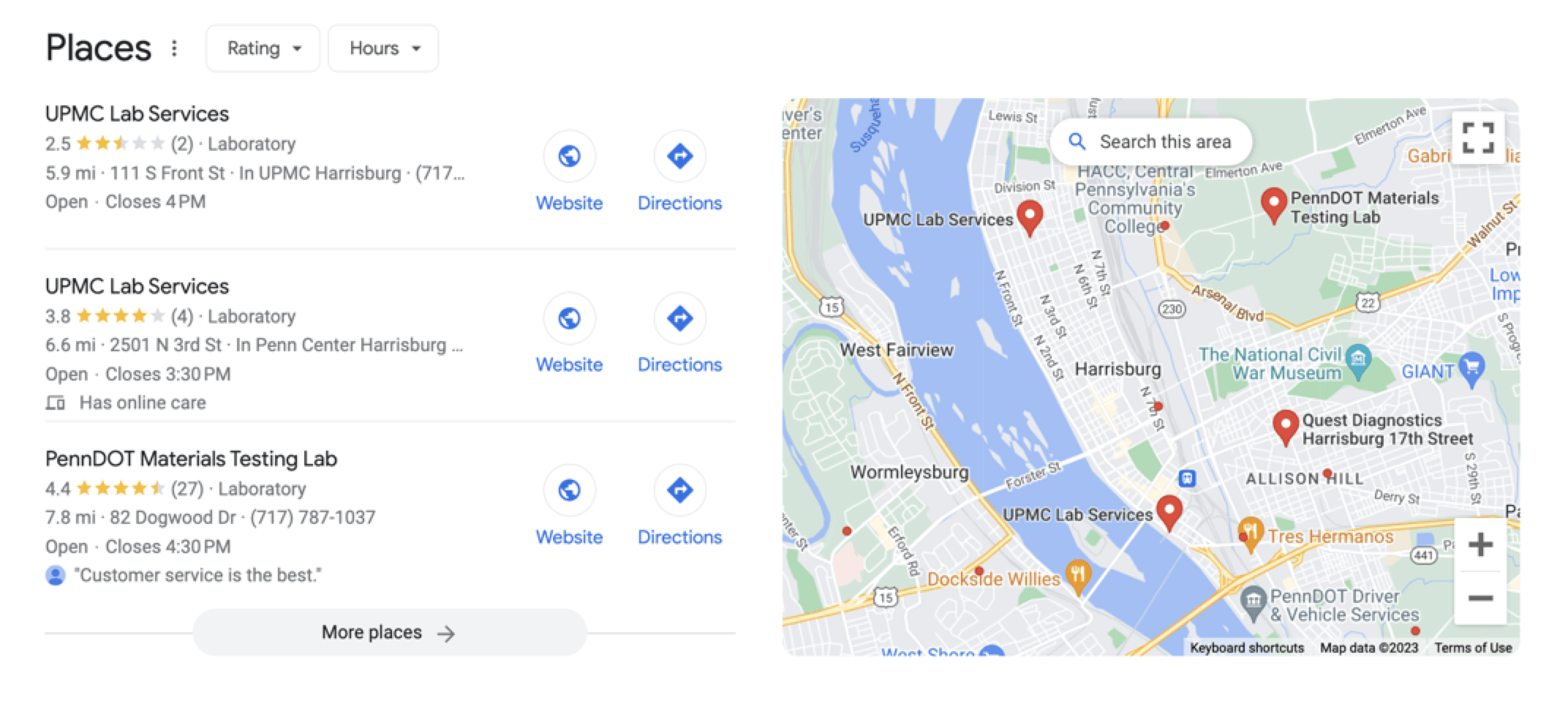 Targeting local SEO is essential if you only work locally. If someone needs services or supplies and comes to your page to find that they can't order from you, they will click away, hurting your SEO.
SEO examples — What does SEO for laboratories look like?
Every company will have a unique approach to SEO, but the results will be similar. Let's walk through an example plan to see what SEO can look like for your business.
Company goals
First, let's outline some example goals. Say your laboratory offers hematology services for practices local to Dallas, Texas. Your goals might include the following:
Reach your local target audience
Get more people to request a quote for your services
Improve your ratings online
These goals are all attainable through SEO practices. Notice how these goals can continue over the years and don't have a cap on how much you can grow.
SEO plan
Now that you've outlined your goals, you—or your SEO agency—can start planning the steps to tackle these goals. Some SEO steps you might take include the following:
Building out a Google Business profile
Adding location keywords to your website and creating location-specific service pages
Creating an automated email campaign that encourages your clients to review your work
Adding actionable CTAs to every page, requesting that readers fill out your contact form
All these SEO tactics target your goals directly. They also help you create a robust online presence, encouraging people to stay on your site and making your services easier to find.
Review analytics
Once you implement your changes, you must track SEO metrics to see how your site performs. It's best to start monitoring before you implement SEO to establish a baseline for growth. Tools like Google Analytics make it easy to see how your site traffic ebbs and flows: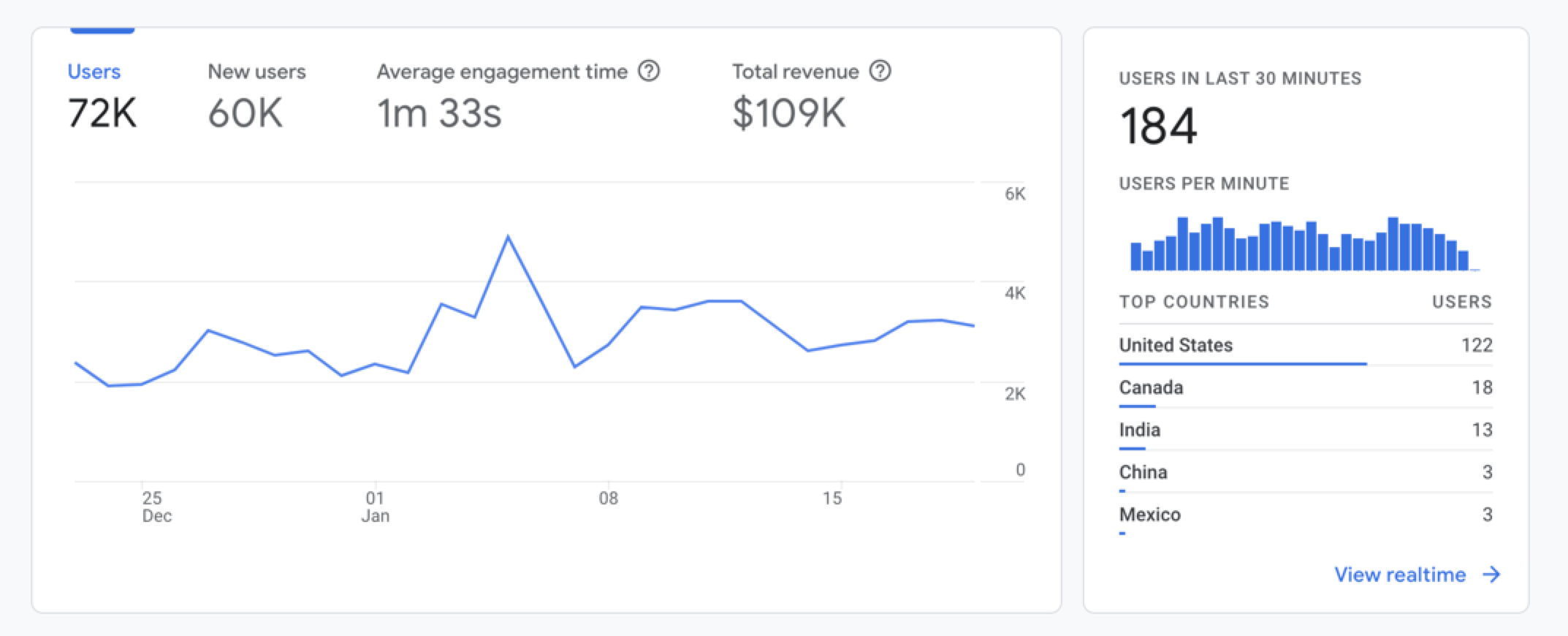 Since SEO is an ongoing process, you might not see immediate, drastic results. However, with consistency and evaluation, you can earn more revenue for your laboratory and promote your services to only those in need.
These are real SEO results driven for a WebFX client.
You're next.
Learn More About SEO Services


260%
increase in organic revenue

198%
increase in organic transactions
150%
increase in organic traffic

3872%
increase in sessions from SEO
WebFX knows SEO for laboratories and lab equipment suppliers
Finding time for marketing on top of your busy schedule can seem daunting. Working with SEO experts ensures long-term results that benefit your bottom line.
WebFX is a leading SEO agency with experience in over 154 industries, including health care services and technology. We have generated $3 billion in revenue and helped companies secure their online presence, regardless of their field.
If you want to become an industry leader and place yourself in front of the right audience, we can help. Request a free quote to get started, or call 888-601-5359 to speak with a strategist directly about our SEO plans!
Increase your leads, sales, and revenue with digital marketing