Social media marketing has influenced businesses across various industries. Currently, 91% of companies use social media, and laboratories are no exception. Social media for laboratories can help you earn more revenue and target customers.
So, what is social media for laboratories? How can it help your business goals?
Keep reading to learn more about social media, including some examples and benefits for laboratories and lab equipment manufacturers.
Want to skip to your strategy? Call 888-601-5359 to chat with a strategist about what WebFX can do for your social media campaign!
74% of people use social media when making a purchasing decision.
Make their decision easy with a stellar social media presence. See how your brand can level up by requesting a no-obligation proposal today.
One of our experts will be in touch within 24 hours!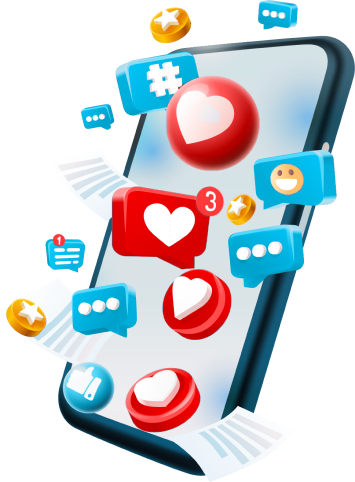 What is social media for laboratories?
Social media for lab equipment suppliers is the process of using social sites to advertise and promote your brand and services. This process helps laboratories and equipment suppliers find their audience and connect with them outside a sales-oriented setting.
Social media marketing can include various approaches, like:
Posting YouTube videos about the laboratory processes
Announcing new products on social channels
Updating clients on operating changes as they happen
The primary goal of social media is connection. In the health field, you want your clients and prospects to understand your company, so they come to you for your services. Social media gives you more of a voice to connect with these individuals and other companies.
Why use social media?
Companies use social media to accomplish a variety of tasks — chat with customers, encourage connection, and even promote their services. When you explore social media for laboratories, you can enjoy the following advantages:
Improved brand recognition: When you interact with customers and create social posts related to your brand, people will start recognizing and remembering your company. In fact, 96% of users who follow brands on social media interact with them, helping you create a positive brand image.
Better audience targeting: As more people engage with your content and you begin tracking metrics, you can understand what your audience likes to see from your company. You can also get more information about what kind of people or companies are interested in your services.
More conversions: You can run advertising campaigns through social channels that will encourage users to reach out or purchase from your brand. This option helps you earn more conversions and grow your client base.
Social media examples for laboratories
Let's look at a few ways that other laboratories and lab equipment suppliers have used social media.
LinkedIn
Many companies use LinkedIn for recruitment, but this site also lets you share posts and updates. Avantor is a lab equipment and service supplier based out of Pennsylvania. This post on LinkedIn leads to a recent blog post: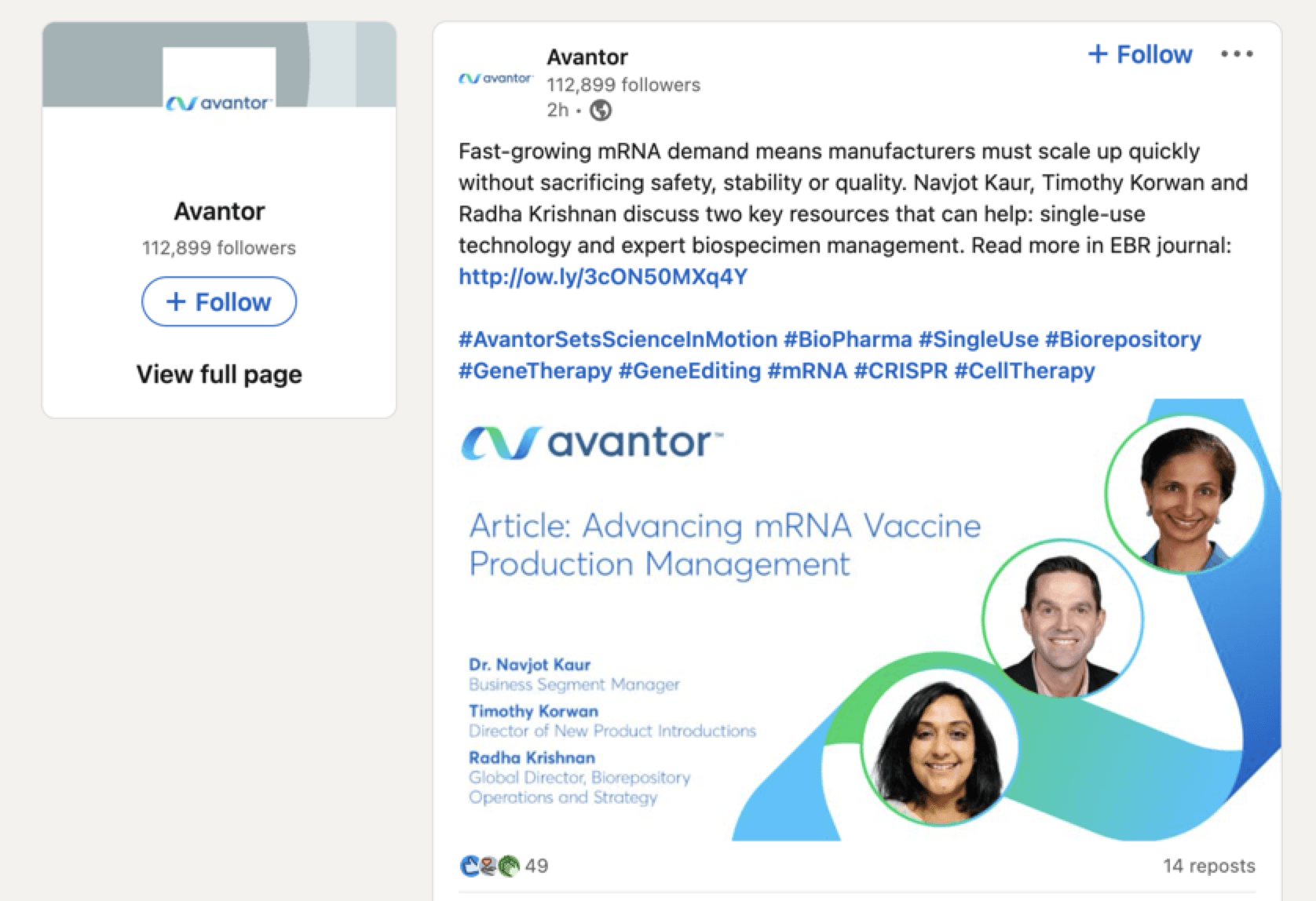 By sharing on LinkedIn, they keep their connections in the loop while encouraging them to visit the company site.
Facebook
Other laboratory companies, like Danaher Corporation, use Facebook to help them connect with their audience and promote their products.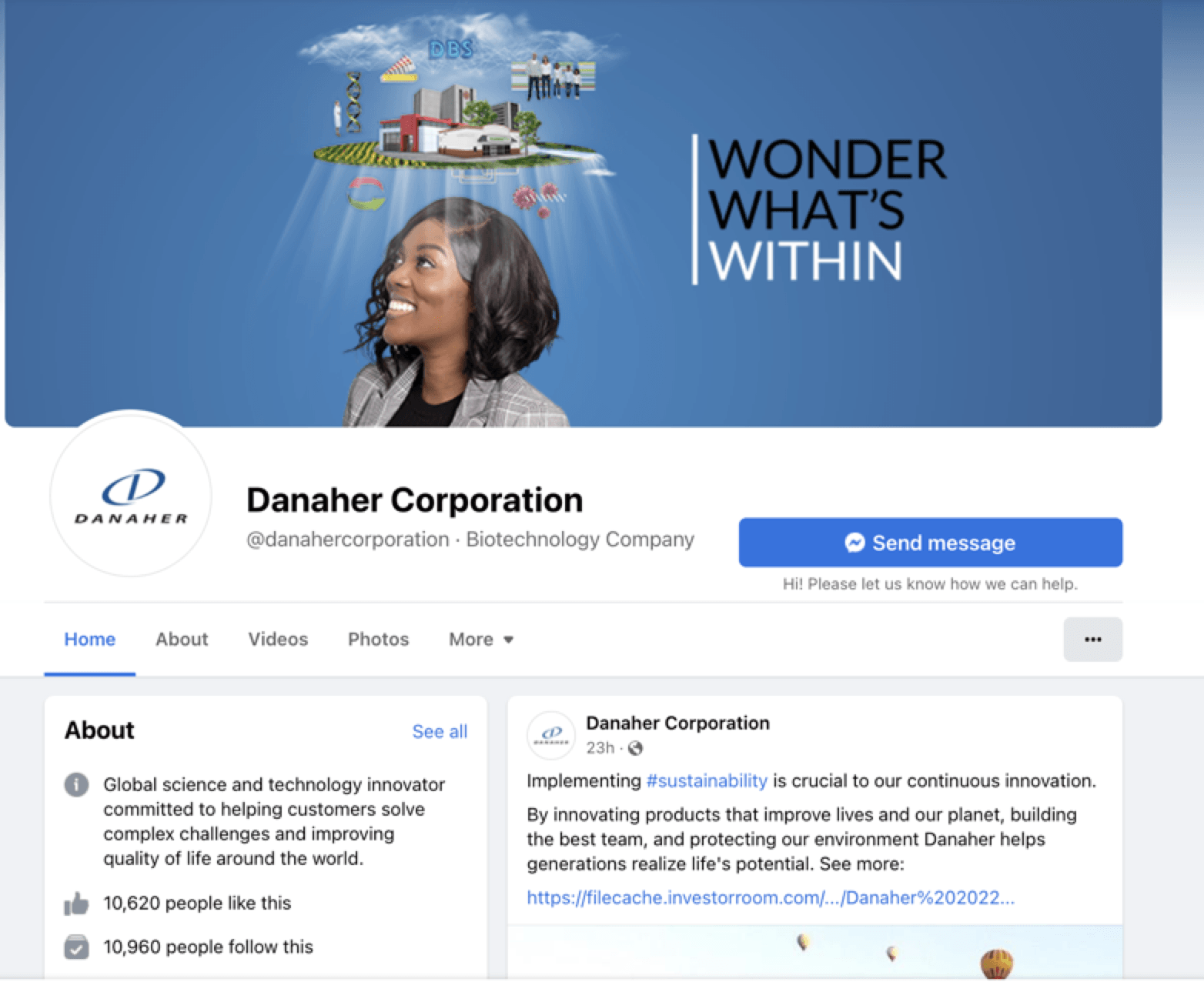 They share posts about their company, products, services, and more, which helps build their brand and show their values to customers.
YouTube
Thermo Fisher Scientific uses multiple social channels, including YouTube, to promote awareness on current industry topics and share their updates.

On YouTube, their content focuses on diagnostic and testing FAQs and research procedures, which is beneficial to their audience of other health professionals.
How to use social media for laboratories and lab equipment suppliers
Now that we have seen some social media examples for laboratories, we can dive deeper into creating your own social media approach.
Not happy with your social media engagement?
We've got just the blog post for you.
Read the Blog Post & Watch the Video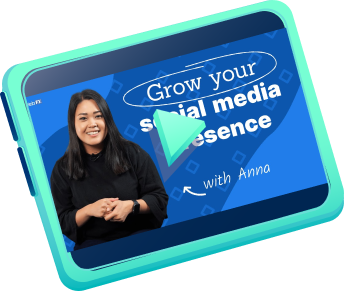 1. Find your audience
Before you sign up for every social platform available, find your target audience on social media. Instead of trying to keep up with every platform, you want to find the ones that your audience uses.
Consider your buyer personas and their role in your sales funnel. Buyer personas are representations of the average customer for your business. You can consider the following factors to craft them:
Age
Location
Job title
Experience
For example, if you primarily work with other businesses or professionals, you might want to target LinkedIn. However, if you work with patients directly, you could use something more consumer-facing, like Facebook.
Your top priority is finding your audience and meeting them where they already exist. This way, you can save time and money by using only the right platforms and campaigns.
2. Create relevant content
Now that you've found your audience and platform, you can start crafting content.
Each platform has slightly different focuses and regulations for what you can create. For example, YouTube focuses on long-form video content. Instagram and Facebook also permit videos, but they are more for short-form content mixed with images.
Above all, your content should reflect your company voice, values, and goals. Play into the trends if you want to boost engagement, but do so in a way that reflects your company.
Some content ideas for laboratories include:
Videos explaining your testing processes
Posts about your operations, services, and qualifications
Tours of your facilities
FAQs and live interactions with users
3. Track engagement trends
After you launch your accounts, be sure to track some social media metrics. Most apps will let you see your post engagement and views, which can help you determine what content ranks the best.
This step ensures that you optimize your efforts by investing in the content that performs best. You can also see how your investment pays off as more people engage with your content.
If you want to get the most out of your social media efforts, an agency can be the best option. WebFX can help you find your audience, create content, and monitor your engagement — all while you focus on your laboratory services and products.
Growing your social presence with WebFX is a walk in the park.
"WebFX allows growing your social media platforms to be stress-free! They are knowledgeable and adapt to your company needs!"
Learn More About Our Social Media Services

Master social media for laboratories with WebFX
Tackling social media can seem like a daunting task, especially when you have plenty of other tasks to worry about. With a social media agency by your side, you can promote your laboratory online without distracting from in-house operations.
WebFX has helped clients across 154 industries with their social media approach. We've also created 165,000 posts for our clients and generated $3,021,182,299 through digital marketing services.
When you work with us, we make sure that your brand voice shines through your social media presence. Request a quote online today to get started!
Increase your leads, sales, and revenue with digital marketing