Everything is going digital, which means making yourself accessible to new and existing patients online is critical to the success of your medical imaging practice. With pay-per-click (PPC) for medical imaging and radiology, you can do just that and more.
At WebFX, we're no strangers to helping those in the healthcare industry build an online presence with digital marketing. Learn more about how our dedicated digital marketing specialists can help you reach more patients with PPC for medical imaging and radiology by giving us a call at 888-601-5359 or contacting us online today.
WebFX helps clients in the healthcare industry grow their practices.
"My practice has grown quickly and improved our accessibility to those we serve or hope to serve within our community. WebFX is directly responsible for our growth and the fact that we have more than doubled our revenue in six months."
— Merrimack Valley Psychological Associates
See Case Study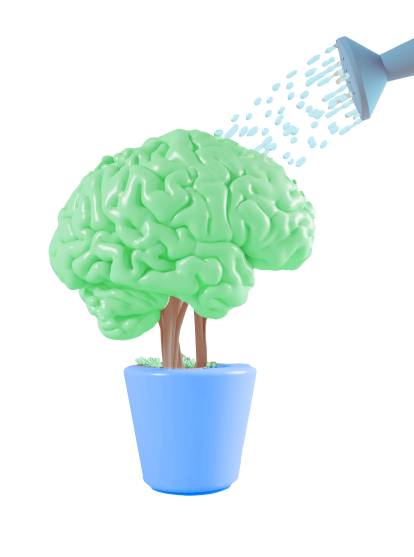 What is PPC for medical imaging and radiology?
PPC for radiology is a digital advertising strategy in which advertisers bid for prime advertising placement in search engine results, social media, and other sites. These ads appear all over the Internet and can come in many different forms — text ads, videos, images, specialized social media posts, etc.
With PPC ads, marketers pay a fee each time a user clicks on the ad or interacts with it. Hence the name "pay-per-click." The amount you pay and where your ad appears depends on your bid in the PPC online ad auction.
PPC ad auctions explained
PPC ad spots are awarded to advertisers through an auction process. This auction doesn't crown winners based on bidding alone, though. When bidding against other advertisers for PPC ad spots, the auction takes into account:
How much the advertiser bids
Ad relevance to users
Ad relevance to the keyword being bid on
Other factors depending on the ad platform and ad type
PPC ad types
PPC ads for medical imaging come in many different formats. Let's take a look at four of those PPC ad formats.
Search ads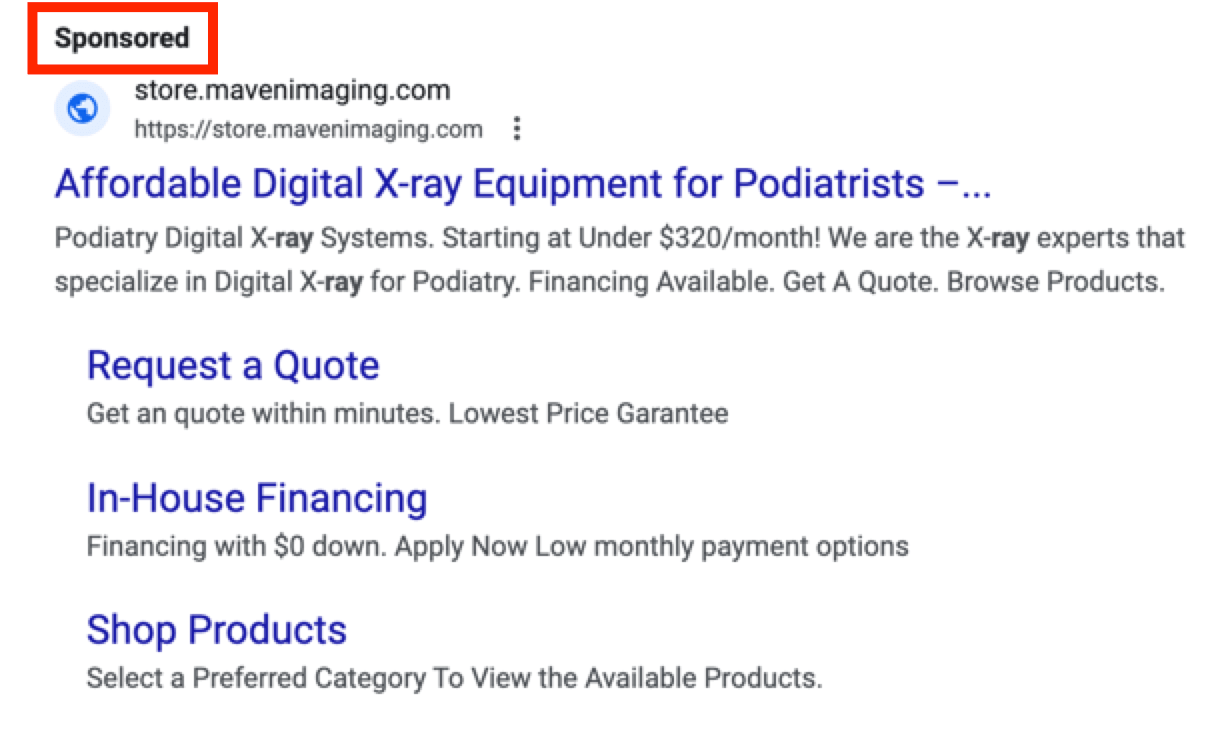 Paid search ads are the most common PPC ads you'll see today. They're also great PPC ad format options for medical practices like medical imaging centers because they can appear with specific keywords related to your practice.
These ads appear in search results lists, usually above the organic search results, as well as at the bottom of the list. All paid search ads are tagged as an "Ad" so users can differentiate between paid and organic search results.
By using paid search ads, you can promote your practice to users who are actively looking for your services, especially those who are local and looking for radiology clinics in their area. And, with search ads appearing in high-visibility locations in SERPs, you're bound to snag the attention of at least one potential patient.
Social media ads
Another popular PPC ad format is paid social media ads. Depending on the social platform, social ads can present themselves in a few different ways, but all of them will be marked as an "Ad," "Sponsored Content," or "Paid Content."
Social media ads offer targeting features, making them incredibly useful to your practice as you reach out to new and potential patients. With paid social media ads, you can indicate the types of users you want to see your ad and even monitor your campaign's success through the social platform's analytics or business page.
Display ads

Display ads are found on Google partner websites. These are the ads that appear above, below, and next to content on websites you browse. Primarily, display ads show up as image ads, though they'll usually have some text on them too.
Display ads are particularly useful for advertisers because, as we mentioned earlier, they appear next to content users are viewing, usually related content. It's a great way to attract new patients because as they're reading an article about a condition or ailment they may have, your ad could appear alongside said content. Then, that user knows exactly who to turn to when they go to seek medical assistance.
Remarketing and retargeting ads
Remarketing and retargeting ads are used to regain the interest of users who may have viewed your services but didn't take the next step toward becoming a patient. These ads reengage users with your practice and can entice them to revisit your services.
Remarketing ads are used often by advertisers to obtain conversions from users who you know are interested in the services you offer. They're especially helpful in pulling patients toward your practice and away from competitors. As a medical imaging clinic trying to attract local patients, this is a valuable PPC method because it reminds local users of your services.
Why use PPC for medical imaging and radiology?
PPC for radiology and medical imaging has a host of benefits it can bring to your practice. Read on for a few of those benefits.
Better online visibility to attract patients
The main appeal of PPC for medical practices is the increased online visibility it offers. As we mentioned earlier, PPC, especially search ads, are placed in high-visibility locations in SERPs to attract as much user attention as possible.
Whether your ad results in a conversion or not, PPC can get more eyes on your practice and make more potential patients aware of your imaging office and the services you can provide.
Increased site traffic
With increased visibility comes increased site traffic. Because search ads require bidding on keywords, your ad will be appearing to users who are actively looking for the services your practice provides.
While they may not be looking for your practice specifically, they'll be looking for ones similar to yours. When they see your search ad pop up alongside the seemingly endless list of organic search results, they'll be more inclined to click on your ad and visit your site.
Greater ROI
Did you know PPC ads have a higher return on investment (ROI) than traditional marketing methods? It's true! For every $1 spent, businesses make $2 on their PPC campaigns.
Because PPC ads are placed in high-visibility locations, click rates will be higher. Not to mention, once users land on your page after clicking on a PPC ad, there's an increased chance of that interaction resulting in a conversion. PPC traffic converts 50% better than organic site visitors.
Traffic attracted through PPC advertising yields 50% more conversions than organic advertising.
Are you leveraging PPC in your marketing efforts? Let's get started.
View the Guide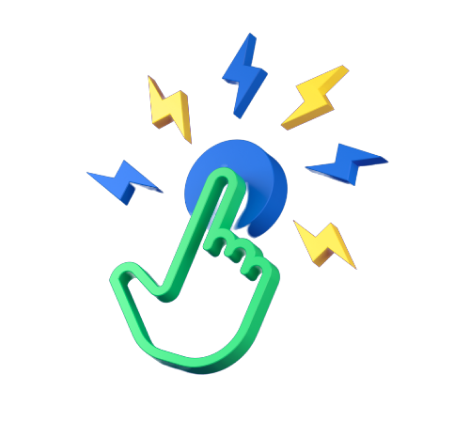 Build a lead-generating PPC campaign with WebFX
WebFX offers PPC management services that can help you drive more patients to your practice. With our tech-enabled PPC services and experienced digital marketing professionals, we can deliver a customized PPC advertising plan that fits your practice and speaks to your patients.
See what our healthcare PPC services can do for your medical imaging practice today by giving us a call at 888-601-5359 or contacting us online today.
Increase your leads, sales, and revenue with digital marketing
Find Us Driving Revenue Nationwide