As a dietician or nutritionist, your goal is to reach new clients so you can assist them in developing a healthy nutrition plan that helps them live a well-balanced life. One of the ways you can do this is through a method called pay-per-click (PPC) advertising.
PPC for dieticians and nutritionists is a fast and effective way to put your practice right in front of the eyes of potential clients surfing the Internet and its seemingly endless search engine results pages (SERPs). With PPC, you could see an impressive return on investment (ROI) and increase your online visibility.
Read on to get the rundown on all things PPC for nutritionists and dieticians, and how it can help your practice!
Traffic attracted through PPC advertising yields 50% more conversions than organic advertising.
Are you leveraging PPC in your marketing efforts? Let's get started.
View the Guide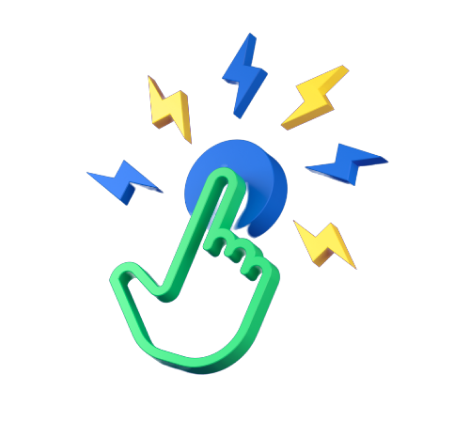 What is PPC for nutritionists and dieticians?
PPC is a form of Internet advertising in which businesses pay for ad placement on SERPs. The kicker? You only pay when someone actually clicks on your ad, hence the name "pay-per-click."
PPC advertising is a valuable digital marketing strategy because when you have an effective strategy in place, a high Ad Rank, and a high Quality Score, you can put your business at the top of SERPs, before the organic search results.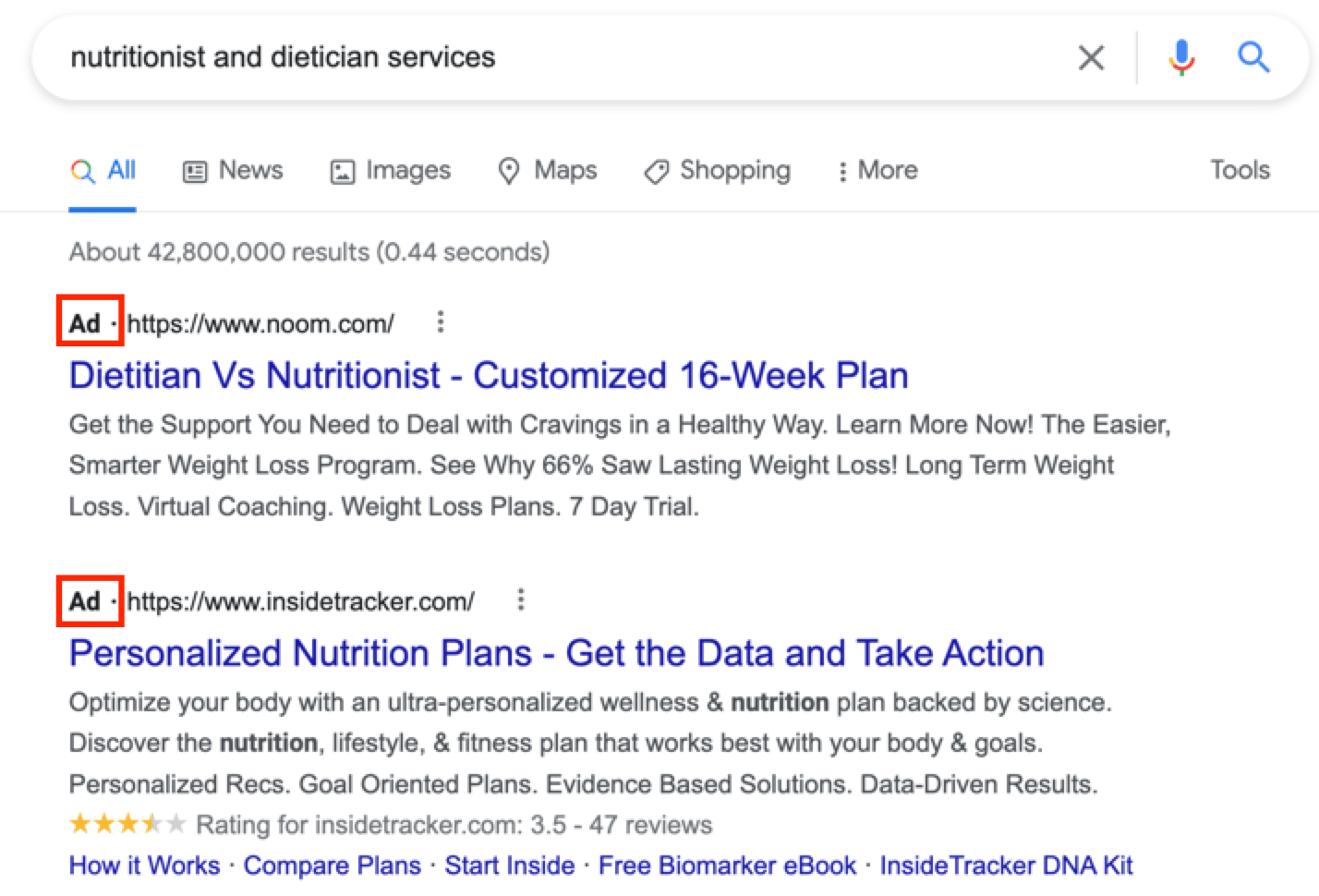 One of the great benefits of PPC advertising is that it allows you to target specific keywords and phrases directly.
This is excellent news for you because it means you can use these keywords to target potential clients who are actively looking for your diet and nutrition services.
How does PPC work?
With PPC, businesses bid on top ad spots on SERPs for specific keywords or phrases your target audience might look up on search engines.
Your bid is how much you're willing to pay each time a user clicks on your ad. If the bid you entered is among one of the highest for your chosen keyword or phrase, you'll see your ad placed in a better position on SERPs. But, in order to get one of the highest spots, you need to have a high Quality Score and Ad Rank.
Ranging from 1-10, your Quality Score evaluates your PPC ads' quality and relevancy. Your Quality Score is influenced by three factors: Click-through rate (CTR), ad relevance, and landing page experience.
Your Ad Rank determines where your PPC will be placed on SERPs. The positioning is determined by an ad rank formula that evaluates things like your bid, ad relevancy and quality, and landing page quality.
How and where to run PPC ads
Our PPC services and platforms like Google Ads make PPC management for dieticians and nutritionists a breeze.
The Google Ads platform is a fantastic tool that allows you to specify the goals of your PPC ad campaign — from earning leads, increasing sales, or driving site traffic — so you can create a PPC strategy that fits your overall Internet marketing goals.
What's better, you can set a daily budget so you never have to pay more than your monthly max, making PPC advertising a cost-effective digital marketing tool.
With PPC Google Ads, you can create ads, launch them, and adjust their targeting as needed. You can track your campaign's results through their analytics dashboard, monitoring the number of clicks your ads receive.
And if you need help managing your campaign, WebFX offers "do-it-for-me" PPC services so you can stay focused on helping your clients while we take care of the heavy lifting!
Benefits of PPC marketing for dieticians and nutritionists
As we mentioned earlier, PPC marketing can increase your online visibility and awareness. But that's just one of the many benefits you can enjoy when you employ a PPC marketing strategy.
Let's dig into how PPC marketing can increase your search engine visibility and two other major pros to using the paid ad strategy.
More visibility and awareness on search engines
71% of users on Google click on websites from the first page of search engine results, making the opportunity to snag a top ad spot with PPC that much sweeter. With over 5.8 billion searches being made each day on the search engine, that's a lot of people who could potentially view your ad that's sitting at the top of the first page of results.
The positioning PPC ads give businesses can increase site visibility and awareness among audiences by almost 80%.
With an effective strategy, your PPC ads will be one of the first results users see when they enter your targeted keyword into search engines. By placing yourself above your competitors, you'll have an advantage over your competition and get your site seen by more clients.
More website traffic
This increased visibility will do wonders for your website's traffic. With PPC helping you take up prime ad real estate in the SERPs, you can increase your site's exposure.
Users are already looking for businesses and practices that offer your services, so by purchasing PPC ads that show up at the top of SERPs, you're presenting yourself as the solution to their problem.
Users are going to be more likely to click on your site through your PPC ad on search engines because they're easily viewable, accessible, and offer the exact services users are looking for.
Increased conversion rates
Your site's conversion rate refers to the number of users who visit your site and perform a desired action, whether it be filling out a form, purchasing a product, or signing up for a mailing list.
Once you've got users clicking on your website via your PPC ads, you can optimize it to add effective calls to action (CTAs) that improve your site's conversion rate.
Your PPC ads will make it so users don't have to look hard to find those optimized pages. You can link directly to service pages from your PPC ads, so users don't have to navigate your site to find what they want.
With the help of PPC ads, you can create pages that include strong CTAs that successfully urge users to take action rather than leave your site empty-handed.
WebFX knows PPC for nutritionists and dieticians
Are you a nutritionist or dietician looking to step up your PPC game? You're in luck, because WebFX is home to PPC marketing experts who are ready to help you achieve your PPC goals!
We have over 500+ subject matter experts who can help you develop a PPC strategy that increases leads and improves your practice's online visibility. Ready to get started? Contact us online or call us at 888-601-5359 now to speak to a strategist!
Earn a 20% greater ROI with WebFX