Your oncology practice has a lot on its plate, from taking care of your patients to managing your billing and finances. To grow your practice, you can use digital marketing and lead generation strategies that help expand your reach.
WebFX can help you identify and cultivate prospects for your oncology practice. Continue reading and contact a strategist at 888-601-5359 to learn more!
37% of marketers say that generating high-quality leads was one of their biggest challenges.
We want to decrease that percentage.
WebFX can help you generate high-quality leads with a customized marketing strategy.
Learn More About Lead Generation Services
Benefits of digital marketing in lead generation for oncology
There are many benefits of digital marketing for lead generation, like:
Gaining insights into your audience:

With advanced analytics capabilities, digital marketing efforts can provide insights into your audience. This information helps you understand their wants and needs, making it easier to tailor your marketing messages to prospects.

Improving lead quality:

While sending out thousands of direct mail flyers may be a comprehensive strategy, digital marketing can help you get ads in front of the patients who will most likely benefit from them, increasing the likelihood of conversions from quality leads.

Automating lead management:

Once you generate leads, how can you manage and foster them to ensure they convert? Platforms

like customer relationship management

(CRM) software and other programs can

automate the lead management process

so your oncology practice can focus on providing the best care to your patients.
4 lead generation tips for oncologists
As an oncology practice, your primary duty is to your patients. But generating leads helps ensure the continued success of your business, enabling you to help more people. Learn some oncology lead generation tips below:
1. Build trust
You want your patients to trust that you provide top-notch care and will put their interests first. Since 80% of consumers trust reviews as much as they would a personal recommendation, consider online review management services to ensure a lead's first impression is a positive one.
Another way to reassure prospects is to include staff profiles with pictures and bios so leads can get to know the team before their first appointment. Note facts like where your providers attended medical school and any notable medical publications they've authored. You might also feature your provider's participation in certain cancer research or drug studies to enhance your authority and credibility.
2. Provide valuable information
A cancer diagnosis is scary for many, but you can build leads for your oncology practice by providing valuable information to your audience. Following or preceding a diagnosis, many patients and families will look for as much information as they can on the topic, like relevant treatments and medications.
You can build leads and educate your audience through a few different formats:
Blog posts:

These posts are often

shorter-form informational content

closely related to your practice. You might explain certain procedures you commonly perform, questions patients often have about their conditions, or coping strategies for dealing with a cancer diagnosis.

Ebooks:

An ebook is an opportunity to provide more in-depth, factual

educational content on a topic

. They're made for online use, including media like embedded links and videos. These topics are generally broader than blog posts — for example, you might create an ebook on certain types of cancer.

White papers:

A white paper is similar to an ebook, but it often has a more focused topic that offers insight in addition to educational content. A topic for a white paper might be how a new cancer treatment method worked among your patient population.
By offering this educational content, you can increase the likelihood that someone who needs your services will find your business.
Search engine optimization (SEO) is another marketing strategy you can use to generate leads through the valuable content on your website. By using strategic and relevant keywords, you can optimize your site so you appear higher in search engine rankings.
3. Expand your reach
Word-of-mouth advertising is effective, but it can only get you so far. If you're looking to get your oncology practice in front of as many people as possible, consider using social media to generate leads. Over 4 billion people use social media, so it's one of the most effective ways to generate leads today.
Effective social media strategies that can expand your oncology practice's reach include:
Posting frequently

Interacting with your followers and commenters

Curating a unique brand look and voice

Using engaging captions

Responding to viral trends

Using various media, including text posts, infographics, photos, and videos
Platforms like Instagram, Twitter, Facebook, and TikTok have millions of users, so posting content on these sites can generate a huge number of quality leads for your oncology practice.
Email marketing can also increase leads for your oncology practice. While you might post frequently to your social media pages, you should exercise restraint when sending emails to prospects. Consider sending messages at strategic times so your audience is more likely to open and read your email.
You can personalize and target your email marketing to subsets of your audience to increase the relevance of your messages. For example, you might send specific topical newsletters to a certain group of patients or send welcome and introduction emails to new patients and subscribers.
4. Target your audience with paid ads
While organic leads are fantastic, sometimes you might want to get more qualified leads, and paid ads can help you do that. There are some different ways you can leverage sponsored or paid ads for your oncology practice, such as:
Pay-per-click (PPC):

One type of

paid advertising is PPC ads

. With this method, you can pay to have your landing pages appear at the top of search result pages. While you pay for every click on these ads, they have an enormous potential for generating local leads and conversions.

Social media ads:

You can also use

paid advertising on social media

sites like Facebook and Instagram. Through sponsored posts on Instagram or Facebook Ads, you can boost your post's visibility and reach a wider audience that will be more likely to convert.
Meet WebFX:
Your world-class, tech-enabled marketing agency with over 1.6 million hours of combined expertise.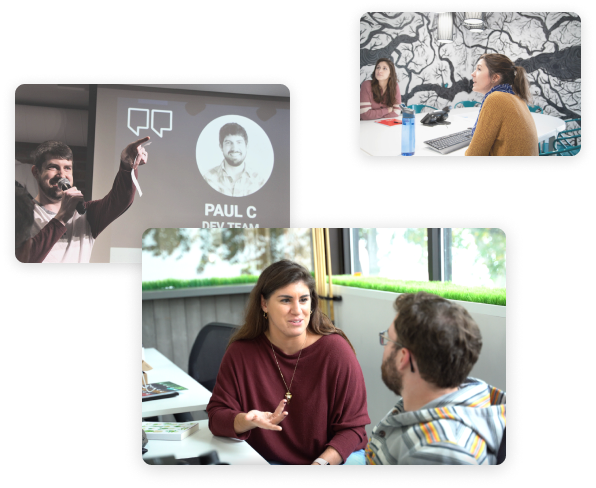 Generate more leads with WebFX
The digital marketing professionals at WebFX can help you build a strategy that generates more leads for your oncology practice. With strategies like SEO, content marketing, and social media ads, among others, you can generate leads and grow your practice.
Learn more by contacting a strategist today!
Increase your leads, sales, and revenue with digital marketing