Facebook marketing is one of the fastest growing ways to advertise your orthodontist practice on social media.
With Facebook marketing, you can connect with current and potential patients, develop relationships with your target audience, and grow your practice.
If you want to learn more about marketing on Facebook, call us today at 888-601-5359 to speak with a specialist, or keep reading to learn how you can start creating your Facebook marketing strategy.
How to start marketing on Facebook
In order to start marketing on Facebook, you'll need to create a page for your practice. This page will help you build your presence on Facebook.
Once you set up your account, you'll want to include as much information as possible on your page. This will help your visitors feel informed and provide them with the ability to find information easily. All of this important information can go in the About section of your page.
You want to include the important information, such as the services you provide, but you don't want to go into too much detail. This is a place to provide users with quick information that is important. You can direct users back to your site to retrieve more details about your services.
In the About section, you can also include a bit of background about your practice, services, and staff. You'll want to include a link to your website, your hours of operation, and your important contact information. These are key pieces of information for your Facebook page.
You'll need to add a cover photo and profile photo to your page. These should be tailored to your practice. Most businesses will make their logo their profile icon.
As for your cover photo, you can be more creative. You can add a cover photo that highlights your staff, an upcoming holiday, or special promotion or contest.

After you finish filling out your page, you can start to obtain followers. You can do this by linking your Facebook page to your website. Your patients are already visiting your website, so you can encourage them to check out your Facebook page by linking it from your site.
If you really want to get people's attention, you can create a banner or blurb on your front page to let people know that you have a Facebook page. It's a great way to draw people's attention to your page.
You'll also want to encourage your employees to like your Facebook page. They can like and share the page on their own profiles to spread the word to their friends. You can also encourage your employees to let current patients know that you have a Facebook page when they come in for their appointment.
It'll take time for your business to build followers, but the results are worth it. You'll start gaining more potential leads for your business by utilizing Facebook to reach them.
Growing your social presence with WebFX is a walk in the park.
"WebFX allows growing your social media platforms to be stress-free! They are knowledgeable and adapt to your company needs!"
Learn More About Our Social Media Services

Hear What It's Like to Work With WebFX!

"WebFX has completely transformed my practice. With their support, I have expanded my practice significantly and grown exponentially. I could not have expanded to this degree, nor this quickly had it not been for the incredible efforts provided by WebFX and my team."
Healthcare
How to market your practice on Facebook
Once you have your page, you can start marketing to prospective patients. Facebook is a platform with multiple options that enable you to reach new patients in various ways. It is a great platform for engaging current and potential patients.
Here are a few ways you can encourage people to interact with your page.
1. Facebook advertisements
Facebook enables you to advertise to prospective clients. These advertisements operate like pay-per-click (PPC) ads. They are paid advertisements that appear in your news feed or the sidebar at the top of the newsfeed.
These posts are often labeled with the tag "sponsored" somewhere within the post. This is the only indication that the post is a paid advertisement. Facebook ads are meant to seamlessly integrate into a user's news feed.
Facebook ads give the appearance of being just another post in the feed. They blend in so that users don't realize they are looking at a paid advertisement. This makes Facebook advertising a great option because it won't appear as an invasive advertisement.
The ability to have seamless advertisements stems from Facebook's targeting feature. Facebook enables you to target specific people that are interested in your services. You can narrow in on your target market and avoid advertising to people who wouldn't be interested in your services.
Facebook enables you to refine your targeting. You can target by demographic, psychographic or behavioral information. This enables you to reach more potential clients and hone in on your ideal target market.
This is a great platform to target users because you have many available styles of advertisement. You can create text, picture, and video advertisements. The advertisement style is based on what your target market responds to best.
Visual advertisements are great for capturing the attention of potential patients. This will get them engaged and interested in your practice. You may need to experiment to see which kind of advertisements draw the most interest.
Facebook advertisements are a great way to directly reach your target market. You can capture more interested leads and help them convert into clients. These advertisements make it easy for clients to act on and engage with your business.
2. Creating and posting content
Creating and posting content is a great way to encourage people to interact with your Facebook page. Content is a great way to generate new leads for your business. You can draw in new consumers by providing helpful content.
For example, you can post links to blogs, videos, or infographics that pertain to your business. These are various forms of content creation that are great for getting users to interact with your page.
Your content needs to be interesting and informative. You want to entice people to click on your posts and engage with your page.
The point of these posts is to increase engagement with your customers. You want them to like, comment, or share your posts.
We recommend that you link to and post your own content, but you can also link to other content. If you find content that is interesting, you can share these posts with your followers.
You don't want to create content just to create it. Your content should engage your followers and encourage them to act with your page. It is important that you create interesting content to get users to interact with it.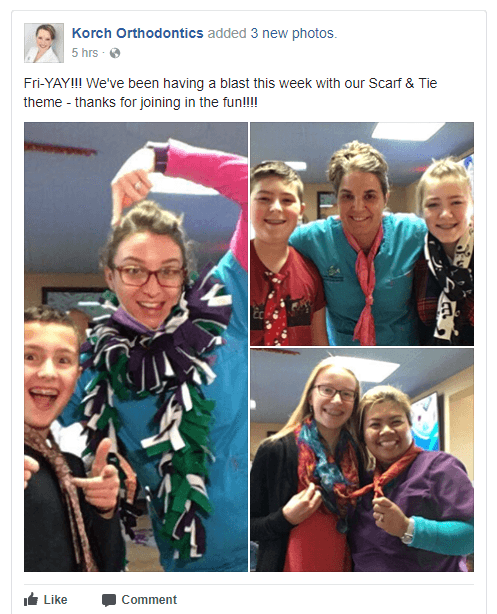 3. Engagement-based posts
Content is great for engaging users on your Facebook page. Another way to engage users is by creating engagement-based posts. These posts are created with the intent to get people to interact on your page.
These posts are more flexible than your regular content. Your content should focus on your industry, but your engagement posts can be any kind of post that will get users to engage with your page.
An example of an engagement based post is a post that asks, "Who has the prettiest smile in your family?" or "How did you lose your first tooth?" These aren't necessarily about your business, but they drum up engagement on your page.
People can tag one another in these posts and leave comments. It gets people to interact with your page and bring new clients to your page. These engagement based posts are a great way to get people to interact with your Facebook page.
Let WebFX help you market your orthodontist practice on Facebook
If you want to start creating your Facebook marketing plan, WebFX can help. We are a full service digital marketing company that specializes in social media marketing. You can focus on running your practice while we create your Facebook marketing plan.
Our team of 500+ experts are dedicated to your campaign. We take the time to come up with a customized plan for your Facebook campaign. Your business is unique, so we create a unique plan tailored to your needs.
We strive to bring your business results. To date, we've driven over $3 billion in client leads and over 7.8 million leads for our clients. We are dedicated to delivering a successful Facebook marketing campaign for your business.
Learn more about Facebook marketing for orthodontists
WebFX is a top Facebook marketing agency that can help your orthodontist practice make the most of social media marketing.
If you want to start creating your ideal Facebook marketing campaign, or a custom social media campaign, contact us online or call us today at 888-601-5359 to speak with a strategist.
We look forward to hearing from you!
Earn a 20% greater ROI with WebFX