Advertising and marketing are all about bringing your customers to you. So, how can you make sure that you are optimizing your approach to find the right people? The answer is lead generation!
Lead generation for orthotics manufacturers helps you find people who need your services and bring them to your website. Instead of using blanket approaches to find prospects, you can generate interest in those most likely to purchase from you.
To give you an overview of lead generation for orthotics, this page will cover the following topics:
What is lead generation for orthotics?
Lead generation examples for orthotics
How to generate leads for orthotics
Read on to learn more, and call 888-601-5359 to speak with a specialist about how lead generation can strengthen your bottom line!
Our digital marketing campaigns impact the metrics that improve your bottom line.
See More Results

WebFX has driven the following results for clients:

$3 billion
In client revenue

7.8 million
Leads for our clients

5.2 million
Client phone calls
What is lead generation for orthotics?
Lead generation for orthotics is the process of finding and converting people who are most likely to be interested in your services. Leads are people who have expressed interest in your products or services, so lead generation is about finding people with higher chances of converting.
With lead generation, you can target a few types of leads, but the main ones are:
Market qualified leads (MQL): These leads have taken a next step after viewing your marketing messages, such as contacting you from an ad or reaching out after receiving an email.
Sales qualified leads (SQL): Leads that your sales team has deemed interested in your products or services. These individuals (or companies) have expressed a lot of interest in your company.
Finding leads is crucial to growing your business. Whether you manufacture orthotic devices and sell them to clinics or work directly with consumers, you can use lead generation to help you get ahead and earn more revenue.
Why do lead generation for orthotics?
Lead generation is a part of every business. You need customers to run any business, so finding people who need orthotics is a natural part of generating income. Lead generation tactics are crucial for streamlining the process and cutting out those who don't need your services.
Other benefits to lead generation include:
Improved audience targeting: Lead generation tactics help you place your ads and marketing materials in front of those who want to see them most. Instead of using a sweeping approach, you can target clinics, orthotics providers, patients, and more.
Streamlined costs: With lead generation, you can save money by limiting your audience and marketing channels. Also, as you draw in more leads to your business, you'll see an increase in revenue.
Better brand awareness: Using digital lead generation tactics can help you stand out from competitors as people search for related services. Even if people don't purchase from you right away, they will have your name in mind down the road.
Above all, lead generation for orthotics manufacturers will help more people find your business and streamline your resources.
Lead generation channels for orthotics
Lead generation looks different for every company — it all depends on your needs, budget, and goals. Below are a few popular lead generation tactics for orthotics companies.
Search engine optimization (SEO)
SEO for orthotics is the process of improving your website so that it appears higher in organic search results. This process is especially beneficial for helping people find your website when looking for related services.
Some SEO ranking factors include:
Keywords
Linking
Site structure and speed
Content
As users search for orthotics products and providers, your site will appear higher and encourage more clicks. SEO is also cost-effective — you can make many changes on your website for free!
Pay-per-click (PPC) advertising
PPC ads are a type of ad where you only pay when someone clicks on your advertisement. These ads can run on search engines, ecommerce sites, social media, and even emails.
These ads are a great way to boost engagement and attract people to your website as they search for products and services. For example, when a user searches for keywords like "orthotics for plantar fasciitis," the following results appear: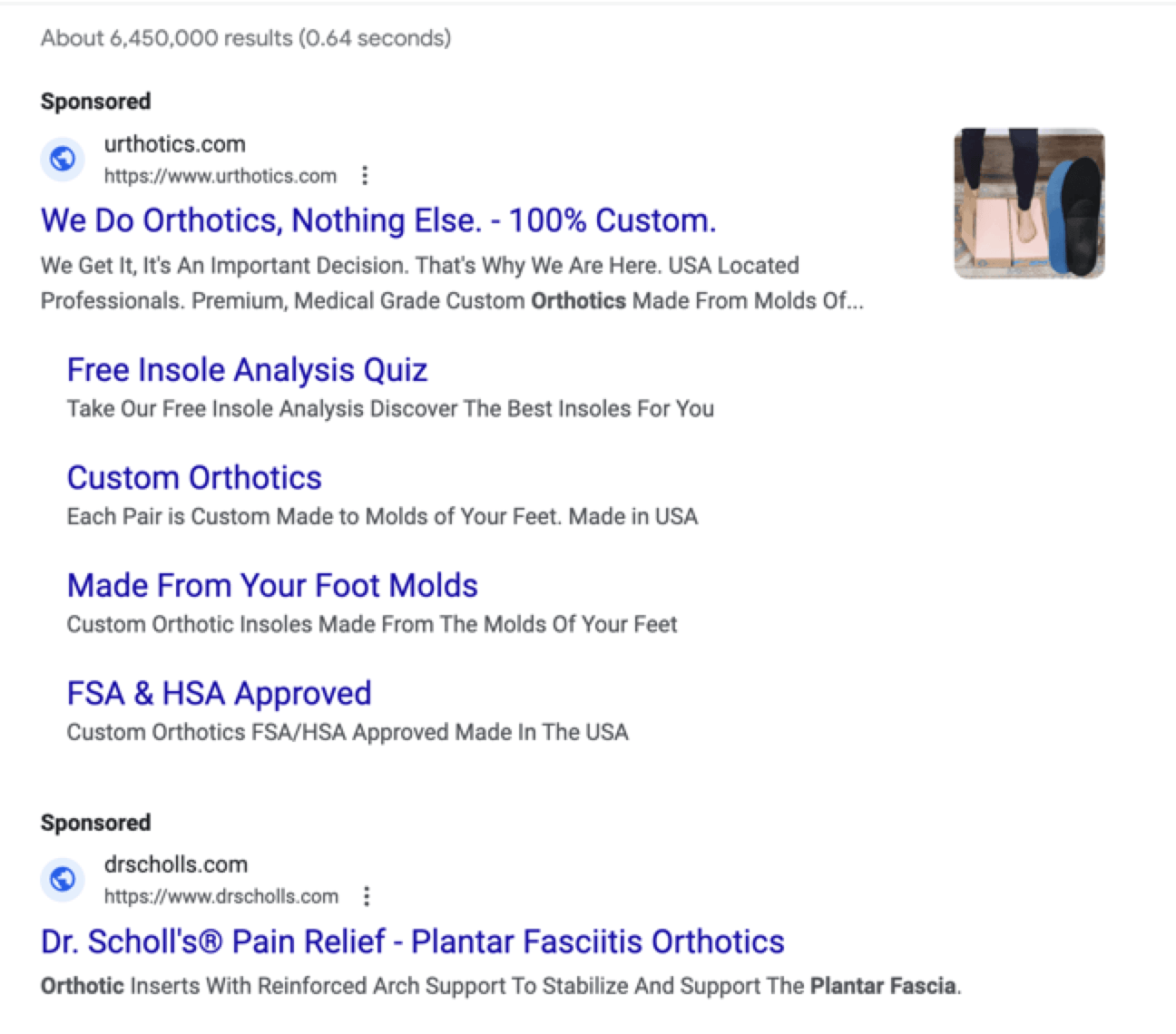 Those sponsored results appear at the top, and they are most likely to get clicks from customers. In fact, 46% of all page clicks go to the top three PPC ads, so getting your site as high on the page as possible is crucial.
Email marketing
Email marketing is a tried-and-true lead generation method. Between cold-calling through emails and communicating with your existing customers, emails are ideal for any marketing goal.
You can use emails to:
Reach out to people who have abandoned a cart
Promote discounts, sales, and new products
Alert customers to company updates
Confirm purchases and other transactional processes
On-site intake forms
The final — and most basic — form of lead generation is an online intake form. These forms can be anything from a landing page call-to-action (CTA) or a pop-up. These forms give prospects a chance to enter their information, so you can reach out later.
An effective lead intake form will include slots for:
A name
A company
An email address
A phone number
You can make these forms fit your goals and push customers to complete an action. Some companies offer discounts in exchange for contact information, like this form from Dr. Scholl's: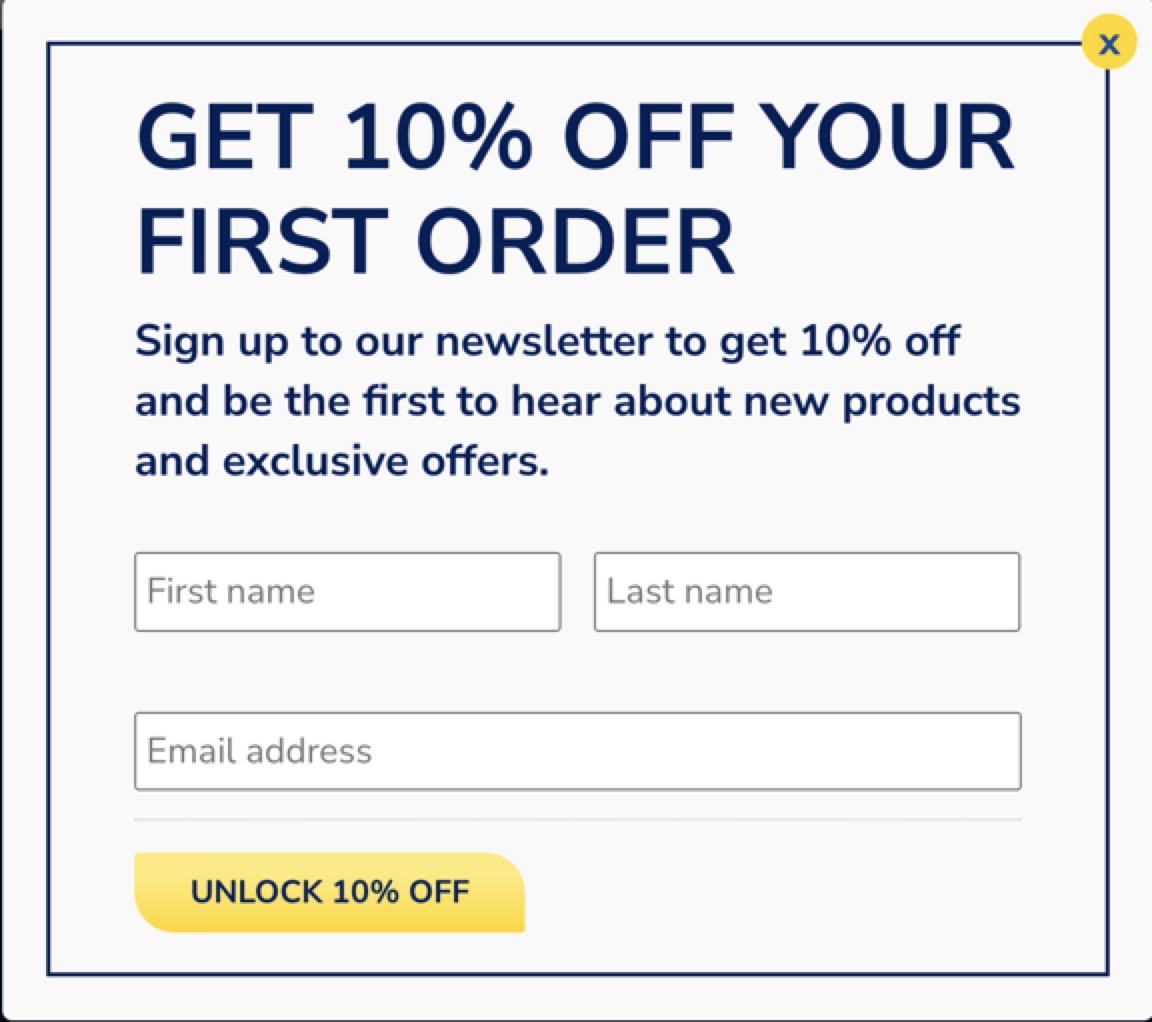 Others use them as access points for studies or other documents.
How to generate leads for orthotics — 3 tips
Follow the tips below to get the most out of your lead generation strategy.
1. Create buyer personas
If you know who your target audience is, you can create buyer personas to help you keep them in mind while generating leads. Buyer personas are constructed identities that help you market your products.
Some key information to consider for orthotics buyer personas include:
Age
Gender
Job title
Health concerns
Say that you create affordable orthotic inserts for people with hip and back pain. You might target older women who have limited income who could benefit from the pain relief at an affordable price.
2. Limit intake forms
If you have any intake forms on your site, make sure to limit the information you ask for to improve completion rates. You want to focus on the most important information that affects your marketing and sales efforts.
Having a 10-question form pop up when a client is browsing your products can interrupt their shopping experience and make them not want to fill it out. However, giving them a discount in exchange for their email encourages them to complete it and streamlines the process.
3. Track key performance metrics (KPIs)
Once you launch any lead generation strategy, it's imperative to track your performance and make changes as necessary. Different strategies will have different ways of tracking the results.
Some crucial KPIs to monitor include:
Conversions
Average session time
Bounce rate
Ideally, you will have a convenient way to track your KPIs for each channel. MarketingCloudFX — our proprietary software — makes it easy to pool your marketing, email, and lead generation data into one convenient platform for your team.
Measuring the metrics that affect your bottom line.
Are you interested in custom reporting that is specific to your unique business needs? Powered by MarketingCloudFX, WebFX creates custom reports based on the metrics that matter most to your company.
Leads

Transactions

Calls

Revenue
Learn More

Bonus tip: Work with a lead generation agency for the best results!
Now that you have the basics of lead generation down, it's time to start planning your approach. Need some help? That's where WebFX comes in!
Our results speak for themselves. In the past, we have generated 7,839,684 leads and $3,021,182,299 in revenue for our clients. We work with businesses across 154 industries, and orthotics is no exception.
If you want help creating a lead generation strategy that drives results for your company, let us help. We will create a personalized plan that targets your specific audience and needs. Contact us online today to get started!
Increase your leads, sales, and revenue with digital marketing
Find Us Driving Revenue Nationwide