As an orthotics provider or manufacturer, you need ways to place your offerings in front of patients who need them most. While some paid advertising methods use a blanket approach to target everyone, there are alternative options — like pay-per-click (PPC) advertising.
PPC for orthotics is the ticket to getting more people to your website to use your products or services. With PPC, you optimize your advertising efforts to get those most in need of orthotics — whether that's individual patients or manufacturers.
So, what is PPC for orthotics? How can you use it to advertise to your prospects effectively? We answer these questions with examples below. Read on to learn more, and call 888-601-5359 to speak with a specialist about how PPC can improve your revenue!
Questioning the quality of your SMB's PPC performance?
Get your FREE PPC audit from WebFX today!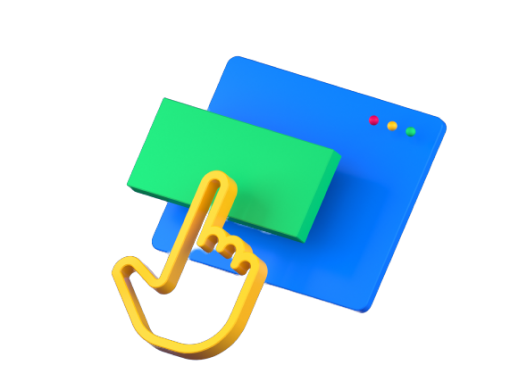 PPC 101: Everything about PPC for orthotics
Let's cover the basics of PPC for orthotics manufacturers before jumping into how you can create a campaign.
What is PPC for orthotics?
PPC is a type of paid advertising for orthotics where you only pay when someone clicks on your ad. PPC ads can display on social sites, search engine results pages, ecommerce sites like Amazon, and more.
Here's how PPC works on Google:
You create an ad and submit it.
When someone searches for a term related to your ad (i.e. "orthotic inserts"), Google will analyze all the ads available and decide which ones fit the search best.
When a user clicks on your ad, you will pay Google your predetermined fee, also known as the bid amount.
Ad hosts use various factors to determine which ads are right for their audience, including your ad relevancy, keyword usage, and landing page.
Benefits of PPC for orthotics
PPC has a lot of advantages for orthotics manufacturers, including:
Specialized targeting: Instead of using a blanket approach for your ads, you can make sure that people search for your products and services find them. Ads can also increase brand awareness by 80%, helping people remember your company later when ready to purchase.
Budget control: With PPC, you determine how much you want to pay when someone clicks on each ad. Instead of leaving it up to chance, you can set a max price that you don't go over.
High return on investment (ROI): Businesses make $2 for every $1 spent on PPC. Even if you set a low budget for your ads, you can still expect to earn more from your PPC ads.
Above all, PPC ads give you a better chance at reaching the right people with your budget. Instead of spending a higher amount on ads that reach everyone, you can save money reaching people who want your services.
PPC examples for orthotics
Let's outline a few visual examples of how orthotics companies use PPC ads.
On search engines, PPC ads appear at the top and throughout the results pages. When someone enters a term like "orthotics for sale," they will see "Sponsored" results: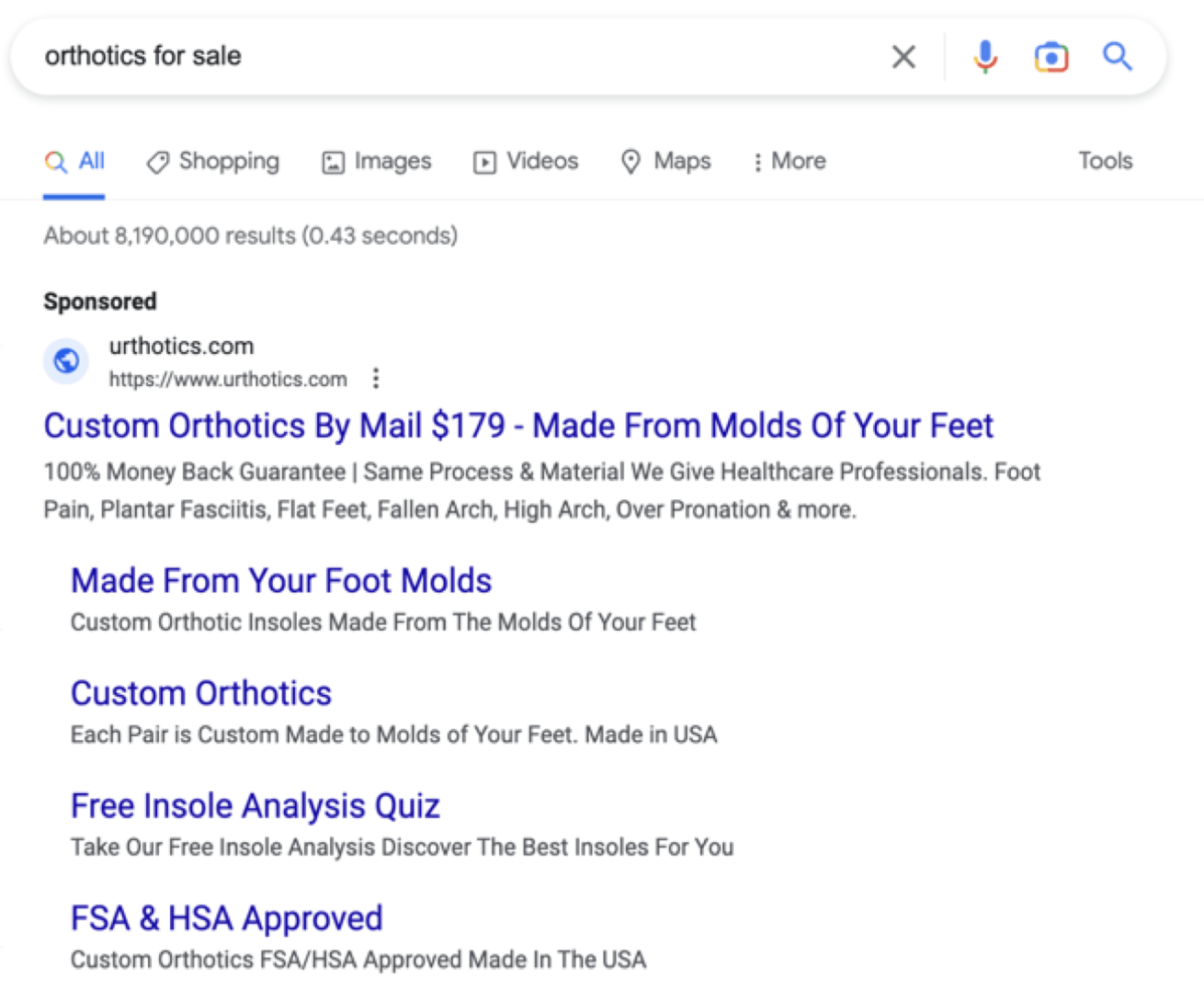 On sites like Amazon, the process is the same. The ads always have a "Sponsored" content distinction:

Depending on your business and whether you sell to customers directly, each platform will have different benefits and uses.
How to use paid advertising for orthotics
Here are a few steps for creating a PPC plan:
1. Set your budget
Before you begin creating ads, you need to set a budget first. The average PPC campaign costs $9000 to $10,000 per month, but this figure will change depending on your company, funds, and needs.
Let's say you want to run a limited campaign for a few months to get traffic for a new orthotic device. You might spend $9000 for a month and then cut the campaign once you earn more traffic.
Since PPC ads create bursts of new traffic to your site, you can choose how much to spend and how long each campaign lasts.
2. Create solid landing pages
Your landing pages are where people land after clicking on your ad. These pages can make or break your campaign efforts.
For example, say that you run a campaign about orthotic insert manufacturing. However, when someone clicks on your ad, the page is irrelevant to the ad, or the design makes it hard to read. They will bounce and likely not return, and you still must pay.
Your landing page design should:
Pertain to the ad
Be easy to read
Include helpful, attractive visuals explaining your product or service
Use our proprietary keyword research tool,
KeywordsFX

, to help you find high-quality keywords for content and PPC campaigns. Identify Top Keywords for Free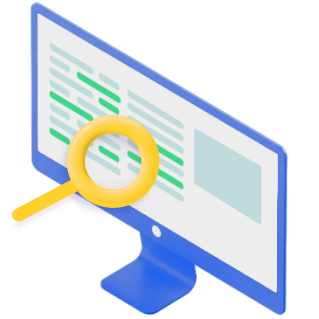 3. Develop attractive ads
Now that you have a baseline for your advertisements, it's time to create them! Your ads represent your business, so you should take time developing the ideal design.
Depending on the platform you choose, you can integrate:
You should also make sure that your ads are responsive so that everyone can access them regardless of their device. Working with a PPC agency can also ensure that you get stunning ads that represent your brand.
4. Test and monitor your ads
Once you develop your ads, you should test them to see how effective they are at bringing in traffic and conversions.
If you run a campaign through Google, for example, use a tool like Google Analytics to see how much traffic your landing pages get before you launch your campaign. Then, check your key performance indicators (KPIs) regularly to see how the advertisement has impacted your site.
You can also use A/B testing to measure your ads' success. A/B testing lets you compare two different versions of the same ad to see which one your audience responds to better.
Traffic attracted through PPC advertising yields 50% more conversions than organic advertising.
Are you leveraging PPC in your marketing efforts? Let's get started.
View the Guide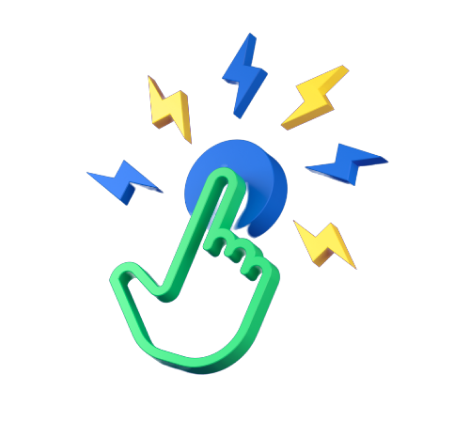 WebFX knows PPC for orthotics
If you want help creating your PPC campaign, look no further than WebFX. With over 25 years of experience, WebFX has the tools and expertise to help you outline, develop, and publish quality PPC ads.
In our time, we have generated $3,021,182,299 in revenue for our clients and managed 650 ad campaigns. Our team has also created 355,000 unique ads for our clients to help them attract new customers.
Ready to learn more? Request a quote today!
Increase your leads, sales, and revenue with digital marketing
Find Us Driving Revenue Nationwide