As an orthotics provider or manufacturer, you need a way to target your orthotic devices directly to providers or clients. Search engine optimization (SEO) can help you grow your online presence while targeting your ideal audience.
Whether you serve orthotic surgeons with custom-manufactured orthotics or sell directly to patients, digital marketing can help you accomplish your goals. Keep reading to see how SEO for orthotics manufacturers can integrate seamlessly into your operation.
Want to talk to an expert about how SEO services can expand your reach? Call 888-601-5359 today!
These are real SEO results driven for a WebFX client.
You're next.
Learn More About SEO Services


260%
increase in organic revenue

198%
increase in organic transactions
150%
increase in organic traffic

3872%
increase in sessions from SEO
SEO 101
Learn more about SEO with some commonly asked questions from your industry.
What is SEO for orthotics?
SEO is the process of optimizing your website so that it appears higher on search engine results pages (SERPs) when users search for relevant terms. For orthotics, this means placing your website in front of users who want to buy or create custom orthotics.
Say that a user searches the term "custom foot orthotics" on Google. The results will look like this: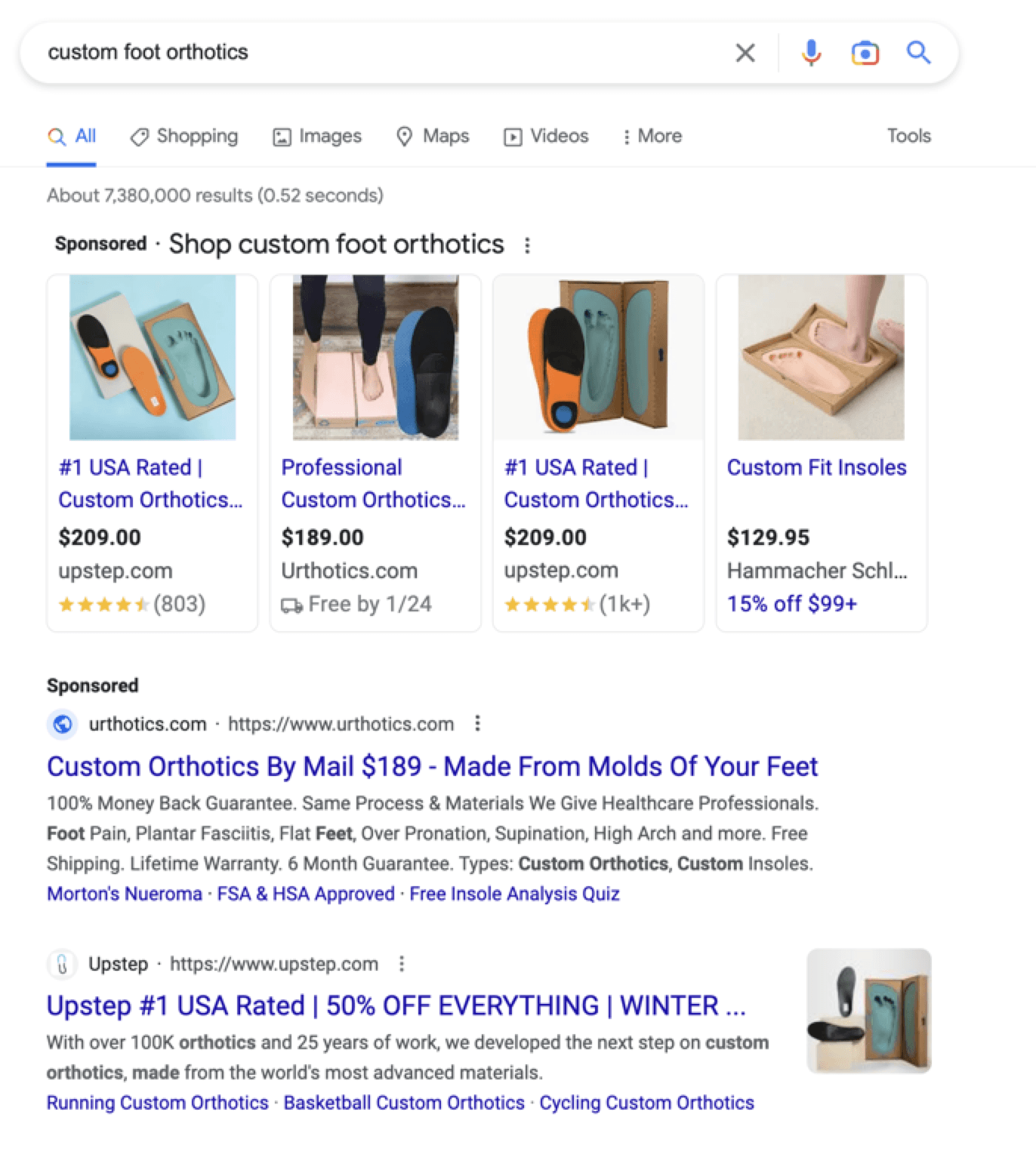 The "sponsored" tag comes from paid advertising, but Google determined that the Upstep result was the most relevant to what the user wanted. Since the first five positions on Google get 68% of all clicks, you should aim for the top spots to encourage conversions.
What are the benefits of SEO?
SEO is prevalent in every industry, and over 89% of marketers say that SEO is successful for their company. If you want to grow your website and find more customers, SEO can help.
Orthotics companies can also expect the following advantages:
SEO can extend to other areas of marketing, too. If you have an existing newsletter or social media presence, you can maximize efficiency by guiding people to your website.
How is SEO different from other marketing strategies?
Many customers hear about orthotics during a visit with their doctor or surgeon. Committing to orthotics is an investment, and patients need to be sure about the brand and style they choose.
Orthotics providers may advertise using pamphlets or brochures in a doctor's office, which can help with exposure at the moment. However, many patients also research orthotics to learn more about the types, fitting, and uses.
SEO can help patients learn more as they research online, and you aren't limited to a physical advertisement strategy. You can fit more information on your website than a pamphlet, leading customers to be surer about their purchase.
Regardless of your other strategies, adding SEO ensures that your customers have a place to land while they research. You can include your website on pamphlets and encourage them to learn more online.
4 SEO techniques and examples
Marketers employ different SEO techniques to address different factors and optimize websites. Check out this video for a quick breakdown of the different types of SEO.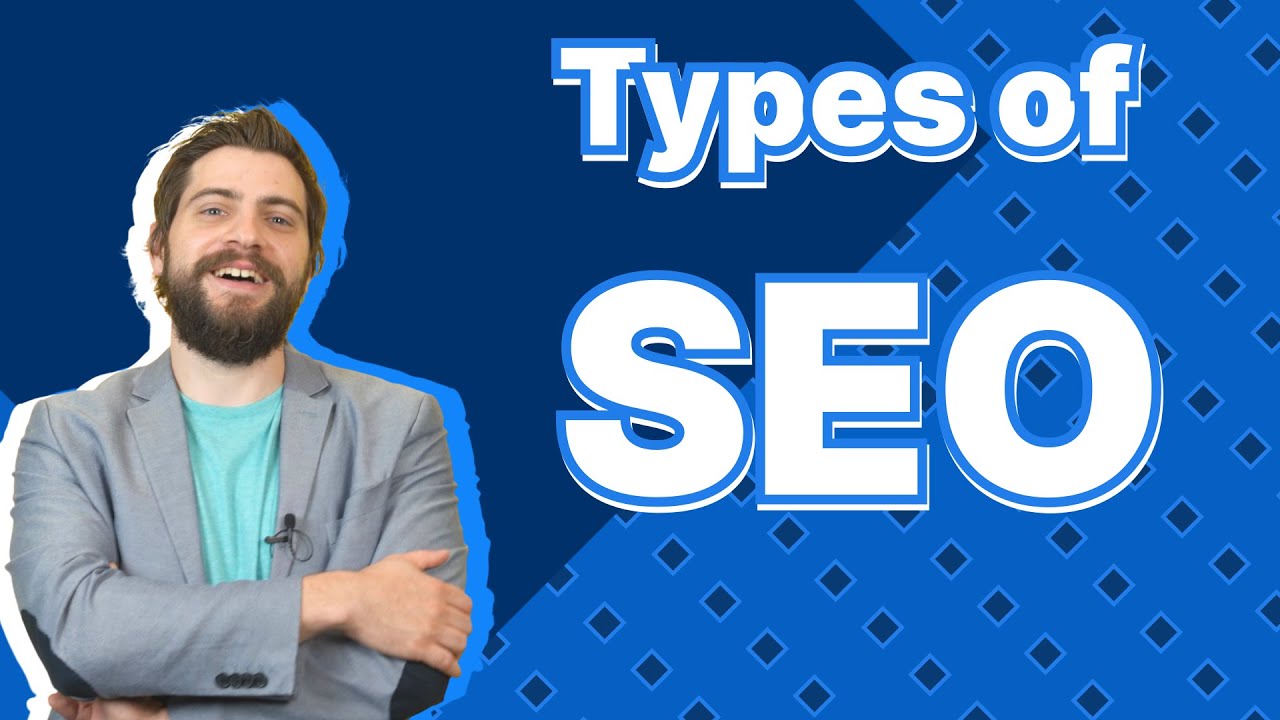 Below are four different SEO examples that could improve your orthotics company.
1. On-page SEO
On-page SEO covers all factors and changes on your website. On-page SEO is completely in your control, and you can complete all these changes yourself or with a professional.
Some on-page SEO factors include the following:
While the results for on-page SEO are ongoing, you can expect higher conversions, more traffic, and more qualified leads over time.
2. Off-page SEO
Unlike on-page SEO, off-page SEO deals with factors outside your website. These changes may be out of your control, but they make up about 80% of the search algorithm, so you must find ways to boost them.
Off-page SEO comes from:
The purpose of off-page factors is to show Google that your site is relevant to other users. For example, say you write a blog post about the different materials in orthotics. If another prominent industry name links to it, Google will recognize that your page — and site — has value.
Before you begin making changes, check your off-page SEO with online tools. This page includes a free off-page SEO checker and breaks down the different features that go into the calculation.
3. Local SEO
Some businesses and manufacturers only serve select areas, and it's important to distinguish that feature to customers. That's where local SEO comes in.
Local SEO uses SEO approaches to target local customers, outline your service area, and determine your physical location. If you search for orthotics in a specific area, Google will show a map of relevant businesses and their description: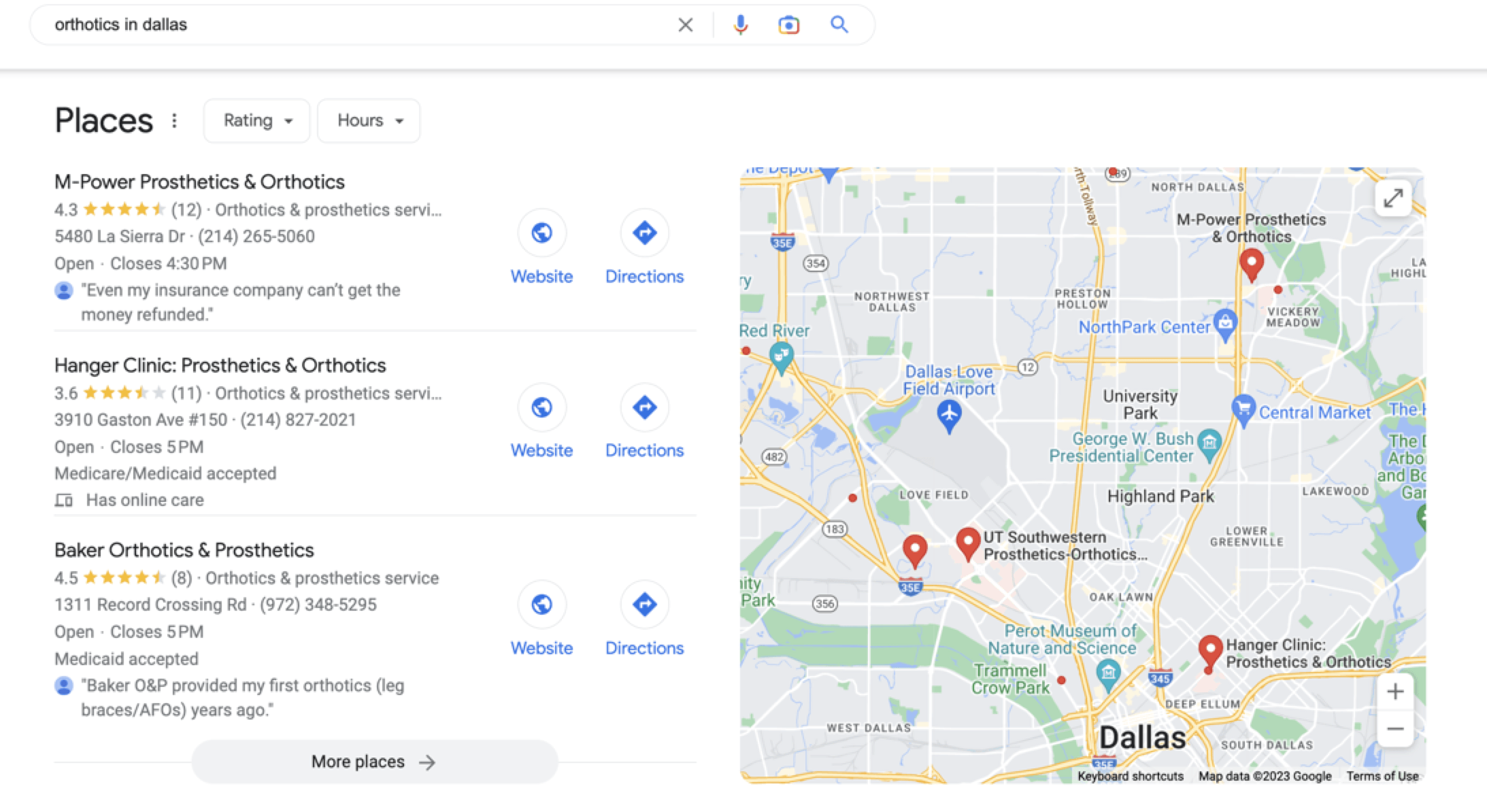 Say that someone out of state is searching for orthotics and they find your website. If you only serve a certain location, the user just wasted their time researching your site, and you gain false traffic. With local SEO, you can ensure that only customers in your target area see your services.
4. Technical SEO
Technical SEO comprises the backend site features that optimize your site. Your technical SEO helps create a smooth user experience while helping your page in search engines. It can also ensure that users don't leave as soon as they get to your site.
The following are basic technical SEO features:
Many healthcare companies don't have the internal resources to handle coding and technical advancements. If you don't have the technical expertise, a professional SEO agency like WebFX can help. We have the resources to handle your website development and design.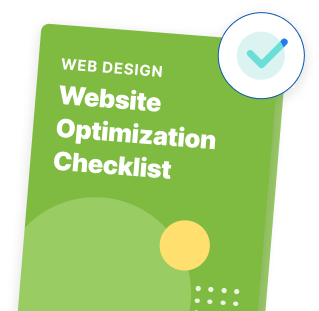 Avoid customers saying
"I can't find your website."
Download our A-to-Z website optimization checklist to increase traffic and conversions!
Get My Website Checklist
WebFX provides SEO and advertising for orthotics manufacturers
An SEO agency can simplify the process while ensuring your desired results. WebFX has worked with clients across 154 industries and helped generate 7,839,684 leads.
When you choose us, you get an SEO partner. You can be as hands-off as you like, knowing that we will improve your website to help it rank and drive revenue. With us, you'll meet your dedicated account manager and have the same contact for every operation.
Ready to get started? View our industry case studies to see the results, and request a free quote to see how we can get your site to the top of the SERPs!
Increase your leads, sales, and revenue with digital marketing