Social media is crucial for businesses in every industry, including health care. Today, more and more individuals turn to the Internet and social media to research their health-related concerns. If your organization is active on social media, you'll meet consumers where they are and attract new patients.
Keep reading to see how social media can transform your outpatient care center! You can also give us a call at 888-601-5359 if you'd like to speak with a strategist and learn more about digital marketing efforts in the health care industry.
Growing your social presence with WebFX is a walk in the park.
"WebFX allows growing your social media platforms to be stress-free! They are knowledgeable and adapt to your company needs!"
Learn More About Our Social Media Services

Why is social media for outpatient care centers essential?
If you want to grow your outpatient clinic, you need to take advantage of every tool you have available, social media included. Many people search for information and schedule appointments online rather than visiting clinics in person. Creating a social media presence will give your care center the visibility to attract new patients.
Social media offers many other benefits for your outpatient clinic, including:
Competitive edge:

As the health care industry becomes increasingly competitive, your outpatient care center needs to stand out to attract new patients. Creating an active online presence will provide the advantages you need to stay ahead.

Credible presence:

A social media presence shows your audience you are relevant and involved with trends and expectations. It also offers the opportunity to be the source of truthful information your target audience searches for and needs.

Personal connections:

Many individuals base their health care decisions on their relationships with doctors and organizations. Your social media accounts will help you create the meaningful connections patients seek when searching for outpatient clinics.

Cost savings:

Opening a social media account is completely free, and maintaining it or running ads on a platform can be relatively inexpensive. Involving social media in your marketing efforts offers high returns on your investment.

Improved focus:

The health care industry is focused on people and their needs. Social media is one of the best ways to learn more about people and what they want, giving you the insights you need to grow your business and satisfy your patients' concerns.
How to use social media to benefit your outpatient care center
Check out these tips for using social media to grow and support your outpatient care center!
1. Educate your followers
One of the primary reasons people follow health providers on social platforms is for educational content. You have the opportunity to help followers live healthier lives by sharing credible, peer-reviewed information. Some ways to educate your audience include:
Conducting interviews with experts

Citing research

Sharing healthy lifestyle tips

Explaining care options

Linking to helpful government resources
2. Create multiple types of content
Use various types of content to capture your audience's attention. Social media users love visual content, so create videos, post pictures, and craft infographics to keep your audience engaged and interested. Visual content is easy to share, which means your followers can help you increase awareness of health topics and promote your services.
3. Build a community
Interacting with your followers is just as crucial as posting content. Just as your care center focuses on helping people, so should your social media activity. A few ways to get involved and build a community include:
Asking questions

Responding to comments

Expressing thanks

Encouraging healthy discussions

Keeping up with personal messages

Inviting followers to get involved

Running polls or surveys
4. Establish credibility
Social media allows you to connect with other experts in your field, helping you network and contribute to important dialogues happening in the industry. As you join groups, participate in discussions, share research, and connect with professionals, you can increase respect and establish authority for your practice.
5. Use the right platform
Create accounts on the platforms your target audience uses, and be sure to use each network to its fullest potential. A few platforms to consider include:
Facebook:

With its large user base, Facebook is ideal for sharing general news and updates about your practice.

Twitter:

Many Twitter users come to the platform for breaking news, so take the opportunity to share current information about your industry or clinic.

LinkedIn:

If you want to build your reputation and establish yourself as an authority, LinkedIn provides many beneficial opportunities.
6. Track performance
While posting new content frequently is a great habit to have, you'll want to ensure your posts are effective. Be sure to keep track of various social media data points, noting how well your followers respond to different types of content and topics so you can adjust your strategy accordingly.
7. Partner with industry influencers
One way to build your organization's credibility is to partner with other industry influencers. Many doctors and health care professionals have substantial online followings, offering you opportunities to expand your audience and improve your credibility. Be sure to work with reputed medical professionals to maintain your audience's trust.
8. Promote your organization
Since many people will discover your clinic via social media, you'll want to ensure your online presence accurately depicts your organization. Use the space to showcase your facility by describing upgrades and highlighting staff members. Celebrate awards, accreditations, certifications, and other milestones you achieve.
Posts presenting these positive trust builders may provide the assurance a potential patient needs to select your clinic over another.
9. Practice professionalism
Social media can provide many benefits to health care organizations, but only when they maintain a professional appearance and attitude. Ensure your posts are genuinely helpful to your community and only share information that is truthful. Promote a positive, uplifting environment by using respectful and professional language.
74% of people use social media when making a purchasing decision.
Make their decision easy with a stellar social media presence. See how your brand can level up by requesting a no-obligation proposal today.
One of our experts will be in touch within 24 hours!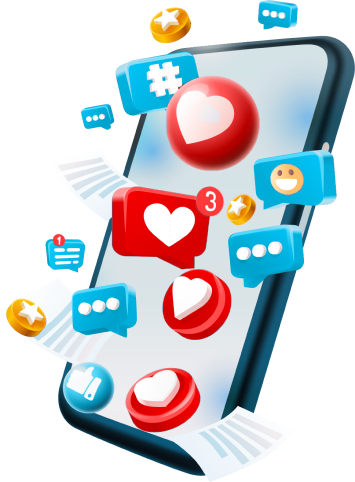 Let WebFX help you build your social media presence
Ready to grow your outpatient care center through social media? WebFX can help! Our team of digital marketing experts has experience working with health care companies like yours to create effective social media strategies that drive revenue. Contact us online today to see how we can help transform your business!
Increase your leads, sales, and revenue with digital marketing
Find Us Driving Revenue Nationwide