With the opioid crisis getting worse every year in the United States, rehab has become and will remain one of the most popular industries in the world.
The Substance Abuse and Mental Health Services Administration (SAMHSA), a national treatment referral and information service, received an average of 68,683 calls per month in the first quarter of 2018. This was an increase from the previous year, and if the trend continues, the industry will continue to treat hundreds of thousands of clients every year.
Unfortunately, since the industry continues to grow at an alarming rate, it makes it one of the best industries for scammers to find a home.
Not only do scammers steal personal information belonging to those who need help the most, but they take advantage of the system — stealing business from treatment centers who can truly help those who need treatment.
Though online scams have always been an issue, the boom of the opioid crisis made the rehab center industry even more susceptible to scammers — leaving online advertising platforms with a huge problem. That's where LegitScript comes in.
What is LegitScript?
LegitScript is the new norm for rehab centers that want to advertise with Google or Facebook ads. It provides a workaround for rehab and treatment centers to place ads without falling victim to scammers.
When a center receives their LegitScript certification, it's a signal that they've gone through a vetting process that proves they're not a scammer. Throughout the vetting process, centers have to provide crucial information like where their center is located and written policies of how they treat their patients.
To become certified, they also have to give LegitScript permission to do wellness checks on their property at any time.
This system of vetting is a surefire way for Google and Facebook to keep scammers from derailing treatment services for those who need it most.
LegitScript certification isn't only required for rehab centers. If you are an in-person addiction treatment center operating on Google or Facebook, a mutual support group that operates on Google, or are a crisis hotline operating on Google, you must be LegitScript certified to place ads.
On this page, we'll talk about the importance of LegitScript certification for rehab centers and how it can help treatment seekers get back on track.

Hear What It's Like to Work With WebFX!

"WebFX has worked diligently to learn our business and has been successful and continuously upgrading search engine optimization results. Their passion for getting results shows."
Addiction Treatment Center
Why get LegitScript certified?
LegitScript certification is the answer to a long-standing problem that rehab centers have faced for years. In short, LegitScript certification is crucial for anyone in the rehab industry that uses paid ads to attract clients to their rehab center.
Pay-per-click ads (PPC), allow your rehab center to attract clients that need your services — since the ads target users based on the keywords that they search.
For example, if a client is in need of heroin rehab, they might search a keyword like "heroin rehab centers in [their city]". This ultra-specific keyword would return ads for rehab centers that offer that exact kind of treatment, in that exact location.
So why do these ads present an issue?
Though the ads connect clients with rehab centers, they're also a huge opportunity for scammers to steal money and personal information for those seeking treatment. It's often difficult to tell a fake ad from a real one, so scammers don't have a hard time making a living on rehab center ads. Until now.
Here are just a few benefits of LegitScript certification.
Your ads will stay active
If you try to advertise your rehab center with ads on Google or Facebook, your campaign will likely be suspended unless you are LegitScript certified.
This means you're losing valuable time that you could be using to attract patients to your center. When you become certified, you don't have to worry about your ads being paused or suspended, and you can spend more time attracting clients who need your help.
You'll have a badge of trust
When you work with LegitScript, you can ensure that patients will trust you and your services. It's a fairly extreme vetting process for rehab centers to become certified, so those that are able to place ads are the real deal. All potential clients will know that you operate safely and legally within the rehab center industry.
Google requires LegitScript certifications for rehab centers
Google wants to provide users with the best possible information for the queries that they search. That means when someone searches for "heroin rehab centers in Pittsburgh," Google aims to provide the best possible options to the user, for that specific keyword.
After extensive monitoring, Google picked up on the fact that scammers were taking advantage of the industry in the form of PPC ads, which called for some sort of certification process like LegitScript.
Before Google teamed up with LegitScript, they removed all ads that targeted specific rehab center keywords in September 2017. This exponentially decreased the number of scams that took place since Google Ads completely blocked the use of ads for these specific keywords.
While this was a great resolution for blocking scammers, it was a less-than-desirable method for legitimate rehab centers, since they could no longer rely on PPC as a form of lead generation for their centers.
In the meantime, Google searched for a way to re-open PPC ads for centers who gave legitimate treatment to their patients. From their research, LegitScript certifications were brought to life.
What can a LegitScript certification do for rehab centers?
After receiving LegitScript certifications, rehab centers can use Google Ads to advertise their centers. But rehab centers' need for a LegitScript certification spans farther than just Google Ads.
In 2018, Facebook partnered with LegitScript as well, requiring that their ad platform users also become LegitScript certified.
With both Google and Facebook now requiring LegitScript certifications to place ads on their platform, the process is made easier since one certification is good for both.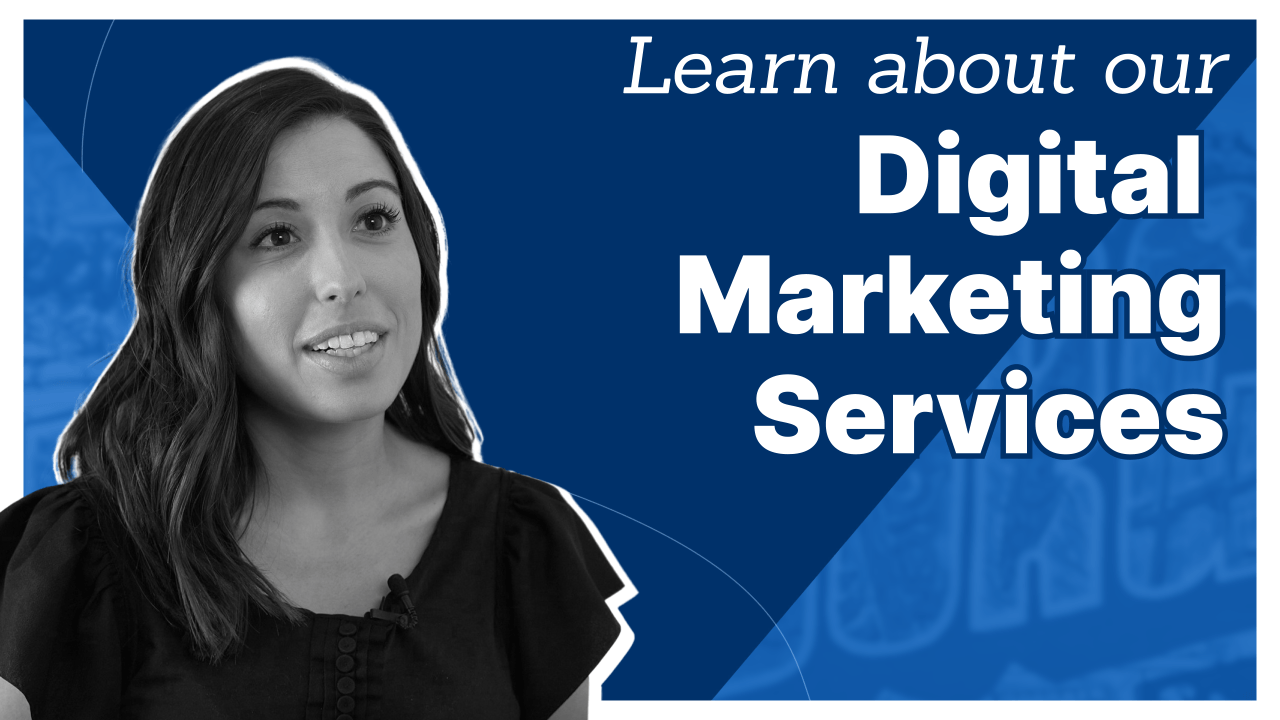 So how do you apply and become certified? Read on to learn more.
How do I become LegitScript certified?
If you're a rehab center that is looking to become LegitScript certified, the process is fairly simple.
1. First, you'll want to apply on LegitScript's website. The application process is fairly simple, but there is a lot of information you'll have to provide.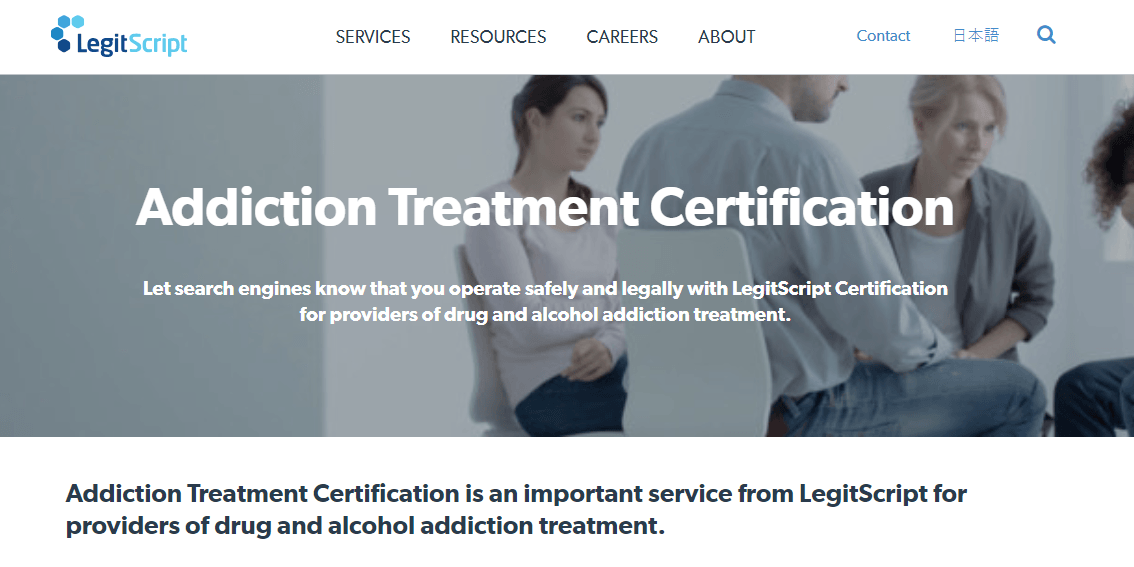 2. Provide LegitScript with all necessary information. If you don't comply with LegitScript and provide documentation for all the necessary certification standards that they require, your certification process will take longer. Provide LegitScript with all necessary information. If you don't comply with LegitScript and provide documentation for all the necessary certification standards that they require, your certification process will take longer. You'll need to provide proof that your rehab center operates in a professional building and not a residence, criminal background checks on the owner of the center and all the employees, resumes of all employees, and proof that your purpose is to provide beneficial treatment to your patients. You must also provide proof of insurance for your treatment center, a list of the treatments and medications that you provide for patients, and an agreement that states LegitScript can come to inspect your facility at any time. These are just a few items on the list of requirements that LegitScript asks for when applying. You can find the rest on their website.
3. In addition to applying on LegitScript's website, you'll also have to apply on Facebook and Google after receiving your LegitScript certification. You can simply sign in to your respective platforms and submit proof that you've been LegitScript certified. After that, you'll have permission to start advertising with rehab keywords again.
LegitScript promises to make the process as quick and painless as possible, since they know that so many rehab centers rely on PPC ads to attract clients.
Do you need help with PPC ads after you've been certified?
If you're a rehab center that has just been LegitScript certified, congratulations! The next step is to ensure that your ads on Google and Facebook are reaching the clients that you can help treat.
WebFX is a full-service Internet marketing agency that specializes in PPC ad campaigns that drive results for rehab centers like you.
We have over 1020 client testimonials, and have generated over $3 billion in revenue for our clients in the last five years alone.
If you want to work with an agency that can help your rehab center stand out with PPC ads, feel free to contact us online, or give us a call at 888-601-5359 to speak with a specialist.
We can't wait to help your rehab center thrive!
Earn a 20% greater ROI with WebFX