Did you know that 93% of all online experiences begin with a search engine? That means that almost everyone who goes online — whether they end up visiting a specific website, browsing social media, or doing something else — starts with a Google search.
When it comes to marketing your speech-language pathology (SLP) clinic online, Google is the ideal place to begin. With such a large audience already there, it gives you a chance to reach countless users who might be in need of speech therapy.
The best way to reach people through Google is with search engine optimization (SEO). But what is SEO for speech therapists, and how can you use it to drive conversions for your practice? Read on for the answers to those questions.
Then consider partnering with WebFX — the SEO agency with over 25 years of experience — for our expert SEO services. Just call 888-601-5359 or contact us online today to get started!
Independent research from Clutch has named WebFX the
top SEO company

in the United States.

Clutch has personally interviewed more than 250 WebFX clients to discuss their experience partnering with us.

Read More Clutch Reviews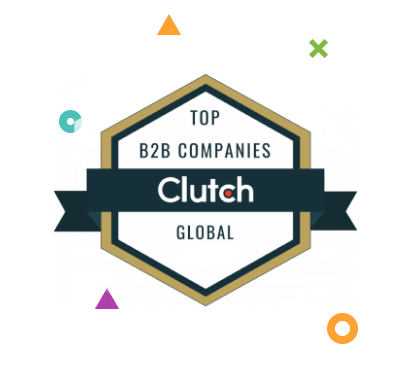 What is SEO for speech therapists?
SLP SEO is a strategy that involves optimizing your web content to rank in Google search results. The goal is for users to encounter your content in relevant searches, leading them to your site, where they can convert into patients.
SEO is composed of various processes and tactics, but all of them aim to do the same thing — satisfy Google's ranking algorithms, so your web content will appear in search results. That content can take different forms, from videos to blog posts, but it should all offer helpful or interesting information.
As users come to your site to engage with your content, many will end up seeking out your services, or they'll remember you down the road when they are looking for speech therapists.
6 expert speech therapist SEO tips
SEO involves optimizing multiple facets of your marketing, so there are several things you can do to help your content rank. Some involve technical elements of your site, while others are more content-based.
Here are six fantastic speech therapist SEO tactics to try!
1. Target long-tail keywords
One of the most critical speech therapy SEO strategies you can implement is to include relevant keywords in your written content. When you write a blog post, for example, you should center it around a particular keyword like "what is slp."
Specifically, aim to target long-tail keywords — that is, those that are several words long. Long-tail keywords are more specific to particular search intents and also tend to come with less competition.
Having keywords in your content tells Google which searches to rank your content for, and since your keywords will be so specific to particular groups of users, it will help you reach your ideal audience and bring more people to your site.
2. Optimize page speeds
Page load speeds are vital to the success of your SLP SEO. With 83% of users expecting pages they visit to load in three seconds or less, a page that takes longer than that will undoubtedly see many users hitting the "back" button.
To avoid losing large swaths of your site visitors in the first few seconds of arriving, try to keep your pages loading quickly. Some ways to do this includes:
Caching web pages
Compressing images
Minifying code
You can check your page load speeds with a tool like Google's Page Speed Insights. With fast-loading pages, you'll be able to retain more traffic and drive more conversions.
3. Earn backlinks
When it comes to SEO, you don't just want to rank in Google — you want to rank high. If you're not on the top page of search results, it's unlikely your content will earn any clicks. Fortunately, there are ways to rank higher, beginning with link-building.
Link-building refers to the process of earning backlinks, which are links to your content from third-party websites. Ideally, you want to earn backlinks from a few reputable websites in the field of speech therapy.
When reputable websites link to you, it tells Google that you're reputable too, so it ranks you higher. You can earn backlinks by finding broken links on other sites and recommending that they replace those links with new ones to your content.
4. Implement responsive design
Did you know that over 50% of all Internet traffic comes from mobile devices? That means that if your website isn't mobile-friendly, you're missing out on the majority of your potential traffic. Furthermore, Google ranks sites based on their mobile formats, so a non-mobile-friendly site won't rank at all.
To avoid losing all your traffic, you need to create a mobile-friendly website, which you can do by using responsive design. A responsive website rearranges its structure depending on the device where it appears.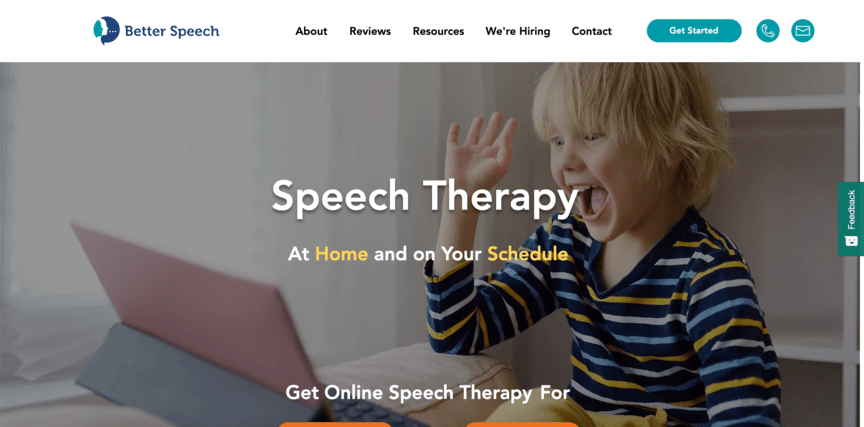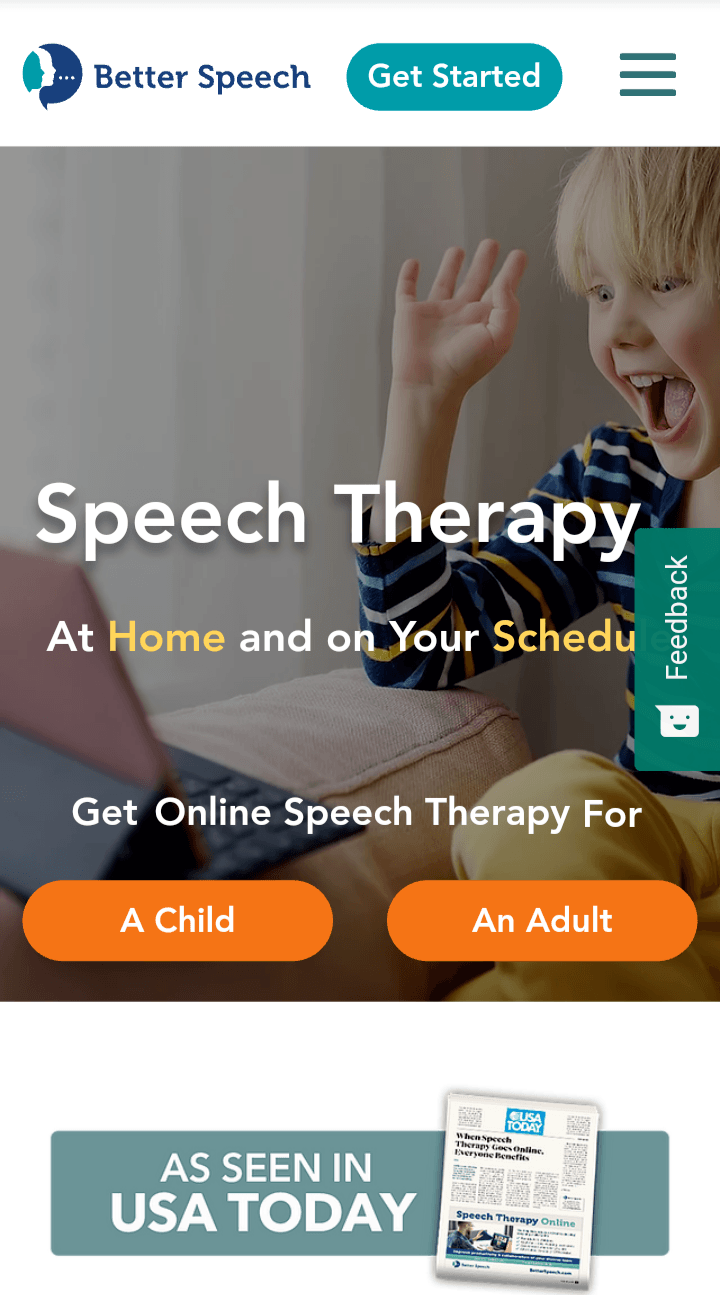 The result is that your site will retain the same elements on both desktop and mobile but will restructure them to fit the screen someone is using.
5. Create a Google Business Profile
Not all speech therapist SEO comes down solely to what's on your website. You can also make your way into Google search results through other means, particularly Google Business Profile.
Google Business Profile is a platform that lets businesses create online profiles in Google, which can appear in local search results. You can do this for your practice by setting up an account and inputting your name, address, phone number, and more.
When people in your area search for something like "speech therapist near me," your Google Business Profile may appear in the results as part of a local 3-pack. Users can also find your profile when they look up your address on Google Maps.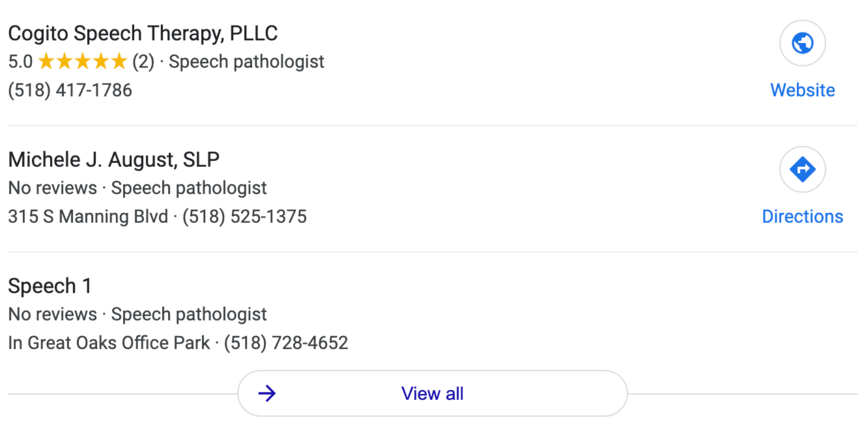 You may already have an existing profile associated with your address, in which case you can claim it by verifying ownership of your practice.
6. Track analytics
A key element of any SLP SEO campaign is analytics tracking. You absolutely want to monitor the progress of your campaigns to see what's working for you and what isn't.
You can do this by using tools like Google Analytics. When you set up a free Google Analytics account, you can connect it to your website to view metrics related to site traffic and user activity. You may find that certain pages are driving quite a bit of traffic, while others aren't.
Accessing this information will allow you to figure out where you should optimize your SEO to drive better results. You can improve traffic to key pages on your site and write blog posts on topics proven to attract people's interest.
Learn how we increased traffic by over 40%, and conversions by over 100% for an ecommerce client.
Read the Case Study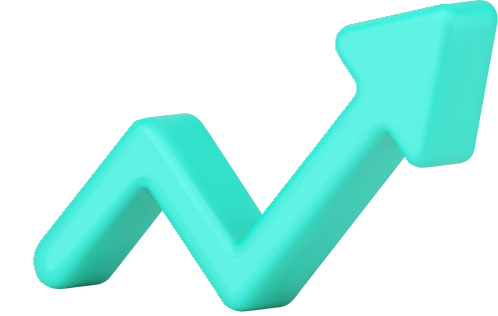 WebFX can optimize your speech therapy SEO
Ready to get your content ranking in Google results and generating new patients for your practice? Let WebFX give you a hand! With over 1020 client testimonials, we're the agency that speech therapists trust to drive top-tier SEO results.
With our SEO services, you'll get help optimizing your speech therapy SEO for each of the tips listed above and more. You'll also receive a dedicated account representative to keep you informed and involved in everything we do for you.
To get started with us, just give us a call at 888-601-5359 or contact us online today!
Earn a 20% greater ROI with WebFX