If you're looking to expand your reach online, social media is a great place to start. With over 3.4 billion social network users, you don't want to miss a golden opportunity to reach people looking for your telehealth services.
Social media for telehealth offers many opportunities for you to increase brand exposure and reach new patients.
On this page, we'll tell you why you should invest in social media for telehealth and offer six tips for nailing your social media campaigns. If you need help getting started with your social media campaigns, contact us online or call us today at 888-601-5359 to speak with a strategist!
Why you should use social media for telehealth
So, why are social media and telehealth the perfect pair? Check out these three reasons for investing in social media marketing.
1. Social media for telehealth increases brand awareness
Social media for telemedicine enables you to earn more brand awareness for your practice. When leads follow you on social media, they get more insight into your practice and your services. It helps them get familiar with your brand and understand what your practice does.
Additionally, with social media advertising, you can introduce your brand to leads that haven't discovered it yet. When you opt for social media advertising, you can get your telehealth company in front of new users with detailed targeting options. Even if a user doesn't need your services currently, the brand awareness that your ads build mean that they'll remember you when they do need your services.
An increase in brand exposure leads to an increase in conversions overall.
2. Social media for telehealth humanizes your brand
As a healthcare provider, you're going to have patients that are afraid of or have anxiety about virtually meeting with a physician. It can be challenging to resolve these feelings, but with social media for telehealth, you can help humanize your brand and make people feel more comfortable.
Social media enables you to have a one on one connection with clients. You can share helpful information, provide insight about your practice, and more. It also allows you to answer any questions about your practice or services in the direct message feature that many social platforms offer.
3. Social media for telehealth helps you reach more qualified clients
When you build a presence on social media, you reach more people looking for telehealth services.
Social media ads enable you to put your practice in front of leads who actively seek out a telehealth provider. The precise targeting with these ads allows you to focus on obtaining leads that want your services, rather than weeding through a pool of people to figure out who's interested in your practice.
Additionally, the ability to connect and share valuable content directly to your audience enables you to turn leads into patients for your facility.

Hear What It's Like to Work With WebFX!

"WebFX gets it done! They've done a great job working with our changing vision and goals, and their turnaround times are wonderful. All staff are professional, timely, and friendly."
Healthcare
Best practices for running a social media campaign for telehealth
Are you excited to jump into social media for telehealth? Check out these six best practices for creating a killer social media strategy!
1. Nail down your target audience
Before you post any content, you must establish your target audience. You must know who you're trying to reach so you can create a social strategy that engages and delights your specific audience.
So, how do you establish your target audience?
Generally, you'll look at your typical patient to determine who's most likely to use your telehealth services. You'll want to define characteristics like:
Age
Gender
Location
Occupation
Socioeconomic status
And more
It's important to know that you may have different types of patients that use your practice. You can create individual marketing personas and target these personas based on their unique interests.
By establishing this information, you'll know who you're trying to reach with your social media marketing campaign. It will help you create social content that appeals to your audience.
2. Choose platforms where your audience engages
Once you establish your target audience, you can figure out which social media platforms will work best for your telemedicine practice. You can choose from platforms like:
You'll want to focus on platforms where your audience is likely to engage. If you're targeting multiple types of people, you may need to use various platforms to reach people in your audience.
You can research the platforms to see which demographics frequent each platform. It may require testing out some platforms to see how they work with engaging your audience and when in doubt, it never hurts to post content on every platform.
3. Keep your brand consistent across platforms
If you're using multiple social media platforms, you must keep your brand consistent. You want prospects to recognize your brand and become familiar with it — and one way to do so is by staying consistent.
You'll want to stay consistent with your:
Profile photo
Cover photo (if applicable)
Brand name/handle
Image style in posts
Video style in posts
And more
Let's look at Nutrimedy as an example. If you visit their Facebook page, you'll notice they have a light blue logo as their profile picture.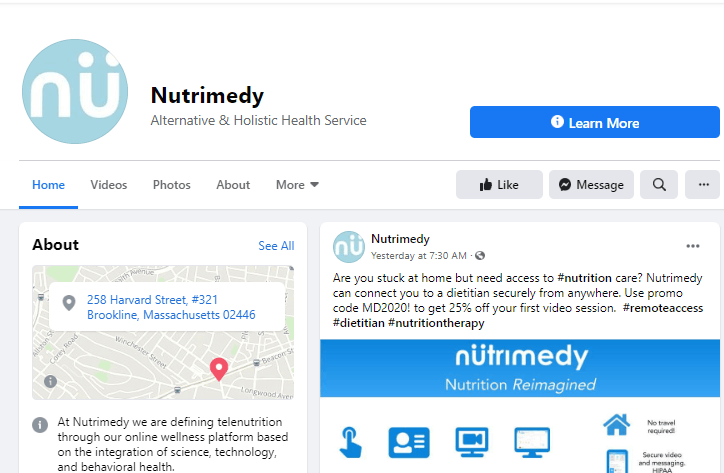 If you visit their Twitter page, you'll see the same logo on their profile page there.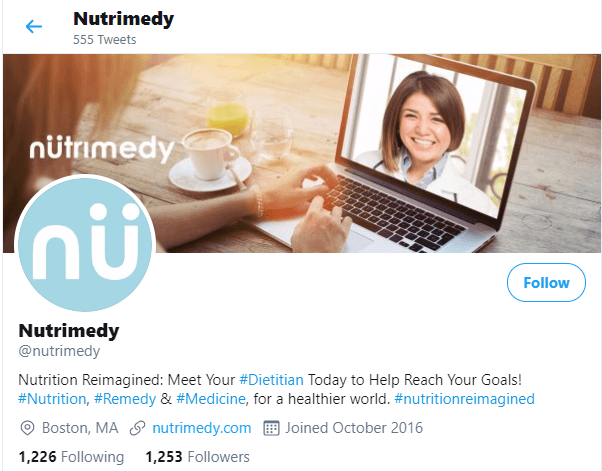 This example is a great representation of being consistent across your platforms. So, if someone finds your telehealth practice on Facebook and wants to follow you on Twitter, they can easily find the right profile to follow you.
4. Use visuals to engage your audience
Social media and telehealth can be a great combination for boosting engagement and brand recognition. If you want to boost engagement, you need to incorporate visuals as part of your social media campaigns.
Your audience follows hundreds of people and a variety of businesses on social media. Their newsfeeds are filled with content from different pages, so it's easy for your content to get lost in the mix. If you want to catch your audience's attention, you need to use engaging visuals.
You can use photos, videos, and infographics to catch your audience's attention. You'll want them to be high quality and stand out on the page.
Regardless of the visual you use, make sure it's reflective of your brand. The color scheme and style should reflect your business, so your audience will recognize your style and continue to become familiar with it.
5. Create different types of content
When you create content for your telehealth social media, you'll want to ensure you're sharing content in various formats. Some platforms have limited capabilities when it comes to content formats, but for the platforms that offer a variety, you'll want to take advantage of it.
Some platforms like Facebook offer content options, including:
Photos
Text posts
Videos
Infographics
Polls
Live videos
And more
You can use a variety of these content types to keep your posts fresh and exciting for your audience.
Other platforms, like Instagram, have more tailored content options. On this platform, you can post:
Photos
Videos
Even if you're limited with content formats, it doesn't mean you're limited with content style! For example, you could post pictures of your staff or photos with questions that spark discussion.
6. Create advertisements to reach new clients
When you combine advertising on social media and telehealth, you get a perfect combination for promoting your practice. Social media ads are incredibly effective at reaching people looking for telehealth services.
With social media ads, your ads appear in targeted users' newsfeeds. Social media promotions look like a normal content post in their feed — the only difference? They feature a sponsored tag.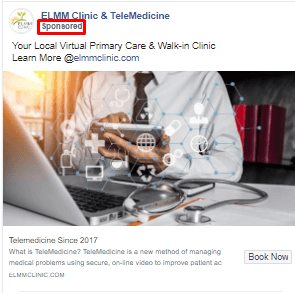 Social media ads are an excellent way for you to reach more interested clients. These platforms offer advanced targeting, which makes it easy for you to reach people who want telemedicine services.
You can run a variety of ads to catch your audience's attention. Most platforms have the option to run:
Text ads
Photo ads
Video ads
Carousel ads
Some platforms will have additional types of ads you can run, like Instant Experiences on Facebook or Promoted Accounts on Twitter.
Overall, social media ads are an excellent way for you to reach new clients and drive them to your telemedicine practice.
Get started with social media for telehealth today
Social media opens a world of opportunities for your telehealth practice. This strategy enables you to connect with people interested in telehealth and deliver relevant content to them.
If you don't have time to dedicate to building a social media strategy, WebFX can help.
We're a full-service digital marketing company that specializes in social media marketing and advertising. We know how to develop social media campaigns that drive results for your practice. We've driven over $3 billion in sales and over 7.8 million leads for our clients.
Ready to see how social media can help your practice grow? Contact us online or call us today at 888-601-5359 to speak with a strategist about our social media plans!
Earn a 20% greater ROI with WebFX