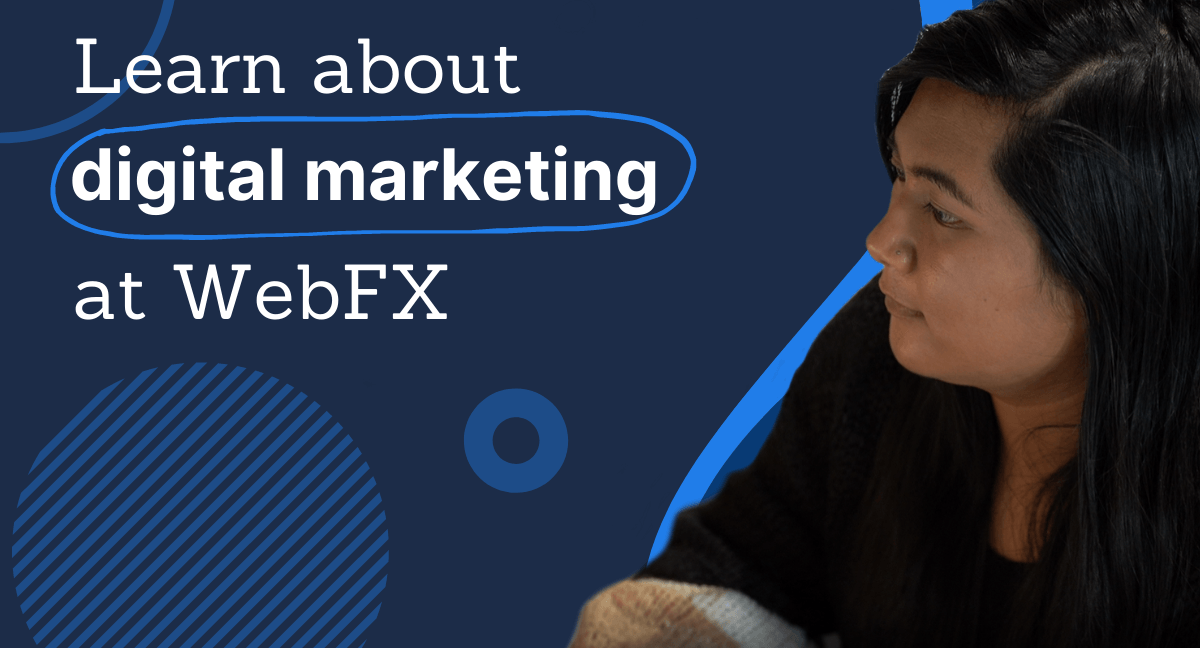 Expert construction marketing services for your business
If there's one thing your construction company needs to succeed, it's marketing. Knowing how to market your construction business is the key to drawing in potential clients and pushing them to convert. It's what makes people aware you exist and persuades them to hire you for your services.
But marketing isn't something you can handle in your spare time — it requires a significant amount of attention and effort. So, if you don't have enough time to devote to it, what do you do? Simple — you bring on a professional marketing agency like WebFX for our construction marketing services.
When you partner with us, we'll set to work reoptimizing your construction digital marketing to drive amazing results and skyrocket your revenue. Read on to learn about our digital marketing services for construction companies.
Then partner with us by calling 888-601-5359 or contacting us online!
WebFX is a partner businesses trust.
Hear from HydroWorx, who saw a 236% increase in organic sessions with WebFX services.

Watch the Video Testimonial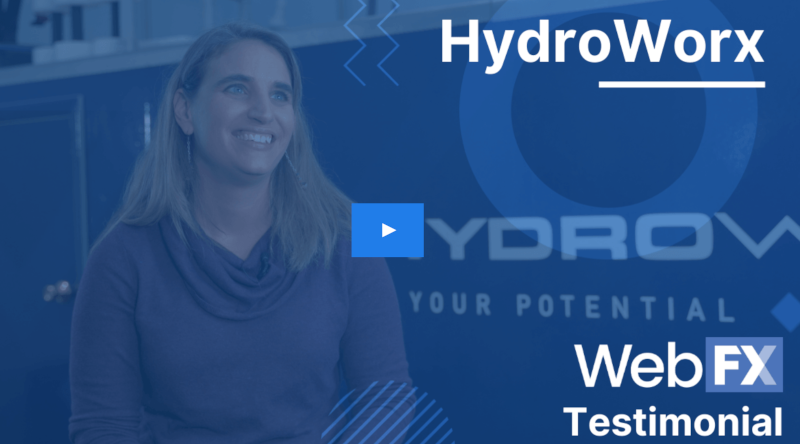 Hear What It's Like to Work With WebFX!

"We were looking for a forward-thinking but down to earth SEO company to partner with. Not only were we looking to build a long term business relationship but we needed them to understand our needs as a small company. And WebFX met all of that criteria. Our experience has been unparalleled; from the sales team who made the drive to our office to meet us in person to our Internet Marketer who has been an absolute joy to work with. They are completely transparent about their services and they take the time to explain everything which not only sets them apart from every other SEO company we have worked with but we also feel like we're taking something away from our interactions with the staff at WebFX. We are exited to see where this year will take us knowing that we have such a great support system with their company."
Home Contractor
What marketing services for construction does WebFX provide?
Marketing for construction isn't as simple as throwing up some paid ads and calling it a day. There are many ways to market yourself online, and WebFX specializes in several of them.
Here are the six main construction digital marketing services we offer!
1. Search engine optimization (SEO)
One of the services we offer is search engine optimization (SEO). SEO involves optimizing your web content to rank higher in relevant Google search results. The goal is for people to discover your content there, learn about your business, and end up hiring your company.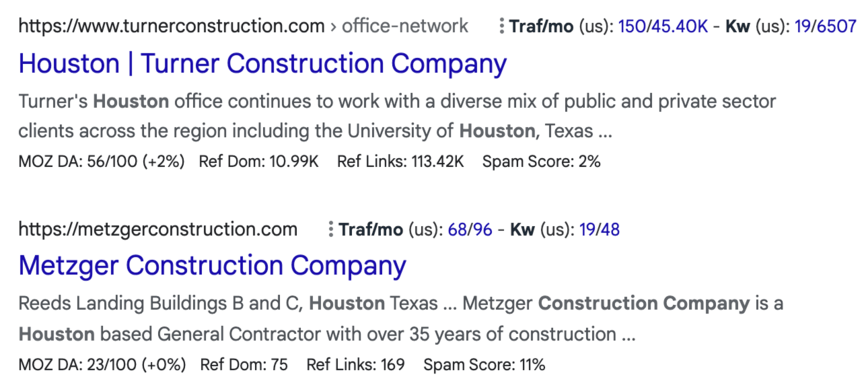 When you partner with WebFX, we'll work hard to optimize all your content so you can achieve higher Google rankings and outrank your competitors. We'll integrate relevant keywords on your site and help you earn reputable backlinks, among other tactics.
As a result, when people search for construction companies in your area, they'll quickly find your business and consider hiring you over your competition!
2. Pay-per-click (PPC) advertising
Another way to reach users in Google search results is to use pay-per-click (PPC) advertising. PPC lets you display paid ads at the top of search results, above the organic rankings. Best of all, you only pay for the ads when people click on them.

Clicking on your ads will take users to landing pages that encourage them to convert. At WebFX, we'll help you design both the ads and the landing pages. We'll also help you formulate the ideal keyword bidding strategy to use in Google Ads, helping you target the right searches.
3. Social media marketing
Social media marks another fantastic place to market to users online — unsurprisingly, since social media accounts for 33% of the average user's Internet time. By marketing there, you can reach large audiences of people and get your construction company on their radar.
Check out this video to learn more about social media marketing:
As part of our construction marketing services, WebFX will help you perform social media marketing by setting up an account on the platform(s) of your choice. We'll then develop engaging content for you to post. Your content will inform users about your business and encourage them to hire you.
We'll also help you run paid social media ads, which you can display in users' feeds. You can even target those users based on demographics like job title and location to ensure you reach just the right audience.
4. Web design and development
At the center of all your online marketing is your website. SEO, PPC, and social media all lead users back there, because your site is where users go to convert.
For that reason, your site needs to have a high-quality web design. It needs to look good and function smoothly to retain traffic.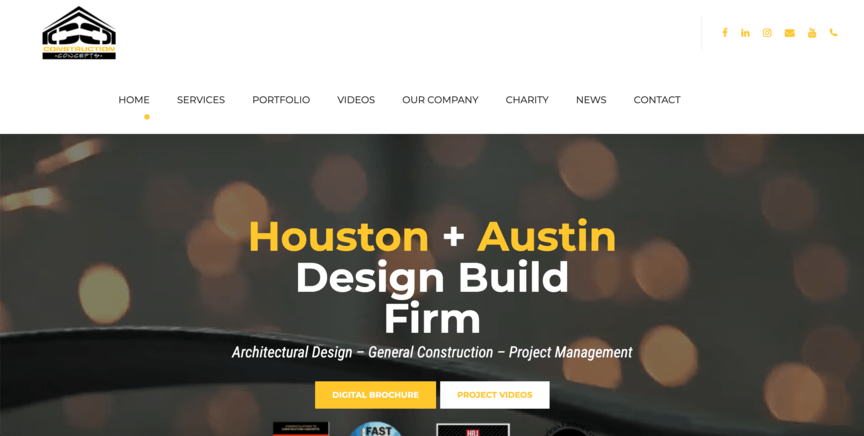 That's why WebFX focuses heavily on web design in our digital marketing services for construction. We'll build a site for you from the ground up, or reoptimize your existing site if you prefer. In either case, we'll ensure that your site is user-friendly and primed to drive conversions.
5. Content marketing
If you want people to visit your website, you need to have engaging content. That's the idea behind content marketing.
WebFX can help you craft compelling pieces of content on your site, ranging from blog posts to videos. Whatever the format, your content will be informational and useful to your potential customers.
As people visit your site to view your content, they'll become more familiar with you and be more likely to choose your construction company when they're ready to convert.
6. Email marketing
Email marketing is another excellent strategy to use in marketing for construction companies — and WebFX will help you get the most from it.
We'll start setting up email forms across your site where people can subscribe to your emails. As more people subscribe, we'll help you craft compelling and informative emails that nurture prospects towards becoming clients.
Ultimately, you can use your email campaigns to drive people back to your site and push them toward converting.
Good agencies have more than 50 testimonials.
Great agencies have more than 100 testimonials.
WebFX has over 1000+ glowing client testimonials.
See What Makes Us Stand out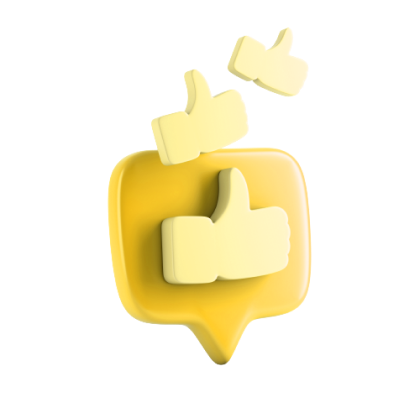 Why partner with WebFX?
You might be wondering why you should partner with WebFX for our construction marketing services rather than handling it on your own or going elsewhere.
Here are just a few of the things that make us an exceptional agency:
1. WebFX has decades of experience
The first quality that sets WebFX apart is our exceptional amount of experience. We've been driving marketing results since 1996, meaning we have well over 25 years of digital marketing experience.
Our team of over 500 marketing experts has over 1.6 million hours of expertise, making our expertise unmatched. By partnering with us, you can gain access to our team of experienced marketers and put them to work on your own campaigns.
2. WebFX is a full-service digital marketing agency
Not only does WebFX have over two decades of experience, but we're also a full-service digital marketing agency. That means we provide a variety of marketing services, as opposed to specializing in one or two strategies like many other companies.
By partnering with us, you'll gain the advantage of keeping all your marketing campaigns in the hands of one agency, rather than outsourcing to many companies.
Trying to go between different companies for your marketing can be a huge hassle. As a full-service marketing company, we make it easy for you to get everything you need under one roof.
3. WebFX drives superior results
Finally, WebFX has a long history of driving superior results for the businesses that partner with us. In the past five years alone, we've generated over 7.8 million leads and $3 billion in revenue for our clients.
Our client-first approach to marketing is proven to drive the results our clients desire. When you partner with us, you can gain access to that same amazing service!
WebFX knows marketing for construction companies
Looking to propel your construction company's marketing to new heights? Look no further than WebFX. We're the experts at marketing for construction, and we can't wait to show how we can help you grow your construction company!
When you partner with us, you'll gain access to all the services listed above and more. You'll even receive a dedicated account representative to keep close in touch with you about everything we do for your campaigns.
To get started with us, just call 888-601-5359 or contact us online today to learn more about our digital marketing services!