Contractors need new projects on a regular basis to be successful. Fortunately, there's never any shortage of people who want to restore or improve their homes.
The challenge is making sure that those people can find you, and when they do, you show them why they should choose you for the contracting services they need.
The best way to do this is by using long tail keywords with an search engine optimization (or SEO) strategy.
SEO involves a variety of strategies that improve your online presence. One of the most important is determining the words and phrases your potential clients use when searching for contracting services and using them on your website. This helps your site rank in search engine results for those keywords.
Selecting the keywords you use involves lots of research. In-depth keyword research is essential for a successful SEO strategy, and many of the keywords you wind up choosing will probably be long tail keywords.
Figuring out which long tail keywords will be effective can seem overwhelming, but it doesn't have to be! WebFX will work with you to determine effective and worthwhile long tail keywords. You can call 888-601-5359 or click the button below to get your free evaluation today!
What are long tail keywords?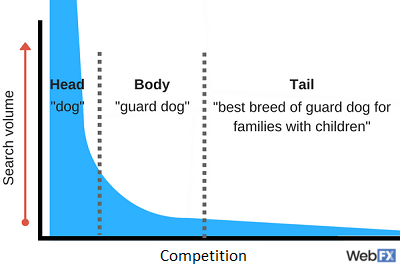 Long tail keywords are highly-specific words and phrases that search engine users type to find businesses like yours.
Technically, any keyword made up of three or more words is considered "long tail," but the most effective long tail keywords are even longer. They're much more specific than short, general keywords, and they're more valuable to your SEO strategy.

Hear What It's Like to Work With WebFX!

"We were looking for a forward-thinking but down to earth SEO company to partner with. Not only were we looking to build a long term business relationship but we needed them to understand our needs as a small company. And WebFX met all of that criteria. Our experience has been unparalleled; from the sales team who made the drive to our office to meet us in person to our Internet Marketer who has been an absolute joy to work with. They are completely transparent about their services and they take the time to explain everything which not only sets them apart from every other SEO company we have worked with but we also feel like we're taking something away from our interactions with the staff at WebFX. We are exited to see where this year will take us knowing that we have such a great support system with their company."
Home Contractor
Why do long tail keywords matter for contractors?
There are several benefits to using long tail keywords.
Less competition
One of the main goals of SEO is increasing your visibility online by ranking well in search engine results.
Many people who are new to SEO think the best way to achieve this is by optimizing their sites for keywords that people frequently search. These people often choose general keywords, like "home remodeling."
While many people probably search this keyword every day, there are also millions of pages online related to it. This means that if you want to reach users searching that keyword, you'd have to outrank all of those millions of other sites.
Unless you're a well-known company around the world, that's nearly impossible.
Instead, you should focus on long tail keywords.
Longer and more specific keywords have fewer sites attempting to rank for it. So instead of targeting the keyword "home remodeling," you could try to rank for "home remodeling company in Philadelphia."
When you choose keywords that are more specific to your location or the services you offer, you won't have to compete with as many other sites to rank for them. And the higher you rank, the more traffic you'll earn from search engines.
More qualified traffic
Short keywords give very little idea into what a searcher actually wants. Sticking with the same example of "home remodeling," a user searching for that keyword could be looking for many different types of information.
They could be looking for a contractor that specializes in home remodeling. But they could also be looking for DIY ideas, tips for their own projects, or just general information about what a remodeling project involves.
So even if you were able to rank for that keyword, many of the people who clicked through to your site wouldn't be interested in becoming a client.
Long tail keywords, on the other hand, indicate much clearer intent. If a user searches for "home remodeling company in Philadelphia," it's likely that they're interested in working with a contractor near the city.
Plus, when you rank for these targeted, highly-specific phrases, you can make sure that the content on your pages is specific to what they want.
Better content ideas
When you research long tail keywords for your site, you'll identify at least a few that are highly relevant to your business, but don't fit into the existing pages on your site.
These long tail keywords are perfect ideas for your content marketing strategy.
Even if some of them are more informational in nature (ex. "how much does it cost to remodel a kitchen" or "basement remodeling ideas"), providing the answers can bring visitors to your site. You can cover these topics in blog posts, informational pages, videos, and other formats.
When you publish this content on your site and optimize it for a long tail keyword, you bring the visitors searching that keyword to your page. And as long as you provide the information they want, you show them that you're a helpful resource in their project.
This is a good position for your contracting company, even if your site visitors aren't 100% ready to become clients. Later, when they're ready to research their options and contact a contractor, they'll remember your name as a trustworthy company – and return to your site to learn more about your services.
More conversions
Users searching for long tail keywords are typically much further along in the buying process than those making general searches.
After all, if someone includes an exact service name and location in their search, they have a much clearer idea of what they want than someone just searching for "remodeling."
This means that when they see your site in their results and visit your page, they'll be more likely convert into a lead. They might fill out a contact form, request a quote, or simply sign up for your email newsletter – all of which turn them into qualified leads for your business.
This reason alone makes long tail keywords valuable to your SEO strategy. Attracting five visitors who all convert with a long tail keyword is much more valuable to your contracting business than attracting 100 visitors from a broad keyword that don't convert.
A hole in your marketing funnel will drain your sales.
Learn how to patch it with our free tool.
Fix Your Marketing Funnel

How to find long tail keywords for contractors
Selecting the right long tail keywords for your contracting business requires a combination of industry knowledge and keyword research.
1. Brainstorm a list of starting points
Start your keyword research by listing all of the services you offer and the different terms people might use to look them up. For example, "kitchen remodeling," "damage restoration," and "home additions" are all possible starting points.
You should also add location-based keywords to your list, since you probably work on projects within a certain geographic area. Include your city, cities where you work, and other keywords that describe your region, like "Central PA" or "Eastern PA."
2. Expand your list with keyword research tools
Next, use tools like KeywordsFX and SEO Book to expand your list with possible variations of each keyword.
For example, entering the keyword "kitchen remodeling" in KeywordsFX search bar, the tool returns the following variations: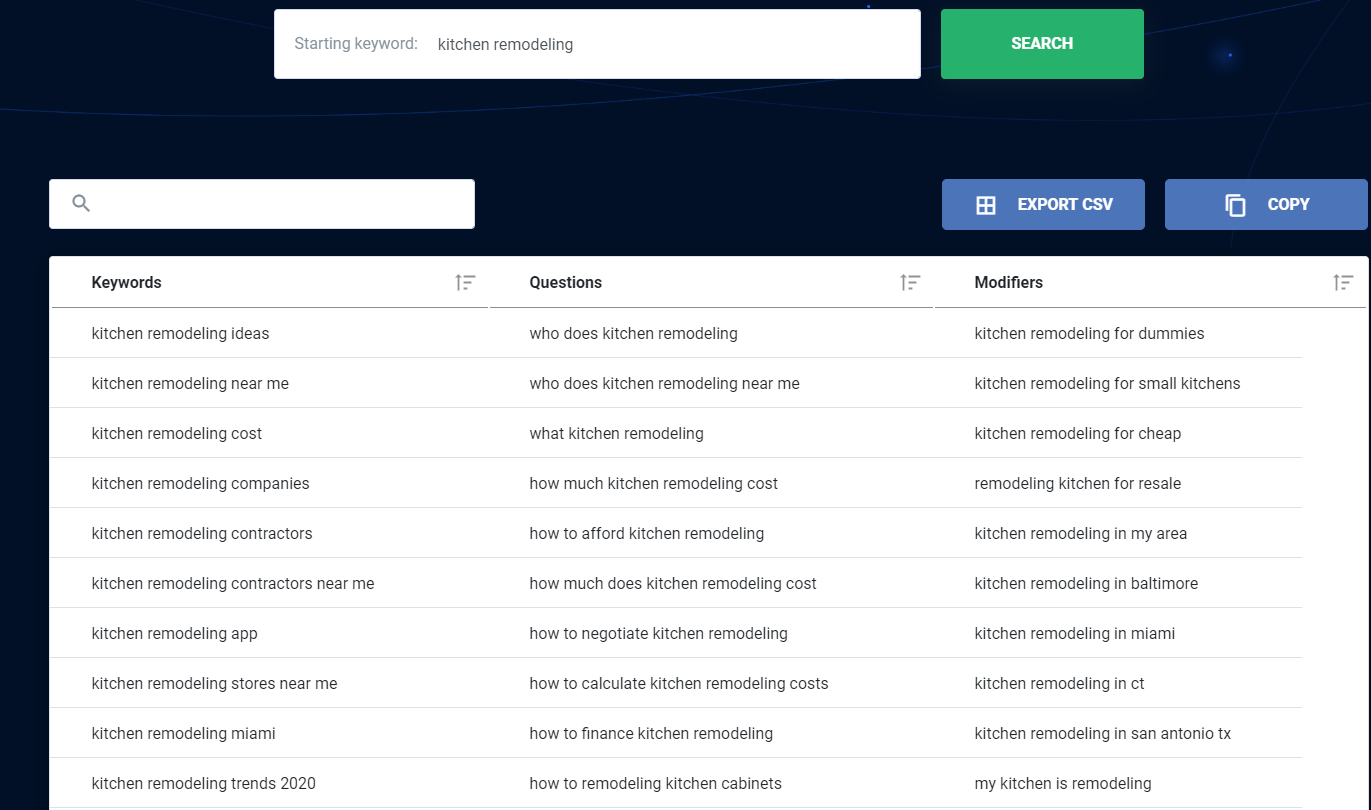 These suggestions are pulled from user search data, meaning they're the searches users commonly make for a certain topic. While some of them won't be relevant to your business, it's a great way to get a better idea of the information people want from your industry.
Many of these keywords are perfect ideas for blog posts. In the screenshot above, "kitchen remodeling ideas 2023" could be a great way to showcase new projects you offer this year. If any of them speak to your readers, they'll already be on your site to contact you about similar projects on their own homes.
You can also find long tail keywords by searching keywords in Google, then scrolling down to the related searches at the bottom of the page. Like KeywordsFX, these related searches are all based on user data.
If you search for "home remodeling," for example, you'll see these related searches:

Again, not all of these searches will be directly relevant to your business – "home remodeling loans," for example, would be a much better long tail keyword for a bank than a contractor.
But "home remodeling cost estimate" could be a great keyword for a page with quotes for different project types, and "home additions" would be a good idea for a keyword variation if it wasn't already on your list.
3. Determine the difficulty of your keywords
Now that you have an extensive list of keywords, you can narrow it down to the best options using Google's Keyword Planner.
Select "Get search volume data and trends" and enter all of your possible keywords. Then, you'll see the average number of monthly searches each keyword gets, as well as the competition level for each one.

The average monthly searches column shows how many people search that exact keyword per month, and the competition column pulls data from Google AdWords to see how hard it is to rank for that keyword. If a keyword has high competition, that means lots of companies are running ads for that keyword.
So even though it isn't based on how many pages rank organically, it can give you an accurate idea of how many other businesses are competing for traffic from users searching a keyword.
This means that the best keywords for your business are ones with high numbers of monthly searches and low competition.
However, a keyword can still be valuable with only a few searches.
In the screenshot above, for example, "kitchen remodeling Philadelphia pa" is searched 90 times per month. This may seem low when compared to the 2,900 monthly searches "home contractors" gets, but 90 people is still significant.
Considering that "kitchen remodeling Philadelphia pa" would be much easier to rank for (given the low competition level), it's a better choice for a local contracting business than "home contractors."
When you consider the search intent behind each keyword, it's likely to be even more valuable to your business. After all, people searching for "home contractors" may be looking for services you don't even offer – so even if you were able to rank for it, not all of the people searching it would be qualified customers anyway.
So instead of wasting time on high search volumes, focus on the keywords that are likely to bring potential customers to your site. Plus, 90 searches per month is nothing to scoff at – especially when they're 90 potential leads looking for the exact services you offer.
Want to learn more about optimizing your site for search engines?
Selecting the right long tail keywords is essential for helping your potential customers find you online. If you'd like to learn more about how to identify the right ones for your contracting business, WebFX can help.
We create custom SEO strategies for each of our clients, and we'll do the same for you. We'll get to know your business and the services you offer, then do in-depth keyword research to identify the best opportunities for your site. Then, we'll create a strategy for helping you rank for those high value keywords.
For more information, contact us today and get a free quote!
Earn a 20% greater ROI with WebFX