Your garage door company has countless digital marketing options for reaching and connecting with your target audience. But regardless of the channels you use, most of them will center on driving traffic to your website.
This means that your other marketing strategies will only be effective if you have a well-designed site that's capable of converting visitors into leads. It is essentially the foundation of your digital marketing plan — and it needs to be strong in order to drive the results you want.
Call us today at 888-601-5359 to speak with a strategist about web design plans from WebFX, or keep reading to learn more about how to build an effective site for your garage door company.
We don't want to tell you about the work we do, we want to SHOW you.
View Our Portfolio

We've built over
Websites
in a variety of industries.
Why is web design so important?
Your website's design plays a huge role in shaping perceptions of your business. There are few key reasons why it's essential to make sure that your site is an accurate representation of your brand.
1. It can make a first impression
For users who research their garage door options online, your site may be their first impression of your business — so it needs to make a good one.
Your website's appearance has a huge impact on how a visitor views your garage door company. If your website is old or outdated, that won't give visitors a ton of confidence in your brand as a whole — and may make them leave your site in favor of a competitor.
You need to give users a good first impression of your business. A professional, modern design is often all it takes to establish confidence in your brand and make them stay long enough to learn about what you have to offer.
2. It helps build your brand
A big part of any form of marketing is building brand recognition. You want people to easily recognize your brand. This helps them remember your business and think of it when they need the services you offer.
Your website can play a major role in building your brand. From your color choices to your design style, each element contributes to the overall look and feel.
By incorporating your existing branding, you provide a cohesive feel across all of your marketing materials. This helps potential customers remember your business — so that even if they're not immediately ready to convert, they'll remember your brand when they are.
3. It keeps people on your site longer
When you have people on your site, you want to keep them there long enough to engage with your content and learn about your services. Your design choices have a big impact on whether that happens.
If you have an unappealing design, you won't keep people on your site for very long. This means that they may leave before finding the information that will make them choose your business — and you could lose them as a lead.
A well-designed site can keep visitors engaged and navigating through your content easily until they're ready to make an informed decision.

Hear What It's Like to Work With WebFX!

"WebFX are consummate professionals. We have had few problems and when we did they were handled quickly and to our satisfaction. Additionally, WebFX regularly approaches us with new innovations for our SEO and web presence that allows us to stay current. They have simply made the most complicated aspect of our business simple."
Garage Door Repair Company
Web design tips for garage door companies
Now that you know the impact of web design, you might be wondering how, specifically, you can improve your company's site. While there are plenty of options, there are a few basic tips you can use to shape what your site looks like.
1. Incorporate your existing branding
Branding is an important part of web design. By incorporating your existing logo and color scheme, you build associations with your business right off the bat.
This will make it easier to earn visitors' trust and show them who you are. You can also carry the designs you create in the site process in other parts of your marketing campaigns. Whether you're launching social campaigns or display ads, using the same color scheme and fonts ensures that users easily recognize the brand that's on their screens.
2. Keep it simple
It is important to think about your business when you are creating your website's design. While eye-catching, over-the-top designs can be fun, your site should ultimately be designed to drive results.
As a garage door company, you should keep the focus on your products and services. Avoid using too many distracting elements that can take away from the content you want your visitors to see. You ultimately want people to check out your garage doors — and if your site is too busy, you could prevent that from happening.
Stick to a design that accentuates your products and makes them the focus on the page. For this goal, a simple and clean design is typically best.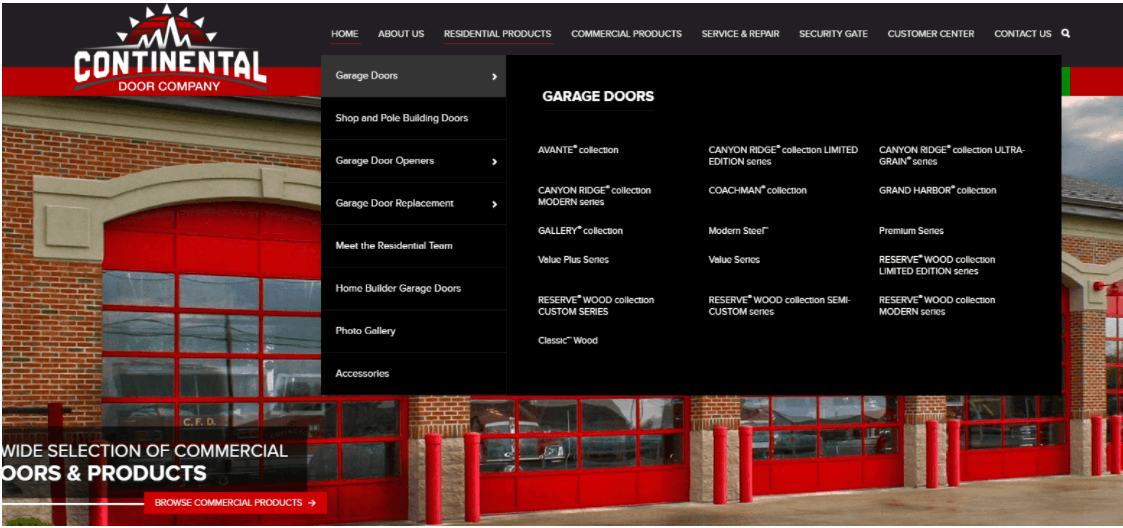 3. Use straightforward navigation
A big part of designing your website is creating functional navigation. Your navigation bar is what visitors use to access different pages and information.
Poor navigation can deter people away. If they can't find the information they are seeking, they will leave your site. Making it easy for visitors to find and access the information they need can have a serious impact on whether they convert.
You have a few options for navigation, but in most cases, the best option is to create a navigation bar that runs horizontally across each page. It should include straightforward headings like "About Us," "Services," and "Our Products," among any other categories that make sense for your business.
Then, you can add dropdowns below each category with links to more specific pages on your site. This will make it easy for visitors to know exactly where to click right off the bat, making it more likely that they'll stay long enough to find the information they need.

4. Be consistent
Your site should have a sense of consistency across your pages. Your design shouldn't vary too much between pages, and a certain level of consistency in certain elements will provide a more cohesive browsing experience.
This doesn't mean that the setup needs to be exactly the same on each page, though. As long as you use the same color scheme, fonts, and navigation, browsing your site should be a seamless experience.
5. Choose the right font
Font selection may seem like a minor concern, but your choice affects how your visitors interact with your site.
First, you need to choose a font that is readable. Although intricate font styles may seem like a good idea, they can severely affect readability. You don't want a user to have decipher your text, and elaborate script fonts often make that necessary.
Choose a font that is simple and easy to read. Then, select a font size that's large enough for users to skim. The easier the reading experience, the more likely your visitors will be to learn from your content.
Beyond font and size, you'll also need to consider color. Select a font color that contrasts with your background. This makes for easier reading and a better user experience.
Let WebFX open the door to your website's potential
If you're ready to create a site that your garage door company can use as a powerful marketing tool, WebFX can help. We're a full-service digital marketing agency with years of experience building effective sites for our clients.
Our award-winning designers will deliver a website you love that's designed with marketing in mind. And if you'd like to get an idea of what it's like to work with us, we have over 1020 testimonials from a variety of industries. Check them out to learn more about how you can benefit from a site built by WebFX!
Get started today with garage door company web design
If you're ready to create a results-driven website for your garage door company, contact us online or call us today at 888-601-5359 to speak with a strategist.
We look forward to opening new doors for your business!
Earn a 20% greater ROI with WebFX