Social media for hardscaping consists of platforms where businesses promote their hardscaping services, showcase their work, connect with potential customers, and build their brands. It allows hardscaping businesses to share their expertise and engage with their audience through visual content and interactive communication.
You can also receive customer feedback through social media to improve your hardscaping services, stay on top of market trends, and remain competitive. Additionally, it allows you to reach a wider audience and establish yourself as a reputable, reliable source for hardscaping solutions.
So, how do you implement social media strategies for hardscaping? This article covers the fundamentals of social media for hardscaping, what to post on social media, and how to create a social marketing strategy for hardscaping companies.
Here's a brief outline of what we'll discuss:
Growing your social presence with WebFX is a walk in the park.
"WebFX allows growing your social media platforms to be stress-free! They are knowledgeable and adapt to your company needs!"
Learn More About Our Social Media Services

What is social media for hardscaping?
Social media for hardscaping is the process of using social networks to showcase completed hardscaping projects, share ideas, and connect with potential clients. It allows hardscaping contractors to build their brand and establish themselves as experts in the industry.
Best channels to implement social media for hardscaping
When it comes to hardscaping, the best social media channels allow you to showcase your work visually. These platforms help you reach a wider audience and attract potential clients seeking inspiration and ideas for their hardscaping projects.
Here are three of the best social media channels for hardscaping:
1. Instagram
Instagram is one of the best channels to implement social media for hardscaping companies. As a visually-driven platform, Instagram allows you to exhibit your work and connect with prospective consumers through hashtags and geotags. It provides an excellent opportunity to engage followers through stories and interactive posts.
Instagram also allows hashtags to reach specific audiences and gain more visibility, making it easier for your hardscaping business to expand its reach and attract new clients.
For example, by using popular hardscaping-related hashtags like #patiodesign or #hardscaping, you can increase your business's chances of being discovered by users interested in those topics.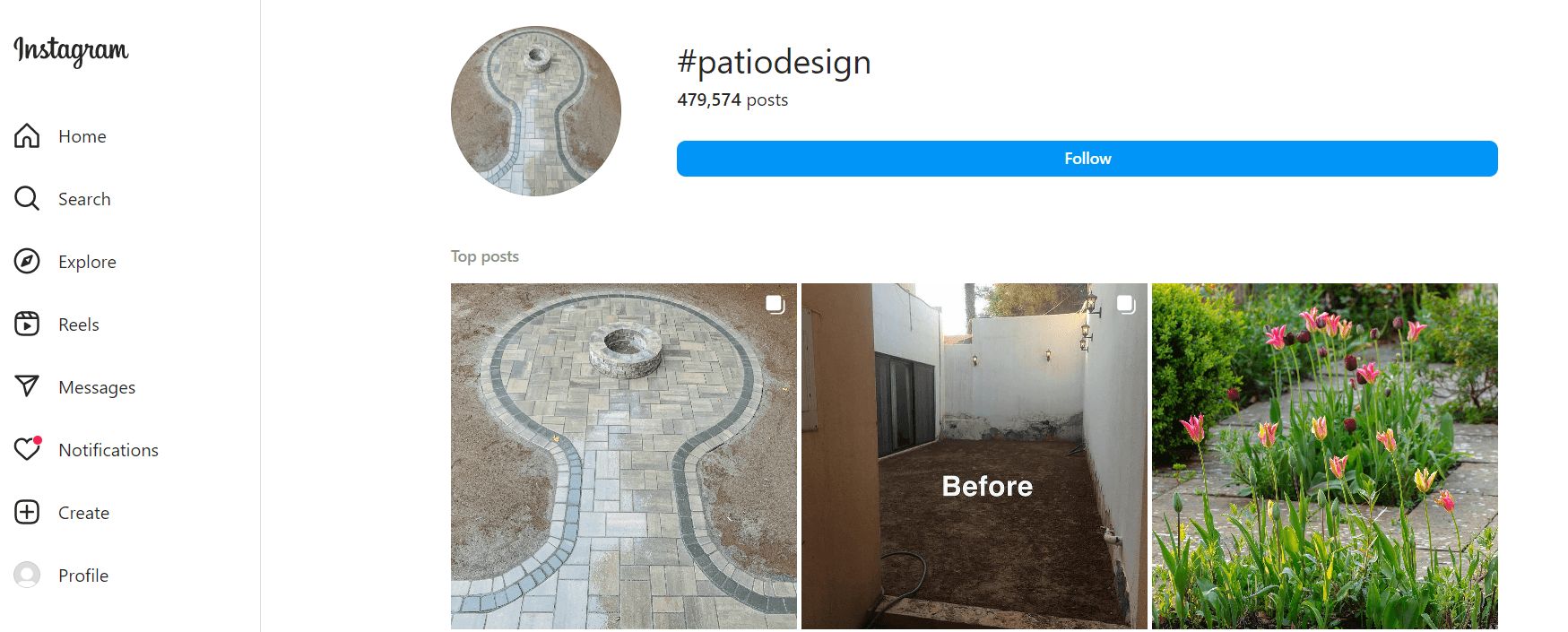 You can also use Instagram geotags to help target local customers. Instagram geotags are location markers that allow you to tag your posts with a specific location, such as a city, landmark, or business. This feature helps users discover and explore content from particular areas and connect with others who have shared experiences in those places.
You can use geotags to showcase your work and attract potential customers in the local area. For instance, if you are a hardscaping company in New York City, you can use geotags to highlight your recent driveway project in Central Park. This way, you can attract potential clients interested in similar projects in that area.
Instagram's analytics tools can provide valuable insights into the target audience demographics and engagement rates, helping you refine your marketing strategies and target your ideal customers. Additionally, the Instagram algorithm favors accounts that post consistently and engage with their audience, making it a valuable tool for building brand awareness and loyalty.
2. Pinterest
Pinterest is a visual platform that allows hardscaping professionals to showcase their work and connect with potential clients. It also enables you to create boards and save images, which provides inspiration and ideas for homeowners looking to improve their outdoor living spaces.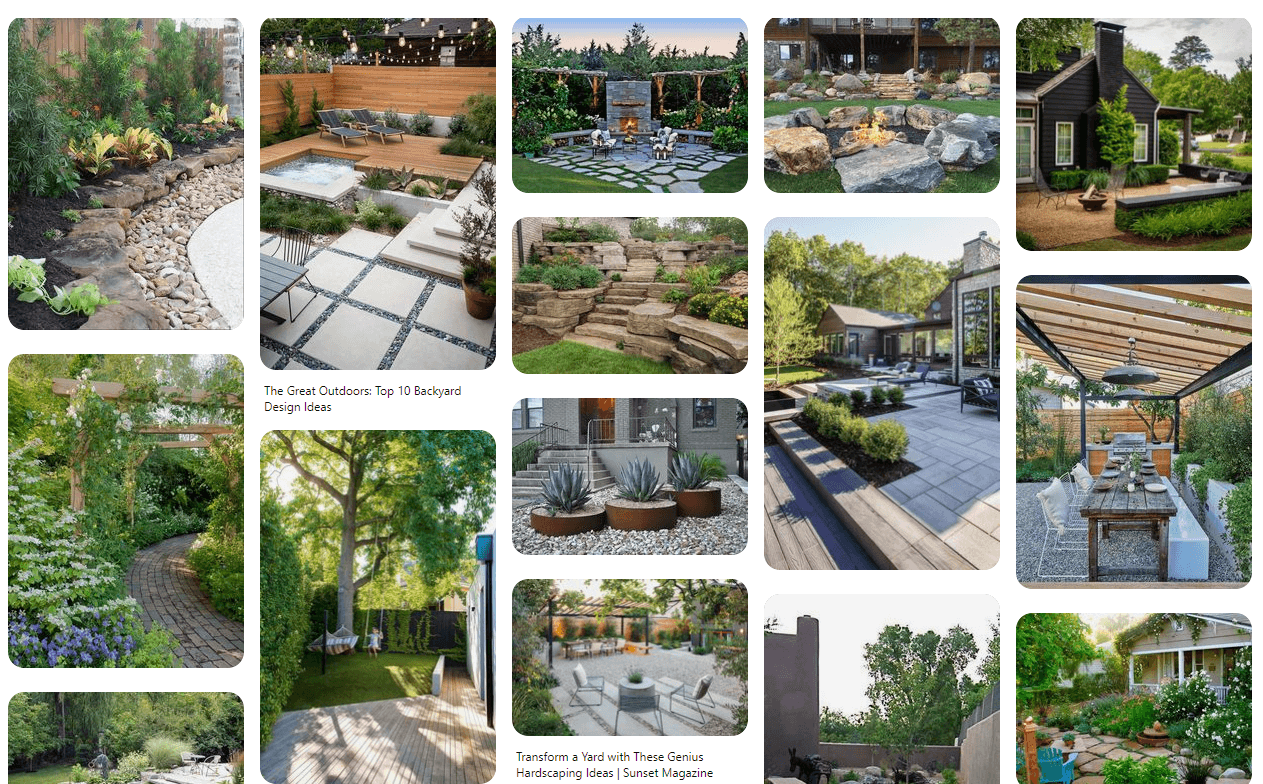 For example, if you specialize in patio backyard getaways, you can create a board with different designs, materials, and color schemes to help homeowners envision how their own outdoor space could look. Additionally, Pinterest has a large community of DIY enthusiasts looking for inspiration and tutorials, making it an excellent platform to showcase your expertise and attract new customers.
By utilizing Pinterest, you can also stay up-to-date on the latest trends and styles in your industry. You can follow other professionals and businesses to see what they are creating and get project ideas, which can help you stay competitive and innovative in your work.
3. Facebook
Facebook offers a variety of groups and pages dedicated to hardscaping where users can share their projects, ask for advice, and connect with other enthusiasts. It's also an excellent platform for businesses to showcase their work and reach prospects.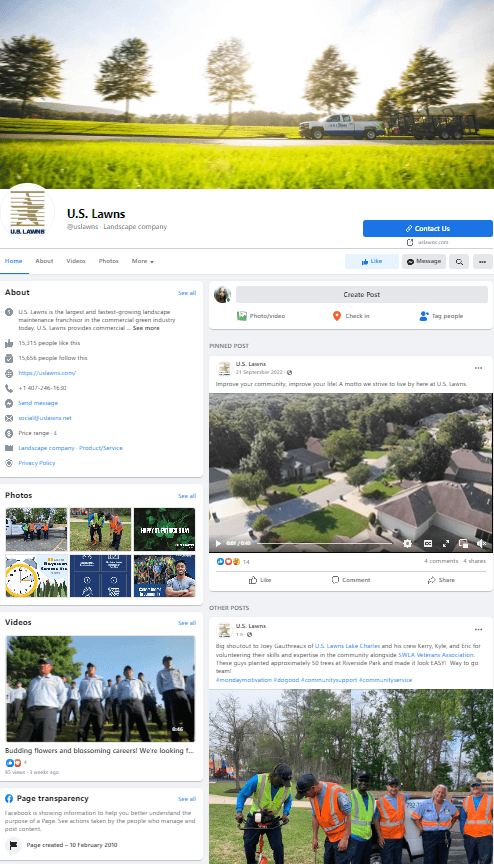 You can use Facebook to create a business page, post photos and videos of your completed projects, and share customer reviews and testimonials. You can also use Facebook's advertising tools, such as "boosted posts" and "targeted ads," to reach a specific audience in your area who may be interested in your services.
Also, by engaging with users in hardscaping groups and pages, you can establish yourself as an expert in the field and build relationships with potential clients. This can lead to increased visibility and word-of-mouth referrals for your business.
What can hardscaping companies post on social media?
Here are a few ideas on what you can post on your hardscaping company's social media pages:
Before and after pictures of their projects
You can post before-and-after pictures and videos of your hardscaping projects to build your portfolio and establish yourself as a reputable hardscaping professional.
For example, you can showcase a backyard transformation from an empty space to a beautiful patio with outdoor furniture and a fire pit. This way, potential customers can visualize the possibilities and quality of work the company can provide.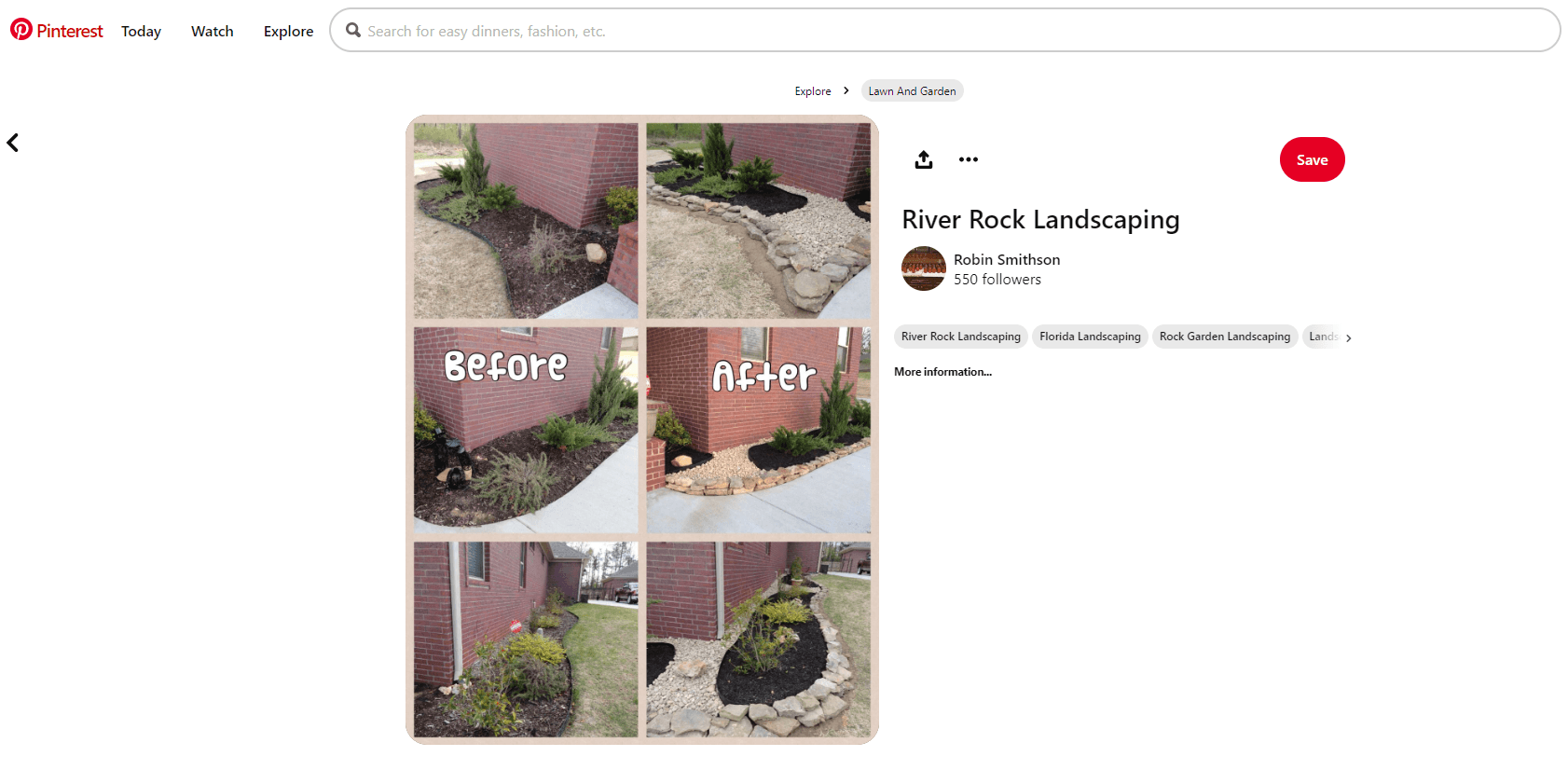 It's essential to include a brief description of the project, including any challenges or unique features incorporated. For instance, a line like "We incorporated a custom-built pergola to provide shade and privacy and a built-in grill and bar area for entertaining guests" can go a long way.
Including this detail adds depth to the showcase and highlights your company's expertise in designing and executing complex projects, demonstrating your knowledge and problem-solving skills to potential clients.
Tips and tricks for maintaining outdoor spaces
Your company can share tips and tricks for maintaining outdoor spaces to help homeowners keep their yards looking beautiful all year.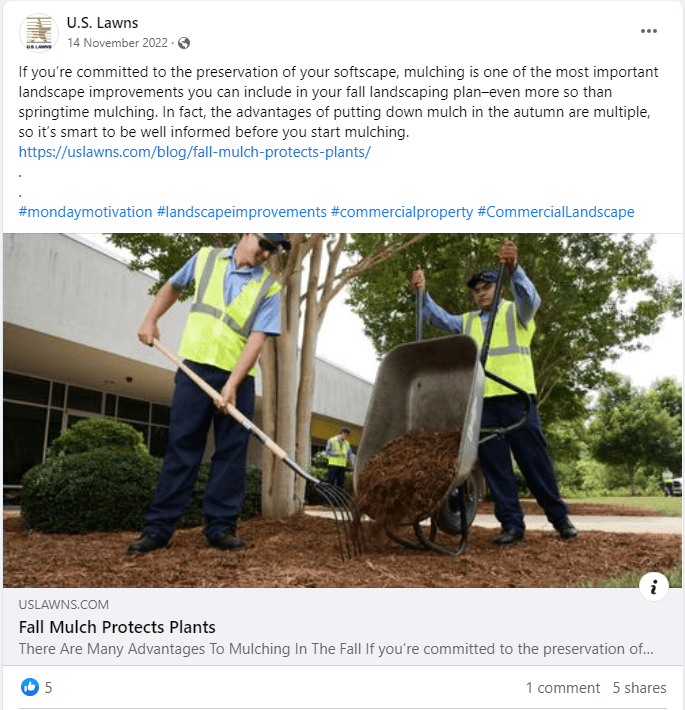 For example, you can suggest using natural stone or concrete pavers for walkways and patios, as they are durable and require minimal maintenance. You can also recommend installing irrigation systems to ensure that plants receive the proper amount of water without wasting resources.
Furthermore, you can suggest incorporating outdoor lighting to enhance the space's ambiance and safety, especially for evening gatherings or late-night walks. Finally, you can encourage homeowners to consider adding functional elements such as seating areas or fire pits to create a welcoming and inviting atmosphere in their outdoor living areas.
By providing this information, your clients will appreciate the added value your company brings beyond providing a service, which can lead to increased customer loyalty and word-of-mouth referrals.
Your latest designs and products
You can showcase their latest designs and products on social media to reach a wider audience and attract potential customers. By posting high-quality photos and videos of your work, you can establish your company's expertise and build trust with your followers.
Let's say you just launched new veneer bricks or stone tiles. In that case, you can post high-quality photos of your products on social media, highlighting their unique features and benefits in hardscaping projects.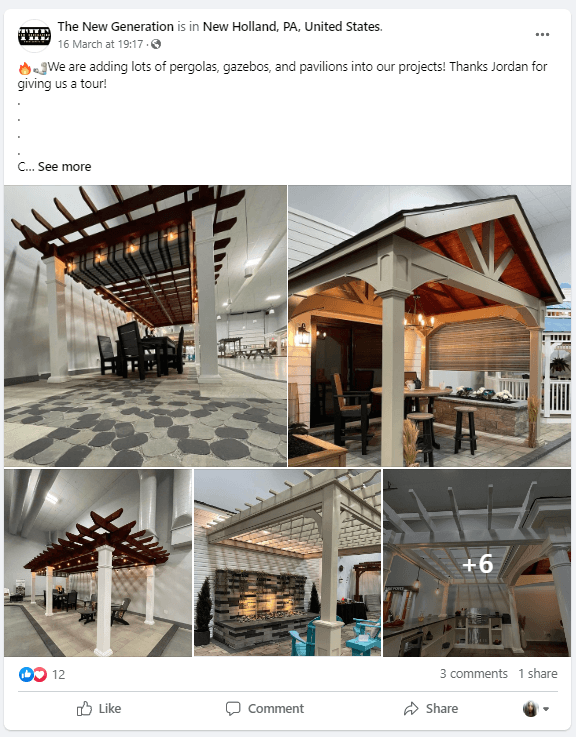 You can also post how-to videos to demonstrate the installation process and provide helpful tips for DIY enthusiasts. Additionally, engaging with your followers by responding to their comments and messages can help build a loyal customer base and increase brand awareness.
This approach can also help you stand out from competitors by showcasing your unique offerings, which can bring in new clients and retain existing ones. Moreover, it allows you to create a solid online presence and reach a wider audience, boosting sales and revenue for your business.
Testimonials from satisfied customers
You can post testimonials from satisfied customers to build trust and credibility with your target audience. These testimonials can serve as social proof and help potential customers make informed decisions about your services.
For example, you can post a before and after picture of your recent project and incorporate a customer's quote — "This happy homeowner wrote, 'The hardscaping team was professional and efficient, transforming my backyard into a beautiful outdoor oasis. I highly recommend their services to anyone looking to enhance their outdoor living space.'"
These testimonials help potential customers feel more confident choosing the company for their hardscaping needs. Additionally, sharing positive reviews and ratings from reputable websites such as Yelp or Google can increase potential customers' trust and credibility. Doing so can lead to more business and a substantial reputation for the company.
Not happy with your social media engagement?
We've got just the blog post for you.
Read the Blog Post & Watch the Video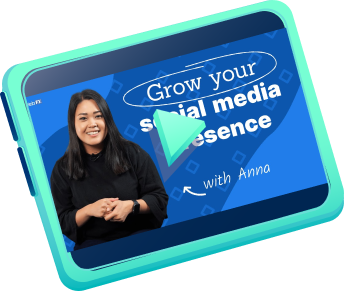 How to develop a social media strategy for hardscaping companies
Here's how you can create a social media strategy for hardscaping in just five steps:
1. Identify the target audience
The first step in developing a social media strategy for hardscaping companies is to identify the target market and understand their needs and preferences. This involves conducting market research and analyzing data to determine the most effective social media platforms and content formats for reaching and engaging with potential customers.
One way to conduct this market research is by surveying current customers to gather insights into their social media usage and preferences and asking for feedback on the company's existing social media presence. Another approach is to analyze competitors' social media strategies to identify gaps and opportunities in the market.
For example, you can look at which platforms competitors are not utilizing and explore the potential for reaching a new audience on those platforms with unique content. Additionally, analyzing industry trends and staying up-to-date on changes in social media algorithms can also inform the development of an effective social media strategy.
2. Create engaging content that showcases the company's work and expertise
Once you know and understand your target audience, you can create engaging content showcasing the company's work and expertise. This content can include before-and-after photos of completed projects, educational posts about hardscaping techniques and materials, and customer testimonials.
For example, if you specialize in patio design, you can create posts featuring before-and-after photos of your projects, share tips on maintaining a patio or even create videos showing the installation process. Doing so will help establish your brand as an authority in hardscaping and attract potential customers interested in your services.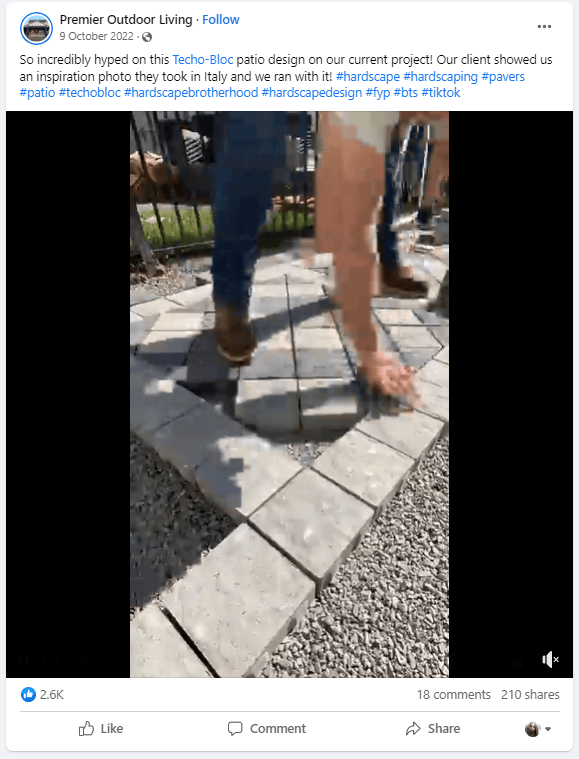 You can also use social media for hardscaping to showcase your unique design style and creativity by sharing images of your most innovative projects and the inspiration behind them. This approach can help set your company apart and draw clients looking for personalized and unique outdoor space. By consistently sharing valuable content, you can position yourself as a thought leader in your field and gain a loyal fan base on social media.
3. Use relevant hashtags to increase visibility
Another crucial step in developing a social media strategy for hardscaping companies is to use relevant hashtags to increase visibility. Hashtags are a powerful tool for expanding your reach and connecting with potential customers. Researching and using industry-specific hashtags is essential to ensure the content comes to the right people.
For example, hashtags like #hardscaping, #landscaping, and #outdoorliving can help hardscaping companies attract customers interested in improving their outdoor spaces. Additionally, incorporating location-based hashtags such as #newyorklandscaping or #losangelesoutdoorliving can help target customers in specific geographic areas.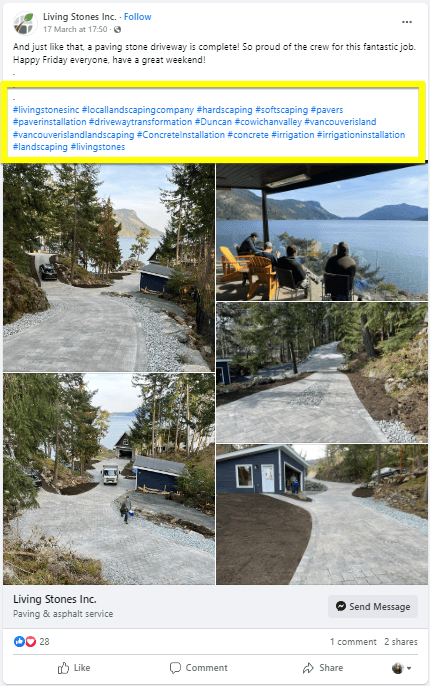 Furthermore, you can also create your own branded hashtags to promote user-generated content and raise brand recognition. In promotional campaigns, you can use branded hashtags like #MyOutdoorOasis or #XYZHardscaping and share with customers to showcase their work and encourage them to share their outdoor living spaces.
However, using hashtags sparingly is essential, as this can make the content appear spammy and reduce effectiveness. A good rule of thumb is to use 5-10 relevant hashtags per post on social media platforms.
4. Collaborate with influencers or partner with other businesses
Collaborating with influencers can promote your brand and increase your reach, while partnering with other businesses can lead to cross-promotion opportunities and mutually beneficial relationships. It's essential to choose who you collaborate with to ensure their values align with yours.
For example, if your hardscaping company values sustainability, you may want to partner with a landscaping company that shares the same values and uses eco-friendly practices. When collaborating with influencers, choosing those who have a genuine interest in your industry and can provide valuable insights to their followers is essential.
By collaborating with like-minded businesses and influencers, you can expand your reach and build a strong reputation in your industry, increasing customer loyalty and business success.
5. Leverage social media ads
Social media ads can help your hardscaping company reach a wider audience and target specific demographics, generating more leads and increasing conversions.
However, it's essential to carefully plan and optimize ad campaigns to ensure they align with your overall social media strategy and business goals. You should also regularly analyze the performance of your social media ads and adjust them accordingly to improve their effectiveness.
By monitoring metrics such as click-through and conversion rates, you can make data-driven decisions to optimize your ad campaigns to reduce ad spend and maximize your return on investment (ROI).
74% of people use social media when making a purchasing decision.
Make their decision easy with a stellar social media presence. See how your brand can level up by requesting a no-obligation proposal today.
One of our experts will be in touch within 24 hours!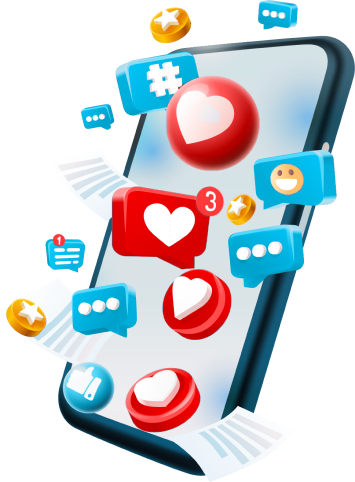 Get custom social media services for hardscaping companies
At WebFX, we offer a range of social media services tailored to the needs of hardscaping companies, including content creation, community management, and paid advertising campaigns.
Our team of experts can help you identify your target audience, develop compelling ad copy and visuals, and continuously monitor and adjust your campaigns for optimal results.
With over 25 years of experience in digital marketing, we have a proven track record of delivering measurable results for our clients. Let us help elevate your social media presence and grow your hardscaping business today.
Contact us online or call 888-601-5359 to speak with a strategist about how we can tailor a social media marketing strategy to meet your specific business goals and budget.
Increase your leads, sales, and revenue with digital marketing
Find Us Driving Revenue Nationwide