When you build a house, you don't throw up four walls and a roof and call it a day. You must carefully plan each element of the house, from the insulation to the plumbing, to create the optimal living space.
The same is true of building a website. Web design is much more than simply creating some pages and throwing in a few blocks of text. To drive leads and conversions, you have to optimize several elements to create the best possible user experience.
If you're struggling to do this for your business, WebFX can help. With over 25 years of experience, we've had plenty of time to craft stunning websites with our web design services. Below are five of the main services we offer.
Read on to learn more about web design for home builders, and then partner with WebFX to put it all into action. Just call us at 888-601-5359 or contact us online to get started!
We don't want to tell you about the work we do, we want to SHOW you.
View Our Portfolio

We've built over
Websites
in a variety of industries.
1. Branding for homebuilders
One of the most important things to get right when it comes to web design for home builders is branding.
What is branding for home builders?
Your brand is essentially your home building company's identity as conveyed through your marketing. Anything in your marketing that identifies you as you is part of your branding.
Branding elements can include things like:
Fonts
Color schemes
Logo design
And more
Whatever you choose to represent your brand, make sure it's consistent across your site.
Why do you need good branding for your home building business?
Good branding is essential because it communicates who you are to your audience. If you don't use good branding, nothing about your marketing will stand out. People may remember seeing an ad for a home contractor, but they won't remember which contractor.
Even if you deliver the best marketing campaign in home builder history, you won't drive the results you desire if you fail to make people remember who delivered it.
How does WebFX help you with branding?
When you partner with WebFX for your home contractor web design, we can design every page on your site, from the basic structure down to the most minute detail.
When we build your site, your branding won't be an afterthought. We'll interweave it into every element of your website right from the start. We can help you choose the right fonts, color schemes, and more to best convey your brand.

Hear What It's Like to Work With WebFX!

"WebFX has been an excellent company to work with. They were able to provide us an amazing new website that met our needs, and help us get to the top of the SEO results we wanted to. The team has been an absolute pleasure to work with."
Wood Pellet Manufacturer
2. Copywriting for homebuilders
Copywriting is another crucial aspect of home builder web development that can help bring users to your site.
What is copywriting for homebuilders?
Copywriting refers to the practice of creating useful, textual content for your website. This content can range from the blurbs on your homepage to the written pieces on your blog.
Copywriting provides helpful information about subjects related to your business that users can learn from. All of it should serve a purpose and lead users closer to becoming leads.
Why do you need good copywriting for your home building website?
The purpose of copywriting is to provide people with the information they need to answer their queries or lead them to a purchase. Whatever users come to your site looking for, your written content should provide.
In the case of things like blog posts, your content can even be what draws people to your website in the first place. If you can get it ranking in Google searches through tactics like including keywords in it, you can get it ranking where users will see it.
How does WebFX help with copywriting?
Among our other home builder web design services is our top-notch copy, where our team of dedicated copywriters will craft written content for every page of your website.
Not only can we make all your content useful to visitors, we can integrate keywords into it to help it rank in Google search results where users can find it.
3. Multimedia for home builders
You won't keep leads engaged on your page if your website is filled with nothing but blocks of text. To keep users interested in your site, you need to add multimedia to your site.
What is multimedia for home builders?
Multimedia consists of visual elements like images and videos.
Image optimization involves creating, optimizing, and inserting images into the pages on your website. These images should be relevant to the content on the page. Optimizing them allows them to help your site rank better and load faster, among other things.
As for video content, it's relatively self-explanatory: It's web content that takes the form of videos on your site. These videos can achieve a multitude of purposes, from advertising your services to teaching people about the home-building process.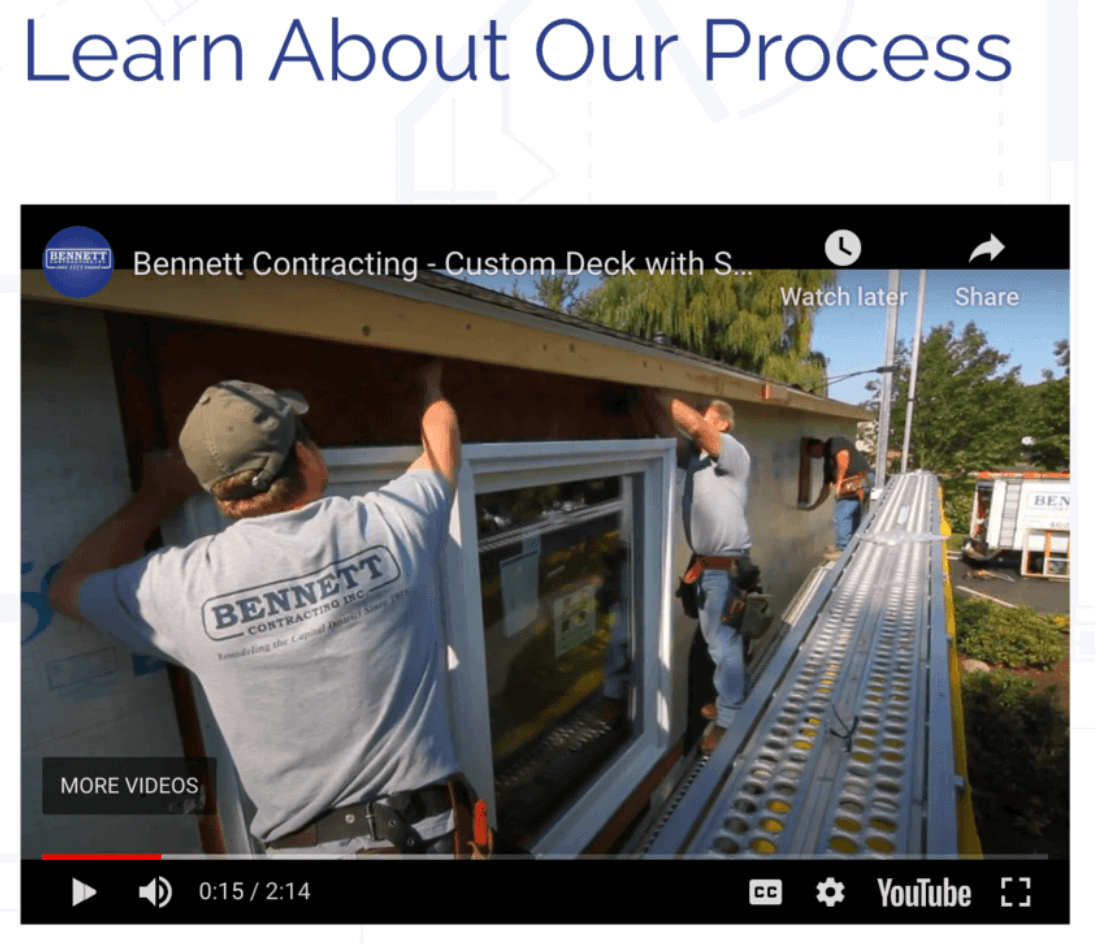 Why do you need multimedia for your home building website?
You need images and videos on your website to help keep users engaged, since blocks of text alone won't hold most people's interest. People who would otherwise click the "back" button soon after arriving might stay longer if you manage to catch their eye with a compelling picture or video the moment they reach the page.
You also need your images to be optimized to benefit your site on the technical side of things, like helping it rank in Google.
How does WebFX help with multimedia?
WebFX can help you select and craft the best images to use on your website. We can then optimize them in various ways, from compressing them to using alt tags, to improve the user experience.
With WebFX's video production services, meanwhile, you can get videos for a multitude of pages across your website. When you work with us, you'll get videos that are professionally shot, edited, and produced for maximum marketing effectiveness.
4. Responsive design for home builders
When you do home contractor web design, you need to keep in mind that people will access your from multiple devices. For your website to provide a great experience on all devices successful, you need to implement responsive design.
What is responsive design for home builders?
Responsive design is the process of optimizing your website for both desktop computers and mobile phones. The two types of screens have different aspect ratios, meaning web pages have to be separately optimized for each one.
If you optimize only for a computer screen, your site will likely look disorganized and operate poorly in a mobile format.
Why do you need responsive design for your home builing website?
Responsive design is crucial for your website. Google ranks pages based on their mobile format because of mobile-first indexing. So, if you want your site to rank in search results, you must integrate responsive design.
Even beyond Google rankings, users aren't going to stick around on a site that has unusable formatting on their device.
How does WebFX help with responsive design?
When you partner with WebFX for your home builder web development, you'll get responsive design integrated into your website, regardless of the design you choose.
We'll optimize all pages for both desktop and mobile formats as we design and build your site.
Page load speed for home builders
A final essential piece of web design for home builders is page load speed.
What is page load speed for home builders?
As the name suggests, page load speed is how quickly the pages on your website load. The idea is to get your pages loading as quickly as possible.
You can check the load speed of any page in Google's PageSpeed Insights, which will rate each page on a scale of 1–100 based on how fast it is. You should aim to be in the high yellow or green zones.
Why your home building website needs fast page speed
Users expect pages to load within two seconds. Three seconds might not seem like much, but it's a long time for a page to spend loading.
If the pages on your website don't meet this expectation, you'll end up with a lot of users hitting the back button. To keep people from bouncing, you need your page load speed to be fast — ideally, one or two seconds.
How does WebFX improve your page speed?
At WebFX, we know exactly what it takes to make pages load quickly. We'll implement numerous techniques on your site to optimize your page load speed, including the following:
Caching web pages
Compressing images
Minifying code
Limiting redirects
What does a successful ecommerce website need to drive sales?
We wrote you an ecommerce essentials checklist.
Read the Blog Post & Watch the Video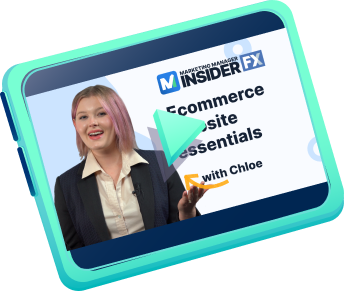 Partner with WebFX for our home builder web design services
Ready to get started with your home builder web development? WebFX is right there with you. Our team of over 500 experts is ready and waiting to help you design a website that will drive new leads and conversions for your business.
We can optimize your website for each of the features listed above and more! With the boost they give to your user experience, your site will become much more than a simple collection of pages, transitioning to a full-on marketing machine.
To get started with our web design services, just call us at 888-601-5359 or contact us online today!
Earn a 20% greater ROI with WebFX