Since its inception, social media has acted as a means to connect audiences in unprecedented ways. The same can be said about how it connects those audiences to their favorite brands and organizations. As an energy provider, social media is a multifaceted tool you can use to connect with consumers and impart important information.
Keep reading to see how you can use social media to your marketing advantage. For more insight on the best marketing strategies and advice, subscribe to Revenue Weekly!
Don't miss our Marketing Manager Insider emails!
Join 200,000 smart marketers and get the month's hottest marketing news and insights delivered straight to your inbox!
Enter your email below:
Inline Subscription Form – CTA 72
"*" indicates required fields
(Don't worry, we'll never share your information!)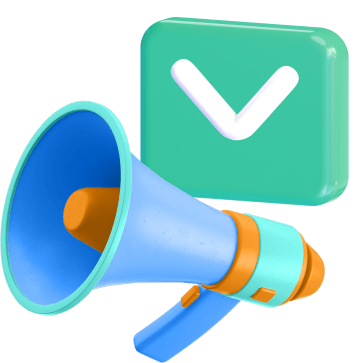 Social media marketing and its uses
To best understand how to use social media as a marketing tool, you need to determine which platform will maximize your desired results. Setting goals beforehand enables you to do several things:
Create a framework of how to measure positive interactions that align with your ideal growth plans.

Anticipate a budget, if any, and how to allocate it for the tools you need.

Understand which

metrics to pay attention to

.
When your reach goals have been set, you can use that information to research which platforms your target demographic spends the most time on.
Energy companies need to do the work to join their consumer base where they spend most of their time, and the Internet has steadily become that place.
Using social media to connect with your consumers means unlocking an avenue that allows you to establish a more direct channel of communication between you both. It also means having the means to deliver the messaging you want your audience to receive — and that is best used for more than just promotion.
Social media messaging and its effectiveness with your audience
The beauty of social media lies in its versatility. There are many ways to achieve your goals, and knowing these ways is the first step to increasing your audience reach.
As an energy provider, you want your audience to be familiar with what services you offer and what you aim to achieve that's more innovative compared to the providers that came before you. These factors make social media an optimal way of educating your audience and giving them insight into your specific practices and how they impact everyone.
Setting up informative and educational content prompts your audience to share the knowledge you give them, which simultaneously promotes your services and increases your credibility and authority in your specific field. Trust your content to encourage the action you want to inspire your audience to take. If implemented correctly, your content will encourage a conversation.
You should seriously consider matching your consumers' intent before creating the kind of content that sparks conversation. There are already thousands of users searching queries like "energy efficient" and terms related to it, so your audience is already there. Understanding what they want in return for those queries will guide your content creation to be effective enough to encourage them to investigate your company further.
Exploring social media marketing methods
After you've determined what your audience wants to see for their queries, you can begin crafting content that will resonate with them.
Some of the best educational tools that are easily shareable on social media include infographics, blog posts, and interactive extensions like polls and surveys. Allowing your audience to directly interact with the information you share with them will create a line of communication you can use to understand what works with them. From there, you can tailor your content to establish your company as a source for informative insight into your industry.
Posting this content sets the stage for you to position yourself as an authority in your field. The more authority you can garner, the more trustworthy your content becomes. Additionally, people will want to share what you offer, which increases your reach while simultaneously benefiting your ranking regarding search engine optimization (SEO). Social media platforms will promote your content if viewers find it valuable, which directly affects how users will discover your content when searching on Google.
Additionally, using information like demographics data provided by Facebook is a great way to target the exact consumer you want to reach with your messaging. With these targeting tools, you can find ways to spark conversation on platforms like Twitter or Facebook to inspire action from your audience. Using that influence will establish a dialogue between you and your audience and allow for knowledge spreading to occur more effectively.
Social media marketing tips to consider
When your company has decided how to implement its social media marketing campaigns and strategies, it's best to consider the following when committing to a consistent posting schedule:
Create shareable content:

Develop content that users will feel inclined to send to other people who are as interested in energy efficiency topics as they are.

Optimize your content:

Refine your content

,

including anything visual, to ensure the right people are receiving your message.

Build authority:

Establish yourself as an authority that delivers correct and verifiable information. Users should be able to trust you to educate themselves further on what you offer.

Gauge local interest:

Test your impact locally before expanding into the greater digital landscape. Build a loyal consumer base that will act as your boost when you finally branch out. You can do this by announcing the projects you are working on and how they will affect the community.

Define your brand voice:

Determine your brand voice so that you can achieve consistency throughout your various content types and minimize the possibility of confusing and alienating your audience.

Choose your platforms:

Post on platforms that align with your brand voice and personality. They should have the best reach for your target audience.

Inform your audience:

Engage with your audience by answering their questions, addressing any concerns they raise, and alerting them of any sudden or unexpected changes happening within your company that may affect them.

Practice good linking:

Link back to your website so that any content that inspires purchasing decisions can lead your audience directly to where they can fulfill a purchase.
Growing your social presence with WebFX is a walk in the park.
"WebFX allows growing your social media platforms to be stress-free! They are knowledgeable and adapt to your company needs!"
Learn More About Our Social Media Services

Use social media to your energy company's advantage
Energy providers need to adapt to the changes affecting their consumers. By joining the digital landscape where consumers make most buying decisions, you give your company a new playing field to connect with your audience.
If you want to work alongside social media marketing experts, contact us today at WebFX, or call 888-601-5359 to see how we tailor plans according to your business goals to increase your reach and revenue.
Increase your leads, sales, and revenue with digital marketing
Find Us Driving Revenue Nationwide