Lead generation methods help your painting business reach people who are interested in hiring your company. There are many lead generation methods you can use to reach these new leads.
On this page, we'll provide you with the top three lead generation methods for your painting business. If you need help creating a lead generation plan that works for your business, call us today at 888-601-5359 to speak with a strategist.
Let's get started!
Traffic attracted through PPC advertising yields 50% more conversions than organic advertising.
Are you leveraging PPC in your marketing efforts? Let's get started.
View the Guide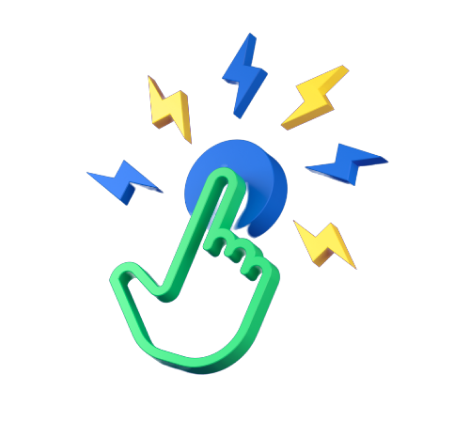 1. Use pay-per-click (PPC) advertising to reach more qualified leads
Pay-per-click (PPC) advertising is a valuable method for helping your painting business obtain new leads. PPC ads are paid advertisements that appear at the top of the search results. These ads appear mainly above the organic listings on the page.
PPC ads attract leads that are ready to convert. In fact, PPC leads are 50 percent more likely to convert than organic visitors. These visitors know what they want and just need to find the right business to fulfill their needs.
When you invest in PPC, you invest in obtaining more qualified leads that are ready to convert.
To start using PPC, you must select keywords. Keywords trigger your ad to appear in relevant search results. You must choose the right keywords to ensure that your ad appears in front of leads looking for your painting business.
If you want to drive the best leads to your painting business, focus on long-tail keywords. These are keywords that contain three or more words. An example of a long-tail keyword is "painting businesses in Harrisburg, PA."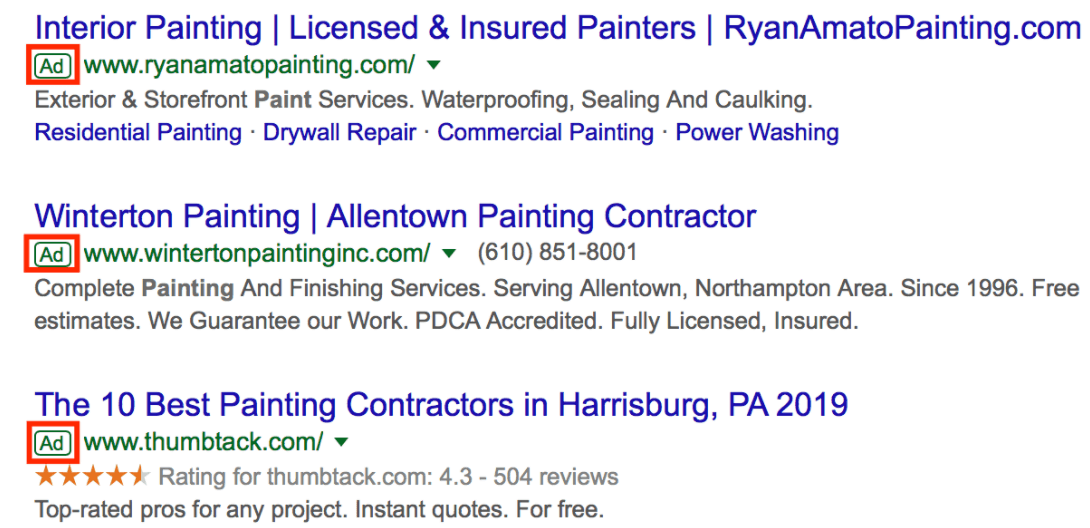 These keywords drive the best results because they attract more qualified leads. People who search with long-tail keywords know exactly what they want and are ready to choose a business that fulfills their needs.
Once you have your keywords selected, you'll bid for your ad's placement. You'll set your maximum bid, which is the amount you are willing to pay each time someone clicks on your ad. This amount is flexible and can be changed as needed.
Your maximum bid and quality score will determine your ad's placement. Once you have your placement, you will launch your campaign.
PPC ads are a great opportunity for you to reach leads that are interested in hiring a painter. You'll attract more qualified leads by using PPC ads.

Hear What It's Like to Work With WebFX!

"Right from the beginning, we knew it was going to be a great relationship with WebFX. Our coordinator is very attentive to deadlines and walks us through the entire process. We couldn't have picked a better team to help us bring our marketing to the next level!"
Painting Products
2. Use social media marketing to connect with new painting leads
Social media marketing is another great method for helping your business obtain valuable leads. Billions of people use social media, so it's a great opportunity to connect with dozens of leads that are interested in hiring a painter.
This lead generation method is great for helping your business connect with leads interested in hiring a painter. You have a greater pool of opportunity to reach interested leads.
To start using social media marketing, you must start by choosing your platforms. You want to engage your audience on the platforms they use the most. There are numerous platforms you can use to reach your audience, including Facebook, Twitter, Instagram, Pinterest, and LinkedIn.
You can reach your audience on multiple platforms. The important part is that you know your audience well and know where and how you can reach them.
Once you have your social platforms selected, you can start posting content. Each platform offers different types of content you can post to engage your audience.
On platforms like Facebook and Twitter, you can post photos, links to content, text posts, videos, and polls. Platforms like Instagram are hyper-focused and only allow you to post photos and videos.
When you post content, you create the opportunity for your audience to share your content with others. They can share your content on their own page and expose new leads to your business. It's a great opportunity for you to reach new leads.
In addition, you can also run paid ads to reach new leads. Each social media platform offers paid advertising. You'll need to look at each platform to see how their paid advertisements work.
Social media ads are a great opportunity for you to reach new leads. You can target types of people that you think will be interested in hiring your painting company. Information like demographics and socioeconomic status will help you target the right people.
By targeting specific people, you help your painting business attract more interested leads. Your ads will appear seamlessly in their content feed. This strategy is a great option that, when used correctly, will help you earn more valuable leads for your painting business.
3. Email marketing
Email marketing typically functions as a lead nurturing strategy. You need subscribers to send content to get them to convert. Other methods, like social media marketing and PPC, help you earn those subscribers.
However, there are still opportunities to earn new leads through email. This can be done through an email referral program.
With an email referral program, you entice your subscribers to recommend your business to other people. A referral program provides benefits for both parties, which entices both of them to act.
For example, you may offer the referrer 10 percent off their next painting gig. This may encourage someone to refer another person. If that person decides to hire your painting company, they also get 10 percent off their painting project.
Using a referral program gets your subscribers to refer people who are looking for a painter, and the referrer becomes interested in the discount.
In addition, people will feel more comfortable choosing your painting business if someone they know recommends you.
Email referral programs are a great way to gain leads interested in your business. It costs very little for you to send referral emails to your subscribers. This is an efficient way to earn new leads because you can work on other lead generation methods while your subscribers help you earn new leads.
Email marketing is one of the many lead generation strategies you can use to help your business grow. By investing in this method, you'll earn new leads and conversions for your painting business.
37% of marketers say that generating high-quality leads was one of their biggest challenges.
We want to decrease that percentage.
WebFX can help you generate high-quality leads with a customized marketing strategy.
Learn More About Lead Generation Services
WebFX will help you generate leads for your painting business
Lead generation methods help you earn valuable leads looking to hire a painter. These methods help you grow and expand your business. At WebFX, we have over 25 years of experience creating lead generation campaigns that work.
We're a full-service digital marketing company that specializes in lead generation services. We have a team of over 500 experts that will bring their knowledge and expertise to your campaign. We'll help you create a campaign that works for your painting business.
If you're looking for a company that drives results, look no further than WebFX. In the past five years, we've driven over $3 billion in sales and over 7.8 million leads for our clients. We focus on helping our clients grow their business.
Don't believe us? Just ask our clients! Check out our 1020+ client testimonials that attest to the awesome work we do!
Get started today with lead generation for your painting company
If you're ready to start earning more valuable leads for your painting business, contact us online or call us today at 888-601-5359 to speak with a strategist about your customized lead generation plan.
We look forward to helping your painting business grow!
Earn a 20% greater ROI with WebFX