Your website is the heart of your digital marketing plan. When you run marketing campaigns, you drive traffic back to your website. If your site isn't up-to-date with its design, you risk losing leads to your competition.
When people first discover your site, they will judge your painting business based on its design. If your website looks outdated or unappealing, you'll miss out on leads for your business. Adding a fresh, modern design to your website will help you earn more leads and conversions for your painting business.
On this page, we'll provide you with four best practices for nailing your site's web design. Keep reading to learn more and call us today at 888-601-5359 to speak with a strategist about creating a custom website.
1. Establish your brand style
The first step to creating an effective website is establishing your brand style. Your brand is an important part of your business. If you want leads to remember your brand, you must make an impact on them.
Brand recognition is important for helping your painting business earn leads. People are more likely to choose your business if they are familiar with your brand. If it comes down to choosing you or a competitor, they will choose your business if they are more familiar with it.
The best way to build brand recognition is to establish a brand style, which should stay consistent across platforms. This makes it easier for you to build brand recognition with your audience.
First, you'll want to choose the colors for your business — the color scheme you'll use for all your marketing materials. Make sure you choose a memorable, unique color scheme.
Consistency is key. Think of big-name corporations and their color schemes. McDonald's is known for their red and yellow color scheme, Target for their red and white, and Walmart for their yellow and blue.
These color schemes are well known because they don't change. No matter what these big corporations do, they always include their brand colors to reinforce brand recognition.
There are other elements to your brand style aside from color choices. Elements such as typography, writing style, and the types of images are an important part of your brand too. You'll want to create a consistent, well-branded look for your painting business, so no matter who works on your marketing campaigns or website, the message will remain consistent across all platforms.

Hear What It's Like to Work With WebFX!

"Right from the beginning, we knew it was going to be a great relationship with WebFX. Our coordinator is very attentive to deadlines and walks us through the entire process. We couldn't have picked a better team to help us bring our marketing to the next level!"
Painting Products
2. Integrate responsive design
Nothing is more frustrating than using a mobile device to access a website that isn't mobile-friendly. Users won't waste their time trying to browse your site if it doesn't adapt to the device they use. By integrating responsive design, you ensure that your website displays properly on mobile devices, tablets, and desktop computers.
This is important for user experience. If your audience isn't having a good experience on your site, they won't remain on it. This will increase your bounce rate and cause you to miss out on potential leads for your business.
Responsive design ensures that your website adjusts to a user's mobile phone, tablet, or desktop to provide the best experience. You'll see better results with your website because your audience will have a positive experience and learn more about your painting business.
3. Add visual elements
Visual elements are crucial for well-designed websites. They enhance your website's appearance and help you engage more leads for your painting business.
There are numerous visual elements you can use on your page including photos, videos, and infographics. These are all great options to place on your site.
Most companies use photos and videos on their pages. If you use photos and videos on your site, you want them to be original and authentic. Stock photos and videos make your website seem cold and impersonal.
In addition to photos and videos, infographics can add extra flair to your site. If you need to present facts and figures, infographics help you present and highlight key information in a way that is easy for readers to digest.
By adding visual elements to your site, you'll make it more interesting and engaging for your audience.
4. Add engagement features
You'll also want to add engaging features to enhance your audience's experience on your site and allow you to capture leads.
1. Social media buttons
Social media buttons allow your audience to connect with you on social platforms. If they like what they see on your website, you can direct them to your social media pages to follow your business. You can add buttons for social media sites like Facebook, Twitter, Instagram, and Pinterest.
These engagement buttons help you earn more social media followers — potential customers you can develop relationships with online. Adding the option to connect on social adds a touchpoint for people to learn more about your business and services.
2. Email sign-up forms
An email sign-up bar is another great engagement feature to add to your design. This is a simple bar that you can design to appear at the top or bottom of your pages — and it's a great way to capture leads.
If leads like what they see on your site, they can opt to sign up to receive emails from your painting business. This also allows you to obtain a list of interested leads and send them additional information to encourage them to become customers.
3. Call to action (CTA) buttons
Call to action (CTA) buttons help guide your audience further down the sales funnel. If you have leads on your site looking for a painting business, you can use CTA buttons to guide them closer to choosing your business.
When people like what they see on your painter website, they want to take the next step. Well-designed CTA buttons will guide your audience to the next step. When you design your website, you'll want to add CTA buttons that stand out to ensure your audience doesn't miss them.
We'll help you create a website that stands out.
"WebFX has been instrumental in helping us develop a new website, allowing us to be a leader in our industry."
Learn More About Our Web Design Services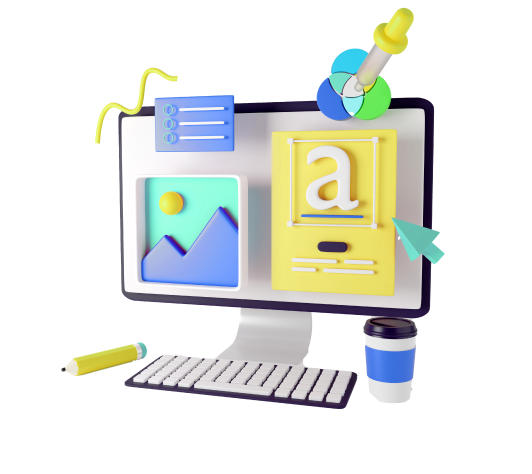 WebFX will help you create your unique digital marketing plan
Don't keep brushing off getting a digital marketing plan set in place. A strong digital marketing plan helps painters earn more traffic, obtain valuable leads, and earn conversions. At WebFX, we have a team of 500+ experts that will help you create your custom campaign.
We're a full-service digital marketing company that offers numerous digital marketing services. Our team will help you create a customized plan that works for your painting business. With more than 25 years of experience, we know how to create campaigns that drive results.
If you're looking for a digital marketing company that drives results, look no further than WebFX. To date, we've driven over $3 billion in sales and over 7.8 million leads for our clients. When you partner with us, you will feel confident that we focus on driving results for your business first.
Want to know what it's like to partner with us? Just ask our clients! Check out our 1020+ client testimonials that attest to the great work we do!
Get started today
If you're ready to start building your custom digital marketing plan to obtain valuable leads and conversions, contact us online or call us today at 888-601-5359 to speak with a strategist.
We look forward to hearing from you!
Earn a 20% greater ROI with WebFX