As a small to mid-sized business (SMB) owner, you want to grow your business and thrive. Plumber marketing ideas can help you reach more interested leads and expand your company. If you're looking for some ideas on what plumbing marketing strategies to use, you've come to the right place!
On this page, we'll provide you with five plumbing marketing ideas. Keep reading to learn more about these plumbing ideas or call us today (or contact us online) at 888-601-5359 to speak with a strategist about our digital marketing services.
Our digital marketing campaigns impact the metrics that improve your bottom line.
See More Results

WebFX has driven the following results for clients:

$3 billion
In client revenue

7.8 million
Leads for our clients

5.2 million
Client phone calls
1. Claim your Google Business Profile listing
As a local business, it's essential to claim your local listing.
This listing, known as your Google Business Profile listing, drives local searchers to your business.
When users conduct local searches, it generates a box, known as the Google local SEO 3-pack, that appears at the top of the search results.
If users want to find a local business quickly, they'll turn to this box to find a plumber that fits their needs best.
Appear in this local SEO 3-pack by claiming your local listing.
Once you own your listing, fill it out completely.
Start by verifying that your business's name and address are correct. You'll also want to add contact information, like your phone number and email, to ensure people can get in touch with you.
Once you add that core information, you can start adding supplemental information, like your business's description and photos. These two elements provide your audience with more insight into your company.
If you want to know how to grow a plumbing business, start by claiming your local listing. Claiming your local listing will help drive more interested leads to your business.

Hear What It's Like to Work With WebFX!

"I have recommended WebFX to everyone that I talk to and will continue to do so. I can't stress enough how helpful WebFX is with helping us understand the SEO information and how it works."
Plumbing Company In New York
2. Use reputation management to earn more positive reviews
Reviews are a critical part of your business.
If someone hasn't used your plumbing services before, they will rely on reviews to gain insight into working with your company. Reviews are a form of advertising for your business, so you must add review management to your plumbing marketing plan.
To get started with this plumbing marketing strategy, you'll want to gather all the platforms where people leave reviews about your business. These places include Google Business Profile, Yelp, Angie's List, and more.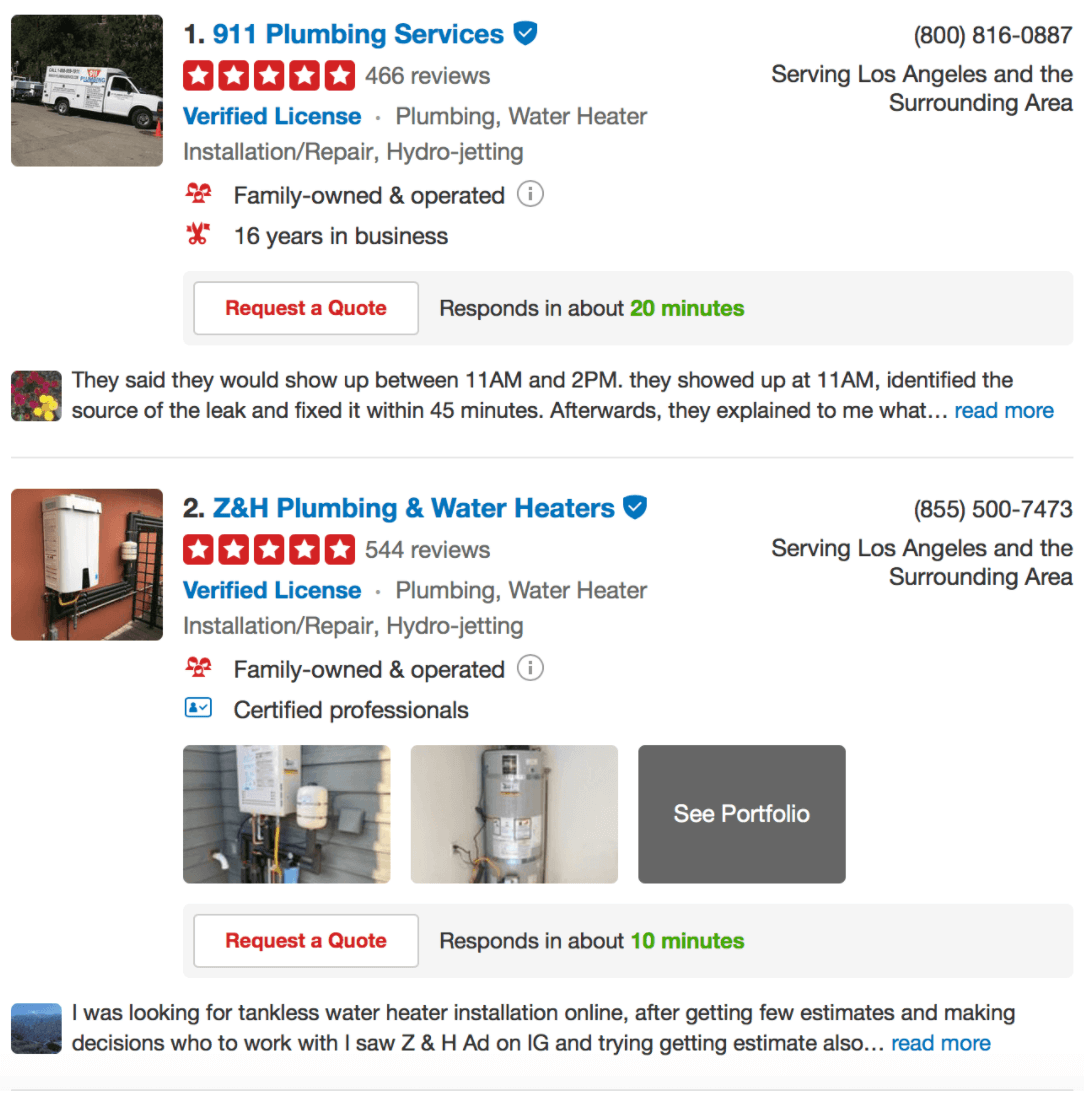 Once you have these platforms established, monitor the reviews that appear on these pages. It's important to remember that many of these platforms, like Angie's List, don't allow you to control what people say or delete reviews.
Realistically, you don't want to remove negative reviews! If you had a perfect review profile with five stars, people would be suspicious of your business.
Users expect to see positive and negative reviews. They care about what people say about your business, but they also want to see how you react to less-than-stellar reviews.
If you want to know how to grow your plumbing business, focus on managing your reputation.
Monitor reviews on platforms like Google My Business and Angie's List. Then, craft responses for these reviews. Whether it's positive or negative, you want to have an answer for each type of review.
When you respond to reviews, keep your responses professional. If someone leaves a positive review, thank them for their feedback. In the case of negative reviews, try to solve the person's issue and encourage them to reach out to your business for further assistance.
Reputation management will help you market your services better to future customers. It helps build your plumbing company in a positive light and encourage more people to come back to your team.
3. Develop a social media strategy to connect with leads
If you're looking for plumber marketing ideas, developing a social media strategy is one of the best ones. Social media platforms are prevalent and garner a lot of engagement from users. It's an excellent opportunity for you to connect with your audience and share valuable content.
To grow your plumbing business through social media, you must start by choosing the right platforms.
There are numerous social media platforms available to your business, including:
You can use any combination of these platforms with your social media strategy. You'll want to choose your networks based on your target audience and the social platforms they engage with the most.
Once you establish your platforms, start posting content. The type of content depends on your network. Some platforms offer a variety of content formats, while others are hyper-specific.
Twitter, for example, enables you to post photos, videos, polls, and links to content. You have numerous options for content and what you can post. It allows you to share different types of content with your audience.
Pinterest, on the other hand, focuses mostly on photos and videos. This platform is hyper-specific because it's a visual platform. If you share content on Pinterest, you'll need to take a more visual approach to your organic content.
For your social content to succeed, you must post frequently. Your target audience follows multiple businesses, pages, and more. You must post content often, so your audience sees it.
Your posting frequency will depend on the platform and your audience. It will require some experimenting to see how many posts drive the most effective results.
In addition to organic posts, you can also run paid advertisements.
Social media ads are an excellent way for you to reach new people interested in your plumbing business. If you want to know how to grow a plumbing business online, social media ads are a great solution.
Ads on social media platforms like Facebook offer great targeting options that allow you to reach people who haven't found your plumbing business yet. It's one of the best plumber advertising ideas because it drives new leads to your company.
4. Use email marketing to create a customer referral program
If you want to grow your business, start by using plumbing marketing strategies that allow you to obtain new leads. One of the best plumbing marketing ideas for growing your business is to create a customer referral plan through email marketing.
To get started with creating your customer referral program, you need a list of email subscribers. If you don't have subscribers, you can obtain them through email sign-up bars on your website or ask for sign-ups in person at your store.
Once you have a list of subscribers, you can create your email referral program.
The best referral programs offer an incentive for the referrer and the person referred. You must motivate people to send friends and family to your plumbing business. For this plumber marketing idea to work, you need to make your audience want to participate.
For example, you may try to entice both parties with an offer for $20 off their next service. To get your offer, the referred persons must subscribe to your email list and book a service.
In this example, Subscriber A refers five people to your plumbing business. Two of the people that Subscriber A recommended contact your business and set up an appointment.
These two referrals use their $20 coupon for your services. Additionally, Subscriber A gets $40 off (for two completed references) the next time they need your plumbing services.
It creates a win-win situation for everyone involved. Your subscribers get additional money off when they book your services again, and new users get a discount their first time using your company. Additionally, you get more customers and grow your business.
If you're looking for one of the best plumber marketing ideas to grow your company online, a referral program, through email marketing, will help you earn more leads.
5. Run pay-per-click (PPC) ads to attract high-value leads
If you're looking for plumber advertising ideas, pay-per-click (PPC) advertising is one of the best solutions. PPC ads appear at the top of the search results, above organic listings, and local SEO 3-packs.
They are tagged with the word "ad" to indicate paid content.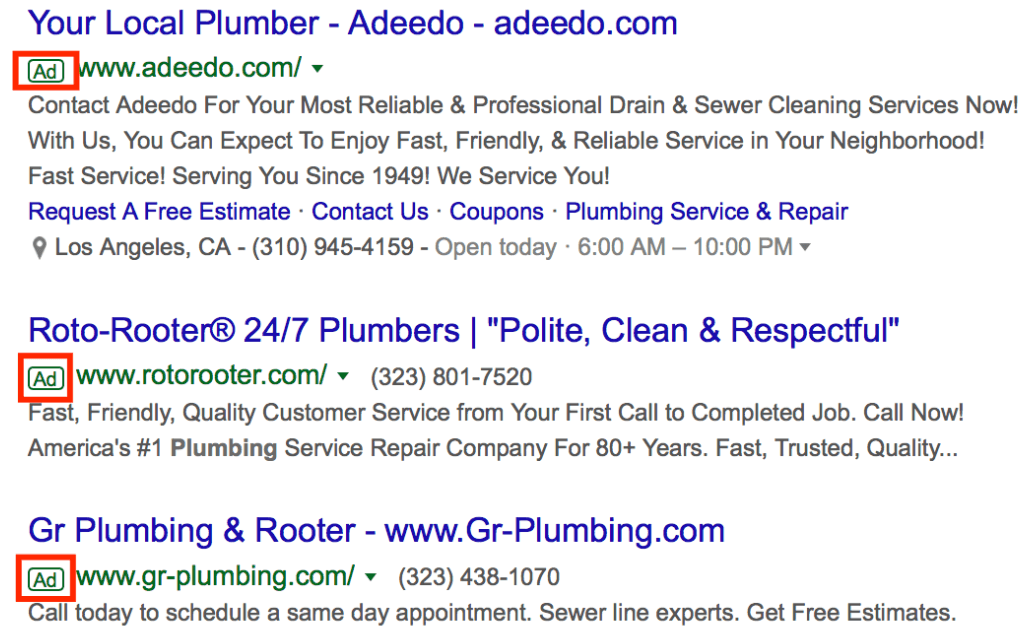 Google offers two different types of ads for local businesses like plumbers. You can run a standard PPC ad, like the example above, or you can run a Google Local Services ad. These ads help you drive local leads looking for your plumbing services.

PPC ads play a critical role in helping plumbers earn conversions.
Ad clickers are 50% more likely to buy a product (or pay for a service) than organic visitors. If you haven't made PPC ads part of your plumbing marketing plan, you're missing a prime opportunity to grow your business.
This plumbing marketing idea starts with choosing the correct keywords.
Keywords trigger your ad to appear in relevant search results. Long-tail keywords, which contain three or more words, will work best for your PPC ad because they drive more interested leads and cost less per click due to low competition.
Once you have your keywords selected, bid for your ad's placement. You set a maximum bid, which is the most you're willing to spend when someone clicks on your ad. This amount is flexible and can be changed.
Your maximum bid and quality score will determine your ad's placement. Once you have your placement, you'll launch your campaign and start obtaining leads interested in your plumbing services.
One of the best plumber marketing ideas for growing your business online is PPC ads. These ads will help you appear in more relevant search results before interested leads. It's an excellent strategy for earning more qualified leads for your plumbing business.
We foster and form long-term partnerships so that your business has long-term results.
Over 90% of WebFX clients continue partnering with us into year 2 of their campaign.
Hear from Our Happy Customers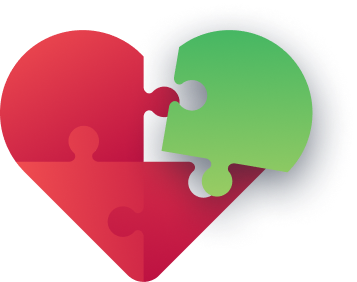 Start putting these plumber marketing ideas to work
With this list of plumbing marketing ideas, you'll be on your way to building your online presence and attracting more leads to your business. Creating a marketing strategy now will help you grow your online presence and attract more leads later.
At WebFX, we know how to create marketing plans that set you up for success.
In the past five years, we've driven over $3 billion in revenue and over 7.8 million leads for our clients. As a full-service digital marketing company, you'll get everything you need to thrive with your WebFX plumbing marketing plan.
Ready to see how a strong marketing plan will help your business grow? Contact us online or call us today at 888-601-5359 to speak with a strategist to discuss how our digital marketing services will help your business (and plumber marketing strategies) flourish.
Earn a 20% greater ROI with WebFX