If your pressure washing company is looking for ways to attract new customers, you need digital marketing. Marketing is the ultimate tool for driving leads and conversions for your business, and the best place to market is online.
But you might not be sure what it takes to drive superior marketing results. It's one thing to run a few ads, but it's something else altogether to drive influxes of new leads through marketing strategies.
So, what are the best strategies for digital marketing for pressure washing companies?
Keep reading to learn the answer to that question. Then subscribe to Revenue Weekly — our email newsletter — to get more digital marketing information delivered straight to your inbox from the agency with over 25 years of experience!
Pressure washing digital marketing strategies
Digital marketing for power washing companies isn't limited to one strategy. On the contrary, there are several power washing digital marketing strategies you can use for your business. Here are six impactful strategies to try!
1. Search engine optimization (SEO)
Search engine optimization (SEO) is one of the most effective pressure washing digital marketing strategies for your business. It involves getting your web content to rank in Google, so people can find your website when they search for terms related to power washing.
You can optimize your site for SEO by integrating relevant keywords into your written content. That will help your content rank in those searches, so when users look them up, they'll discover your company.
Other SEO tactics include:
With a strong SEO campaign, you can reach a wider and more relevant audience.
2. Pay-per-click (PPC) advertising
Pay-per-click (PPC) advertising is another way to reach users through Google search results, though it works differently than SEO. PPC involves running paid ads online. You can show ads at the top of search results or on third-party websites.

Wherever your ads appear, they lead users to landing pages that encourage them to convert. You can set up these ads in Google Ads, where you can also refine your ad targeting by bidding on specific keywords or creating custom audiences.
Not everyone who clicks on your paid ads will convert immediately, but many of them will still become familiar with your pressure washing company that way and remember you when they need your services down the road.
3. Social media marketing and advertising
Social media is one of the most influential places on the Internet today. It's one of the main places people spend their time online, and furthermore, 74% of people use it to help them make purchase decisions. That makes it the perfect marketing location.
You can market your pressure washer company on social media by doing something as simple as creating an account and posting about your business and services. When you post regularly, users will find your page and stay updated with your company.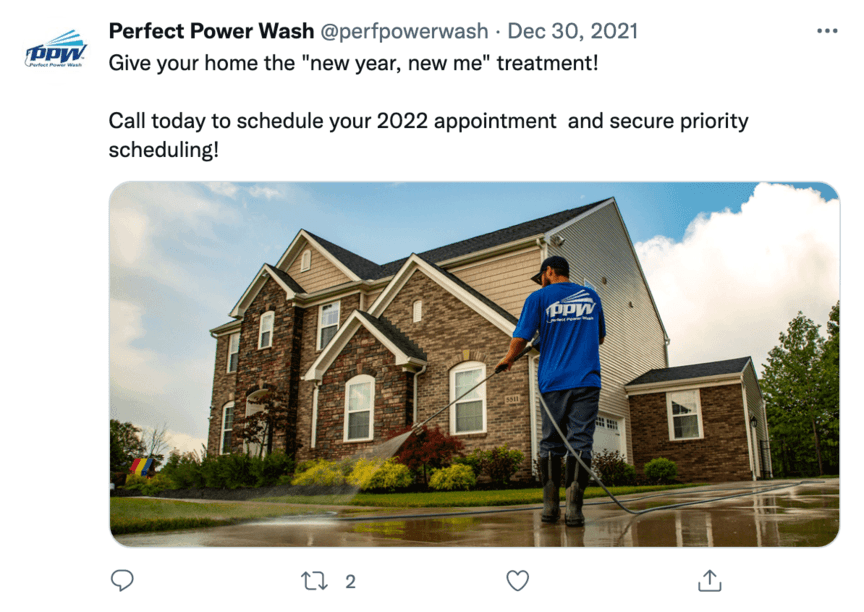 You can also reach users by running paid social media ads. These ads show up in users' social media feeds, often looking similar to organic posts except for the "Sponsored" or "Promoted" label in the top corner.
Best of all, you can even target those ads toward specific groups of people based on demographics like age and location. That allows you to reach the most relevant audience when you run ads.
4. Web design and development
If there's one place that lies at the center of all your power washing digital marketing efforts, it's your website. Your SEO, PPC, and social media all lead back to your site since that's where users go to convert.
For that reason, web design is a critical part of digital marketing for power washing companies.
There are various ways to optimize your website, including:
A well-designed website will function smoothly and look attractive to users. If it does, it will be very effective at converting any users who visit it after encountering your other digital marketing campaigns.
5. Content marketing
Content marketing is a pressure washing digital marketing strategy that focuses on creating helpful web content for users on your site. After all, users won't visit your site just for flashy visuals — they want information.
Your content can take a variety of forms. Some of it can be written, like blog posts. Other pieces of content can take the form of multimedia, like videos. Whatever format you use, though, your content should be informational and help educate users about your business and your industry.
Ultimately, many of the users who visit your site to learn about pressure washing become qualified leads for your business.
6. Email marketing
The last power washing digital marketing strategy we'll look at is email marketing. Email marketing, as the name suggests, is where you send out emails to potential customers. But don't just start sending out emails at random.
Instead, set up some email forms on your website. Those forms should encourage users to sign up for your emails voluntarily, perhaps in return for receiving a certain material or accessing a certain piece of content.
You can then start sending out emails to the people on your subscriber list. Since all those people voluntarily signed up, they're happy to receive your emails, meaning they're some of the most interested people who may turn into customers.
You can even personalize your emails to individual users by doing things as simple as addressing them by name. That will help users feel a more personal connection to your marketing efforts.
Our digital marketing campaigns impact the metrics that improve your bottom line.
See More Results

WebFX has driven the following results for clients:

$3 billion
In client revenue

7.8 million
Leads for our clients

5.2 million
Client phone calls
WebFX knows digital marketing for power washing companies
Need some help getting your marketing efforts off the ground? Let WebFX help! We know digital marketing for pressure washing companies, which is why we've earned over 1020 client testimonials from businesses we've partnered with over the years.
With our digital marketing services, you'll get help optimizing all the strategies listed above to drive maximum leads and conversions for your power washing business. We'll also send you regular reports on your campaigns to make sure you're never left in the dark.
To get started with us, just call 888-601-5359 or contact us online today!
Earn a 20% greater ROI with WebFX