Pay-per-click (PPC) advertising is one of the most common ways of marketing to users online, and for good reason — it's extremely effective, with ad clickers being 50% more likely to buy a product than organic visitors.
That's why your pressure washing company should consider using PPC to advertise online. You can display paid ads at the top of Google search results pages or in the margins of relevant third-party websites. Those ads can lead users to landing pages that encourage them to seek out your services.
Of course, you may be unsure how to drive successful results for your PPC campaigns. What does it take to drive paid ad conversions? How can you improve your ads?
We'll answer both of those questions below, so just keep reading for a list of pressure washer PPC tips. Then subscribe to Revenue Weekly — our email newsletter — to get even more digital marketing tips delivered right to your inbox!
7 tips for optimizing PPC for pressure washers
PPC for pressure washing companies is a great strategy for promoting your business to interested leads. If you aren't familiar with launching a PPC campaign, you may not know where to start.
Here are seven pressure washing PPC tips to use in your campaigns:
1. Target long-tail keywords
One of the first and most important steps in running a PPC campaign is to target your ads toward specific keywords. After all, you don't want your ads showing up in just any Google searches — they should appear for searches related to pressure washing.
In addition to that, though, you should aim to target long-tail keywords — that is, keywords that are several words long. These keywords tend to be more specific to particular search intents, which means they help you reach a more relevant audience. It also means they tend to come with less competition.
So, rather than targeting a keyword like "pressure washing," target one like "pressure washing services in [your city]."
2. List negative keywords
Most of your keyword choices show Google which searches your ads should target. But one type of keyword exists to show Google which searches not to target. Those keywords are called negative keywords, which you can list in Google Ads.
For any negative keywords you list, Google will actively avoid showing your ads in searches that include those terms.
So, let's say you target the keyword "pressure washing services in Louisville." Google might show your ads for variations on that keyword, such as "commercial pressure washing services in Louisville." If you only offer residential services, you'll want to list "commercial" as a negative keyword.
3. Create custom audiences
Keywords aren't the only way you can target people. One of the most useful features Google Ads offers is the ability to create custom audiences.
When you make a custom audience, you can choose from a variety of demographic features that you want to target. Those features include:
Age

Gender

Location

Occupation

And more!
By targeting the exact features of your target audience, you can ensure your ads reach the right group of people. So, for instance, if your target audience is people between 35 and 65 in Miami, Florida, you can create a target audience built around those specific characteristics.
4. Harness RLSA
Another targeting feature you can find in Google Ads is remarketing lists for search ads (RLSA). As the name implies, this feature focuses on remarketing, which is where you target your ads to people who already expressed an interest in your company by visiting your website.
Using Google Ads, you can track traffic to specific pages on your website. Whenever someone visits those pages, they'll be added to your RLSA in Google Ads. Google will then target your paid search ads toward those people.
The idea is that since those people have already shown a clear interest in you, they're the people who are the most likely to respond positively to your ads.
5. Use ad extensions
In most cases, your paid search ads are limited to two short text blurbs — your header and your description. It's down to those two blurbs to convince users to click. Fortunately, you don't have to stick with those limitations if you choose to use ad extensions.
Ad extensions are short, additional pieces of information listed below the description. Types of ad extensions include:
Contact information

Location

Additional sitelinks

And more!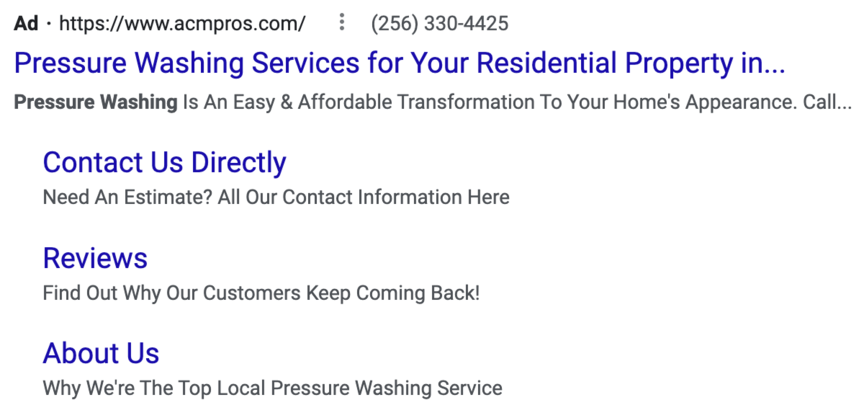 By including ad extensions, you increase the likelihood that users will click. Someone might notice a sitelink below them that leads to the exact page they need, and end up clicking on it.
6. Launch display ads
PPC for pressure washing companies isn't limited to search ads. On the contrary, some of the most effective ads can appear on third-party websites. Those ads are called display ads or banner ads.
Unlike search ads, which consist mostly of text, display ads are visual. Your display ads can feature images, videos, or both. However, they achieve the same basic function as paid ads, leading users to landing pages.
You can set up your display ads through Google Ads. When you do, consider targeting your ads toward specific types of websites your target audience is likely to visit.
7. Monitor and analyze PPC results
Finally, your pressure washer PPC campaigns shouldn't end once the ads are up and running. Quite the opposite — you're just getting started. From there, you should closely monitor your ads' progress to see how your campaigns perform.
When you see ads underperforming, you can take that opportunity to replace or reoptimize them. In contrast, if you see an ad that's driving lots of conversions, you can try to emulate its success in your other ads by repeating the same approach.
Monitoring and analyzing your campaigns will allow you to refine them to drive more revenue for your pressure washing company down the road.
Time to Level Up Your Sales
Our long list of services helps you grow every aspect of your business with marketing strategies that are proven to increase bottom-line metrics like revenue and conversions.
In the past 5 years, we've managed more than 12.9 MILLION transactions across our client base.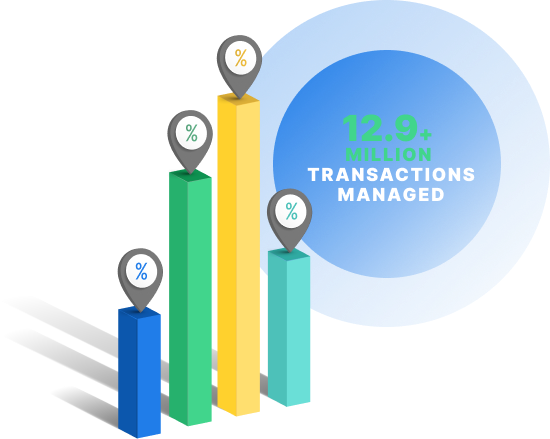 WebFX can help drive results for your pressure washing PPC strategy
Need a helping hand with your PPC efforts? WebFX has you covered. We've earned over 1020 glowing testimonials from our clients, so you can rest assured we know what we're doing with it comes to PPC for pressure washers.
When you partner with us for our PPC services, you'll get help implementing all the pressure washer PPC tips listed above and more. You'll also receive a dedicated account representative to keep you in the loop about everything we do for you.
To get started with us, just call 888-601-5359 or contact us online today!
Earn a 20% greater ROI with WebFX