Many remodelers pride themselves on referrals because they're a sign that your customers love your work. And in many cases, they're a source of leads that are already confident in your ability to deliver the results they want.
Referrals, however, aren't enough when it comes to growing your business and keeping your team busy. You need another source for generating remodeling leads: Marketing. Digital marketing offers an effective (and economical) solution to remodeling lead generation.
Keep reading to learn how you can attract more leads with remodeling marketing. Discover the advantages of digital marketing, plus five of the most effective remodeling marketing ideas for lead generation.
If you're looking for professional help with your marketing strategy, WebFX is a trusted partner for small-to-midsized businesses (SMBs). With a client retention rate of more than 90%, as well as more than 7.8 million leads generated for our clients' businesses (in the past five years), we're the choice.
Attract more remodeling leads with digital marketing by contacting us online or calling 888-601-5359!
Our digital marketing campaigns impact the metrics that improve your bottom line.
See More Results

WebFX has driven the following results for clients:

$3 billion
In client revenue

7.8 million
Leads for our clients

5.2 million
Client phone calls
Why invest in remodeling marketing?
Many businesses still rely heavily on traditional marketing strategies to attract new business.
But in today's digital age, traditional marketing strategies, like cold calling and billboard advertisements, don't cut it anymore. Consumers have learned to tune out this interruptive style of marketing, meaning that it simply doesn't reach them in the same way it used to.
But with Internet marketing, your remodeling company can focus on reaching qualified leads when they're actively searching for businesses. That's why a remodeling marketing strategy that includes digital channels outperforms strategies that stick to offline channels.
Ultimately, this approach will help your company attract more remodeling leads, customers, and earn more revenue. And who doesn't want to their company to earn more money?
5 remodeling marketing ideas for generating leads
Now that you understand the importance of digital channels for remodeling marketing, let's take a look at five proven remodeling marketing ideas for generating qualified leads.
1. Search engine optimization (SEO) for remodeling companies
Search engine optimization (SEO) refers to anything you do to improve your website so that it ranks higher in search results for targeted keywords and phrases.
In other words, SEO is an umbrella strategy that encompasses a number of tactics designed to help you reach potential customers searching for specific phrases on search engines like Google.
For example, you can include keywords and phrases related to your business in strategic places on your website. And you can create content related to the products and services you provide. These strategies will boost your rankings in search results and help more people find your business.
After all, you might have the most beautifully designed website in the remodeling industry – but if nobody can find it, you won't attract any new business.
2. Link building for remodeling companies
Links are one of several factors Google uses to determine a website's rankings in search engine results. The number and quality of backlinks your site earns from credible sources can help your remodeling company appear higher in search results.
You can start by reaching out to industry influencers and other local business to see if they are interested in linking to your site content. For example, if you produce an infographic about how to choose paint colors for each room of your house, a local hardware store could link to the infographic, since it might be of interest to their audience.
Earning links from other websites can help you appear higher in search results and attract more qualified traffic to your website, which means more remodeling leads.
3. Pay-per-click (PPC) for remodeling companies
Pay-per-click (PPC) advertising allows you to choose which keywords you want to trigger advertisements for your business in search engine results. Then, you can set bids for each keyword, and if your bid is among the highest, your ad will appear above organic results.
One of the main benefits of PPC advertising as a remodeling lead generation strategy is that results are instantaneous. Unlike SEO campaigns, which can take weeks to affect your organic rankings, PPC ads can start driving qualified traffic to your site the minute you launch a campaign.
If you're looking to quickly boost traffic to your site and generate high-value remodeling leads, PPC advertising is a great, affordable option.
4. Content marketing for remodeling companies
Content refers to a variety of online assets from blog posts and infographics to white papers, ebooks, and downloadable guides.
Search engines love quality content, and posting valuable content online can help your company appear as an industry leader and boost your rankings in search results. Plus, search engines aren't the only ones that love quality content – people do, too.
For example, if someone searches online for remodeling tips and comes across a helpful infographic from your company, they'll see that you're a trusted source of information. Then, they'll be more likely to contact you for their next remodeling project.
5. Social media for remodeling companies
Social media is another great remodeling marketing strategy that helps your company reach more people online.
By maintaining a presence on social media, you can provide updates about your company, offer promotions, and hold contests. And every time someone interacts with your company online, it will appear in the newsfeeds of their friends and family members. This will help you increase brand awareness and increase the reach of your company.
You can also use social media to listen in to the sentiments of customers. Find out what they like, and where you can improve. This will help your remodeling company provide top-notch customer service and keep your phone lines busy.
Add these strategies to your remodeling lead generation strategy and start bringing more leads and sales to your business!
Time to Level Up Your Sales
Our long list of services helps you grow every aspect of your business with marketing strategies that are proven to increase bottom-line metrics like revenue and conversions.
In the past 5 years, we've managed more than 12.9 MILLION transactions across our client base.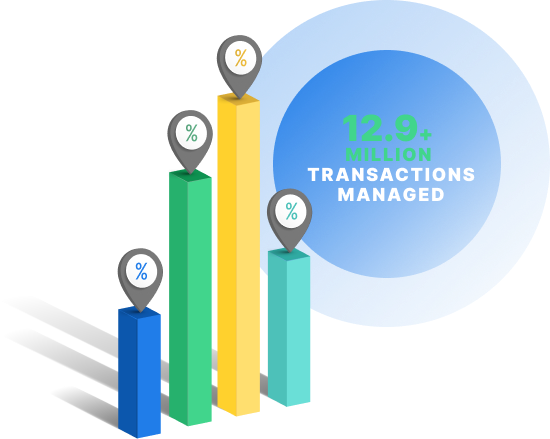 Attract more remodeling leads with digital marketing
WebFX is an award-winning leader in the Internet marketing industry, and we offer comprehensive remodeling marketing plans to meet your business goals.
We believe in transparency, so we publish our prices online to help you choose the plan that's right for you. Don't see a plan that works for your remodeling business? We'll work to understand your company and create a custom Internet marketing plan designed to help you reach your goals online.
What are you waiting for? If you want to learn more about how Internet marketing can take your remodeling company to the next level, contact WebFX today.
We work with hundreds of business across the United States, and we're excited to work with you!
Earn a 20% greater ROI with WebFX