The agricultural tourism industry — "agritourism" for short — combines some of the best qualities of operating a for-profit farm with the widespread appeal of destination tourism. The global agritourism market size is expected to exceed $117 billion by 2027, making it a thriving venture on a path for even more growth. Now's the time to implement a strong strategy for finding and attracting new visitors to your business.
37% of marketers say that generating high-quality leads was one of their biggest challenges.
We want to decrease that percentage.
WebFX can help you generate high-quality leads with a customized marketing strategy.
Learn More About Lead Generation Services
Why your agritourism farm needs a digital lead generation strategy
Lead generation for agriculture tourism farms takes different planning and approaches than marketing a typical for-profit farm. The added hospitality elements open you up to near-endless marketing possibilities.
Take North Carolina agritourism operator McLaurin Farms. What started as a financially struggling cattle business has since transitioned into a popular destination for travelers and locals. The farm's Woods of Terror haunted trail event has been featured on Buzzfeed and named to multiple lists of the country's top haunted attractions. It even employs roughly 100 actors for the Woods of Terror season alone!
Whether your niche is selling Christmas trees, operating a pumpkin patch and corn maze, hosting educational and relaxing farm stays, or something similar, the right digital agritourism marketing plan can help you find warm leads and convert them into raving fans and return visitors.
Here's why you need a digital lead generation strategy:
Your warmest leads aren't at home:

America loves to travel, and a 2021 survey found that

87% do so solely

to take vacations. This is good news for agritourism farms, as most are located in rural areas without nearby concentrated populations to target with local ag ads. Operating a tourism-based farm means turning your business into a full-fledged experience. Digital lead generation can help you find eager travelers looking for a destination like yours.

Operations tend to be seasonal:

Most agritourism events operate on a seasonal basis, depending on what's growing at the farm, which life stage your livestock are at, or what holiday is likely to generate the most influx. A consistent, year-round lead generation strategy will help fill those gaps and doesn't require too much adjustment between seasons.

Digital marketing is affordable:

Traditional advertising, like billboard ads and signage, are

helpful for agritourism farms

, but they're also costly. Digital lead generation is a low-cost — sometimes free — marketing method that reaches more people.
Generating leads for your agritourism business
You'll have the most success with digital marketing for agriculture tourism if you keep word-of-mouth marketing as the foundation of your strategies. Ninety-three percent of buyers don't make a purchasing decision until they read online reviews, and that goes for vacation destinations and activities, too.
The more positive buzz and reviews you can generate across your online presence, the more leads you'll generate. Social media, search engine optimization (SEO), and content creation are three ways to get started.
1. Social media
Billions of people and businesses use social media for everything from connecting with friends and family and professional networking to entertainment and education — and, believe it or not, agritourism marketing.
Farming and social media might seem like they couldn't be further apart, but all of that changes when you start incorporating the tourism element into your agritourism business. To entice people to visit your one-of-a-kind destination, you must first find those people and give them a compelling reason.
You can use your business's social media account for two types of marketing — organic and paid. Successful strategies incorporate elements of both.
Organic marketing is everything you do to connect with future and current customers, like sharing content, engaging in the comments, and responding to direct messages. A hashtag strategy is a more intentional — and entirely free — advertising strategy under the organic umbrella.
Organic marketing tactics are ideal for establishing your brand, sharing videos and pictures of your farm, and nurturing existing leads into new or returning customers. But if your main goal is to build a solid list of brand-new leads, paid ads are the way to go.
Each platform offers its own type of paid advertising structure. Look for options that let you get ultra-specific with ad targeting, so your promoted posts can find your ideal audience.
Industry experts forecast a significant rise in the number of online bookings via social media and websites for agritourism businesses, and online ticket purchases are a major reason the industry is predicted to grow. There's no better time to nail down a social media strategy.
2. SEO
Search engine optimization is the process of optimizing your website, content, and other parts of your online presence with specific keywords to rank higher in search engine results. The more visible you are, the more leads you generate.
Because your business is unique, you'll want to balance your SEO strategy to appeal to both local audiences — those who live within a drivable distance from your farm — and more distant visitors who will visit as part of a vacation or way to experience something new.
It can be tricky to create, monitor, and maintain a basic SEO strategy, and even the most Internet-savvy business owners might find themselves without enough time or experience to manage multiple at once. Consider working with a digital marketing company like WebFX — with a team of 450 experts, we've got nothing but time and experience to run your lead-generating SEO campaigns.
3. Content creation
If you want potential visitors to make your farm a part of their family's story, start by telling your own. Create and share original content to your website and social media accounts that paint a picture of what your business is and how much you care about the experience you provide.
Leverage user-generated content — all those pictures and videos past customers have shared online — to help leads connect your story to the promises you make in your advertising campaigns.
Your content marketing can also target your ideal audience's specific wants, needs, and interests. For example, a series of educational blog posts about the ins and outs of farm life provides value for those interested in learning more about farming — and anyone interested in farm life is already a warmer lead than most.
Depending on what your farm offers guests, you could incorporate content about specific products you sell, like seasonal apple cider, handmade jams, or farm-harvested honey. If your niche is Christmas tree sales, content focusing on how to choose the right tree and tips for caring for it at home are great ways to generate interest and clicks.
Your audience can share your content to their own social media feeds or link it on their websites, which strengthens your SEO power and broadens your reach.
Meet WebFX:
Your world-class, tech-enabled marketing agency with over 1.6 million hours of combined expertise.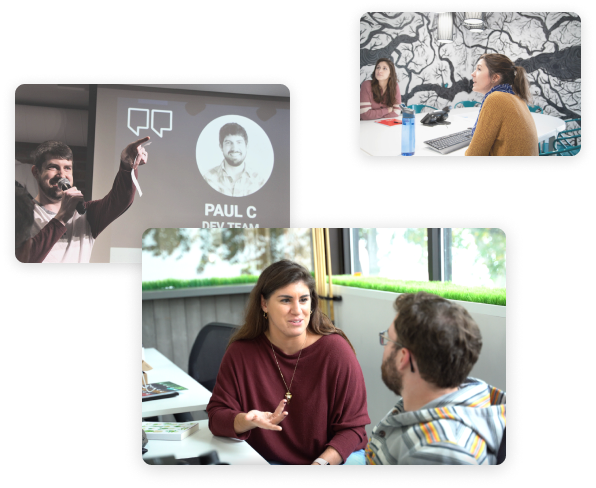 Let WebFX help you tell your story and generate new leads
We've generated more than 7.8 million leads for businesses just like yours, and we won't stop there. Connect with a member of our team today to get your free proposal and learn all the ways we can launch, transform, and manage a digital marketing strategy that keeps your agritourism business busy all year long.
Increase your leads, sales, and revenue with digital marketing
Find Us Driving Revenue Nationwide