In an industry that often caters to businesses rather than individuals, you may wonder whether social media deserves your time. However, these platforms offer many benefits for your aircraft company.
Social media platforms allow you to target a specific audience and build relationships that turn into business partnerships. Want to start using social media for your business? This article offers four success tips to help you get started.
If you struggle to devote time to social media, leave it up to WebFX. Browse our professional social media services to see how we'll help you get results through social media.
Growing your social presence with WebFX is a walk in the park.
"WebFX allows growing your social media platforms to be stress-free! They are knowledgeable and adapt to your company needs!"
Learn More About Our Social Media Services

Social media benefits for airplane sellers
Wondering how social media will help your business? Consider these benefits companies find through social media:
Increase website traffic:

If you want to increase website visits, social media lets you link to areas like sales pages and blog posts. This allows people who follow you on social media or see your posts to visit your site and learn more about your company.

Grow brand recognition:

People like to buy from brands they know well. When you maintain a consistent social media presence, businesses seeking aircraft will remember your name when they're ready to buy.

Converse with your audience:

Form a personal connection with followers by commenting on their posts and responding to questions. When you initiate these conversations, you gain your audience's trust.

Save your advertising budget:

Sign up for a free social media account and post regularly to see measurable results, like website visits and new followers, without spending any money.

Monitor marketing campaigns:

When you use social media for marketing, you will see results like views, likes, and shares, which help you gauge campaign success.
Tips for a successful social media campaign
In aviation sales, like many other industries, social media success comes through learning and practice. If you want some helpful starter techniques for your social media campaign, consider the following four strategies:
1. See what your competitors are posting
Other businesses like yours already post on social media, and you will learn about them and the best social media techniques by watching their actions. Perform a competitor analysis by following your competitors on social media. This strategy allows you to see the content they post, their followers, and their online engagement.
Using this information, perform a SWOT analysis for your biggest competitors. Consider their strengths, weaknesses, opportunities, and threats in the social media realm. Use this data to inform your strategy.
You will also learn valuable industry information through target audience research. Consider which organizations you want to sell products to and learn more about them. You can also get more specific and consider which individuals you want to reach within an organization.
By studying what your competitors are posting, you can learn more about your target audience and what will attract them to your page.
2. Create exclusive content
Your social media does more than sell your aircraft — it also provides valuable information to consumers. When you create exclusive content that engages your audience, you will gain more followers and interest in your company.
Use videos to answer common questions in your industry or give a behind-the-scenes look at your production process. You can also upload photos to show business events or top employees and post links to other content you've created, like informational guides or online courses.
You can add your industry expertise to content created by others, too. Repost user-generated content about your business with additional information, or share industry news after adding expert commentary.
Varied and regular content shows your industry expertise and gives followers a way to engage with your business. Consider creating an idea list and then following a content calendar to provide a steady content stream.
3. Engage in online conversations
You have valuable industry knowledge to offer anyone who wants to learn more about aviation. Display that knowledge and show your availability to customers by adding your voice to the conversation.
You can start in your direct messages by setting aside time daily or weekly to respond to individuals who message you. If a customer has a complaint about a past service, address it privately before they decide to post about it online. If a customer has a question, answer it promptly to demonstrate knowledge and customer service.
You also add your voice to online conversations by interacting with others in the industry. Share their posts or comment on recent news. Another way to do this is to respond to comments on your posts.
When your name shows up across social media, prospects learn to trust you as an expert and remember your company when making purchase decisions.
4. Implement paid advertising techniques
As a free tool, social media has a lot to offer, but paid techniques like social media advertising also boost your online presence by pushing your posts to new audiences interested in your company.
Most social media networks allow paid advertising. These ads let you specifically target people by age, location, gender, and language. By doing this, you can target the customers most likely to buy your aircraft.
While social media marketing takes time to gain traction, paid advertising yields results in a shorter time frame. Many marketers use both to see short-term and long-term gains.
Top 3 social media networks for aviation sales
Now that you know some ways to create a successful social media campaign, you need to find which platforms you want to use. Starting with a proper social media network helps improve your chances of seeing measurable results in your marketing efforts. Here are the top three you should consider for aviation sales:
LinkedIn:

If you sell to businesses, this network will serve you best because

94% of business-to-business marketers

use this platform.

Facebook:

This network can assist any company, as it has many active users and robust paid advertising tools.

Twitter:

You can use Twitter to establish authority by posting original articles and blog posts. It's also a great platform for sharing informative content from other sources to demonstrate your industry expertise.
74% of people use social media when making a purchasing decision.
Make their decision easy with a stellar social media presence. See how your brand can level up by requesting a no-obligation proposal today.
One of our experts will be in touch within 24 hours!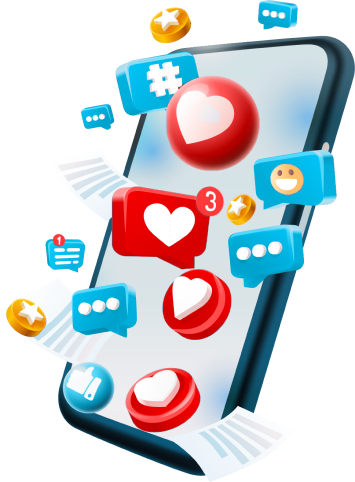 Bring your business to new heights with social media through WebFX
Social media will help your business find new leads for your aircraft sales and grow your industry authority so that customers trust your business and the products it sells. Working with a skilled digital marketing company like WebFX will enable you to achieve the best results.
WebFX has driven over $3 billion in revenue for clients in the past five years through various marketing techniques, including social media management and paid advertising services.
Contact our experts online for more information or call 888-601-5359.
Increase your leads, sales, and revenue with digital marketing
Find Us Driving Revenue Nationwide